Departments and Duties
The Johnston County Visitors Bureau is devoted to building year-round tourism in Johnston County. To achieve this goal, we work closely with the local industry to increase visitation through integrated programs targeting key markets. Local tourism businesses are encouraged to actively participate in all of the programs and grass roots outreach efforts, such as marketing meetings, media initiatives, and trade/consumer shows.
The JCVB is consistently recognized for its effective marketing efforts. The Destination Marketing Association of NC has awarded JCVB over 50 Destination Marketing Awards and the bureau was named the Small Bureau of the Year for 2005-2009.
The JCVB employs (6) full-time employees. The organization consists of four main departments – Administration, Marketing and Public Relations, Sales and Service, and the Visitor Information Center – all with a common mission to attract and serve visitors to Johnston County.
Visitor Information Center
Visitor Services operates the center providing visitors information, answering questions, and representing the county's tourism partners. Brochure racks and retail space to promote local products and artists is available to area tourism partners.
Hospitality Heroes Customer Service Training Program
The Hospitality Heroes program offers FREE online customer service training to front-line, support, and management personnel within the hospitality and allied industries. Working with tourism industry partners, Hospitality Heroes teaches the advantages of excellent customer service and offers "refresher" tips on bringing back the first time visitor.
Crisis Management Assistance
Special assistance is provided to travelers during an emergency or crisis. We work closely with accommodations, law enforcement, transportation, government and medical industries to provide emergency assistance to visitors in need.
Communications
Media Relations
The Communications team works with journalists by attending conferences and trade shows, conducting media calls, hosting media receptions and events, and responding to media leads. The staff assists journalists by conducting research, fact-checking articles, gathering and disseminating information and support materials, setting up/conducting interviews, and writing articles for publications.
The Communications staff hosts individual and group media research trips to familiarize these journalists with Johnston County as a visitor destination. This includes itinerary planning, arranging transportation, hotels, restaurants, attractions visits, setting up interviews, assembling welcome packets, developing a meaningful itinerary to meet the journalist's and industry partner needs, meeting with and/or accompanying each journalist, scouting with television crews, and negotiating in-kind goods and services.
Film Office
The Communications staff develops collateral to assist the film/photography industries to shoot television commercials/segments/shows/documentaries in the Johnston County area.
Support Materials
The Communications staff researches and writes news releases, which are distributed to the media. They organize photo shoots and update the Bureau's photo, video and research material libraries. Staff develops and publishes the bureau's website, the calendar of events e-blast, and continually updates the media section of the site. And, the department tracks, records and forwards media clips to the travel industry to measure the successful fulfillment of the departmental goals and objectives.
Internal Communications
The Communications team reads and updates staff on trade and general information, continually updates the central subjects and attractions files and supports the other departments within the JCVB on myriad of projects, including the Hospitality Heroes Program, National Tourism Week Program and the Bureau's Crisis Program.
Sales & Service
The mission of the Sales Department is to promote Johnston County to meeting professionals, the travel trade and leisure visitors to positively influence visitor volume. The JCVB Sales team provides resources to industry partners and travel influencers to help grow meeting business and pleasure travel in the destination.
Meeting & Sports Sales
The Meeting Sales team is responsible for booking meetings, conferences, and sports tournaments with individual venues and hotels throughout Johnston County.
Tourism Sales
The Tourism Sales team sells Johnston County to tour operators in the domestic marketing at trade shows, organizing sales calls and missions in major cities, and creating custom itineraries for tour operators.
Leisure Sales
The Sales Manager develops leisure packages with hotels and tourism partners, visits Welcome Centers, 1-800 Call Center and conducts outreach to AAA Offices in top feeder states.
Meeting, Sports, and Wedding Services
Seeking products, services, or suggestions for conventions, sports tournaments, social events, and weddings. Conference Services provides lists of local resources, and directs clients to the JCVB's website.
Attendance Builders - For larger groups, a staff member from the Sales team may exhibit at the incoming groups' convention the year prior to coming to Johnston County to inform conference attendees about the destination and encourage attendance the following year.
Site Inspections - Conference Services assists sales managers and planners with scheduling appointments and accompanying clients on tours of local facilities and to meetings with local conference suppliers.
Planning Meetings - Conference Services staff is available to meet with the client to assist in pre-planning and conference needs.
Registration Assistance - The JCVB has a staff of trained volunteer ambassadors who are able to assist conventions with registration, provide on-site destination assistance (restaurants, shopping information) and general conference assistance.
Brochure Fulfillment - For groups of all sizes, Conference Services provides brochures and maps highlighting the things to see and do in our area. Photographic images and promotional items are also available.
Unique, Off-Site Venues - Does your group need a distinctive place to gather for a reception, banquet, cocktail party, awards ceremony or meeting? Conference Services is familiar with area businesses and resources available to groups.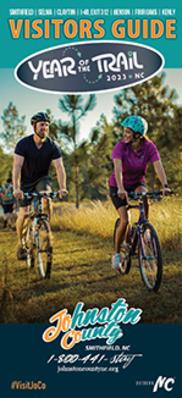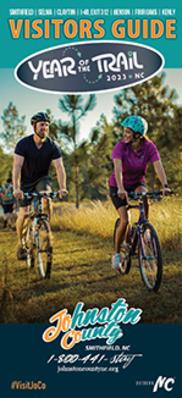 Get your free Visitors Guide today to learn about Johnston County and all it has to offer!
Get the Guide

Sign up for our Event Newsletter