2018 Strategic Overview

The JCVB's top business goal for 2017-18 is to increase bed tax revenue by 6%.
Working closely with our industry, the JCVB has identified key long-term strategies to support the overall goal of increasing the number of visitors to Johnston County, their length of stay, and the amount of money they spend. The JCVB is committed to partnering with the local tourism industry and community leaders to continually elevate Johnston County's place in the market, and accelerate the growth of the area's vital tourism economy.
Strengthen the Johnston County brand by finishing the Brand Platform Project, adopting the term JoCo to represent the destination
Position the area as a competitively unique and compelling destination in the Triangle Region
Fine-tune brand communications so that they engage the consumer, and establish a strong emotional connection to the area's product offerings
Become increasingly consumer friendly in all communication touch points
Increase the development and execution of marketing partnerships, especially with partners in the JoCo Hospitality Association
Educate elected officials and key opinion leaders on the economic importance of tourism, the need to preserve our vital natural resources, and the delicate balance between growth and sustainable tourism
Advance the use of technology in marketing and tourism products, especially those that allow for an ongoing one-on-one contact with key audiences
Maintain high visitor satisfaction levels through emphasis on front-line hospitality, workforce training, and rewards for exceptional customer service
Provide outstanding tourism assistance and in-person tourist information
Protect, support, and promote the infrastructure that sustains tourism
Support existing tourism product while continuing to develop new tourism product
Promote the area's existing meeting and sports facilities and working on the immediate to short term recommendations in the Countywide Parks & Recreation Master Plan.
Expand and support sports efforts, which are especially important for generating inland room nights during the off-peak season
Provide detailed, relevant, up-to-date local tourism information and research/industry trends to the local tourism industry to empower their efforts to market the destination to visitors
Commit to green-friendly practices to preserve our destination for current and future visitors and residents.

To learn more about JCVB strategic marketing plans and projects, read the 2015-16 Marketing Plan.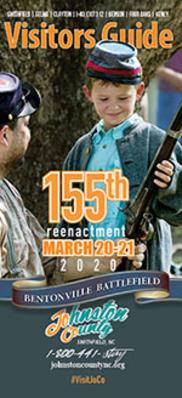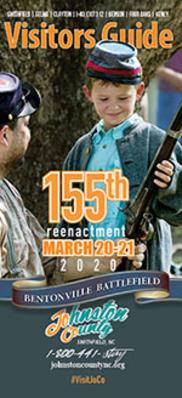 Get your free Visitors Guide today to learn about Johnston County and all it has to offer!
Get the Guide

Sign up for our Event Newsletter