Tourism Facts

Statistics
Local tourism research and data provide valuable insight needed to help you make the best marketing decisions possible. View monthly and annual visitor profile reports, and review the results of the comprehensive 2005 Visitor Profile Study. This section also gives a numerical picture of tourism's powerful impact on the area, and includes information on how local bed tax funds are allocated.
Value of Tourism

Tourism Is a Vital Component of Our Economy
The travel and tourism industry is one of North Carolina's largest industries, generating billions in travel expenditures. Not only do we benefit from the economic impact of the industry in dollars and cents, but we also benefit from the quality of place to which it contributes. In essence, tourism is a tool for enhancing what we love about our county - from its small town charms to its history and culture.
JoCo Tourism impact highlights for 2021:
Visit North Carolina announced that domestic visitors to and within Johnston County spent $255.47 million in 2021, an increase of 40.5% from 2020 data. The travel and tourism industry directly employs more than 2,000 in Johnston County.*
Visitor Spending is now segmented with dollar amounts for Food & Beverage, $90.98M, Lodging, $51.96M, Recreation, $33.39M, Retail, $23.26M and Travel Services, $55.87M.
Bed Tax Information
The (JCVB) is funded by a three percent (3%) occupancy tax collected on accommodations county wide and additionally a (2%) occupancy tax in the municipalities of Benson, Kenly, Selma and Smithfield.
The funding is allocated in the following manner:
| | |
| --- | --- |
| Human Resources | 30.6% |
| Admin Expenses | 8.3% |
| Marketing | 50.1% |
| Grants | 11.0% |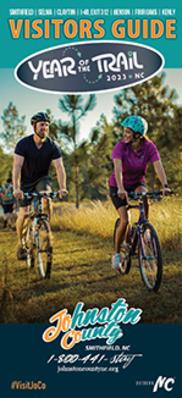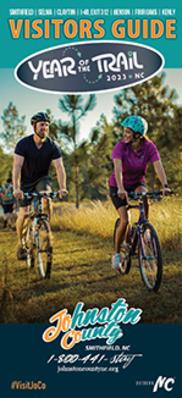 Get your free Visitors Guide today to learn about Johnston County and all it has to offer!
Get the Guide

Sign up for our Event Newsletter