Serving All of JoCo!

The Johnston County Visitors Bureau is the official destination marketing organization representing all visitor attractions, hotels, camping, dining, shopping, meetings, festivals and events in JoCo….all these make up the components of the tourism industry that bring visitors to our county.  Our funding is primarily provided by the 3% room tax paid by visitors while staying overnight in accommodations, some grants, and the JoCo Hospitality Association which is membership based.
In addition to the county-wide 3% tax, the towns of Benson, Kenly, Selma and Smithfield adopted an additional 2% tax that is 100% dedicated to the marketing and tourism development of their towns. These funds are remitted to the JCVB with separate budget line items and each town appoints a Tourism Marketing Committee to decide how to allocate these marketing dollars.
The JCVB is managed by a 11-member board known as the Johnston County Tourism Authority which was formed in 1987 by enabling legislation creating the 3% room tax. You will find here much about how the Authority operates, our budget, by-laws, mission and vision statements.  We hope you will see that the JCVB team and board have a strong commitment and dedication for tourism development through our grant programs and believe that the prosperity of the tourism industry is vital to Johnston County.
We invite you to engage with the JCVB staff and call upon the Tourism Authority to build our communities through tourism – visitors bring dollars, support jobs, and drive demand for commercial development.  Tourism is economic development!  #VisitJoCo
From our partners...

We appreciate the work that the Johnston County Visitors Bureau has done in creating exciting packages and itineraries that help create economic opportunities for the communities in Johnston County. The website shows amazing creativity and is extremely well organized. The NC Main to Main Trail's purpose is to showcase the designated NC Main Street communities and to encourage regional tourism. Johnston County is well represented on the trail because of the hard work of our communities and the tremendous work of Donna and her staff.
~ Liz Parham, Director, NC Main Street & Rural Planning Center
 
Donna Bailey-Taylor and her staff at the Johnston County CVB exhibits the highest level of professionalism. They are passionate about their community and providing the best possible experience for visitors.
~ Russ Haddad, Core Development, Chapel Hill, NC
 
Johnston County sits in a great location with lots of history, shopping, and charm. The Johnston County Visitors Bureau, located near the outlet malls close to I-95, is a great resource for anyone visiting for a day or a weekend. Donna and the whole team are passionate about "JoCo" -- very informative and friendly!
~ Karen Dawkins, Family Travels on a Budget, Raleigh, NC

Sign Up for the JCVB Staff Update!


Learn More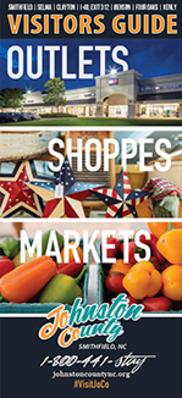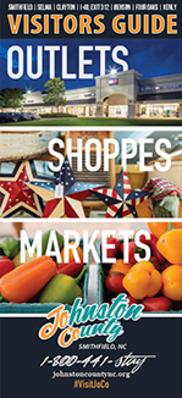 Get your free Visitors Guide today to learn about Johnston County and all it has to offer!
Get the Guide

Sign up for our Event Newsletter