Dining in Downtown
We think heading downtown and getting off the beaten path for a bite to eat is a great way to explore Johnston County, and it's where you will "eat like a local"!! We know where the best dining options are in our charming downtown districts. We invite you to discover what locals know!!
Spend the weekend in Clayton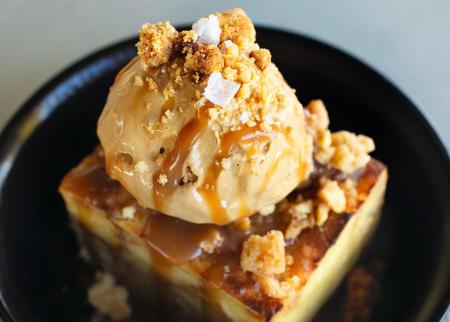 Dine at Scott Crawford's new casual concept, Crawford Cookshop. A James Beard five-time nominee and NCRLA's 2023 Restaurateur of the Year, Crawford has brought his signature "superstar" style to an approachable menu right on Main Street in Downtown Clayton. With simple and delicious dishes that change as ingredients are in-season, Cookshop is a dining experience you can enjoy over and over again.
From chef-driven restaurants to casual cafes serving unique regional food items, Clayton's food scene is for the adventurous and refined food enthusiast. Enjoy a local favorite, the Brightleaf red hot dog, at the family-owned Jones Cafe. Johnston County has many farms and agricultural history, which allow chefs to source locally and serve seasonal menus. Head out of town to visit some of those farms for yourself, like Pace Family Farms—in the spring, you can pick strawberries straight from the field.
When the weather is perfect for staying outdoors, even when dining, enjoy the many restaurants, cafes, and bars with spacious and shaded patios. Get to the Clayton Community Farmer's Market early on Saturdays for delicious locally baked foods, honey, and fresh produce. Enjoy a sweet treat at Nancy Jo's Homemade or Patty Cake's Littlest Cupcake Shop. Then walk off that pleasantly full feeling by exploring the Clayton Sculpture Trail with multiple locations around the downtown area.
Enjoy Smithfield's unique river location

Founded in 1777, Smithfield is the county seat, and the downtown business district is anchored by the Neuse River and the Mountains to the Sea Trail. Spend some time in the area for shopping, dining, and exploring museums. Just like throughout Johnston County, visitors will find the truly one-of-a-kind dining option or the best fried chicken ever -- like in Smithfield, stop by the Hills of Snow Snowballs, where the building is a snowball!  And we promise The Chicken Barn, located in the 7th Street Market (gas station), is some of the best fried chicken in North Carolina. We wouldn't steer you wrong!
For a sit-down restaurant in Downtown Smithfield, try unique appetizers like the Hog Cakes at SoDoSoPa,-- you will not be disappointed and the crepes at The Gilded Pear - yum! Add in some shopping at Oak City Collections and Dragonfly Boutique for a fun day out exploring, dining, and experiencing Smithfield.
Check out more options below for dining in our downtowns!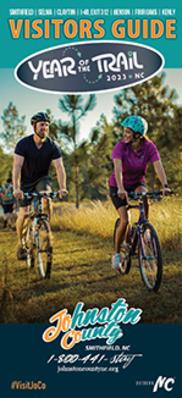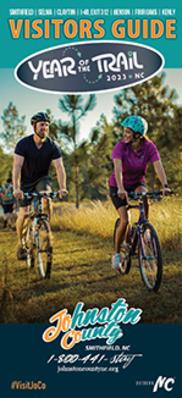 Get your free Visitors Guide today to learn about Johnston County and all it has to offer!
Get the Guide

Sign up for our Event Newsletter