What's a Foodie to Do?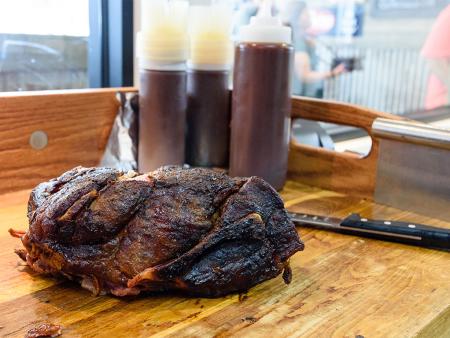 Yes, you could drive by our destinations along the interstate and grab some fast food options -- it will do the trick. But what lies beyond the highway in our charming downtown dining scene is truly worth your time.
You will find chef-driven restaurants sourcing fresh farm produce, dairy, and proteins at Simple Twist and the new Crawford Cookshop. Also discover some unique takes on BBQ at SoDoSoPa in downtown Smithfield.  Throughout the county discover eastern-style bbq, some award-winning competition barbecue at Redneck BBQ Lab, prepared by Food Network Chopped chef Jerry Stephenson, and you might want to stop by White Swan to meet the Barnyard Chef, Linwood Parker to see what he's up to.
Of Course, We think It's All Good
We all have our favorite BBQ spots around Johnston County -- here's a BBQ Trail Map so you can explore and find your favorites too! Remember the sauce is on the table to add a little or a lot...what you will find is mostly vinegar based with little red pepper flakes. Enjoy the trail, hot hush puppies, and some sweet tea!


Upcoming Foodie Events
If you are up for more culinary treats -- check out upcoming events centered around food, and our Beer, Wine and Shine Trail. Have fun!