UPDATE: Since I spoke with her last, back in 2015, Rebekah Todd has been hard at work hustling her way to new music on a full-length studio album (her second). She has been meeting with people in the industry, executing a successful Kickstarter campaign to fund the making of her album, writing, recording, and producing said album, planning an album release tour, and then after all that working to actually release the album. That's where I found her when I reached out to catch-up.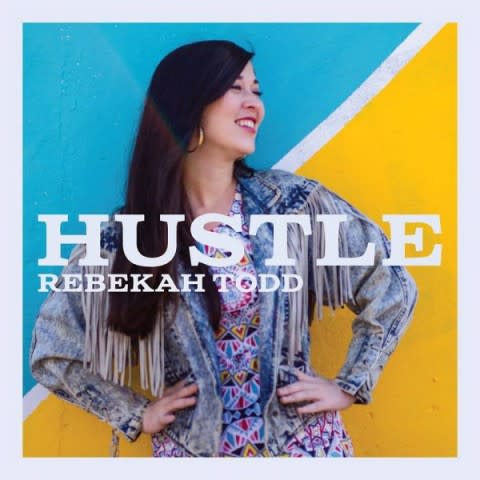 I like to keep up with our Johnston County talent. There are crazy amazing people from this area making waves in all sorts of artistic mediums. Rebekah was born and raised in Benson, but she calls Wilmington home now. And she swears that even if Crooked Lines is a huge hit (it will be) she's not feeling the NYC, Nashville, or LA vibe. Maybe we'll keep this North Carolina gem right here in North Carolina. Crooked Lines will debut on the 17th of February, only 9 weeks away. If you want a taste of what the album will sound like you can listen to the single "Hustle", released today exclusively on Spotify. You can also pre-order the album on iTunes or Amazon.

If you want to hear Rebekah live – she often tours under Rebekah Todd and The Odyssey because that's the name of her full band – stay tuned to her website and the soon to be released dates for that album release tour I spoke of above. The closest she'll come to JoCo is The Pour House in Raleigh. Her live shows are much like her new album – groovy and complex.

I asked her how she was feeling post-production and pre-release, "It's been a blur of a year, but the album sounds amazing! I'm so pleased with it!" If "Hustle" is any indication, this album is going to take Rebekah places, and I couldn't be happier for her. This musical soul has a salt of the earth quality thanks to her raising, one that the music industry could use more of. For example, for the top donors to her Kickstarter campaign she hand-crafted works of art to send them, thanking them for their support. Stay classy Rebekah, and keep hustling.


Originally posted July 10th, 2015

As I move through the dim atmosphere of the bar I look around at the sparse crowd of early arrivals - it's barely 9:30PM - I know who I am looking for but not sure if I'll know when I find her. Some people look different in person than what you image from promo pictures and YouTube videos. But, as I look to my right and find Rebekah Todd sitting at a booth with her band I am pleased to find that she looks exactly as you imagine her. The long cotton fringe sleeveless vest and the brown wool felt panama-esque hat on her head make her look like the love child of Stevie Nicks and Patti Smith. Appropriate given her musical chops.

Though many musicians can seem or actually are aloof, Rebekah is instantly warm and friendly while introducing me to her band and making me feel welcome in their circle. The noise of the bar fades to the background while we chat about music, muses, and Johnston County. For those of you not in the know, Rebekah Todd is from Benson, NC where she grew-up, in her own words, weird, "I was constantly trying to find ways to channel this creative energy I had." She admits that she had a few close friends but often preferred being alone with her latest project - painting, knitting, and papermaking to name a few. She recalls a funny story of using her mom's kitchen blenders in order to shred paper, adding water to make pulp, "she found me and her kitchen in a mess and was not any less mad when I simply explained that I was making my own paper".

It was this level of intense creativity that lead Rebekah to song-writing. She had been singing her whole life and writing music felt like an extension of that. It was her father who suggested a musical instrument, "he had a really good point," she says, "about having to rely on others to make the music, having to find a band or a partner. If I could play an instrument then I could be a singular act if I wanted to, it would lend me flexibility and autonomy. So he bought me a guitar." She was 16 at the time and her Dad's intuition paid off. By the time she went to college at East Carolina University she was able to make extra money playing gigs at local businesses - just her and her guitar.

While having an amazing repertoire of original songs - more on that in a minute - Rebekah's live shows include an impressive collection of covers. Songs like Superstition, and Rhiannon which is a tie for her favorite cover (the other favorite being The Thrill is Gone). I asked what sort of music had an early influence on her own sound, "classic rock, my Dad listened to a lot of Led Zeppelin and Pink Floyd. I also love soul, like Aretha Franklin, so my own style is sort of a blend of rock, soul, and folk."

 I ask her about her newest album Roots Bury Deep, out February of last year, and how writing is going for the next album, "I wish I could be like those artists who are disciplined enough to write an hour every day, but I have to wait until I really feel it. That might mean going days without anything and then spending hours writing when the right feeling and inspiration comes over me."

What was her favorite song off the last album? "Wishing Well is very meaningful to me even though it isn't the most popular on the album." I make a mental note to give it another few listens. You should too. The sultry tones of Rebekah's voice that make covers like Rhiannon feel so right in her capable hands elevates the haunting lyrics of Wishing Well and takes the song to a whole new level.

I asked about a manager and she just shakes her head, "I do it all on my own." This seems dubious to me, with my minuscule knowledge of the music industry. How do you know what to do and who to talk to and how to negotiate things? That's my true technical talk right there. She just laughs, "I taught myself.  When I started I was just working for tips and now I've done 100 gigs this year alone - it's only July! I've learned how to self-manage and the terrain that goes along with that." Rebekah has in fact turned herself into a booking agent as a side job. It evolved out of her knowledge in self-booking; she had so many gigs coming in that she was having to pass them up and she had the thought to start booking them for other artists and friends (and getting a small portion of the cut, as booking agents do). Truly entrepreneurial. But, then, that's the new music business... sports isn't the only industry moving slowly towards a free agent model. A lot of artists do it all on their own. Her latest album was financially supported by fans and sponsors through Kickstarter. Kickstarter is a website that allows artists and other individuals to raise money for social campaigns or creative endeavors.

Rebekah Todd is often a lone act, just her and her guitar, but she switches it up a lot. As a group act she is Rebekah Todd and The Odyssey - her band. However she is currently touring with The Oblations, a band out of Chapel Hill, making them Rebekah Todd and The Oblations. She confided in me her dream celebrity collaboration would be Neil Young. This just makes me want to ask her to sing Heart of Gold. But instead I ask her if she has anything else she wants to tell me about her music, "I think I'm going to switch my guitar out for electric soon, go less acoustic. I'm ready to be edgy, add more rock to my soul." That sounds like something I'm ready to hear.

I ask her if she gets back to Benson these days with all the touring and what she loves about it. Her answer is wonderfully honest, "If you had asked me this question 5 or 6 years ago I would have had a different answer, but what I like most now about my hometown is the comfort of returning to the familiar. Benson never changes, not where it counts, and it's nice to be able to come back to that."

I asked her what place or business she misses the most, "it's crazy, but, El Charro. I cannot get chicken quesadillas like that anywhere else."

The deliciousness of Johnston County's unique Latino restaurant options seems like as good a topic as any to end on. This further confirms my growing notion by this point that not only is Rebekah Todd one heck of a musician, but a funny, kind, southern soul. If you haven't given this JoCo talent a try, please do. You can listen to all her music here, catch her video performances here, and get info about her latest tour dates here. Rebekah plays festivals and events in Johnston County from time to time - for a full list of events click here.

Thanks for taking the time Rebekah, you rock!