I get many questions about the Ava Gardner Trust and how it still exists thirty years after Ava's passing. Many want to know what the Trust does and how it operates. The Trust has evolved through the years, and currently, the purpose of the Trust is to continue Ava Gardner's renowned legacy of generosity and compassion. Throughout her lifetime, Ava supported humanitarian causes and contributed her time and money to charities such as the March of Dimes, the American Cancer Society, and the American Red Cross.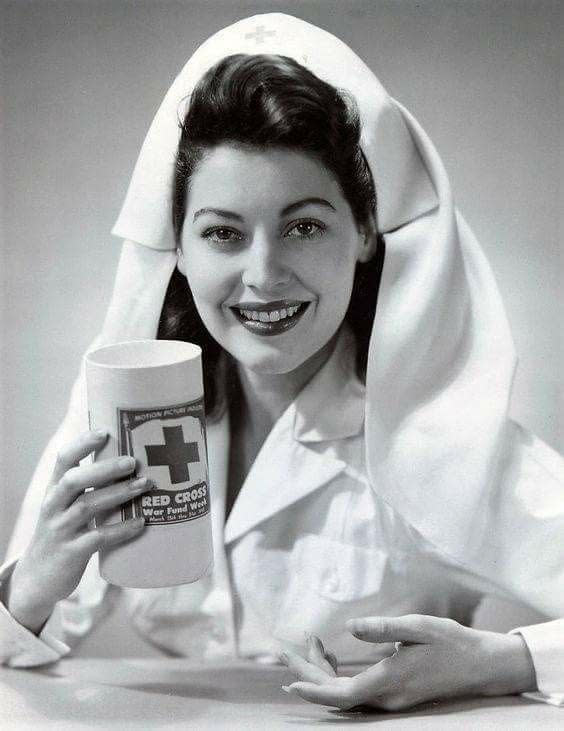 Ava Gardner in a publicity image promoting the Red Cross War Fund during World War II.
Thirty years after her passing she still has a tremendous impact on popular culture. She is the subject of many articles, websites, books, films, and television productions. References to her are in the news nearly every day around the world. She has been honored in the US and the UK with historical markers, and a bronze statue of her looks out over the Mediterranean from Tossa de Mar on the east coast of Spain. A whole new generation seems to be fascinated by this bold and courageous woman who was totally independent and ahead of her time. She was truly a fascinating person who was always giving and kind. In addition to her support of public causes and charities, there are countless stories of her generosity to individuals. Ava's close friend, haute couture designer Franka, told me in 2016 in London that "Ava was the warmest, kindest, and most generous person I have ever known." There was nothing that gave Ava more happiness than to lend a helping hand.
I personally saw this on many occasions, but one that had a lasting impact on me happened when I was visiting her in New York. We were leaving a club in Greenwich Village when we encountered a severely handicapped individual on the street corner. Many others passed him, totally ignoring him or even jeering at him, being very unkind. Ava saw this horrible scene unfold, and she stopped to talk with him for a while. She then gave him all the money she had with her. As we said goodbye to him and walked away, she whispered to me, "We must always be grateful for our good fortune and be kind to others."
When I was very young, maybe five or six, Aunt Ava sent an Ava Gardner Coloring Book to me. Shortly after it arrived, she phoned. She had received a letter from a little girl who lived in our area who was terminally ill. This little girl asked Ava for one of her coloring books. Being moved by the letter and feeling great compassion for this child, Ava asked me to give my coloring book to this little girl because it was the quickest way to get a coloring book to her. Fortunately, I had not colored in it. Of course, I agreed, and my grandmother, Ava's sister Elsie Mae, took the coloring book and other Ava Gardner things to this child. The Ava Gardner Trust still exists, thirty years after Ava's passing, because there is no time limit on generosity and compassion.
Ava Gardner established her Living Trust in May of 1986, four years prior to her death, to provide for her two surviving sisters, Beatrice Cole of Los Angeles, California and Myra Pearce of Winston-Salem, North Carolina. Her long-time business manager, Jess Morgan, of Jess Morgan and Company in Los Angeles, California was named Trustee.
It was established in Trust documents that at the death of each sister, remaining funds set aside for that sister would be divided between the Queen Victoria Hospital Foundation Trust and The Animal Health Trust both in London. It was further stipulated that Jess Morgan, in his capacity as Trustee, would have the authority to change these charitable designations. Sister Beatrice died in November of 1993 and the charitable designation for her part of unused Trust funds remained the same.
Sister Myra died in April of 2005 and before her death she instructed Mr. Morgan to designate the Ava Gardner Museum and the Winston-Salem Foundation to receive her share of remaining Trust funds. The Winston-Salem Foundation later gave their share of funds received from publicity rights to the Ava Gardner Museum. The Animal Health Trust in London closed its doors permanently in 2020 and the current Trustees, Ava Thompson and Ava Silver, named St. Jude Children's Research Hospital to replace The Animal Health Trust. Therefore, with all principal assets distributed, the funds remaining are from brand licenses and royalties, and these funds go to the Ava Gardner Museum, the Queen Victoria Hospital in London, and St. Jude Children's Research Hospital in Memphis, Tennessee.
In 2012 Jess Morgan retired and the Trustee position was assigned to the Executive Director of the Museum. The position passed through three Directors in the next few years and was finally legally separated from the Museum for the sake of stability. Currently, all Trust funds go to the following charities and non-profits.
Ava Gardner Museum
The Ava Gardner Museum is a registered North Carolina non-profit. The Museum's charter mission is to preserve and present the collection of Ava Gardner memorabilia and to educate the public about the life and career of Ava Gardner. The Museum carries out its mission through curatorial preservation, historical interpretation, and educational outreach. The Museum's unique collection spans Ava Gardner's entire life, from her humble beginnings in rural North Carolina to her relaxed final years in London. Since opening their doors in 1981, their vast repository of Ava's personal and professional artifacts has grown to include photographs, jewelry, costumes, memorabilia, papers, ephemera, and much more.
The Museum's expert staff and dedicated board members work closely with the Gardner family to accurately translate the many facets of Ava into state-of-the-art exhibitions and informative digital offerings. As a result of these efforts, they are the definitive resource for illuminating the world to the remarkable life and lasting legacy of Ava Gardner.
The Trust and Museum work together closely to identify projects that will benefit all three charities. There is a reciprocal, formal agreement between the Trust and the Museum to share assets such as copyrights, trademarks, images, and artifacts.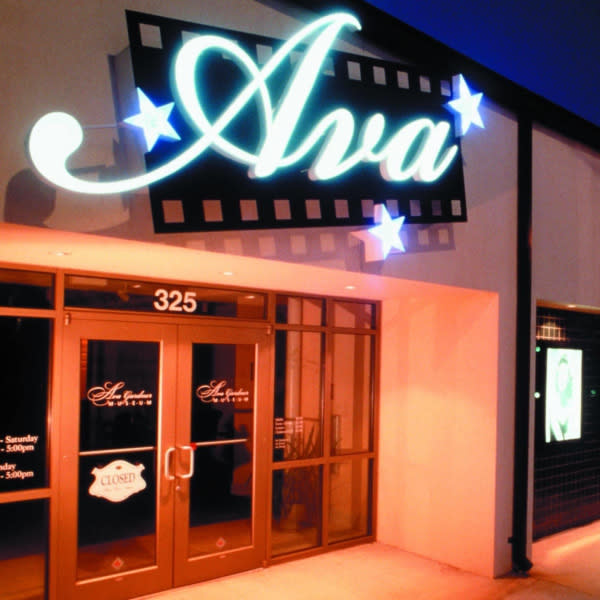 The Ava Gardner Museum, located in historic downtown Smithfield, North Carolina.
The Queen Victoria Hospital
Ava selected the Queen Victoria Hospital Foundation Trust as a beneficiary because of Sir Archibald McIndoe who treated Ava after a devastating fall from a horse at the Peralta ranch in Spain in October of 1957. This fall resulted in a hematoma on her right cheek. Ava's confidence also took a great hit. She wondered how she would be able to continue to make films with a scarred face. Archie, as Ava came to call him, treated Ava with heat and massage, continued to follow Ava's progress, and assured her that the hematoma would go away in time.
In recovering from the fall, Ava became more and more involved with the burned pilots of the Royal Air Force who formed The Guinea Pig Club. Ava said her involvement with these brave men helped her. "It was the best possible therapy for me." From her autobiography, Ava: My Story, she said: "I met a lot of them and we danced and laughed together. They were so brave I could have wept. Archie told me my visits did them a lot of good, but I'm sure they helped me more than I ever helped them."
Archie asked for a favor. He invited Ava to come to the hospital in East Grinstead to sell autographs at the hospital's fundraising fair. Archie invited every press person in the area to turn their cameras on Ava. She looked gorgeous and there was no tell-tale sign of her injury. When Ava saw the photographs in the papers, she regained her confidence and was forever grateful to Archie. "What more could Archie have done for me? Without letting on, he had given me back my confidence. As he had done with so many young airmen, he had given me back my life."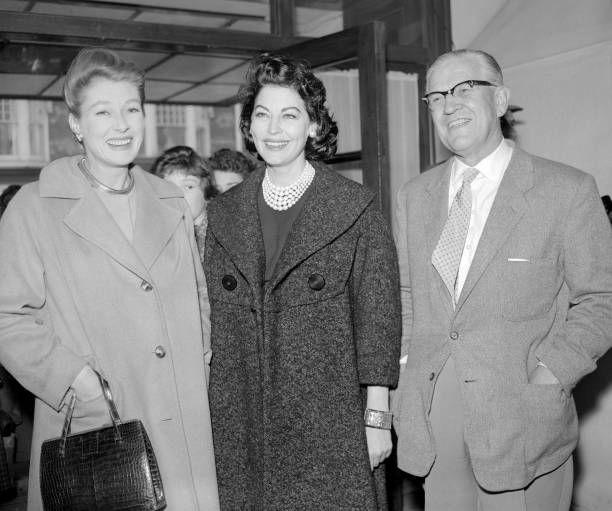 Ava Gardner with the McIndoes.
McIndoe is remembered worldwide for his innovative work with the burned pilots from World War II. Today the Queen Victoria Hospital is internationally known for its expertise and world-leading specialist skills in treating burns, cancer, complex eye conditions, and facial palsy. The remarkable staff at the Queen Victoria Hospital help to rebuild lives. They maintain, "Medical research and advancement requires investment to continue to push the boundaries." Ava would be immensely pleased that after all these years, she is still able to contribute!
St. Jude Children's Research Hospital
Each year, the parents of 16,000 children in the United States will hear the words, "Your child has cancer," and many of these children will be referred to St. Jude Children's Research Hospital. Treatments developed at St. Jude have helped push the survival rate for childhood cancer from 20 percent when St. Jude opened in 1962 to more than 80 percent today. "St. Jude will not stop until no child dies from cancer." Most of the funding comes from charitable donations, and the mission is to save children regardless of their financial situation. No family ever receives a bill from St. Jude for treatment, travel, housing, or food.
St Jude freely shares the discoveries it makes, and every child saved at St. Jude means doctors and scientists worldwide can use that knowledge to save thousands more children. St. Jude is where doctors often send their toughest cases because St Jude has the best survival rates for some of the most aggressive forms of childhood cancers. St. Jude has treated children from all 50 states and from around the world.
This amazing children's hospital has discovered a cure for "bubble boy" disease (Severe Combined Immunodeficiency Disease) a rare genetic disease that causes a child to have a weak immune system. As a result, the child is unable to fight off even mild infections. The disease is known as the "living in the bubble" syndrome because living in a normal environment can be fatal to a child who has it. St Jude turns laboratory discoveries into life-saving treatments that benefit patients every day.
St. Jude Children's Research Hospital has launched an ambitious initiative to improve access to care for children with cancer and other life-threatening diseases in every corner of the world. St. Jude Global will create a network of interactive institutions that will form a global alliance focused on improving survival rates of children with cancer and other catastrophic diseases worldwide, through the sharing of knowledge, technology and organizational skills.
Ava loved animals and was never without a dog. She would be happy that St. Jude has two official staff members, therapy dogs Puggle and Huckleberry, who bring comfort to children at the hospital. We believe Ava would absolutely love this special touch! This new beneficiary is a great fit for the Ava Gardner Trust.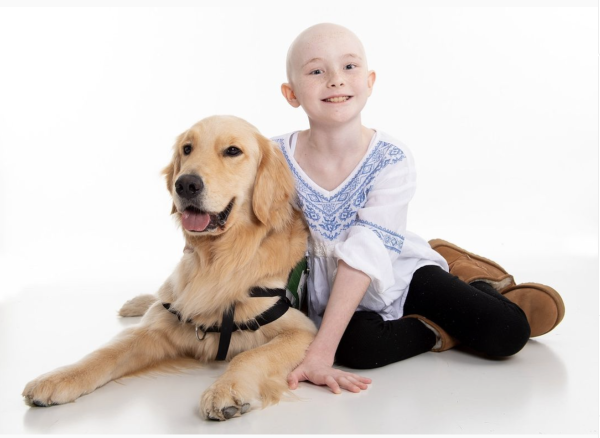 Happiness is spending time with Puggle, a therapy dog at St. Jude Children's Research Hospital.
Summary
Please remember that every time you buy an official Ava Gardner branded product, you are supporting these three charities. No other entity or individual benefits from Trust funds. Throughout her life, Ava was recognized for her generosity and compassion for others. I truly believe she would be pleased that the Queen Victoria Hospital has survived as a beneficiary. She would be sad that The Animal Health Trust closed permanently, but she would rejoice that the families at St. Jude Children's Research Hospital will now benefit from our generous support. Ava was an animal lover but also loved children. Ava would be humbled by the work of the Ava Gardner Museum and its unique resources. It is partly through the work of the Museum, helping to keep her legacy relevant, that the Trust is able to secure licenses that provide income for the beneficiaries. The global pandemic has impacted the work of the Trust greatly, but there are exciting potential partnerships on the horizon. The continued support of the friends and admirers of Ava Gardner who keep her legacy alive is humbly appreciated.
I am certain that Ava would encourage and appreciate contributions, however large or small, to her Trust beneficiaries.
Sincerely,
Ava Thompson
Trustee
To keep up with all of the latest from the Ava Gardner Trust, follow them on Instagram: @ava_gardner_trust.