While some might think of Ava Gardner solely in terms of her career as an actress, music was always a big part of her life. As an avid fan, particularly of jazz, she amassed a large personal record collection. In her youth, she had aspirations of being a professional singer. Once in Hollywood, she frequented popular nightclubs where she enjoyed dancing and listening to live big band concerts. Her passion for music extended into her romantic life as well, with all of her husbands having considerable musical talent.
Ava's Love of Music
Growing up, Ava loved listening to her favorite jazz musicians on the radio and singing around the house with her mother Mollie. As a teenager, she spent time each summer at the Holt Lake Pavilion in Smithfield, North Carolina dancing with her friends to the popular big band recordings of Benny Goodman, Glenn Miller, and Artie Shaw.
In her autobiography, Ava: My Story, she said of her musical leanings: "I'd grown up in the big-band era, adoring every sound the great ones made." Her extensive album collection, which is now housed at the Ava Gardner Museum, includes recordings by Duke Ellington, Ella Fitzgerald, Nat King Cole, Louis Armstrong, Peggy Lee, Billie Holiday, Artie Shaw, Tommy Dorsey, and, of course, Frank Sinatra.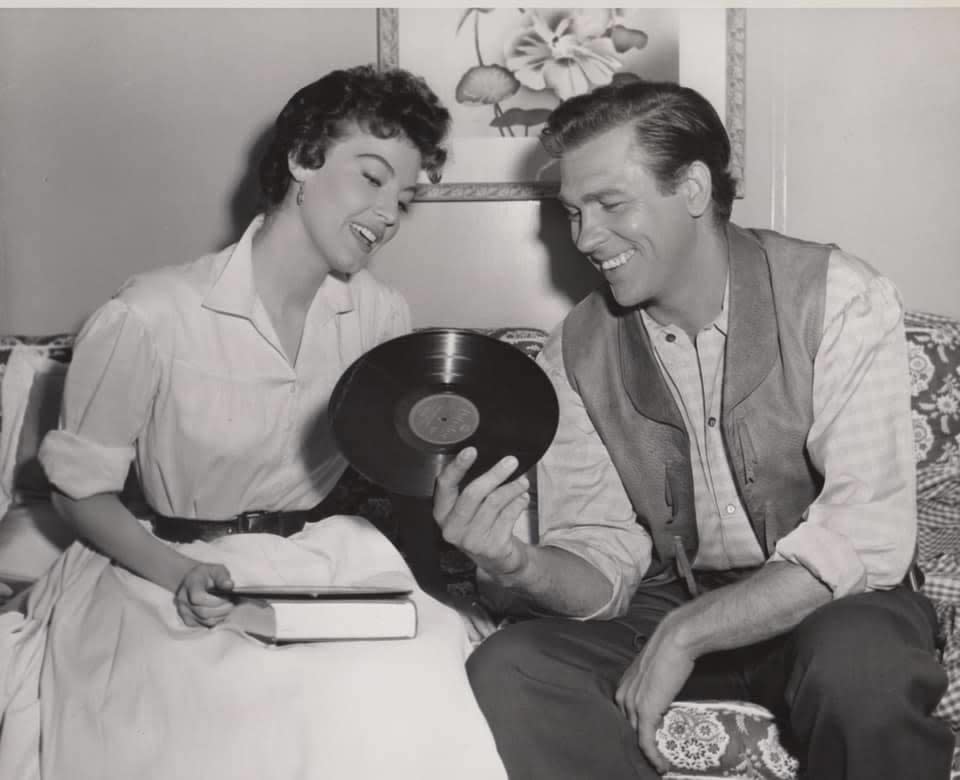 This publicity photo from the set of Ride, Vaquero (1953) was captioned: "Between scenes, Ava Gardner entertains Howard Keel with a musical selection. Whenever the camera isn't turning – Ava's record player is." 
Ava's years in Hollywood included regular visits to famed nightclubs like Ciro's, Mocambo, and the Palladium. During her first marriage to actor Mickey Rooney, Ava frequented the Cocoanut Grove nightclub at the Ambassador Hotel in Los Angeles. She would dance while Mickey, who was a gifted drummer, would sit in with the Tommy Dorsey Orchestra.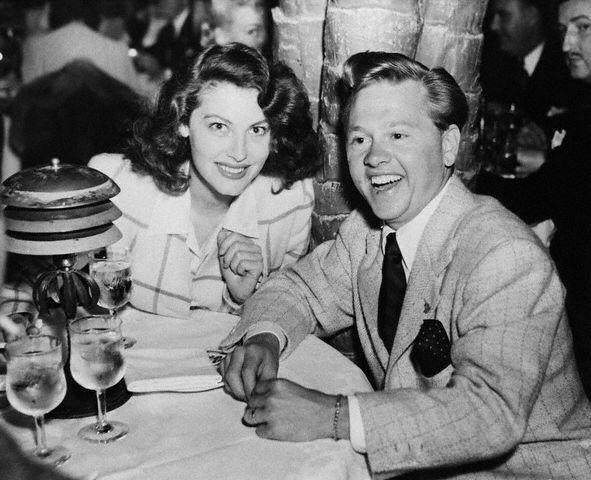 Ava and her first husband Mickey Rooney enjoying an evening out at the Cocoanut Grove nightclub in the Ambassador Hotel. The club's décor included full-size replicas of coconut trees. The trunk of one is visible behind them.
After nearly a decade working in the movie business, Ava traveled abroad for the first time in 1950 to film Pandora and the Flying Dutchman (1951). In Ava: My Story she said, "Pandora got me outside these United States for the first time and introduced me to the two countries, England and Spain, where I was to spend much of the rest of my life. One trip abroad, honey, and I almost never looked back." She especially became enamored with the beauty, energy, and culture of Spain, including flamenco music. Of that first trip, she said, "I have to admit, I was fascinated by Spain from the first. I felt a kinship with the flamenco; it was alive then, and pure."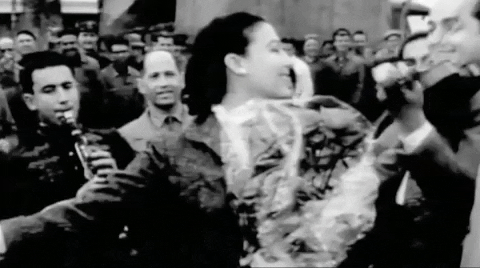 At age 33, Ava decided to leave the U.S. and make a new home for herself in Spain. She chose the country for a number of reasons: "I don't know whether it was the weather, the people, or the music, but I'd fallen head over heels in love with the place from the first moment I'd arrived years before."
Love of Musicians – Marriages to Artie Shaw and Frank Sinatra
Ava was not only a music fan, she also fell in love with musicians – eventually marrying three musically gifted men. While first husband Mickey Rooney starred in several musical films and was a natural on the drums, her second and third husbands, Artie Shaw and Frank Sinatra, were two of the greatest musicians of their generation.
Ava said in her autobiography: "I've always loved musicians. I'm absolutely intoxicated with them. All they have to do is stand in front of a bandstand and I'm in the love with the whole band. It's not only the beautiful swell of the music that emerges from the group, it's the instruments, and the whole ensemble look—I think it's sexy as hell. Some women fall for writers, some for sailors, some for fighters. I'm hooked on bands."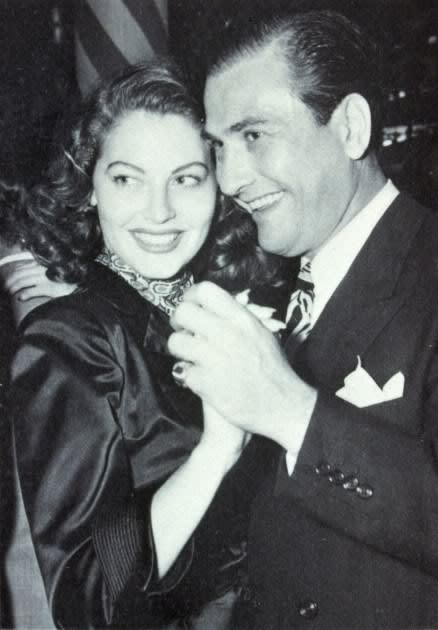 Ava said, "I adored my time with Artie before we got married. We traveled all over California and went to Chicago and New York, with Artie's band playing one-night stands while I sat backstage, sipping bourbon, listening to the music, and having a ball."
Artie Shaw was a composer, conductor, bandleader, and one of jazz's finest clarinetists. He was a genius musician and an intellectual that liked to discuss many subjects. Ava often traveled with him on tour, enjoying the music and atmosphere of the jazz clubs where he played with his band.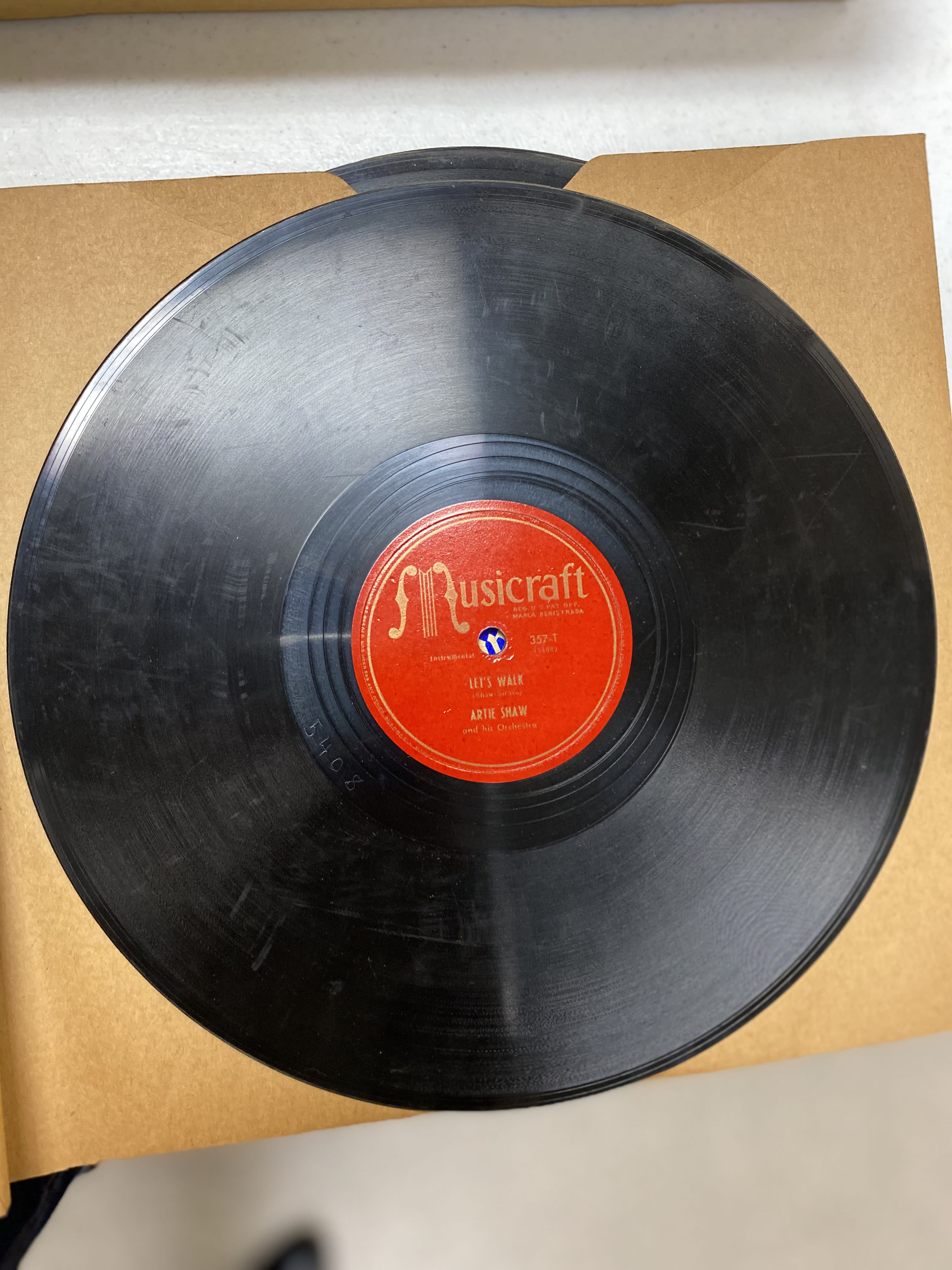 Artie Shaw album in Ava's personal record collection, part of the Ava Gardner Museum permanent collection.
During their courtship, Artie was inspired by Ava to co-write and record a song he titled "The Grabtown Grapple." The name pays tribute to Ava's birthplace, Grabtown, North Carolina. The song was recorded in January 1945 by Artie and his Gramercy Five for Victor Records.
Ava's third husband and the love of her life was one of the most influential entertainers of the twentieth century, the legendary crooner Frank Sinatra. Ultimately an Academy-award winning actor and one of the best-selling musical artists of all time, Frank was actually in a career slump when he became romantically linked with Ava in 1949. Conversely, she was at the brink of some of her greatest career successes.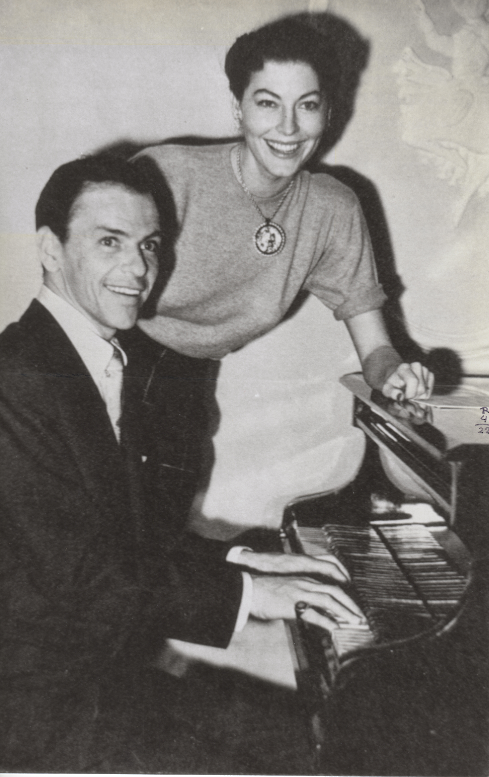 A month after marrying in 1951, Frank Sinatra and Ava Gardner traveled to London where he performed at the London Coliseum.
From the start of their love affair until their divorce in 1957, Ava and Frank's relationship was deeply passionate and often volatile. Although their marriage didn't last, they remained very close for the rest of their lives. The ups and downs they experienced together greatly influenced the music Frank produced during and after their romantic relationship. Music arranger Nelson Riddle once said, "It was Ava who did that, who taught him how to sing a torch song. She taught him the hard way. That's how he learned. She was the greatest love of his life and he lost her."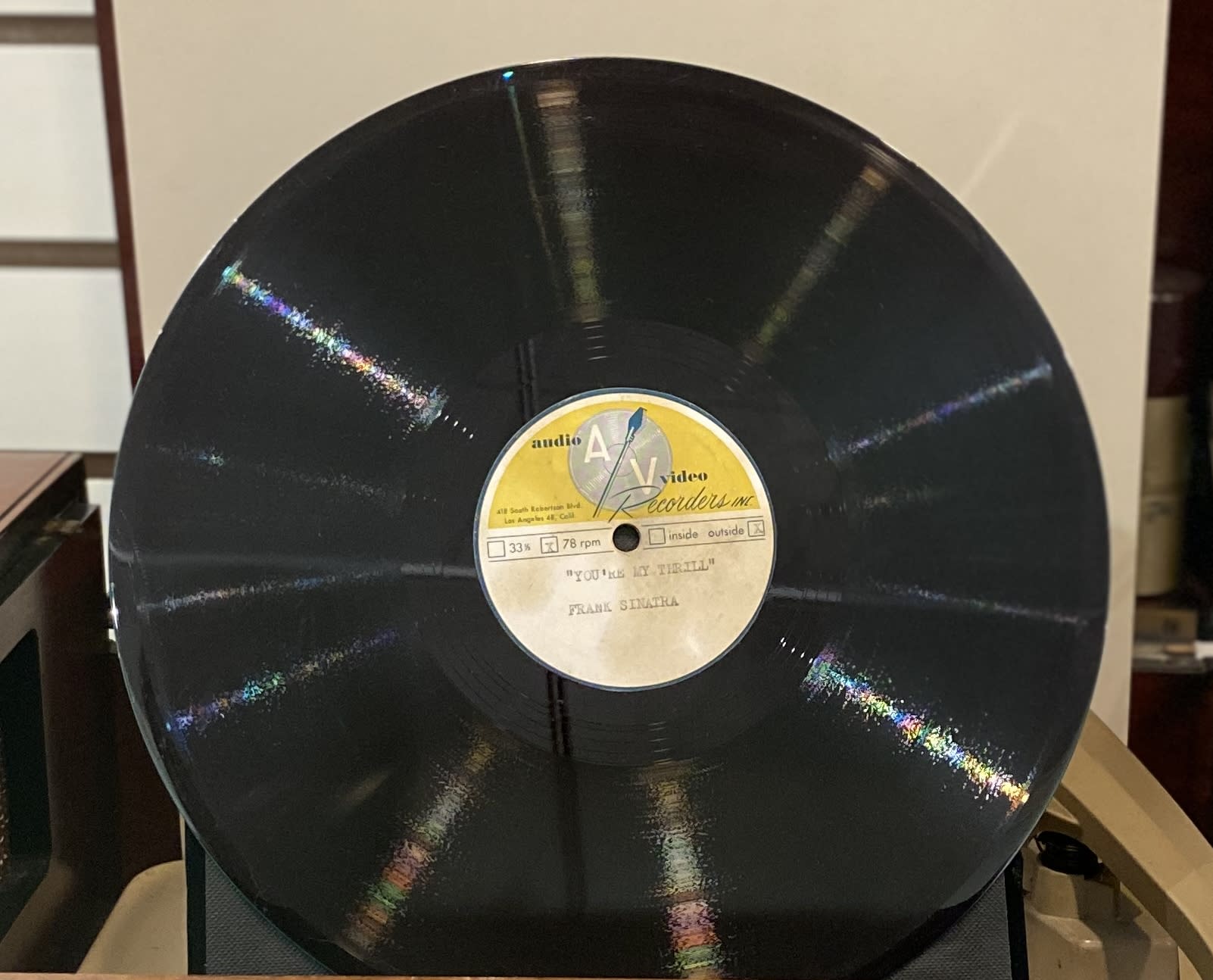 In 1949, early in their romance, Frank recorded this demo of the song "You're My Thrill" as a tribute to Ava. The song was composed by Jay Gorney with lyrics by Sidney Clare and was released in the 1950s by both Billie Holiday and Doris Day. This recording by Frank Sinatra was never released. There are three known copies including this one which was part of Ava's personal record collection. It is now in the Ava Gardner Museum's permanent collection and currently on view in the Frank and Ava exhibit.
Ava's Own Musical Talent
Although Ava enjoyed and appreciated the work of musicians, she also had musical talent of her own. As a teenager, Ava dreamed more of becoming a singer than an actress. In Ava: My Story she said, "Now I have to admit that, like an awful lot of girls my age, the hope of my life was to stand in front of a big-band orchestra and have a crack at the microphone. Could I sing? Of course I could sing. Mama could sing pretty as a blackbird. If you're half Scottish and half Irish and you can't sing, there must be something wrong with you."
Ava had her first brush with a singing career as a teenager when she visited her older sister Bappie in New York. Larry Tarr, Bappie's husband, arranged for Ava to make a demo recording for a local band leader. Of the experience Ava said, "Oh, my God, the thought of it went to my head like the rarest champagne." While that experience didn't work out, Ava did get a few other chances to use her singing voice.
Artie Shaw once tried to convince Ava to sing with his band: "'Avala,' he said one day, tacking his usual endearing Yiddish tag onto my name, 'I want you to sing with the band.' Now I've already described how my heart was half-broken at age sixteen by that band leader who I never heard from again. This should have been my great opportunity for triumph and revenge. But I didn't see it that way. I was just too frightened…And I absolutely refused to go on with it. Which was a pity. It would have been the thrill of my life, but I just could not do it."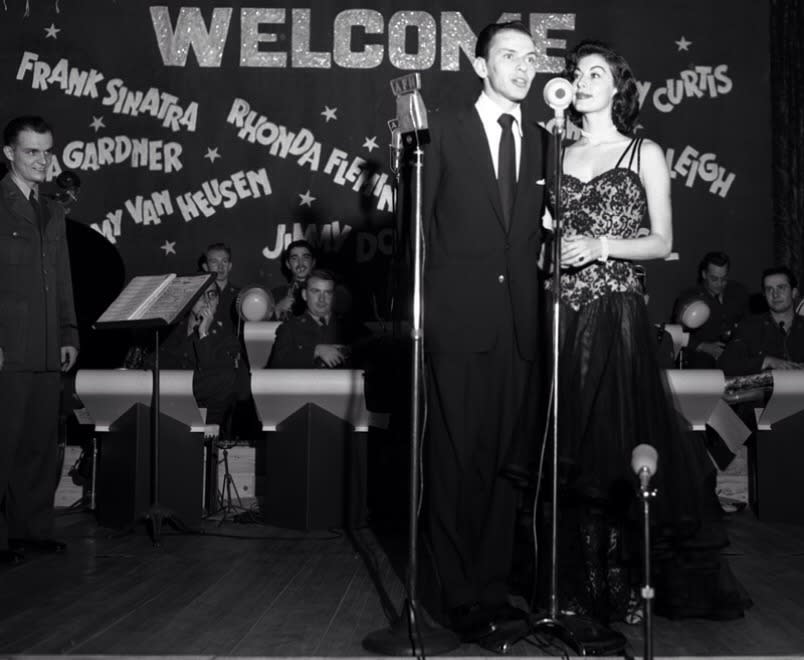 In 1951, Frank Sinatra and Ava Gardner performed the song "Bewitched, Bothered, and Bewildered" together during a show for troops stationed at Camp Lindsey in Wiesbaden, Germany.
While Ava's ambition of singing professionally never panned out, she did sing in several of her films. Her natural voice appears in The Killers (1946). As the archetypal femme fatale Kitty Collins, Ava turns the head of her co-star Burt Lancaster as she performs the "The More I Know of Love." In her Academy Award nominated role as Eloise "Honey Bear" Kelly in Mogambo (1953) she actually sings "Comin' Through the Rye." Her real singing voice can also be heard in the final releases of Pandora and the Flying Dutchman (1951) and Lone Star (1952). In other films, like The Hucksters (1947), One Touch of Venus (1948), and The Bribe (1949), Ava's voice was dubbed by big band singer Eileen Wilson.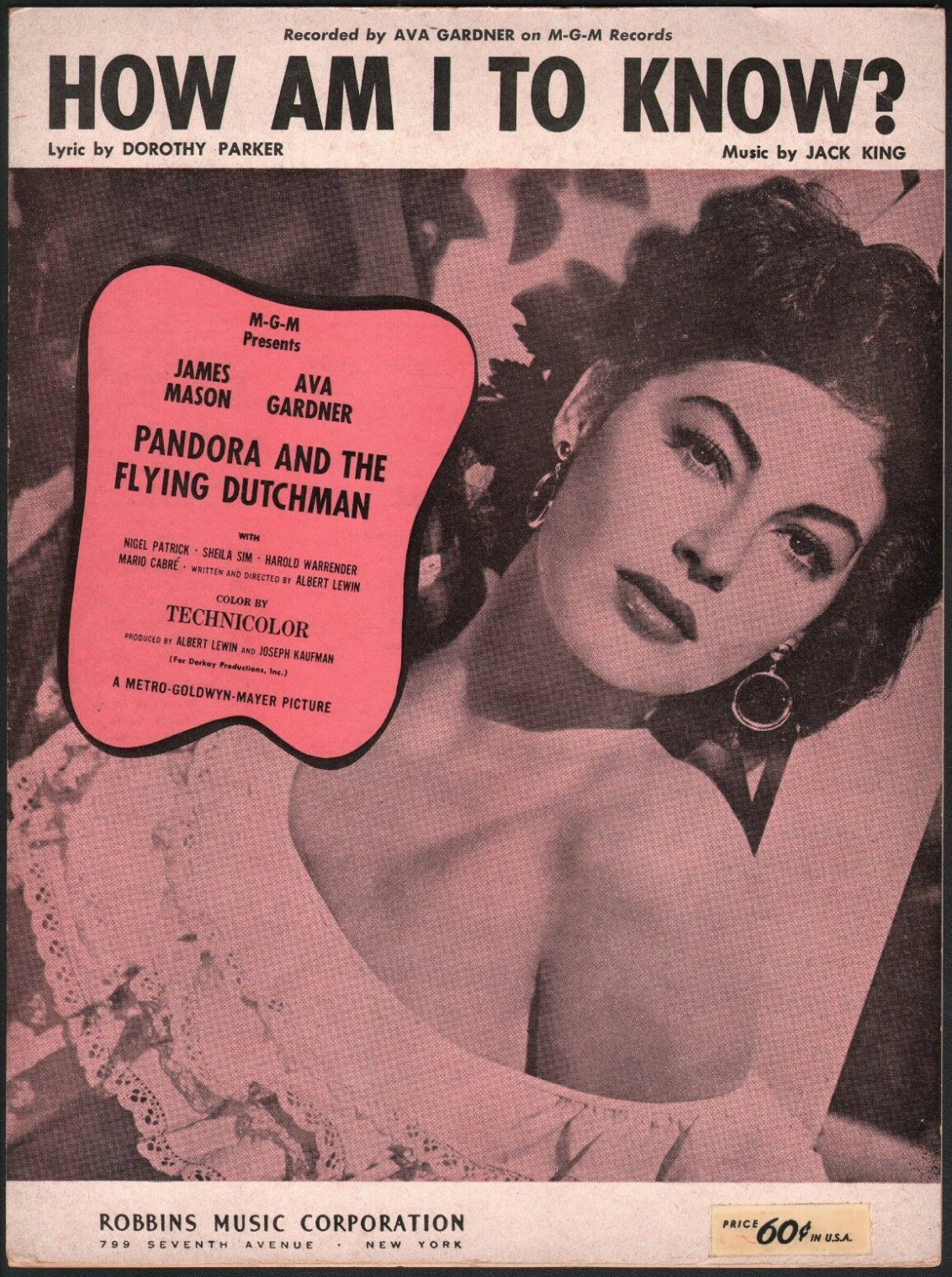 Sheet music featuring Ava Gardner for the song "How Am I to Know?" from Pandora and the Flying Dutchman. Ava's natural singing voice can be heard performing this number in the final film.
For the lavish technicolor musical Show Boat (1951), Ava wanted to make her singing do justice to the complex role of Julie LaVerne, so she trained with a professional voice teacher.
In Ava: My Story she said, "Now, I can sing. I do not expect to be taken for Maria Callas, Ella Fitzgerald, or Lena Horne, but I can carry a tune well enough for the likes of Artie Shaw to feel safe offering to put me in front of his orchestra. But since Julie's two songs, "Bill" and "Can't Help Loving That Man," are so beloved by everyone, I decided to work as hard as I could to fit the bill."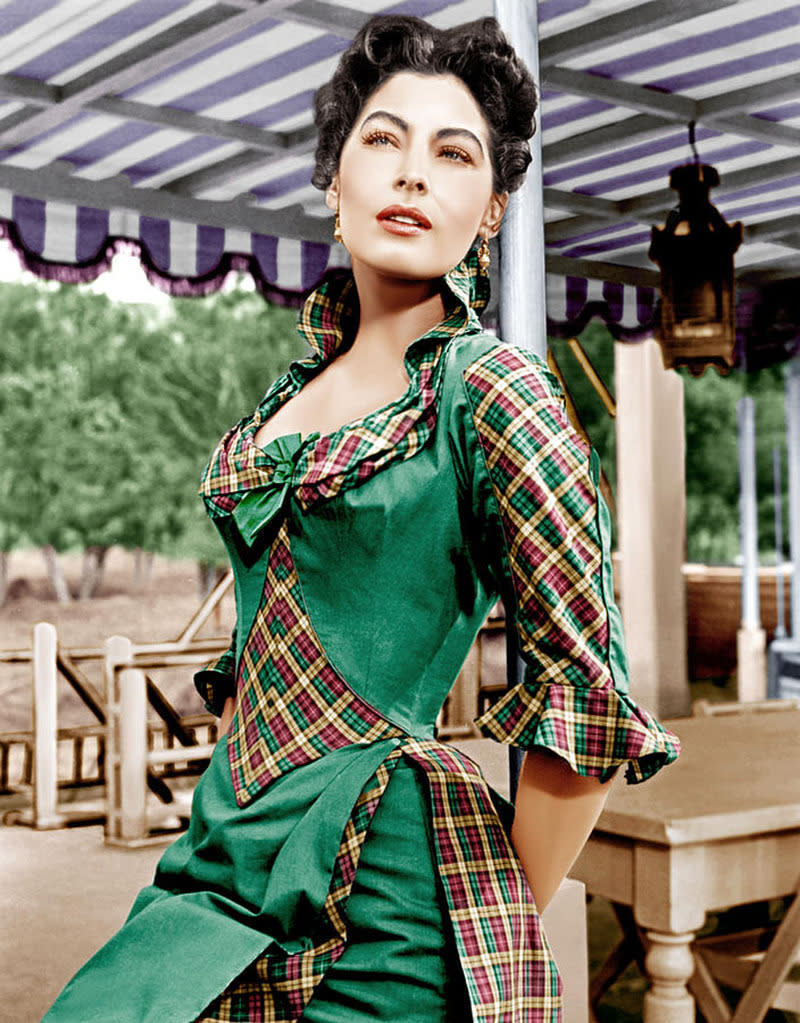 After several dedicated weeks of hard work and practice, she produced a test record of the two songs. She was devastated when the studio decided to have Annette Warren dub her voice for the film; however, in a surprising turn of events, the studio had to include Ava's recordings in order for the soundtrack to be advertised with her name and image on the album cover.