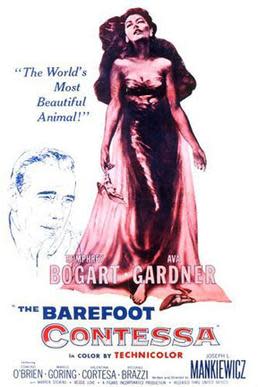 "Of all the pictures I've made, and honey, you better believe I have no idea exactly how much territory that covers, there's no doubt that The Barefoot Contessa is the one that most people identify me with. That damn advertising line, "The World's Most Beautiful Animal," will probably follow me around until the end of time." – Ava: My Story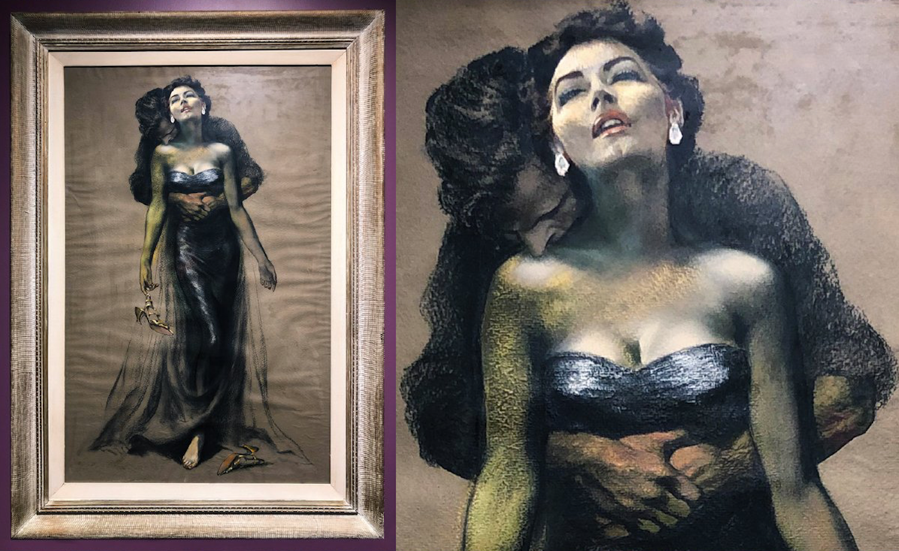 The film's poster included the tagline: "The World's Most Beautiful Animal!" Original concept artwork for the poster, the drawing of Ava as Maria Vargas with the figure behind her, hangs in the Ava Gardner Museum's theatre.
One of Ava Gardner's most well-known films, and the one that she felt most catapulted her to international fame and stardom, was one for which she was not initially considered. Director, writer, producer Joseph Mankiewicz reportedly considered Elizabeth Taylor, Joan Collins, and Linda Darnell for the lead role of Maria Vargas in The Barefoot Contessa (1954) before deciding he wanted to cast Ava Gardner. Mankiewicz had to convince MGM, Ava's home studio, to loan her out to United Artists for the production. At the time, Mankiewicz was, as Ava put it, "the hottest behind-the-camera talent in the business." It took a lot of negotiating by Mankiewicz's team and additional lobbying from Ava herself to get MGM to agree to let her star in the film. The studio insisted on the then steep fee of $200,000 plus ten percent of the gross over one million dollars as the terms for Ava's loan out. When all was said and done, MGM netted a million dollars from the deal, while Ava only received a salary of $60,000 for her work on the project. By comparison, Humphrey Bogart, who played the film's male lead, was paid $100,000 for his work. Despite her lower pay, Ava was excited for the chance to film the movie in Italy. She had recently separated from her husband Frank Sinatra, so she was eager to get away from the Hollywood spotlight, and she thought the script presented an excellent opportunity for her as an actress as well.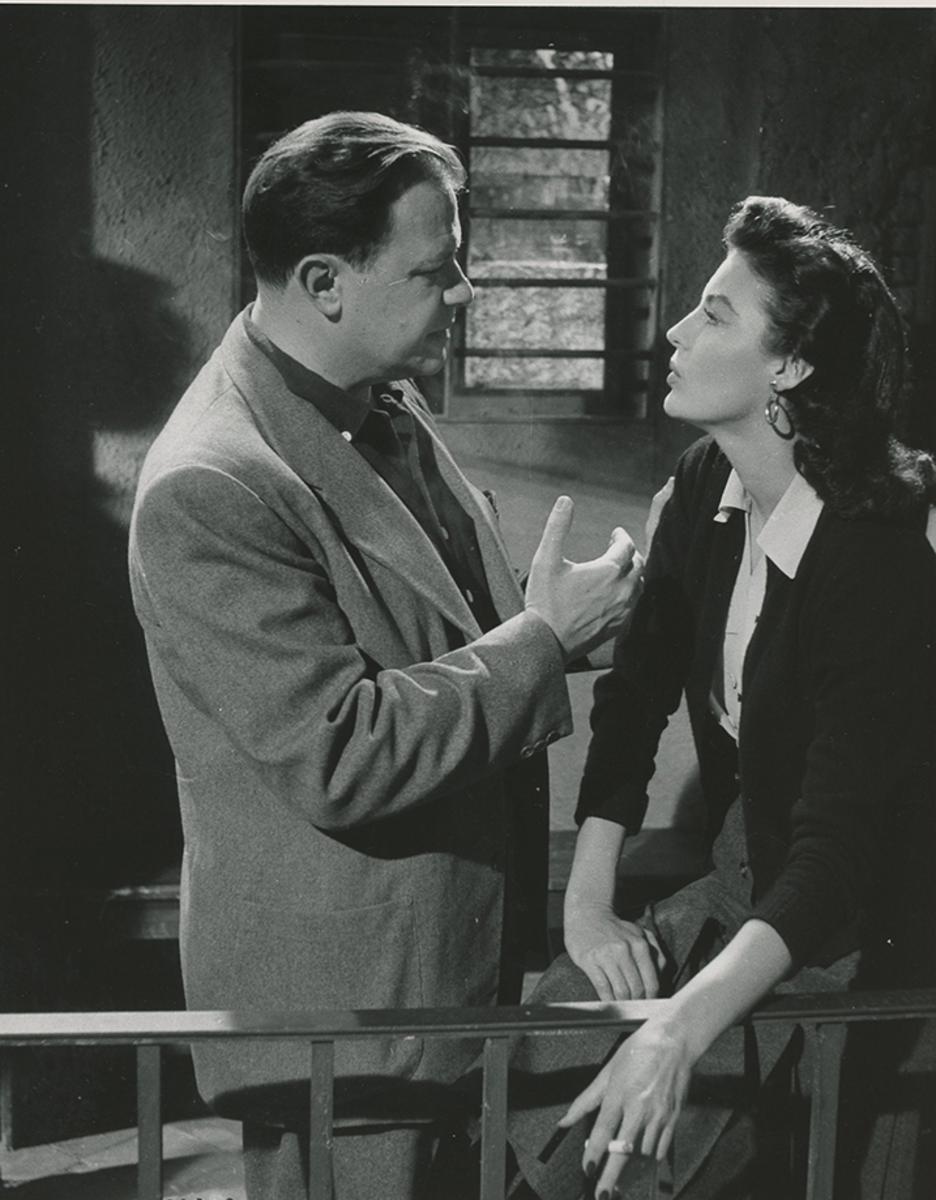 Director Joseph Mankiewicz with Ava Gardner on set of The Barefoot Contessa.
The Barefoot Contessa was Joe Mankiewicz's first production as writer, director, and producer. The film offers up a scathing critique of the Hollywood star-making machine. It begins and ends at the funeral of Maria Vargas, a once, little-known Spanish nightclub dancer who achieves a sudden, meteoric rise to Hollywood fame after being discovered by down-and-out writer-director Harry Dawes. Although she becomes a successful film star, Maria remains unhappy and resentful because she must constantly answer to the rich, arrogant men who permeate the film business and control her career. She ultimately finds love when she marries Count Vincenzo Torlato-Favrini, but their happiness is short-lived. Vincenzo is impotent due to a war wound. In a bid to produce an heir for his linage, Maria sleeps with their chauffeur. Consumed with jealously upon discovering the affair, Vincenzo kills her and her lover without ever knowing she was pregnant.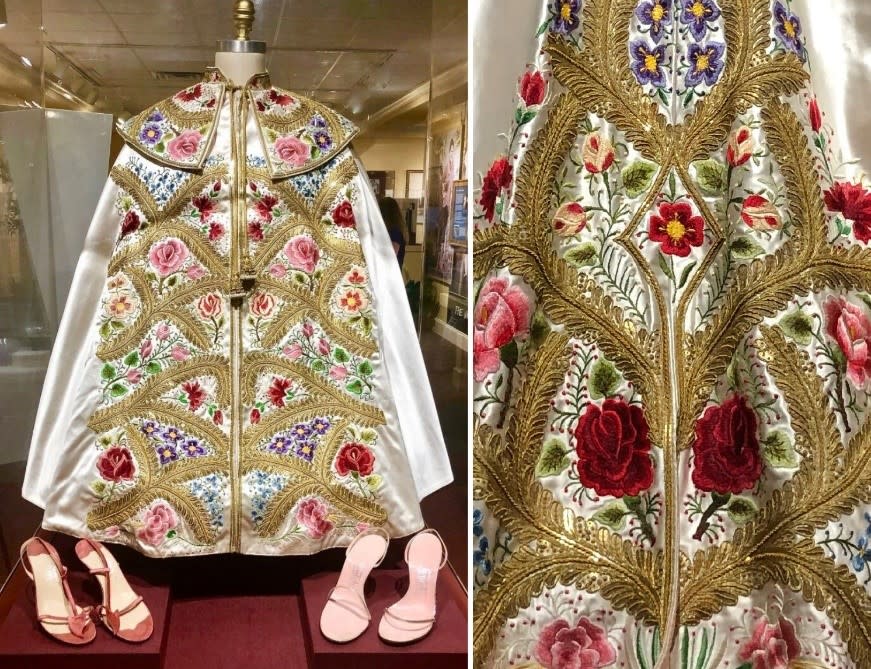 Ava wore this cape in publicity images for the film, but it does not appear in the final film cut. The shoes on exhibit are also from Ava's role as Maria Vargas in The Barefoot Contessa. Learn more about the cape and the film in our virtual tour. 
Many people thought the film was loosely based on aspects of Ava's own life and career. The plot was actually more aligned with the life of Ava's Hollywood contemporary, Rita Hayworth, who was discovered as Margarita Cansino dancing in Mexico and later married Prince Aly Khan. When crafting the screenplay, Mankiewicz drew on the idealized "Cinderella" concept of stardom to warn others against a romanticization of fame. He used Bogart's role of Harry Dawes to be the voice of wisdom, reality, and truth in the film – with the character representing Mankiewicz's own personal views of Hollywood. As the final film illustrates, many Hollywood stars after all, even ones as popular as Rita Hayworth, do not always get their happy endings.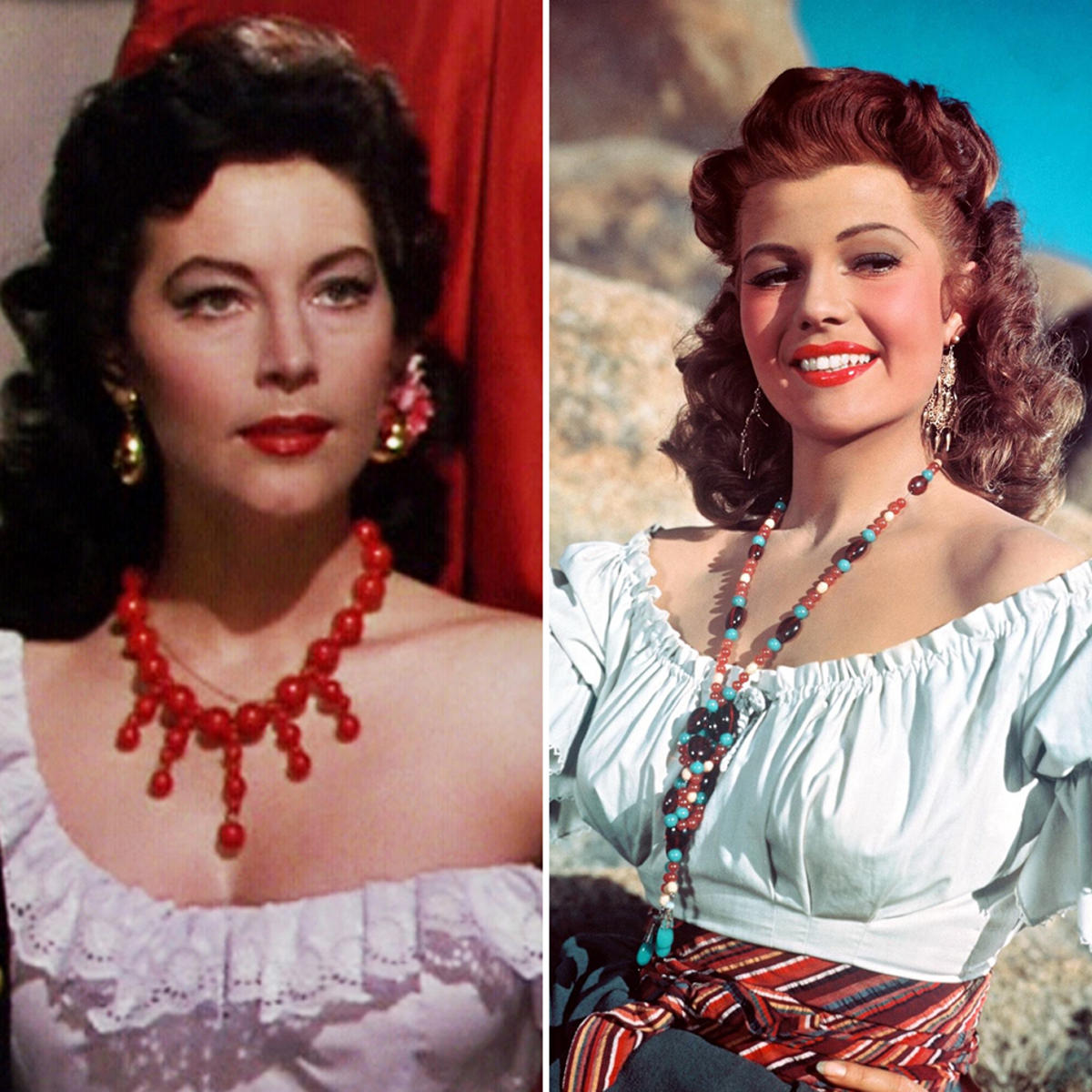 Ava Gardner as Maria Vargas in The Barefoot Contessa next to an image of actress Rita Hayworth. 
While the film made Ava a mega-star, she did not always get along with her co-star. Ava felt intimidated by Humphrey Bogart, who was a big name in Hollywood and a more seasoned actor, having begun his career on the stage and making his film debut in 1930. Although she enjoyed filming many of the movie's scenes, Ava said in her autobiography: "Though I loved the script, felt I understood the girl and even thought my feet were pretty enough for the essential dance sequences, when I arrived in Rome early in 1954, I was nervous at being in such high-toned company. And I have to say that Mr. Bogart did not make my life any easier." In spite of her personal feelings and self-doubts, Ava did feel that Bogart's acting talent and overall demeanor "probably forced me into a better performance than I could have managed without him."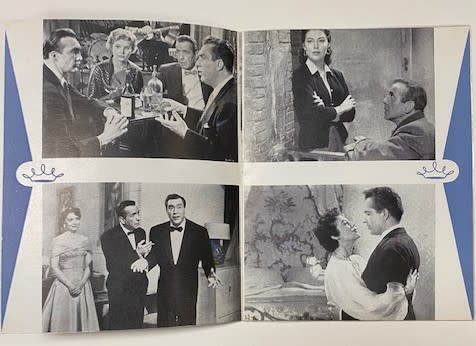 This Danish program for The Barefoot Contessa includes several scenes from the film.
Ava's relationship with Joe Mankiewicz on the set was also challenging at times because their working styles often conflicted. Mankiewicz attempted to tease Ava in an effort to relax her; however, those efforts backfired and caused Ava to feel unease with Mankiewicz as her director. Ava explained in her autobiography: "I respected him enormously, but…I don't think he ever really understood me or my insecurity about my work."
Ava did have a wonderful professional relationship with one important member of the film's crew though, cinematographer Jack Cardiff. Ava had previously worked with Cardiff on Pandora and the Flying Dutchman (1951). The two greatly enjoyed working with one another. Ava considered Cardiff an excellent cameraman and their collaborations produced two visually stunning films. For the rest of her life, Ava remained friendly with Cardiff and always spoke fondly of him.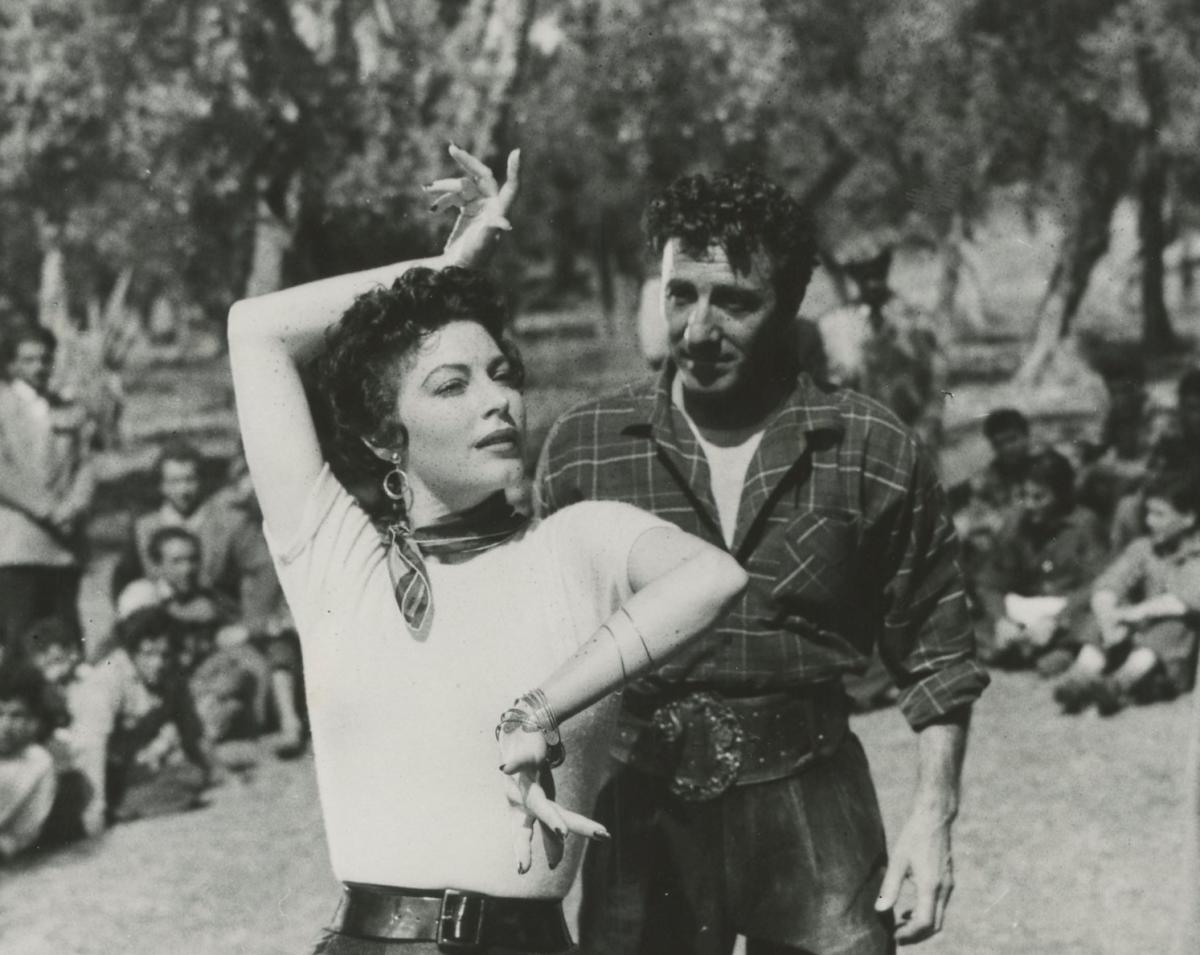 Ava dancing as Maria Vargas in The Barefoot Contessa. 
Overall, Ava admired the end product of the film saying that "some of the scenes in The Barefoot Contessa were among my all-time personal favorites, especially the one where I had to perform a flamenco-style dance…this was the first time I'd ever danced in a film, so I practiced every night on those cold Roman floors for three full weeks." The famous dance sequence featured Spanish flamenco music, a genre Ava had already come to love when she traveled to Spain in 1950 to film Pandora and the Flying Dutchman. Ava's love of Spanish music and culture led her to move to Spain in 1955.
The film received mixed critical reviews, but it ultimately did well at the box office and became a popular release internationally. Although the story painted a negative portrait of the Hollywood system at the time, the Academy Awards recognized the quality of the finished film. Mankiewicz was nominated for the Academy Award for Best Story and Screenplay, and Ava's co-star Edmond O'Brien received the award for Best Supporting Actor as well as the corresponding Golden Globe award for his role.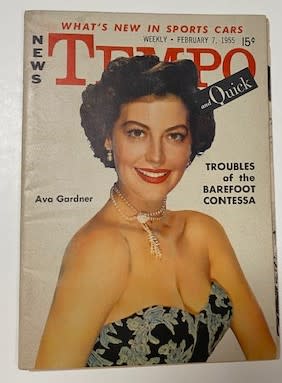 Ava Gardner on the cover of Tempo, February 7, 1955. The cover references Ava's recent role in The Barefoot Contessa.
For Ava, the film was, as she once stated, "the apogee of my life as a so-called star." Ironically, a film about the ups and downs of Hollywood success brought Ava increased fame as well as all of the attention and lack of privacy that goes with it. In her autobiography, Ava reflected on the film's impact on her life and career by saying, "Stardom. My name in a Cole Porter lyric, my footprints in concrete at Grauman's Chinese…And as someone who's been there and back, what I'd really like to say about stardom is that it gave me everything I never wanted."