Ava Gardner. What do you think of when you hear that name? Movie star, icon, "The World's Most Beautiful Animal," Frank Sinatra's wife? That was how I thought of her, a beautiful star who had it all.
A photo of Ava from Movie Life magazine.
I was right, but I was also wrong. Ava Gardner was a beautiful movie star, to be sure. She lived a wonderful life, full of travel and excitement. But she was also a simple Southern girl who kept her childhood values and believed in the good of people. She loved nothing more than curling up in one or another of her siblings' homes in North Carolina, bare feet tucked under her, talking with loved ones or friends for hours.
Ava would have been 100 years old on December 24, 2022. She was born the seventh child of Jonas and Mollie Gardner, and she was quite a surprise to her parents. Jonas and Mollie thought they were done having children; their next youngest, Myra, was seven years old when Ava was born. But, as we all know by now, Ava did things in her own way, in her own time.
I was introduced to Ava through her movies, as most of us were. I thought she was a good actress, and I enjoyed her films. I had never seen her at the movies, only on the small screen, but her beauty was evident. Other than that, I knew very little about her. And then…my husband and I decided to move to North Carolina.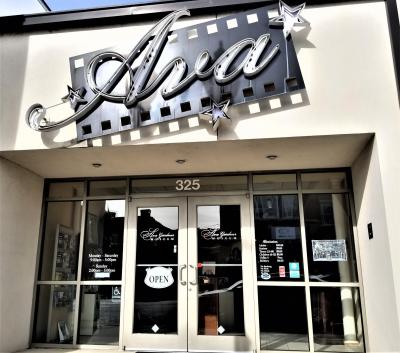 The front facade of the Ava Gardner Museum. 
I was born, raised, and lived most of my life in San Diego, California, so for me, North Carolina was a huge change. My husband had spent many years in NC, living at Fort Bragg and in the surrounding areas. Our main reason to move was our three sons, all of whom were in the Air Force and lived on the East Coast – one in Georgia and two at Langley Air Force Base in Virginia. After a scouting trip to North Carolina, and then a house-hunting trip in December 2014, we ended up in Smithfield. On our first day in our new hometown, we drove by the Ava Gardner Museum (AGM). I immediately said we should visit the Museum once we were settled. I was a fan of Ava's films and excited to have her Museum right down the road from our new house.
A year and a half went by. I had not visited the Museum yet (shame on me!), and I was looking for a part-time bookkeeping position near our home. My husband saw an ad for just such a position at the AGM! I applied and was hired in July 2016. I was given several books to read and movies to watch to familiarize myself with Ava's life and career. My education had begun.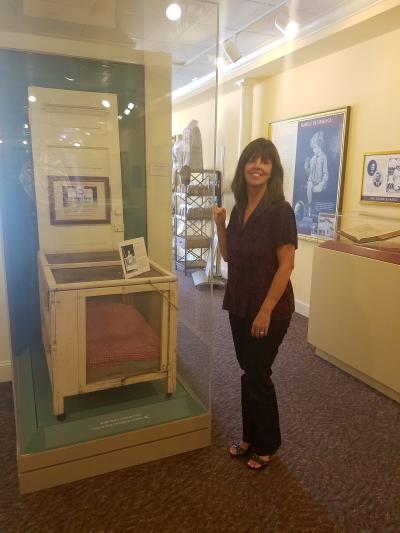 Lynell Seabold in the Ava Gardner Museum on her first day of work.
Seven months later, I was promoted to the position of Director of the AGM. Now I needed to learn everything I possibly could about Ava Gardner. The Ava Gardner Museum prides itself on being the authority on Ava's life – the truth of her life, not the rumors or tabloid fodder. It was very important to me that I get it right, so I doubled my efforts in researching Ava.
Probably the most important aspect of that was getting to know Ava as a person, not a movie star or a personality, but who she was daily in her real life. And the best authority on that was her family. We are very lucky at the AGM to have several family members involved. I spent a lot of time with Ava's niece, Mary Edna Grantham, and great-niece, Ava Thompson. They knew Ava on a level that no one who watched her movies or read the countless books about her could claim. And I listened and absorbed everything I could.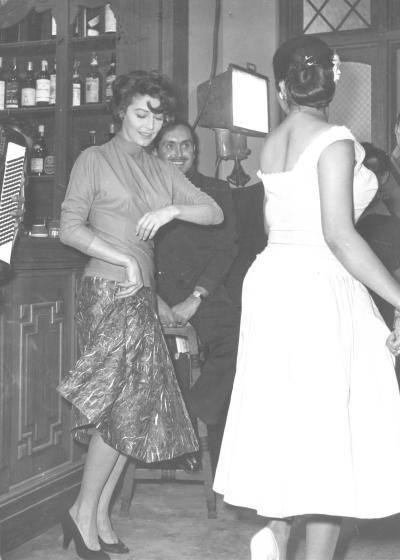 Ava Gardner dancing on set of The Sun Also Rises.
What I have learned from the real Ava Gardner is this:
Family is everything. Be generous with your money and your time. Stand up for what is right, even if it's unpopular. Accept everyone for who they are, do not discriminate. Have a sense of humor. Be yourself, don't let anyone change you. Dance.
I have seen crowds of people from all walks of life gather together for the love of Ava. I have witnessed what the bond of her ongoing legacy brings to all of us. I have felt the deep love that her family and friends still hold for her. Her beloved companion, Carmen Vargas, still tears up at the memory of Ava.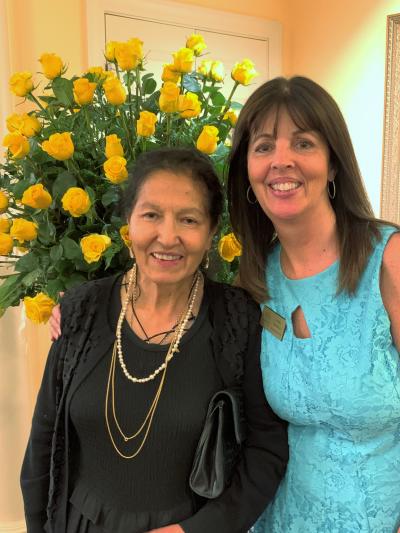 Ava's friend Carmen Vargas with Lynell Seabold at the Ava Gardner Museum.
I believe that to have that much love and devotion, 33 years after her passing, Ava Gardner was much, much more than the femme fatale we saw on the screen. Those of us who work with her every day are dedicated to presenting her life to our visitors in all its facets – her career, her family, her marriages, and her friendships. But above all, we want you to leave the Museum feeling like you know who Ava was.
I would love for you to feel like she was someone you could be friends with, sit down and have a cup of coffee or glass of wine with. We know from her family that she never took herself or her career very seriously, so we also know she would be amazed and probably a little embarrassed by all the hoopla surrounding her now. But I also know she would feel honored for so many people to remember her and celebrate her 100th birthday with us.
Happy birthday, Ava!