Pandora and the Flying Dutchman (1951) Written and directed by Albert Lewin. Starring Ava Gardner, James Mason, Nigel Patrick (122 min).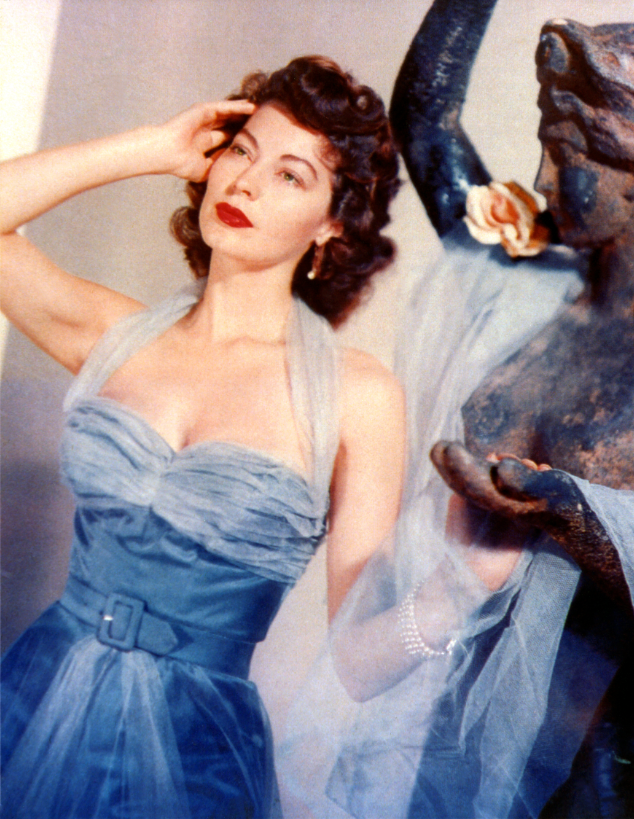 The Ava Gardner Museum has opened a new exhibit featuring objects related to one of Ava's most intriguing films, Pandora and the Flying Dutchman, in which she plays a bored socialite who meets a doomed wanderer and is transformed by the redemptive power of love. Recently restored by the Cohen Film Collection and the George Eastman Museum by building on restoration work done by the Film Foundation, and using Martin Scorsese's personal 35mm Technicolor print as a reference, this lavish 4K restoration is available in the museum's gift shop on Blu-Ray or to stream through Amazon Video.
Pandora was directed by an unusual man, Albert Lewin, who was a Harvard graduate, Ph.D. candidate (finished all but his dissertation), an expert on art history, and a friend of surrealists Man Ray and Max Ernst. As an odd coincidence, he was working at MGM in 1930 when surrealist filmmaker Luis Buñuel arrived in Hollywood to work for the studio. Someone there saw L'Age D'Or (1930) and thought the leading actress, Lya Lys, might become another Greta Garbo. She didn't. Buñuel was invited because the studio assumed he was her lover and put him to work on the Spanish language versions they made of their hits at the dawn of the talkie era. What experiences did Lewin and Buñuel share? Since one spoke only English, and the other only Spanish, it may have been a missed opportunity for kindred souls.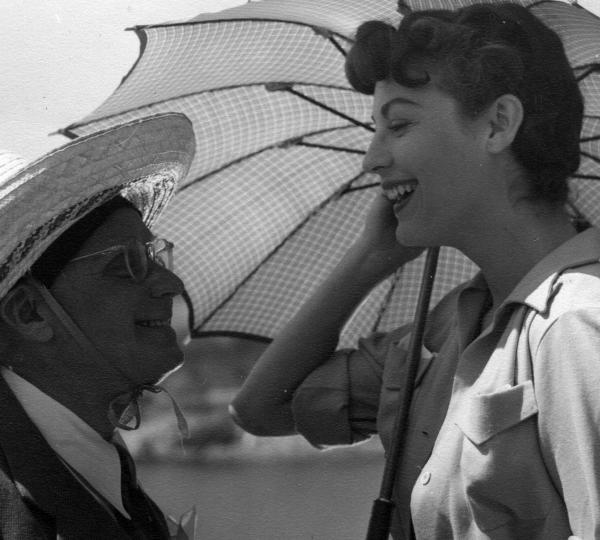 Ava Gardner talking with director Albert Lewin on the set of Pandora and the Flying Dutchman.
Lewin was a maverick at MGM, but he was allowed to make a few very personal films, influenced by classic literature. One was The Picture of Dorian Gray (1945), of which the final horrific portrait, by Ivan Albright, is in the collection of the Chicago Art Institute. Pandora was Lewin's first original screenplay, portraying his "consuming obsessions: myth, magic, beauty, sexual obsession, decadence, the nature of art, the cruelty of love."1 His script referenced surrealist André Breton's philosophy of irrational storytelling and the blurring of the real and unreal. He needed an actress akin to a goddess for the leading role, and he first thought of Greta Garbo. But eventually, he chose Ava Gardner. In the script, Pandora was described as "'Complex, moody, restless with the discontent of a romantic soul which has not yet found the true object of her desires' Ava said, 'It is almost me.'"2
Lewin was a collector of surrealist canvases and consciously tried to evoke their atmosphere. "It was therefore, for me, natural to try to make a deliberately surrealist film. This desire took form in Pandora. The surrealist habit of juxtaposing old and new images, which is particularly noticeable in the work of Giorgio de Chirico and Paul Delvaux, has always disturbed me. I found in the character of the Flying Dutchman, who was condemned to live for several centuries, a symbol of this juxtaposition of periods."3 The surrealists would have approved, especially since many posed stills from the film evoked surrealist canvases.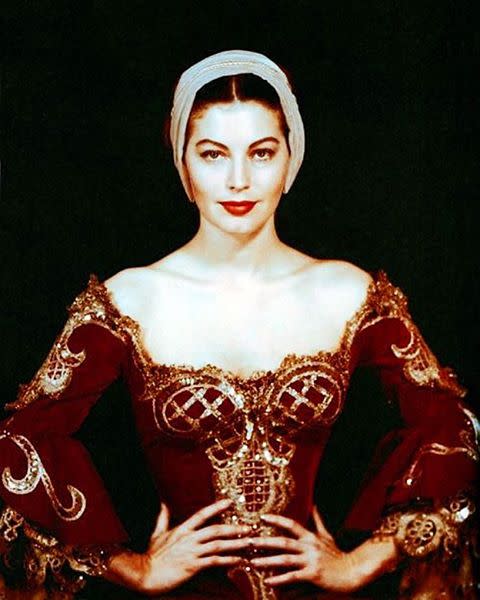 Ava Gardner in a photograph taken by artist Man Ray for use in the film. 
Surrealists were obsessed with how the juxtaposition of unlike objects created new realities. The paintings of Paul Delvaux explored this irrational juxtaposition, much as the more familiar canvasses of René Magritte. Delvaux's landscapes often incorporate the figure of a woman with illogical intrusions. Perhaps a locomotive steams toward the bedroom. These questions are meant to make the viewer laugh, perhaps, but also to think.
The whole film grew out of one image, that of a fire-ball moving quickly in front of a statue of a Greek goddess standing in the sand. Lewin insisted on retaining this de Chirico-like image in spite of his backers' protest. The scene of the men in evening dress dancing with girls in bathing suits to "You're Driving Me Crazy" in a tableau he considered "erotically arranged" amongst the statuary contributes strongly to the surrealist mood of the film. The surrealists believed in the redemptive power of love, also strongly evoked in the film.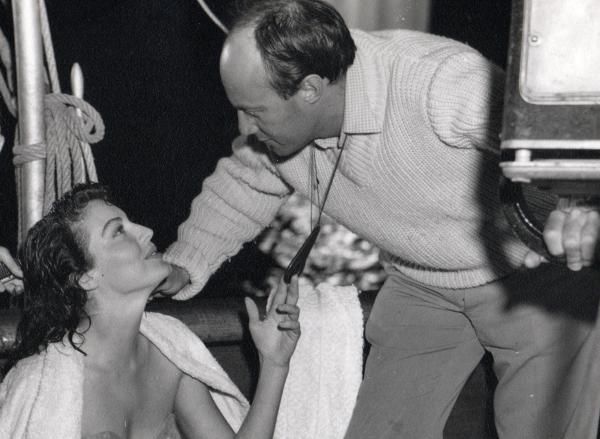 Ava Gardner and cinematographer Jack Cardiff on the set of Pandora and the Flying Dutchman. 
Ava Gardner arrived in London for wardrobe and camera tests, with the great Jack Cardiff, who photographed Black Narcissus (1947) and The Red Shoes (1948). She instantly fell in love with the city she would one day make her home. Soon she would travel to Spain, and to the fishing village of Tossa de Mar on the Costa Brava, 80 miles north of Barcelona. Today a busy resort, in the 1950s the picturesque town resembled an untouched paradise. The deep blue Mediterranean, pale sand beaches, and lovely houses seemed as if they were designed for the film, but it is all real. There were actual Roman ruins in the village and on the grounds of the mansion rented for filming. Marc Chagall was fond of the town, and it was near Salvador Dalí's birthplace; the artistic atmosphere pleased Lewin's aesthetic sense.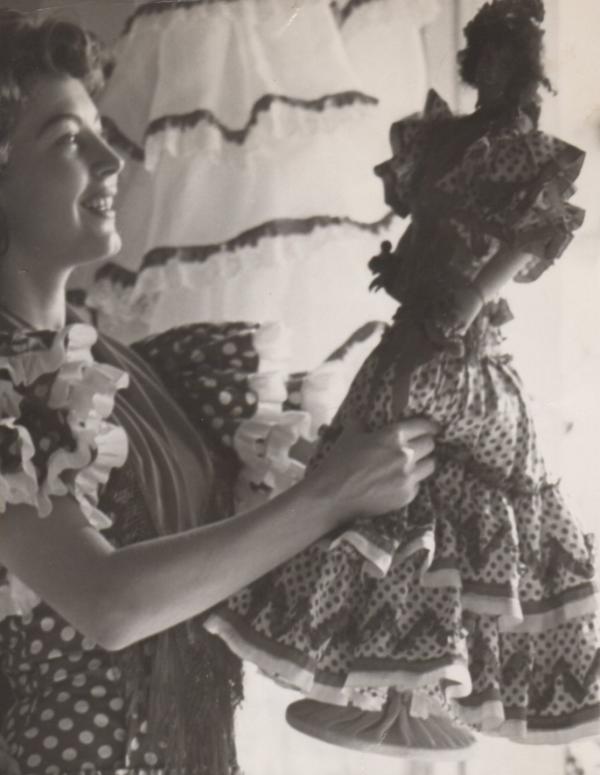 Ava Gardner trying on a Spanish flamenco dress while on location for Pandora and the Flying Dutchman.
Spain cast an even greater spell over Ava than London had. She loved the passionate romanticism of the flamenco, the music, the food and wine, and especially the bullfights and bullfighters. Lewin was infatuated with Ava's beauty. Jack Cardiff remembered, "Lewin thought Ava was a goddess. He thought she was the most beautiful woman in the world, and he used to just gaze and gaze at her. And we would shoot her, and he would say, 'I want to do another close-up. Closer.' And we would do that. And then he would say, 'Let's do another one. Different angle.' Then one more, 'Closer.' And on and on like that. It became that all we were doing was close-ups of Ava Gardner's face. He couldn't stop himself.'"4
Sheila Sim, who plays Janet in the film, said, "As an actress, she was rather nervous. She did not have great faith in her talent, actually. And, I think she was a much better actress than she was given credit for, but I think she had a problem in that her beauty was so distracting to people you couldn't concentrate on her performance. I have never known anyone so beautiful. A totally beautiful, perfect figure and face, whatever she was doing, or whatever clothes she was wearing, totally, absolutely lovely. And she moved so beautifully, had an instinctive gracefulness, fascinating to watch. She was very talented in many ways."5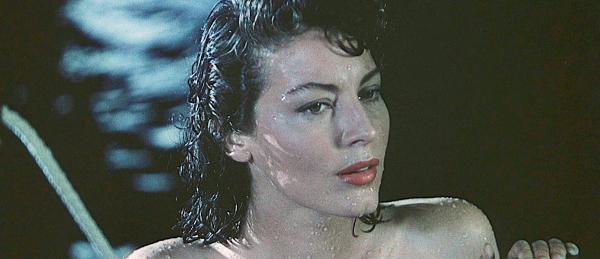 Ava insisted on doing her own swimming in the icy Mediterranean in a scene meant to make her character Pandora appear nude. Although American censorship would not permit the sight of her naked form, Ava found the scene intriguing from a surrealist point of view.
She also sings (in her own voice, not dubbed) the haunting "How Am I To Know." This song was written for the 1929 Cecil B. DeMille film Dynamite. Jack King wrote the music, and the lyrics are by Dorothy Parker! In that film, it was sung by Russ Columbo.
Frank Sinatra sang it too, in a much jauntier arrangement with the Tommy Dorsey Orchestra.
Cardiff recalled that working with Lewin was challenging. He had very specific compositions visualized for the film, homages to surrealist masters. But, filming on location, rather than in the studio's controlled atmosphere meant there were many technical challenges, and the film began to run over schedule.
The filming days were long, and Ava enjoyed the evenings to the fullest. In the gypsy cafes, the drinking and dancing went on all night, and much to the frustration of the rest of the cast, Ava always looked perfect in front of the camera the next morning. She was in the middle of a fiery romance with Frank Sinatra, and back in the States, he pined for her, frustrated with the rudimentary communication in Catalonia. Ava had a fling with Mario Cabré, the bullfighter hired to play the matador in the film, even though she spoke no Spanish, and he spoke no English. His flamboyant style in the ring made him a popular performer, with his pick of the local beauties. He was infatuated with Ava, and he serenaded beneath her window on the guitar and wrote indelicate poetry about their relationship, which he did not hesitate to share with the press. The word traveled across the seas, and shortly afterward, Frank Sinatra arrived in Tossa del Mar.
Ava, hastily separated from Mario, insisted to Sinatra that they were just making a movie together. Set dresser John Hawksworth, had been sharing a room with the torero. "My bullfighter had no sense of humor whatever, and he was crazy for Ava, though I think it was completely one-sided. He was in a fury over Sinatra coming all the way from Hollywood to see her. And he said – we spoke French to each other – 'When I see him…I am going to kill him.' He was very serious sounding. And the man had swords and knives all over the room. So I went to Al (Lewin) and I told him. I said, 'We better be careful, Al, because we could have a lot of trouble. This bullfighter is passionately in love with Ava, and he means business.' And Al said, 'You're right, it would not be good for one of our actors to murder Frank Sinatra.'"6 Out of town rehearsals for the bullfighting sequences commenced immediately. Sinatra stayed while shooting was suspended for rain, and he and Ava drank, fought and made up, and then he went back to the States, convinced that he and Ava were still a couple.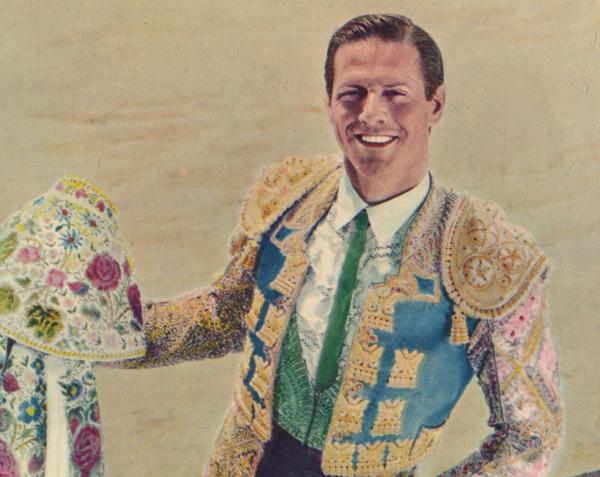 Mario Cabré as the bullfighter Juan Montalvo in Pandora and the Flying Dutchman.
The bullfighting sequences were filmed at a ring in Gerona, Spain. The set dresser was dispatched to buy bulls, and he bought the wrong kind, with long horns making the fight sequences particularly dangerous for Cabré. Because he had to fight without having the darts speared in the bulls back to weaken him, due to British censorship, which would not permit this portion of the fight to be shown, and because they had to lengthen the time he fought the bulls for as long as possible to get coverage for their shots, the match was exceptionally dangerous. Cabré said, "Perhaps today I am going to die for Ava Gardner."7 Afterward, shooting was moved back to London for some interior scenes.
Ava plays Pandora as willful, capricious, and impatient with the men who adore her for her beauty. She is described on screen as the "secret goddess who all men in their hearts desire." But Pandora holds something of her true self in reserve. Only the mythological power of her love for Hendrik van der Zee, the Flying Dutchman, condemned to wander the earth until he finds a woman willing to die for him, reveals her soul. It's easy to imagine how a famous and beautiful movie star, pursued relentlessly by the press and fans, would identify with Pandora.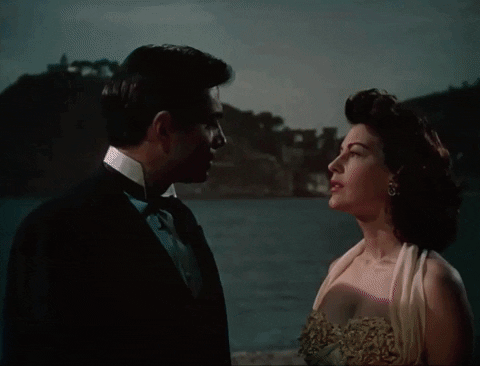 Beatrice Dawson designed the costumes, and they are spectacular. Ava's first gown echoes the fishing nets that are a recurring image throughout the film. Sometimes she is dressed as a goddess in fluid white crepe with gold accents, or in a print that evokes the watery depths. She spends a lot of screen time in a butter yellow chiffon dress with a shelf neckline in which her breasts are covered with tiny yellow flowers hiding sparkling rhinestones in their centers. As she prepares to meet her fate, she has a dress made from shards of velvet ribbon appliqued onto transparent net, a dramatic gown constructed of soft knife shapes, evoking a pivotal event in the film. The most amazing gown is only viewed above the waist, sea green and pearlescent white, encrusted with different shaped beads evoking shells and pebbles. Her wardrobe reinforces that Pandora seems to inhabit another world.
Critical reception was mixed, either it was a masterpiece, or a folly, with its evocation of de Chirico, Dalí, Man Ray and Delvaux. A French critic admired Ava and a fit companion for Lya Lys of the Buñuel-Dalí L'Age D'Or (1930) as "the greatest surrealist woman in the history of film."8 
SOURCES
1 Lee Server, Ava Gardner: Love is Nothing (New York: St. Martin's Griffin), 2007, 191.
2 Ibid, 192. 
3 J.H. Matthews, Surrealism and Film (Ann Arbor: University of Michigan Press), 1981, 45. 
4 Server, 197.
5 Ibid, 197.
6 Server, 206.
7 Ibid, 209. 
8 Ibid, 214. 
Additional Resources
Roland Flamini, Ava: A Biography (New York: Coward McCann), 1983. 
http://www.oddthingsiveseen.com/2011/08/picture-of-dorian-gray.html