On December 22, 2022 the Johnston County Register of Deeds, Craig Olive, presented a copy of Ava Gardner's restored birth certificate to the Ava Gardner Museum. The Register of Deeds maintains the vital records of the county, including births, deaths, marriages, and some military service records, making these important documents accessible to the public.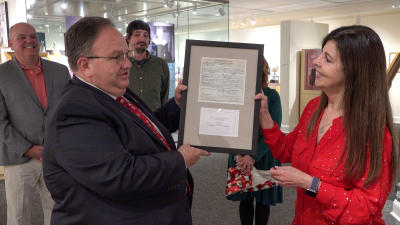 Museum director Lynell Seabold received the copy of Ava's restored birth certificate from Register of Deeds Craig Olive. 
Ava's birth certificate, along with the others on record, were restored by Kofile Technologies, based in Greensboro, North Carolina. Kofile is the oldest and most experienced firm specializing in the preservation of legal and public records in the United States.
The specialized conservation treatment of the birth certificates involved repairing any tears in the paper with archival heat-set tissue, removing any damaging tapes, using magnesium oxide for deacidification of the pages (acidity causes damage and deterioration over time), cleaning the pages, and encapsulating each page in archival quality polyester sleeves that are kept in new high-quality bindings. These conservation treatments are carried out by professional conservators and help to both repair damage caused over the years and protect the document and preserve it for the future. Ava's restored original birth certificate remains with the Johnston County Register of Deeds alongside the rest of the county's birth certificates and other vital records.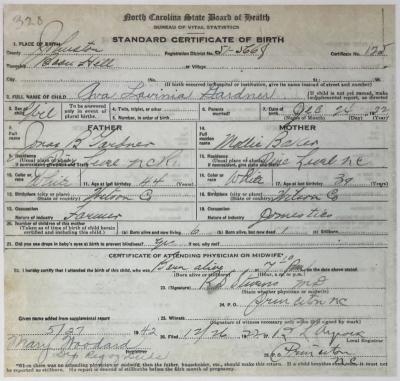 According to Ava's birth certificate she was born on December 24, 1922 at 7:10 pm.
The copy of Ava's restored birth certificate was presented to Ava Gardner Museum executive director Lynell Seabold by Craig Olive, Johnston County's Register of Deeds. Also in attendance at the presentation were representatives from Kofile Technologies and others from the Register of Deeds office. The copy of Ava's birth certificate was presented in a protective frame and is now part of the Museum's permanent collection. It will soon be on display as part of the Museum's permanent exhibit "Ava Gardner's Life and Career."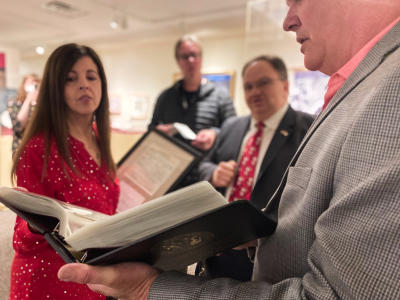 Director Lynell Seabold view the restored original of Ava's birth certificate which was available for viewing at the presentation. The restored original remains with the Johnston County Register of Deeds. 
The presentation took place two days before Ava Gardner's Christmas Eve centennial birthday. "Ava is our treasured, home-county girl, and we wanted to do something special for her to commemorate her 100th birthday," said Olive.
The receipt of the certificate was one of many ways in which the Ava Gardner Museum remembered and celebrated Ava Gardner's Centennial Birthday in December 2022. The Museum also hosted an episode of Hollywood Kitchen featuring the Gardner family's beloved coconut cake recipe, shared many clips from the Ava Memories Project on social media, and more. The Museum also plans to continue celebrating Ava through more events, exhibits, virtual offerings, and more throughout 2023.