The Ava Gardner Museum is excited to welcome back Nina Khan for her second guest blog post. Nina lived next door to Ava Gardner's secretary, Jack Fixa, in Bayswater in London during the late 1960s and 1970s. He, as other employees did, referred to Ava as "Miss G," and so does Nina. Through Jack, Nina met Ava – spending time with her on several occasions. Today, Nina is an avid collector of memorabilia and artifacts from Ava Gardner's illustrious career. The below blog article consists of Nina's memories of traveling in Ava's footsteps, to North Carolina and England.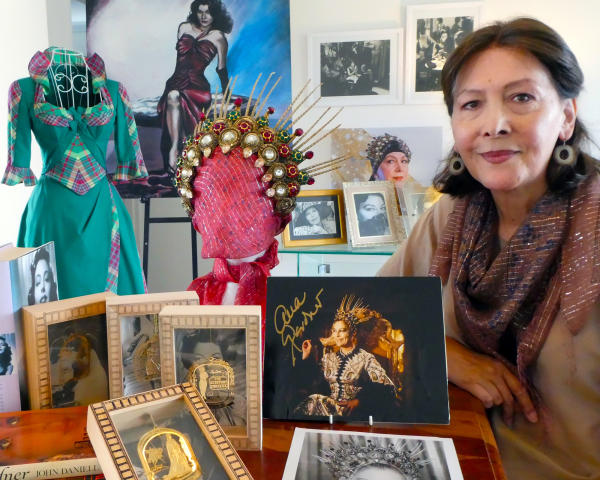 Nina Khan with a sampling of her Ava Gardner collection and memorabilia, including a reproduction she created of Ava's green plaid costume from Show Boat (1951). The centerpiece of Nina's collection the crown Ava wore in The Blue Bird (1976).
During the months of September and October 2014, I made a six-week, around-the-world trip from Australia to the US, the UK, South Africa, and back home to Australia. My purpose was to visit Smithfield, North Carolina, the hometown of Ava Gardner and location of the Ava Gardner Museum's annual festival.
The Museum is stunning, full of items pertaining to the life and career of Miss G. The event was an entertaining, social celebration of interesting people, film screenings, and speakers sharing Ava Gardner anecdotes. The Museum's staff were welcoming and helpful. During the festival, I joined a bus tour, which took me around the area to visit Ava's birthplace at Grabtown and former home at the teacherage building in nearby Brogden. The whole area was quite beautiful. There had been tobacco farms, but much was now other crops, green pine trees, and open countryside. Finally, the tour finished at the Sunset Memorial Park, near downtown Smithfield, at the Gardner family plot and Miss G's very simple grave, next to her family members. Although Smithfield's own movie star would visit her hometown many times during her lifetime and preparations were already made for a permanent Ava Gardner Museum, she passed away in January 1990 and would not see the wonderful collection at the Museum that is enjoyed by many visitors today.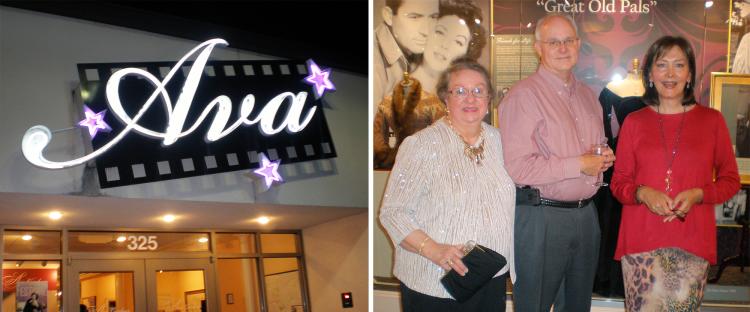 In 2014, Nina Khan traveled to Smithfield, NC for the first time to attend the Ava Gardner Museum's annual festival. While in North Carolina, Nina explored the area where Ava Gardner grew up and called home. Following her visit, Nina affectionately called the Ava Gardner Museum the "shrine of a screen goddess."
(Left: The Museum's "Ava" sign illuminated during the 2014 Ava Gardner Museum festival. Right: Nina, far right, visited with other attendees at the Museum's festival.)
I stayed in the lovely, fresh-aired country town of Smithfield for two weeks. I was glad I came and dearly hope to visit again. Afterwards, I had to move on to London, England, to which I traveled via New York City. I was delighted to be back in London again and stayed at a hotel in Bayswater, near where I lived for many years back in the late 1960s and 70s. I felt like a "ghost" walking the familiar streets again, which I had known like the back of my hand years ago. I walked across Bayswater Road to Kensington Gardens, along to the Albert Memorial, crossed Kensington Gore, and on to Ennismore Gardens. I thought of Miss G regularly walking these footpaths daily with her pet corgi, Morgan on a lead, during the last 20 years of her life. It is such a pretty street too. I followed down the pathway to No. 34, on the corner of Ennismore Gardens Square, to the home of Miss G, where Jack Fixa and I had made our visits, now decades ago. Now there is the famous English Heritage Blue Plaque on the side of the building which reads, "Ava Gardner 1922 – 1990 Film Star lived and died here." 
I was so fortunate the day of my visit to the neighborhood. In the private residents' garden, some local folks were working, sweeping up fallen autumn leaves into bags for compost. I mentioned that I had just arrived in London from Australia, via the Ava Gardner Museum in Smithfield, North Carolina. They very kindly allowed me to come onto the grounds to take some photographs of the special memorial monument there placed in memory of their famous resident. A beautiful sandstone carved urn and plinth stands amongst the shrubs and trees. A metal plate on the front reads, "In loving memory of Ava Gardner 1922 – 1990, Carmen and Morgan." "Carmen and Morgan" were part of Miss G's "family"; Carmen Vargas, Ava's housekeeper and companion, and Morgan was Ava's last pet corgi dog. The monument was erected in 1990 and was now aging beautifully with verdigris green blending into the surrounding garden. I felt so privileged to be allowed into this private domain, a cool place where Miss G would have found quiet tranquility on a summer's day, away from the noisy bustling city of London. The real estate brochures would boast "...only a stone's throw from Harrods and 'Harvey Nics' sweetie." It was a perfect place for her final home. I was there again too, remembering visits with my dear friend Jack, who brought me to meet this screen goddess, now departed over 45 years ago. I was beginning to feel like a ghost myself. So, I said, "Goodbye, Miss G. I am so glad I came, if only to say thank you."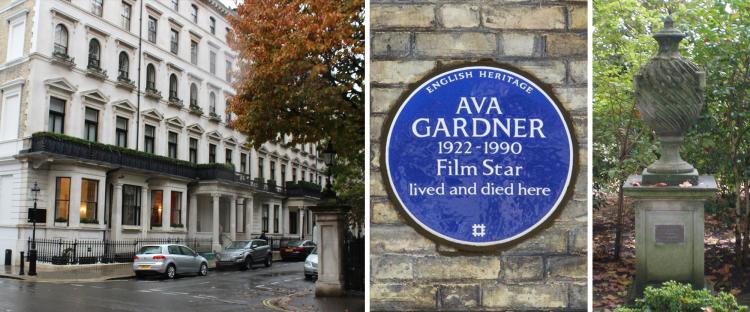 Following Nina Khan's trip to North Carolina, she next traveled to London. She visited the Ennismore Gardens neighborhood in Knightsbridge where Ava Gardner last lived. She found the Blue Plaque placed on Ava's apartment building by English Heritage and the stone, memorial urn dedicated to Ava Gardner located in the building's private garden.
(Left: Ava's apartment building. Middle: English Heritage Blue Plaque in recognition of Ava Gardner. Right: Memorial urn honoring Ava Gardner.) 
London is a big city. How and why our paths crossed has often puzzled me. I walked on down the mews path, behind Ennismore Gardens, which leads to Brompton Road and the Victoria and Albert Museum. Miss G donated some of her finest couture clothes, mostly by Balenciaga, to the V&A Museum. I might see them, but it was not to be that day, as they were not yet on display. However, some of Ava's gowns were featured in an exhibition of couture fashion there in 2017. My pilgrimage of following in the footsteps of Ava Gardner had finally come to an end. My next stop would be Cape Town in South Africa, via Switzerland on Swiss Air. A holiday with close friends and then back home to Brisbane, Australia. Six weeks of rediscovered memories and emotions, that I wouldn't have missed for the world. I have remained in touch with the Ava Gardner Museum and made good friends with some of Miss G's relatives too. My story about my friendship with Jack Fixa, getting to meet Ava Gardner, and my collection can be found on the Museum's blog here.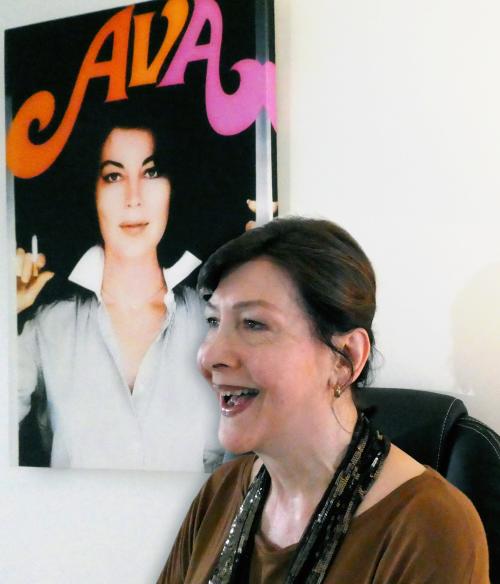 In additional to film and personal artifacts, Nina Khan's Ava Gardner collection includes autographed photos, letters, and unique artwork. 
(Picture: Nina today in her Australia home with Ava-themed artwork on the wall behind her.)
Now to bring us up to date and the 2020s, into a world of COVID 19 and the times of great change and restrictions that have affected us all. In 2022, the Ava Gardner Museum will be celebrating the centenary of the birth of Ava Gardner, kicking off celebrations with their annual festival in October. I am hoping to be able to travel again to the US, if permits are made available for Australians to travel. I will take some of my collection items with me, for the Museum to exhibit and would love to take part in the events. Time will tell, but I remain positive and believe my destiny is to continue to tell my Ava Gardner stories and share my collection with the world's many Ava fans. I consider myself very fortunate and privileged to be able to carry on being custodian of this important collection, of one of the world's most enigmatic cinema luminaries, Ava Gardner aka Miss G.