Ava Gardner and Dirk Bogarde first met on the set of their film The Angel Wore Red in 1959. While both actors personally considered the movie itself a disappointment, the production had a silver lining: it began a loving friendship between the two stars that would last for the rest of their lives.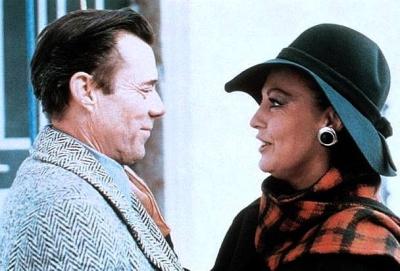 Dirk Bogarde and Ava Gardner
Sir Dirk Bogarde (1921-1999) was an English actor and writer. Born Derek Niven van den Bogaerde (his agent later changed his name), he had Flemish and Scottish ancestry. Raised in England and Scotland, he went to the Chelsea School of Art in London and started his acting career in the theatre. His first screen appearance was as an uncredited extra in Come on George! (1939), a comedy starring George Formby. Bogarde's acting pursuits were interrupted by the outbreak of World War II. In 1940, Bogarde enlisted in the Queen's Royal Regiment as an officer – serving in the Air Photographic Intelligence Unit where he ultimately attained the rank of major. During his service, Bogarde was one of the first Allied officers to enter the Bergen-Belsen concentration camp in April 1945, an experience that had a lasting impact on him.
After the war, Bogarde returned to acting and began to rise in popularity thanks to a string of successful films in the late 1940s and 1950s. The smash hit Doctor in the House (1954) cemented Bogarde's star status with British audiences and critics alike. During this time, he was under contract with the Rank Organisation, where he regularly played leading men and heartthrobs. In the 1960s, after leaving his Rank contract, Bogarde took on more challenging and daring roles. Bogarde's work in the films The Singer Not the Song (1960), Victim (1960), and The Servant (1963) pushed barriers for that time and also hinted at his own closeted homosexuality. He continued to work in film and television until 1990. In the 1970s, however, he performed in fewer films in order to devote more time to one of his other great passions – writing. During his prolific career as an author, Bogarde wrote several critically-acclaimed memoirs, autobiographies, and novels.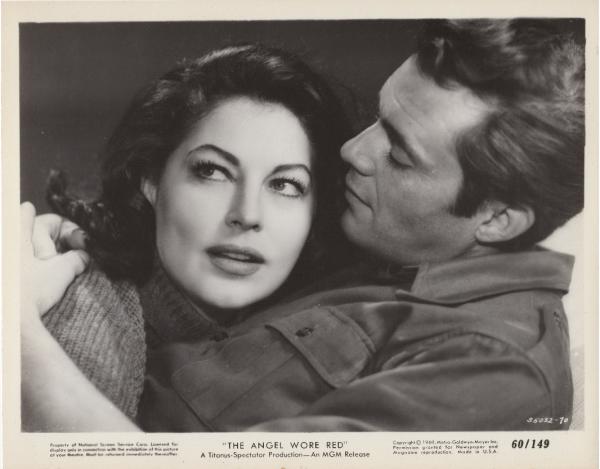 Ava Gardner and Dirk Bogarde in a publicity still for The Angel Wore Red.
Professionally, Bogarde was nominated for five BAFTA Best Actor awards, winning twice. He was recognized for his body of film work through a number of lifetime achievement honors including the London Film Critics Circle Lifetime Award (1991), a special award for service to the cinema at the Cannes Festival (1983), the British Film Institute Fellowship (1987), and the first BAFTA Tribute Award for outstanding contributions to cinema (1988). He also received two honorary doctorate degrees, one each from St Andrews University in Scotland and the University of Sussex in England. In 1992, Bogarde was knighted by the Queen of England.
Personally, Dirk Bogarde was in a long-term, committed relationship with his manager Anthony Forwood, with whom he shared a home for almost four decades. Bogarde never came out as gay or publicly acknowledged that his relationship with Forwood was a romantic one; however, his sexuality was somewhat of an open secret among his friends and within the entertainment industry. During the height of Bogarde's fame, "morality clauses" were commonplace in studio and film contracts. These type of contractual clauses forbade actors from engaging in, what was then deemed, "deviant sexual behavior" or homosexual conduct. Also, acting careers were often ended by even the slightest of rumors of homosexuality. For these reasons, Bogarde likely made the conscious decision to not openly come out during his lifetime. Despite remaining private about his romantic life, he also resisted industry and societal pressures by refusing to enter into a "marriage of convenience." When asked directly by interviewers about his sexuality, Bogarde would say that the clues to his private life were found in his writing, and "if you've got your wits about you, you will know who I am." Later in life, Bogarde did admit that he had a long relationship with Forwood, and, after his passing, his family confirmed that the two were committed lifelong partners.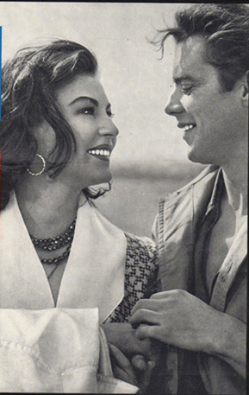 Ava Gardner and Dirk Bogarde in The Angel Wore Red
When Ava and Dirk met on the set of The Angel Wore Red in 1959, both stars had been working in films for the greater part of two decades. Ava had recently left her MGM studio contract and Dirk would leave his studio contract soon thereafter. According to the memoir Living with Miss G written by Ava Gardner's personal assistant and close friend Mearene Jordan, Ava was approached to star in The Angel Wore Red by her friend, director Nunnally Johnson. Set in Spain during the country's Civil War, Ava was to play a "cabaret girl" who falls in love with a priest. Montgomery Clift was originally set to co-star with Ava, but the role of the lovelorn priest eventually went to Dirk Bogarde. The Angel Wore Red was shot in Rome, one of Ava's favorite filming locations, and Ava, according to Jordan, liked the part as it was originally conceived by the director.
Mearene Jordan described the plot of the film in her book Living with Miss G: "The priest, while fleeing through her village cold and hungry, his pursuers aiming to kill him, meets Soledad. She hides him. She does not understand what he's trying to do, but she recognizes a fellow human, who like herself, is defeated. As the days pass, she begins to realize that for the first time she has met a man who desires not her body, but her soul—a man who is gentle, decent, kind and caring. In turn, the priest, thrown into close proximity with this blowsy, attractive and vibrant girl, is confused. She has saved his life, and he senses an intimacy that threatens both his piety and his celibacy. If Bogarde, Miss G, and Nunnally Johnson had been allowed to work out the film the way they understood it, it might have been a fine movie. But that wasn't to be."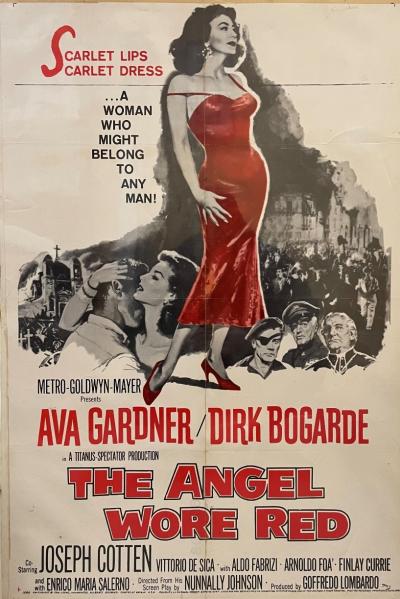 Poster for the film The Angel Wore Red, in the Ava Gardner Museum collection.
Initially, the planned creative approach to the direction of the movie was a realistic, documentary style. The first scenes filmed by Johnson featured both Ava and Bogarde giving their all to the characters in a stripped-down, naturalistic way. Bogarde later wrote about the film: "It was a magnificent part for Ava. It could have done for her what Two Women did for Sophia Loren. She really put her heart into it. I think she was anxious to be more selective and make better pictures. She played it without makeup, without a bra, with holes torn in her dress." Dirk admired Ava's acting talent, later saying in an interview that she was "smashing because she joined in on that, and she's a very beautiful woman, and she didn't mind a bit. She had her hair hanging out her back and she had a dirty old dress on…" However, Hollywood was not happy with the rushes sent from the first several weeks of filming. Studio superiors decided those scenes should be reshot with new wardrobe, hair, and makeup for Ava's character – transforming the realistic, streetwise Soledad into a glamorous fashionista decked out in couture by the Fontana Sisters. As Bogarde put it: "The word came from Hollywood. They put a corset on her and tidied her up. The life went out of Ava after that."
So, the film turned out to be, in Bogarde's opinion, "a perfectly frightful film about a priest and a tart in Spain during the civil war. The film opened, apparently to ten Eskimos in North Alaska, closed the next day and sank without a trace."
In an overall negative review of The Angel Wore Red, the New York Times critic had this to say of the film's stars: "Ava Gardner, a veteran of the Spanish wars, remains a fine figure of a woman, and she makes an interesting try at a patently unplayable role. Dirk Bogarde plays the priest with skill and restraint, in a performance that is consistently in key." In one positive note, the same critic said, "The dialogue bristles with flashes of intelligence and wit." In a Variety review, another critic declared, "[The film] contains some philosophical merit, but just not box office stuff." With a limited release and little studio support, the film struggled to find an audience during its initial release. Today, it still remains one of the more obscure movies in both Ava and Dirk's filmographies.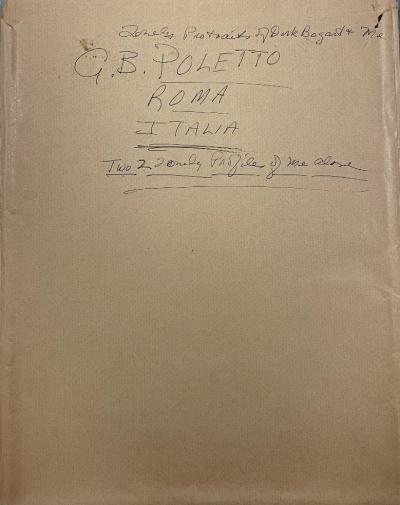 An envelope that housed Ava's personal copies of photographs from The Angel Wore Red. She wrote on the front: "Lovely portraits of Dirk Bogart [sic] & me…"
While dissatisfied with how their film turned out, there was a positive outcome from the production – Dirk and Ava became great friends. The two stars took an instant liking to one another when they met on set, and they developed a close, intimate friendship that lasted until Ava's death in 1990. Dirk wrote, "Ava and I loved each other instantly." The two stayed in touch via regular correspondence and visits to each other's homes. According to Ava: A Life in Movies, Dirk's partner, Tony Forwood, shot home movies at their estate, some of which feature Ava playing with the couple's corgis, Ava's favorite breed of dog as well.
Bogarde spoke fondly and admiringly of Ava Gardner both as a friend and an actor in interviews, saying, "I've worked with some of the most wonderful, extraordinary creatures. From Brigitte Bardot aged 18 to Ava, Ava Gardner, who is one of my greatest and most beloved friends…"
Ava is said to have considered Dirk Bogarde a trustworthy friend that she could turn to for advice and candor. She is quoted in Today magazine's April 2, 1960 issue as saying, "Dirk's a gentleman. Makes quite a change."
The two actors reunited professionally, some fifteen years later, for the film Permission to Kill (1975). During the production, Dirk Bogarde wrote to his friend, the English film critic Dilys Powell about their time together on the shoot: "Ava G was in fine form. She really is the last of the Great Stars. And it shows. … And is still incredibly beautiful…really a face of quite glorious planes, and eyes so green that the lakes were dimmed by her. Enough of that. But she was splendid to work with. It was almost like the Old days of the Cinema and so old-fashioned, my dear, that it is almost classical today!"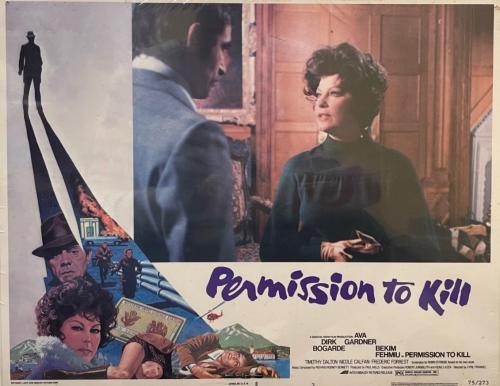 Lobby card for the film Permission to Kill, in the Ava Gardner Museum collection.
Permission to Kill, like their previous film, was a critical disappointment, but the two greatly enjoyed working together once again. Both regarded as legendary and capable actors by that point in their careers, one critic remarked: "It is no less sad to note that artists of the caliber of Dirk Bogarde (not to mention a sacrificed Ava Gardner) have compromised themselves in this unlikely and forced story."
Dirk Bogarde and Ava Gardner remained friends until Ava's passing in January of 1990. Bogarde's last film was released later that same year. He spent the last several years of his life concentrating on writing, continuing to publish several works into the 1990s, even as his health began to decline. He passed away from a heart attack in 1999 at the age of 78.