Tennessee Williams is noted to have said, Ava Gardner's "ego was centered, it seems to me, around her friendships. 'I'm a damn good friend,' she always said."
The value Ava assigned to friendship arose from her humble beginnings in the depression era South where small, rural communities were bound in friendship with neighbor helping neighbor. These bonds of friendship helped rural communities survive and even thrive. From a very young age, Ava had good friends, and as she grew and matured so did the circles of friendship in her life. Ava's friends were extremely important to her quality of life. She lived; she loved, and she fully experienced life through her friendships.
Ava was intentional in developing and maintaining the bonds of strong relationships. She invested time and attention in her friends. She was kind; she was a good listener, she made herself available and showed she could be trusted. Most of all she benefitted greatly from the bonds of friendships in preventing isolation and loneliness. These friendships gave her a sense of belonging and purpose and made her happy and confident.
Roddy McDowall compared Ava as a friend to the "most fantastic relative, because she didn't make you pay a price for knowing her. She was the great older sister who just adores you. And spoils you. Her loyalty was devastating. In fact, it could be embarrassing. Because if she was your friend, she would kill for you, and sometimes you didn't want her to. She believed in the good decent things; she really did. And to the best of her ability, she lived that way."
Much has been written about Ava's many great friendships through the years with Gregory and Véronique Peck, Lena Horne, Grace Kelly, and many, many other famous friends. Little has been written about the relationships she treasured in the last decades of her life in Knightsbridge at 34 Ennismore Gardens. Ava led a comfortable and pleasant life in London and there is a relationship that stands out above the rest – her friendship with Begum Nahid Iskander Mirza.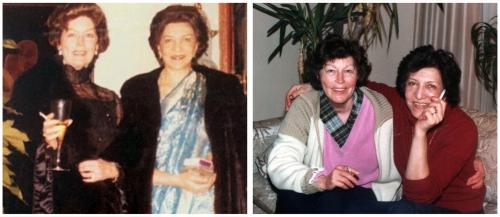 Ava and Nahid enjoyed spending time together at their homes in Ennismore Gardens and out on the town at various social events in London.
Nahid was a very famous and important person in her own right. She was an Iranian who became the First Lady of Pakistan. Ava first met Nahid in 1956 when she was on location in Lahore, Pakistan for the filming of Bhowani Junction. Nahid cheerfully complained, "I was getting all the attention, and everyone looked at me until Ava Gardner arrived!"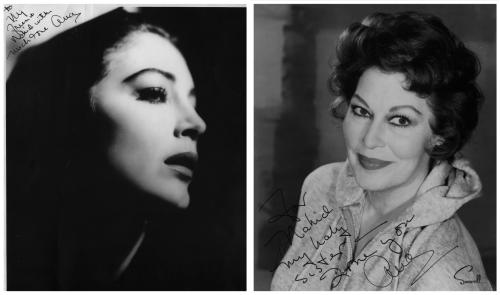 Ava gave these two autographed portraits to Nahid as gifts. The inscription on the first portrait, showing Ava as the character of Victoria Jones in "Bhowani Junction" (1956), says "To my friend Nahid, with much love, Ava." The inscription on the second portrait says, "For Nahid, my baby sister, love you, Ava."
Nahid Amirteymour was the daughter of M.E. Amirteymour (Kalali) a wealthy landlord and head of the Teyomouri tribe of Khorasan. He was also a respected politician who held among his many posts that of Minister of Labour and later Minister of Interior in Dr. Mossadegh's Cabinet in the 1950s.
At a young age she was married to Iranian Lieutenant Colonel Mehdi Afkhami who in 1951 was named Military Attaché to Pakistan. She was unhappy in her marriage and wanted a divorce, but she reluctantly followed her husband to Pakistan. At a reception at the Russian embassy, Iskander Mirza made his way towards her and, after being introduced, he decided he would like to marry her! In 1952, she obtained her divorce after her husband was recalled to Tehran and later in 1954 married Iskander Mirza.1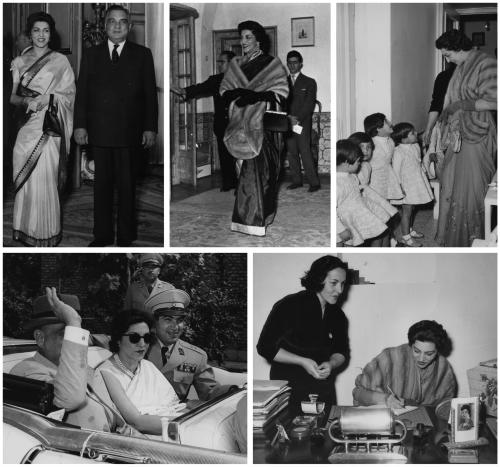 Nahid took on the role of First Lady of Pakistan with great passion and dedication, working alongside her husband to aid in his role as President and support the people of her adopted country.
When the country established its own constitution in 1956, having been a British dominion until then, its National Assembly unanimously elected Iskander Mirza as Pakistan's first President, and Nahid became First Lady.
Following a military coup in Pakistan in 1958, the Mirzas were exiled to London where they lived at South Kensington. Iskander died in November 1969, and 50 years as a widow followed for Nahid. She renewed her passion for classical Persian poetry and could recite most of the Hafez by heart. She also wrote her own poetry; she was an excellent cook, and she prepared wonderful Persian and Asian dishes for her frequent guests.
Nahid resided at 40 Ennismore Gardens. 40 and 34 Ennismore Gardens, Ava's residence, were directly across from each other. As neither of them slept well, sometimes when Ava saw the lights on at Nahid's home, she would telephone, and they would have long chats. On one such evening, Ava said come over and have pasta. Nahid replied, "Who eats pasta at this hour?" On another occasion, when Nahid was trying to give up smoking, she asked Ava to send over one cigarette and Ava sent over a whole packet.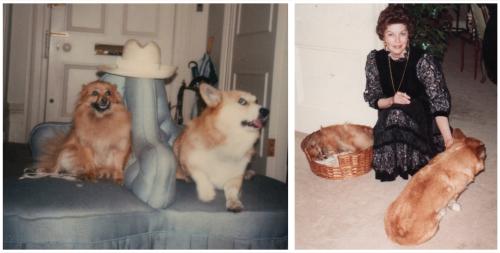 A love of animals was one of the many things that Ava and Nahid had in common. Nahid's dog Cherry (left) and Ava's dog Morgan (right) were regular playmates when the two friends would visit each other's homes in Ennismore Gardens.
Once Ava telephoned Nahid and said, "Are you free tomorrow to go to the theatre?" The next day they took a taxi and, after half an hour, Nahid questioned, "Ava, where are we going? We passed theatreland some time ago!" Ava laughed and replied, "Do you remember our local policeman. Well, he is an amateur actor and tonight he is in a play at a pub in the east-end, and I promised to go see him." Ava was always looking for ways to elevate and befriend everyone in her life. She was kind and humble. Both Ava and Nahid were very "down to earth" and without pretensions, enabling their friendship to grow over the years.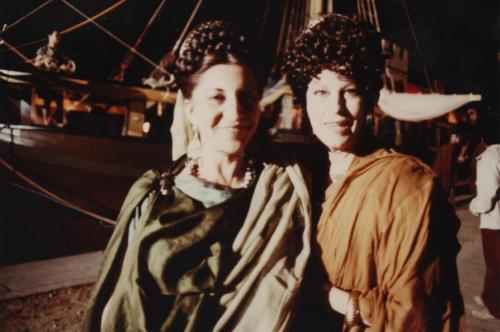 In this behind-the-scenes shot from the set of the television miniseries A.D. (1985) Ava is dressed as her character of Agrippina while Nahid is dressed in costume for her background cameo appearance.
Ava liked to have someone with her on movie sets, and she invited Nahid to accompany her to the location in the Tunisian desert for the filming of A.D. in 1985. Ava had the company dress Nahid in the costume of the production, and Nahid made a cameo appearance.
Nahid lived to be almost 100 years old. I was fortunate to meet her in 2016 when I traveled to London for the unveiling of the English Heritage Blue Plaque.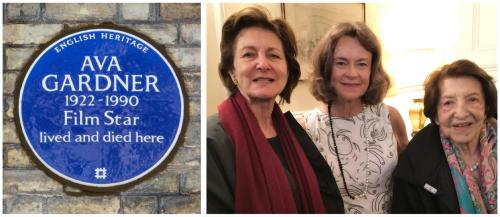 While staying in London in 2016 for the English Heritage Blue Plaque ceremony marking Ava's residence at Ennismore Gardens, Ava Thompson (center) visited with Nahid (right) and her beloved daughter Safia Afkhami (left).
On a recent trip to London, my daughter and I were invited for afternoon tea at her daughter Safia Afkhami's flat at 21 Ennismore Gardens. We were so fortunate to hear stories of the friendship and of Nahid's years as the First Lady of Pakistan. There were hundreds of vintage, black and white photos neatly arranged in scrapbooks documenting the history of the Islamic Republic of Pakistan. It was fascinating to look through those albums which pictured Nahid and the President with every world leader of their day.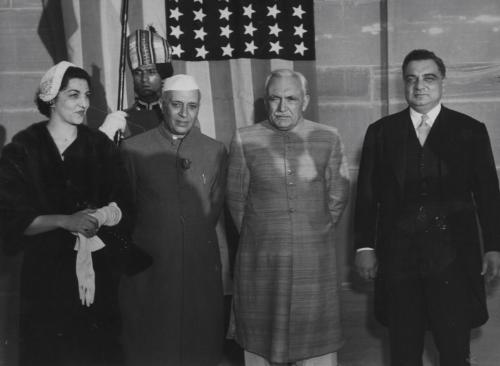 Nahid (left) stands next to the first Prime Minister of India, Jawaharlal Nehru. Nahid's husband, President of Pakistan Iskander Mirza, is pictured on the far right.
Nahid was always beautifully dressed in magnificent saris. She brought color and style to official occasions. She had a natural warmth and worked diligently for charitable causes. She established the Blind Educational Trust and the Adult Blind Center and sponsored the first major orphanage in Pakistan, the "Kashane."1 Safia gave my daughter and I the honor of selecting two of Nahid's saris. We are still amazed that Safia would give each of us such an important piece of history.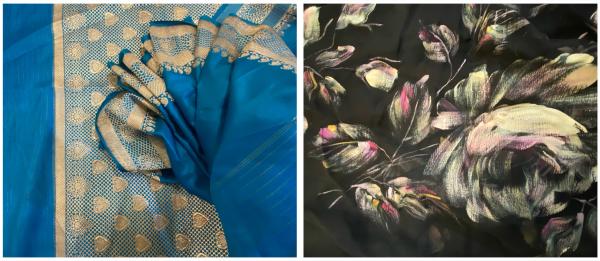 Nahid was always impeccably dressed, often wearing saris made of vibrant, patterned fabrics. When Ava Thompson and her daughter Ava Silver visited London in 2021, Nahid's daughter Safia Afkhami gifted them with two of her mother's saris (close-up details of the fabrics of each pictured here).
The sari I selected is black chiffon with a hand painted floral motif. The sari that Ava Malissa selected is turquoise silk with a gorgeous trim of a gold design. The remainder of Nahid's saris will be donated to the Victoria and Albert Museum in London where Ava also donated several of her magnificent Balenciaga pieces. It is so fitting that the saris will be carefully preserved as an important part of history belonging to an amazing woman and to a wonderful friend.
Among Nahid's many artistic talents were porcelain restoration, painting on silk, and making quilts which she took up during her years of widowhood. Classical Persian poetry, particularly Hafez, was one of her lifelong passions. In her later years, she started to write poetry and dedicated the poems to members of her family.
I sent a framed, cross-stitch to Ava in 1979. Ava had Nahid sew it into a pillow which is now displayed in the Ava Gardner Museum. When my daughter, Ava Malissa, the fourth generation Ava in our family, was born, Ava had Nahid make her a baby quilt, and Ava gifted the quilt to "Baby Ava."

At Ava's request, Nahid sewed this cross-stitch from Ava Thompson into a pillow (left), currently on display at the Ava Gardner Museum. Nahid also created this baby blanket (right) for Ava to give her great grandniece, Ava Malissa Silver, when she was born. The blanket is now a treasured family heirloom.
Nahid was one of the most treasured friends of Ava's life in London. I have learned much from the life of my famous relative. Among many other things, I have learned the value of friendship. Ava Gardner is a great role model for our modern times!
1 Kayhan Life, Obituary for Nahid Iskander Mirza.
Assorted photos of Nahid Iskander Mirza provided by her daughter Safia Afkhami.