Every once in a while, everything lines up in your life just right. That was the case for me in 2017. I had recently been promoted to Director of the Ava Gardner Museum, and I had spent the last several months working hard to learn everything I could about the life and career of screen actress Ava Gardner. It had been a busy nine months since my promotion, and I was looking forward to taking a vacation by visiting my hometown of San Diego. My daughter Rachael, who lives in California, and I decided it would be fun to spend a few days in Los Angeles while I was on the west coast. Planning this side trip made me think of Ava's life in L.A., which I had been spending so much time researching. I thought I would try to reach out to the current owner of the very first house Ava purchased, on Nichols Canyon Road, which is nestled in the Hollywood Hills.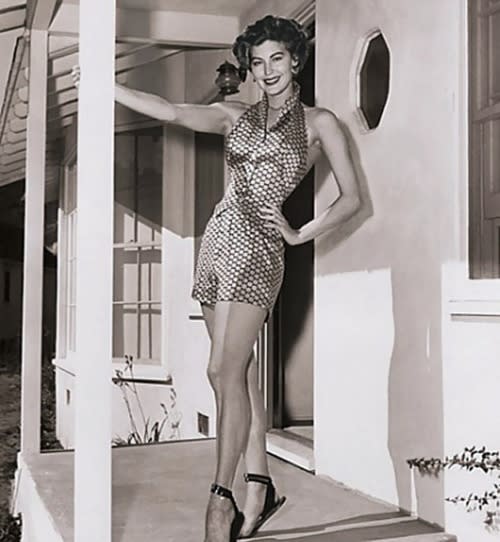 Ava standing on the porch of her home on Nichols Canyon Road in the Hollywood Hills. 
My hope was to get permission to see the house, not necessarily to go inside it, but just to walk around and take a few photos. There is one well-known photo of Ava standing outside on the patio that overlooks the Hollywood Hills, and I wanted to see that site. I contacted Mary, the homeowner. She told me the house was currently being rented out, but the renters were moving so the house might be empty in November, which was exactly when we would be in L.A. If the renters were gone, Mary said, my daughter and I were welcome to spend the weekend there.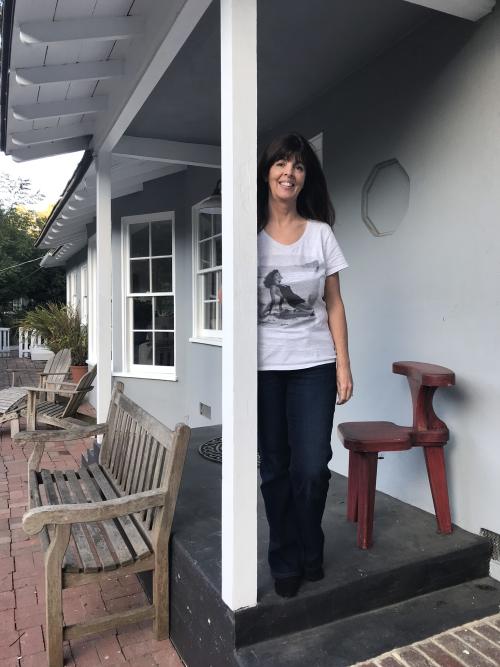 Lynell Seabold recreating the image of Ava on the porch of the Nichols Canyon Road house during her stay there.
Ava at home on Nichols Canyon Road.
And, so it was that I traveled to Los Angeles and spent three days and two nights at Ava Gardner's house. After much anticipation, the time finally came for Rachael and me to drive to Nichols Canyon Road in the Hollywood Hills. This is a very steep, narrow, and windy road; so, it felt a bit treacherous – but I didn't care, I was going to spend the weekend with Ava! 
Ava in front of the fireplace at the Nichols Canyon Road house.
After stopping to take the obligatory photo of the HOLLYWOOD sign, we arrived at Ava's former house. Mary greeted us and showed us around the property. After she left, I found myself drawn to the family room. I had seen photos of Ava in this very room, and now I was standing next to her fireplace, walking down her hallways, and even sleeping in her bedroom! It was surreal – I truly felt her presence in the house. Even my daughter, who was 21 at the time, felt a sense of connection to Ava while we were staying there. I especially felt that 'presence' in the evening, when it was getting dark and quiet in the hills. I imagined Ava, maybe with Frank, relaxing in these very rooms, with the fireplace going and reading a book or cooking dinner together in the kitchen just down the hall.
Lynell's photos from her stay at the Nichols Canyon Road house.
I took hundreds of photos, from every angle, so I could compare the way the house looks now with photos at the museum of when Ava lived there. The basic 'bones' of the house were unchanged; of course, the décor and furnishings were updated, but it looked very much the same, especially outside. It was still next to steep hillsides on either side, one going straight up and the other going down Nichols Canyon. It's a rather simple, traditional style bungalow up in the hills surrounded by million-dollar mansions. I think Ava would laugh at that now, I'm sure it wasn't considered 'simple' when she bought it, just a regular house like the rest of the houses in the neighborhood then – but that has certainly changed over the years.
2775 Rinconia Drive. Ava owned this home and stayed here when visiting L.A. from her home abroad. Her sister Bappie lived in the home.
As an added bonus, I was also put in touch with the man who now owns another one of Ava's former homes in the area. This one was on Rinconia Drive and was the home where Ava's sister, Bappie, lived. Ava would stay there whenever she was in L.A., after she had permanently moved to Spain. This home looked very much like it did during Ava's time. We were allowed to walk around the inside and outside of the Rinconia house. The property even still includes the small memorial for Rags II, one of Ava's beloved corgis. I talked at length with the owner, and he was very interested to learn the history of the house!
Memorial for Ava's corgi, Rags II, at her Rinconia Drive home.
Since we were walking in her footsteps, it only seemed appropriate to visit other Ava sites in the area. We went to the famous Grauman's Chinese Theatre, now known as the TCL Chinese Theatre, to see Ava's hand and footprints, which were imprinted on Oct. 21, 1952. We also took a stroll down the Hollywood Walk of Fame to see Ava's star, which was added on Feb. 8, 1960, as well as those of Frank Sinatra, Artie Shaw, Mickey Rooney, and many of Ava's contemporaries. 
Ava's hand and footprints outside the famed Grauman's Chinese Theatre.
Too soon, it was time to go home. I felt like I was saying goodbye to a friend when we left Ava's home. I doubt I will ever get that opportunity again. The stars aligned just right for that weekend, and I certainly felt like a bit of a star myself by spending the weekend with Ava.
Ava Gardner Museum director Lynell Seabold with Ava's star on the Hollywood Walk of Fame.