"I'll make you two promises: a very good steak, medium rare, and the truth, which is very rare."
– Ava Gardner as Eleanor Holbrook in Seven Days in May (1964) –
Seven Days in May is a Cold War-era political suspense thriller about a military cabal planning to take over the United States government following the president's signing of a disarmament treaty with the Soviet Union. The film is based on a popular 1962 novel by Fletcher Knebel and Charles W. Bailey II. The authors, both journalists, were motivated by real news events of the time, including the misconduct and subsequent firing of General Edwin Walker early in the presidency of John F. Kennedy. Knebel and Bailey also based a subplot of the novel and film about an exposed, extramarital affair on real events from the life of General Douglas MacArthur. Ava Gardner appears in a minor yet pivotal role in the film as part of that subplot, portraying the former mistress of the chairman of the Joint Chiefs of Staff.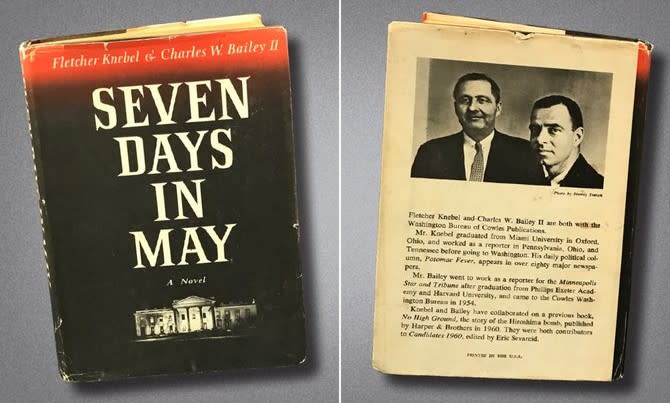 Seven Days in May is based on the 1962 novel by Charles W. Bailey II and Fletcher Knebel. This first edition hardback is part of our "Ava's Library" exhibit.
Ava is one in an all-star cast that includes Fredric March, Burt Lancaster, and Kirk Douglas. March plays President Jordan Lyman who has recently entered into a nuclear disarmament treaty with the Soviet Union which proves unpopular with the military leadership. Lancaster stars as the film's primary antagonist, the chairman of the Joint Chiefs of Staff, United States Air Force General James Mattoon Scott, who masterminds a potential government coup. Douglas portrays the aide to General Scott, United States Marine Corps Colonel "Jiggs" Casey, who uncovers the overthrow plot and works with President Lyman to stop it. Ava plays the featured role of Eleanor Holbrook, the former mistress of General Scott and a potential love interest of Colonel Casey. The cast is rounded out with several noted character actors including Martin Balsam, Whit Bissell, Andrew Duggan, John Houseman, and Edmond O'Brien. Seven Days in May is expertly directed by John Frankenheimer with a screenplay by Rod Serling, the creator of The Twilight Zone. The film features crisp black and white cinematography, a distinctive mid-century set design, and a striking title sequence by designer Saul Bass.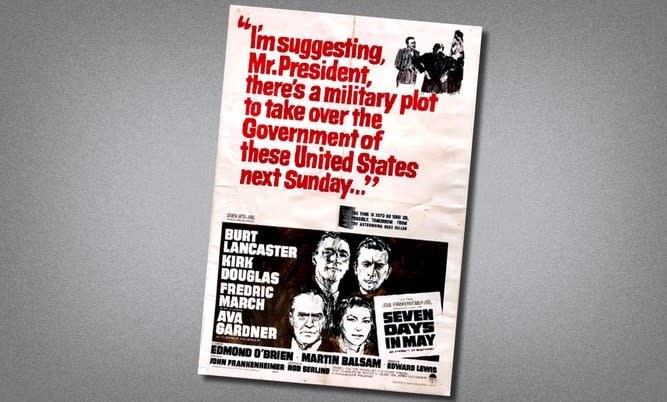 "I'm suggesting, Mr. President, there's a military plot to take over the Government…" This poster from our collection for Seven Days in May sets up the political thriller plot of the film.
Although Ava Gardner's character of Eleanor Holbrook is the primary female character in the picture, she only appears in three scenes. These scenes are key to better understanding the unabashed narcissism of Lancaster's character and the lengths to which Douglas' character will stoop to bring him down. Through a flirtation with Eleanor, Jiggs gains access to private, incriminating love letters General Scott once wrote her, letters which could be used as blackmail to foil Scott's plan.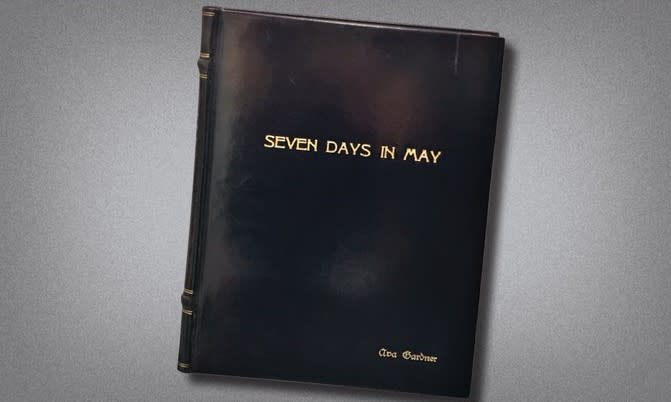 Ava Gardner's leather-bound copy of the Seven Days in May script. The script is now part of the museum's collection.
Ava's longtime personal assistant Mearene (Rene) Jordan said in her book Living with Miss G: "[In] Seven Days in May, Miss G's part wasn't all that big, but she had an important role helping to unmask the [enemies] hidden away in the US high command. We had a few chuckles about the fact that once again she was somebody's mistress. This time she was the discarded mistress of her old friend Burt Lancaster. He played the leader of the conspirators, the sinister top US Air Force General. It was a fast-moving, contemporary plot given credibility by the eyeball to eyeball confrontations between Lancaster and Douglas, with Miss G gently fluttering around to keep the confrontation on a fever heat."
Despite her part being small, Ava delivers her performance with great conviction. In just a few scenes, Ava fully embodies, as her character puts it, an "impressionable" yet "emancipated woman" who is heartbroken by continual disillusionment with the men she trusts. By the end of her scenes, Eleanor finds her voice and her strength to confront the past and present duplicity of both Scott and Jiggs. Eleanor is no longer blind to the disloyalty of the man she once loved, and she is not going to unwittingly accept the betrayal of another.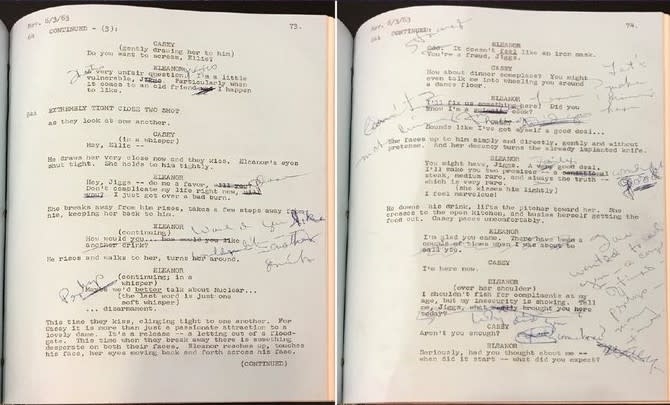 Ava Gardner marked up her copy of the Seven Days in May script with multiple dialogue changes for her character Eleanor Holbrook.
Ava's scenes provide a bit of respite in the film's general sense of extreme paranoia and suspicion, injecting a romantic element to the political thriller plot. Her character also introduces an intriguing backstory for Scott which contemporary audiences would have no doubt recognized. Near the end of the film, when President Lyman chooses not to use the letters against Scott and instead return them to Eleanor, her character facilitates a moment of redemption and a moral counterpoint to the behavior of the conspirators.
When asked about Ava's performance and the character of Eleanor in the narrative, the film's director John Frankenheimer said: "The part is a very important device, and I'm glad we had Ava Gardner. She surprises me that she was so good." He added, "[Ava] was exquisite. She was just so beautiful…a lovely person."
Shot in just 51 days and with very little money, Frankenheimer had to be creative with the production's funds, even with the casting of Ava. According to the director, "We had nothing really in the budget to pay [Ava's] salary, so we said to Paramount and Seven Arts that we would like to have her, of course, but we didn't want to spend that much money. 'Now if you want to have her, then you have to put up the extra money' we said, which they did."
After permanently moving to Europe, Seven Days in May was the first film Ava Gardner made in Hollywood, rather than abroad, in more than a decade and her first production at Paramount. The film was made after Ava completed her MGM contract, becoming an independent player, and she could choose her own projects. At the time she was approached about the film, Ava was not really keen to make another film. As she put it in her autobiography Ava: My Story, "The thought of getting back in front of the camera…didn't exactly make me bubble over with enthusiasm." She was also hesitant about returning to Hollywood and the scrutiny of the entertainment press. She ultimately agreed to Paramount's offer with the stipulation that her scenes be shot in six days. This short schedule meant that Ava had very little time to bond with her director and her scene partner, Kirk Douglas. The situation made her anxious, but she still managed to create an impactful performance, one which adds heart and vulnerability to the film's otherwise hypermasculine narrative.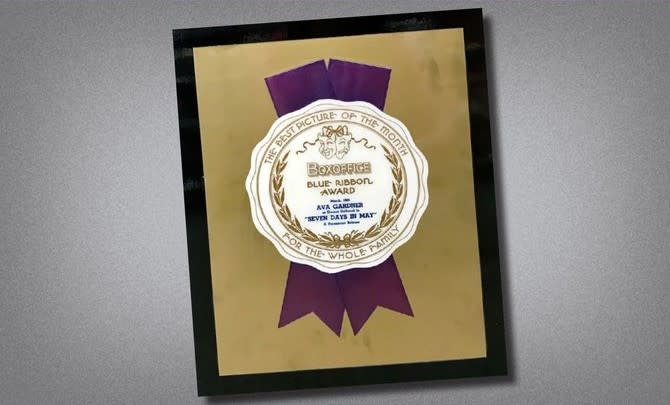 The Box Office Blue Ribbon Award of outstanding merit in family entertainment was given each month by the National Screen Council. This award was presented to Ava Gardner for her performance in Seven Days in May.
The film reunited Ava with some of her former costars including Burt Lancaster and Edmond O'Brien. Lancaster and Ava starred together in The Killers (1946), which was his first credited screen role and her big break. Before 1964's Seven Days in May, Edmond O'Brien and Ava also worked together in The Killers as well as 1954's The Barefoot Contessa. He considered Ava a sort of lucky charm for his career since he won an Oscar for their second pairing and a nomination for their third.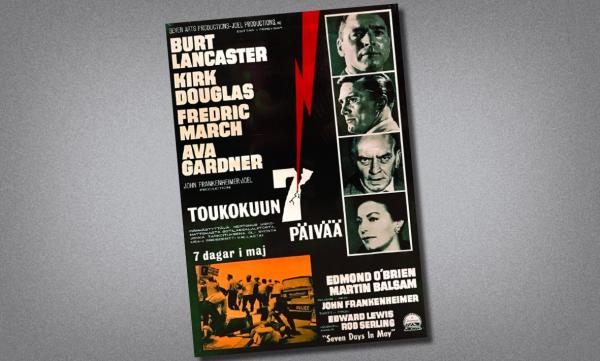 While Seven Days in May was banned in Brazil due to a military coup that happened in 1964, it was popular in Europe with John Frankenheimer even winning a Danish Bodil Award for his direction. This Scandinavian poster is from our collection.
The film was well-received by critics and audiences alike. It was nominated for two Academy Awards, one for Edmond O'Brien for Best Actor in a Supporting Role (as US Senator Ray Clark) and one for Best Art Direction and Set Decoration in Black-and-White. O'Brien also won a Golden Globe for his role while Fredric March, director John Frankenheimer, and composer Jerry Goldsmith all received Golden Globe nominations. For his screenplay, Rod Serling was nominated for a Writers Guild of America Award for Best Written American Drama.
For her part, Ava was lauded for her naturalness and ability to seemingly inhabit her character. The New York Times, which had rarely offered praise of Ava's performances up to that point in her career, recognized the film's "excellent secondary roles" and called the entire cast "superb." Before his passing in 2002, Frankenheimer told an interviewer that Seven Days in May was one of his 30 feature films with which he was most satisfied, and, given the chance, he would not have made the film any differently.
This post is part of the Classic Movie Blog Association's Politics on Film Blogathon. The Ava Gardner Museum's blog is a proud member of the CMBA.