In 1949, Ava Gardner starred in her fourth film noir, Metro-Goldwyn-Mayer's The Bribe. After Ava worked on loan-out for United Artists' Whistle Stop (1946) and then in Universal Studios' films The Killers (1946) and Singapore (1947), her home studio of MGM finally started to realize what an asset they had under contract. Ava had established herself as the perfect femme fatale in these loan-out productions, and MGM decided it was time to star her in their own film noir. After The Bribe, Ava began taking on increasingly more diverse roles, ultimately moving on from film noir to work in almost every other genre.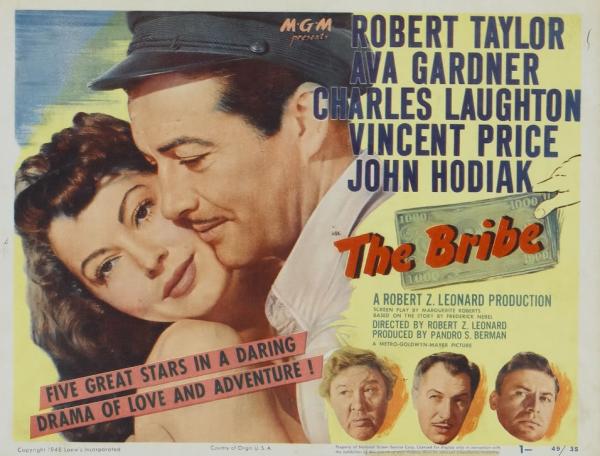 Lobby card for the film. 
The Bribe was based on a serialized story of the same name written by Frederick Nebel which first appeared in Hearst's International Cosmopolitan magazine in 1947. MGM paid Nebel $10,000 (roughly equivalent to $120,000 today) for the rights to his story. The Bribe was directed by Robert Z. Leonard and filmed on MGM's backlot. Ava's co-stars were a group of seasoned actors – Robert Taylor, Charles Laughton, Vincent Price, and John Hodiak – who had worked in film, radio, and on stage.
The film included many classic aspects of the film noir genre – including flashbacks, voice-over narration, exotic locations, criminal activity, and a potentially "dangerous" woman. The Bribe's central plot revolves around a federal agent (played by Taylor) trying to get to the bottom of a trafficking scheme involving Laughton, Price, and Hodiak. Along the way, the agent falls for a married woman (played by Ava) who may or may not be double-crossing him.
Ava described the film in her autobiography, Ava: My Story, "[The Bribe was] set on some fictitious island off the coast of Central America, which looked suspiciously like Mexico on MGM's all-purpose back lot." She continued, "[The storyline] had me tangentially connected to a nasty plot to smuggle surplus American aircraft engines into South America. I was excused from my usual slinky black dress and put into Mexican huaraches and fetching native blouses to match the climate. And though I seemed to be happy singing and dancing at the local cantina, my main job was to take one quick look at Mr. Taylor, a federal agent dead set on catching those smugglers, and fall into his arms."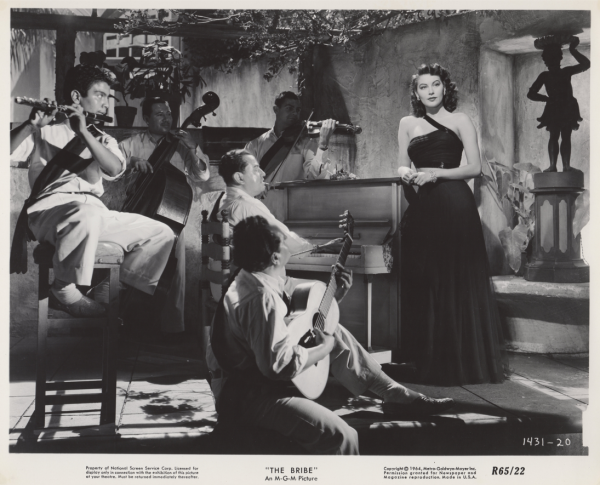 Ava's singing in the film was dubbed by Eileen Wilson.
Ava's role as Elizabeth Hintten was very similar to her character of Kitty Collins from The Killers (1946), the breakthrough role of her early career. Most notably, both Kitty and Elizabeth are beautiful femme fatales who perform sultry songs in alluring, one-shoulder black dresses. Both of Ava's classic, black ensembles in these two films have now reached iconic status – continuing to influence fashion to this day.
The Bribe's plot also shares aspects with Singapore, Ava's film noir from two years earlier. The central crime in both films revolves around a smuggling ring in the World War II era. Additionally, each movie is set in an exotic location – Southeast Asia in Singapore and the coast of Central America in The Bribe.
Despite the impressive cast, the film was not initially well received by audiences in 1949. With a budget of $1.9M, the studio suffered a reported box office loss of $322,000 from The Bribe's initial release. Critics were also disappointed with the finished film. The famed reviewer for the New York Times, Bosley Crowther, wrote, "If you plan to put down your money to see the Capitol's The Bribe, we suggest that you be prepared to write off this extravagance as a folly and nothing more…And if it didn't have several big 'names' in it, it would be low-man on a 'grind house' triple-bill...The only hint which the director, Robert Z. Leonard, gives that he may have meant it all as pure nonsense comes at the very end, when he blows up the place with pyrotechnics. That's the one appropriate move in the whole show."
A more recent review in the 2008 edition of the Time Out film guide also found the film wanting, stating that "Price and Laughton make a formidable pair of heavies in this otherwise feeble thriller shot on a cheaply rigged-up corner of the MGM backlot."
Not all reviews for The Bribe have been negative, especially as more modern critics have started to reexamine the film. It is now considered a prime example of the film noir genre, and the casts' performances have been reevaluated with new eyes. Karl and Phillip French wrote favorably of the cast in their 1999 book Cult Movies stating, "Laughton and Price are splendidly hammy villains and Gardner's nightclub singer is an innocent femme fatale in the manner of Rita Hayworth's Gilda." In 2017, reviewer Danilo Castro wrote for the Classic Movie Hub Blog, "[Ava] Gardner gives a stronger performance…There are scenes with Rigby where she comes off meek and vulnerable, while others, like her seductive song-and-dance number, where you'd swear she was playing everyone for a sucker. That we never really know for sure makes her one of the film's more captivating players."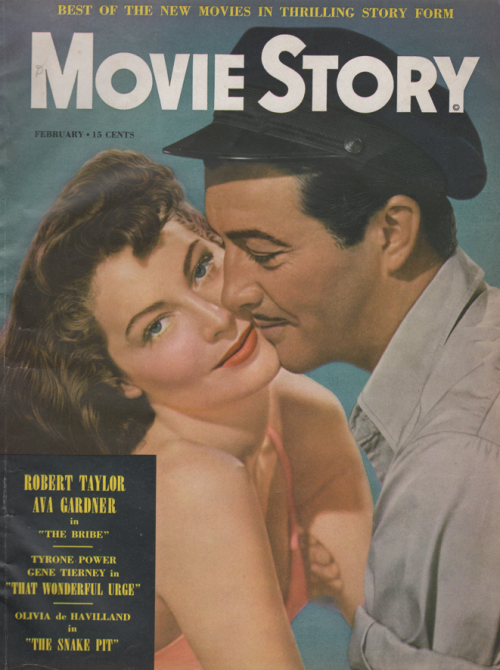 Movie Story Magazine with Ava and Robert Taylor on the cover for The Bribe, February 1949.
Overall, most contemporary critics in 1949 felt the film was a waste of its big-name talent. Robert Taylor, in particular, agreed with the critics and despised his role in the finished film. Taylor often disliked the characters he played because he was regularly type-casted as a romantic lead, frequently in period films. He preferred to play more of an action hero. According to Ava, "Bob, despite all his efforts, couldn't break the mold of the beautiful lover. The film world remembers him that way, and I have to say that I do, too."
While The Bribe wasn't quite the "hit" MGM and the stars hoped it would be, it did bring Ava what she later called "satisfying romantic results." Ava began a short but passionate affair with her leading man, Robert Taylor. As Ava put it, "There's no rhyme or reason about a love affair. In those days, I was in constant proximity to some of the most handsome, romantic figures on earth, and they didn't move me the slightest bit…But since Howard Duff and I had split by that time, I was available. And Bob Taylor surely fit the bill for me, and I did the same for Bob."
While Robert Taylor was still married to actress Barbara Stanwyck at that time, their union was already in trouble and on its way to divorce. The secret relationship between Ava and Taylor only lasted about three or four months, and he took great pains to keep the affair under wraps. According to Ava's friend and assistant Rene Jordan, "[Taylor] was a good pilot and on several occasions flew her out to lonely farmhouses owned by his friends. And Miss G, quickly realizing where she stood, said, 'Rene, I'm sometimes surprised he doesn't wear a black beard when we're off on a trip.' It couldn't last. It was far too fugitive and sneaky for Miss G."
Rene was relieved to see the two co-stars part ways as she "couldn't stand the sight of him." She recalled, "[Taylor] didn't like me either, and he had not the slightest idea that I knew all about his affair with Miss G. If he had, he would have rocketed sky-high, because his opinion of "colored" people hadn't shifted much since the slave trade was banned."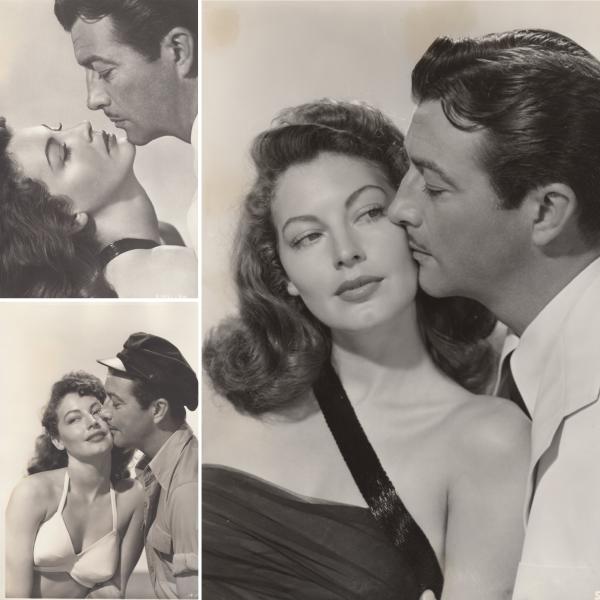 In response to test audiences, MGM ordered three more filming days to bolster the romance between Gardner and Taylor's characters. By the looks of these publicity stills, it worked.
Robert Taylor and Ava Gardner would go on to star together in two more films: Ride, Vaquero! (1953) and Knights of the Round Table (1953). Despite their continued professional relationship, they never resumed their romantic relationship. While the affair did not last long nor lead to anything significant, Ava remembered it fondly in her autobiography. She said, "[It was] a magical little interlude. We hurt no one because no one knew, only [Rene] on my side and no one on his. I've never forgotten those few hidden months."
During the production, Ava developed friendly relationships with her other castmates. Charles Laughton took a special interest in Ava and her acting abilities. Ava fondly remembered, "In the breaks during the filming of The Bribe, Charles Laughton, one of my costars, used to take me aside and read me passages out of the Bible, then make me read them back with the right cadences and stresses. He was a brilliant classical actor absorbed by his craft and loving it. And he was the only one in all my film years who took the time and went out of his way to try and make an actress out of me." Rene Jordan remembered Ava remarking that Laughton was "a famous and brilliant Shakespearean actor [who] insists that I have talent. He insists on improving my diction so I can hit the boards from Broadway to London. Isn't he a dear?" According to Rene, though Ava "lost out on her romance with Robert Taylor, she certainly made up for it with her great friendship with the wonderful Charles Laughton."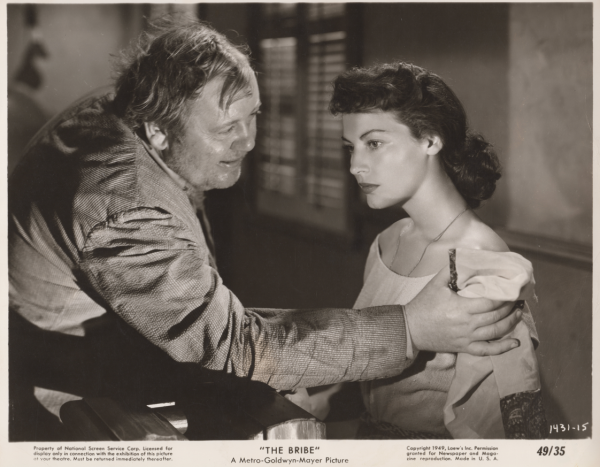 Charles Laughton and Ava Gardner in a scene from The Bribe. 
Another of Ava's co-stars in The Bribe, Vincent Price, said Ava was the only actress of her day that "ever seemed to me to live up to her reputation as a sex object. My God, she was sexy, let me tell ya." The Bribe was the only film the two ever worked on together. Price was best known for his appearances in horror films, but The Bribe was one of several film noirs he made during his long career.
While the film was not an instant hit, it has developed more of a following since its initial release. The Bribe even made its way into a classic 1982 comedy starring Steve Martin. Director Carl Reiner prominently used scenes and characters from the film in his send-up to film noir Dead Men Don't Wear Plaid. Martin's character is named Rigby, the same name of Robert Taylor's character, and his love interest is Ava's character. As modern audiences rediscover the film and as it is reevaluated by critics and film scholars, The Bribe continues to gain new fans.