Ava Gardner was born in 1922, just two years after women officially gained the right to vote. While she never had to fight for women's suffrage, Ava made use of this hard won right throughout her life and encouraged others to do so by using her own voice in the political arena.
While Ava's star rose, she never forgot her humble beginnings in the rural, segregated communities of the Depression-era south, and she spent her life championing social and political causes near and dear to her heart.
Throughout her film career, Ava used her influence to support racial equality, contributing her time, money, and celebrity status to stand up for friends and acquaintances in a multitude of ways. She openly campaigned for political candidates that embraced integration and gender parity at a time when those issues were polarizing the country. In the 1960s, she became a lifetime member of the NAACP, and she contributed to special events designed to benefit under-served communities of color.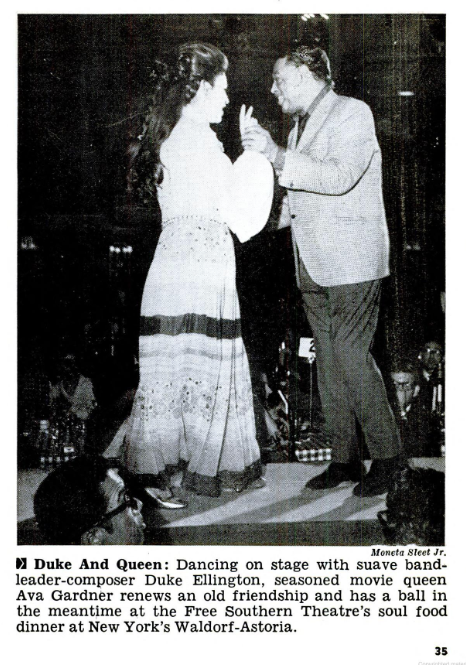 Ava co-chaired an event in New York to raise money for the Free Southern Theatre, an organization that provided free theatre programs to underserved, mostly African American populations, of the South. Image from Jet Magazine, May 29, 1969.
Ava got her first experience with political involvement during the WWII period. Like other Hollywood stars of the time, she was an active supporter of the war effort. Shortly after her 1942 marriage to Mickey Rooney, the young couple embarked on a multi-city war bond tour which culminated with a trip to Washington D.C. to attend The President's Birthday Ball.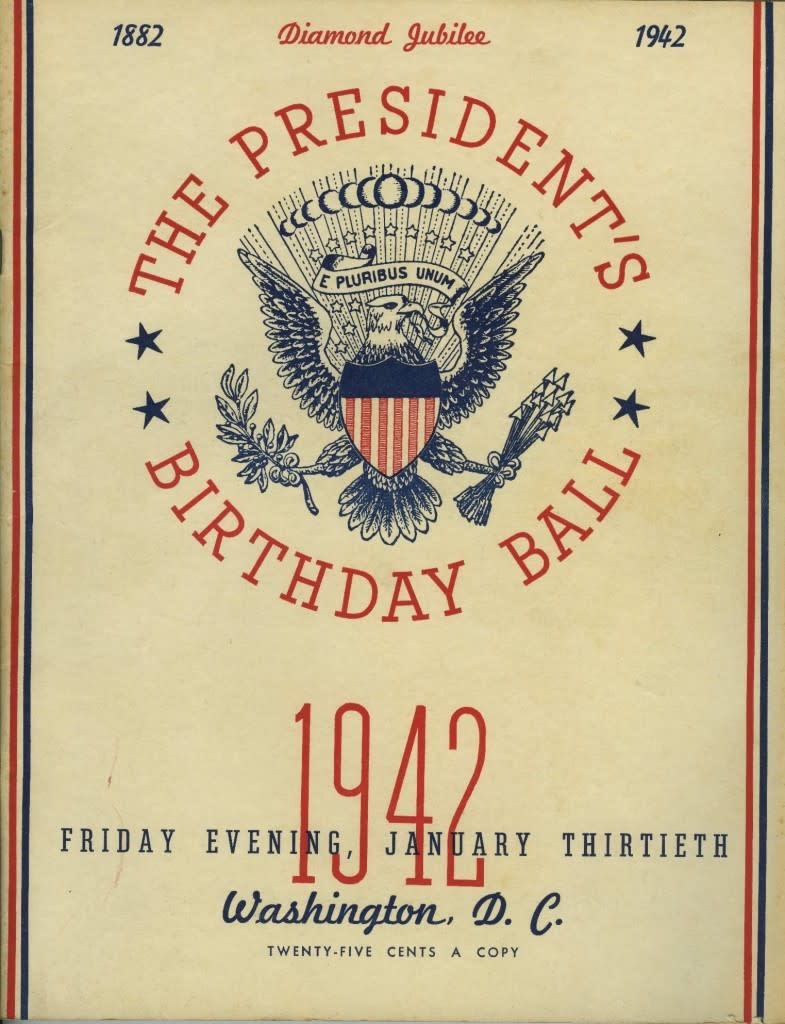 Program from the January 30, 1942 birthday ball for President Franklin D. Roosevelt. The annual events started in 1934 as a fundraiser for the Georgia Warm Springs Foundation and infantile paralysis research.
Ava recounted in her autobiography, Ava: My Story: "Six months ago, I was in Wilson, North Carolina, worrying about what sort of secretarial job I might get, and here I am in the White House introduced to the President of the United States and the First Lady. It was unbelievable – absolutely unbelievable."
While it was in operation, Ava was also a regular at the Hollywood Canteen – a dining, dancing, and entertainment club for servicemen staffed by members of the film industry. She especially enjoyed visiting there with her childhood friends from North Carolina when they came through California on their way to fight on the front lines of the war.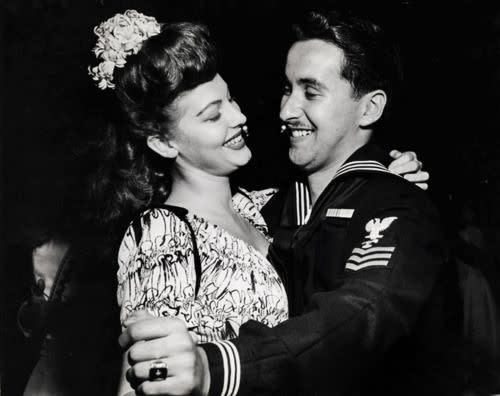 Ava Gardner dances with a sailor at the Hollywood Canteen. To gain access to the popular club a serviceman only needed to wear his uniform. Their entire visit, including their meal and the scheduled entertainment, was completely free.
In addition to her involvement in the war effort, Ava Gardner publicly supported two major Presidential campaigns. The first was that of Henry Wallace in 1948. Wallace was the Progressive Party candidate that year. He supported desegregation of public schools and racial and gender equality, and he refused to speak in front of segregated audiences while traveling across America in support of his campaign. During his campaign in North Carolina, Ava joined him at a luncheon in Raleigh at the Sir Walter Hotel and promised to support his campaign. This showing of political support threatened Ava's film career. She recalled in a 1985 interview in the New York Times that ''When I appeared for Henry Wallace when he ran for President in 1948 Louis B. Mayer called me in and told me I had to stop. He told me that Katharine Hepburn had ruined her career doing things like that.''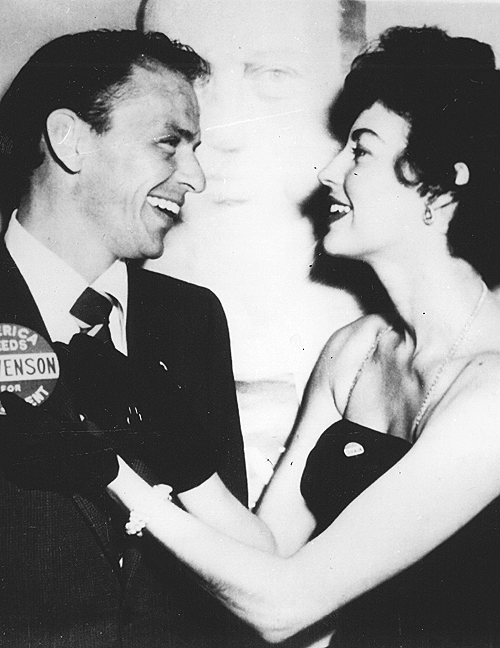 Ava poses while putting an Adlai Stevenson button on Frank Sinatra's jacket during Stevenson's 1952 campaign. 
Undeterred, Ava supported other political campaigns publicly including that of Democratic candidate Adlai Stevenson in his 1952 bid for the presidency. Ava discusses her support of Stevenson's campaign in her autobiography: "Both Frank [Sinatra] and I were firm Democrats in those days, and when Adlai's office asked if we would turn up at a Hollywood for Stevenson rally at the Palladium in Los Angeles, we said yes."
Ava Gardner introduced her husband, Frank Sinatra, at Adlai Stevenson's rally, where he performed several songs. Cumberland Evening Times, October 28, 1952.
Ava also used her name and voice to speak out against the the House Un-American Activities Committee (HUAC) in 1947 when she signed on to an open letter that appeared as a full-page ad in Variety's October 29th edition. The ad appeared while the committee was in the midst of hearings investigating anti-American, communist propaganda in Hollywood. The letter states that the undersigned are "outraged" by the attempts of HUAC to "smear the motion picture industry." It also expresses that they believe that the hearings are "morally wrong" and "contrary to the basic principles of our democracy." Other signatories listed in the ad include: Henry Fonda, Van Heflin, Gregory Peck, and Artie Shaw.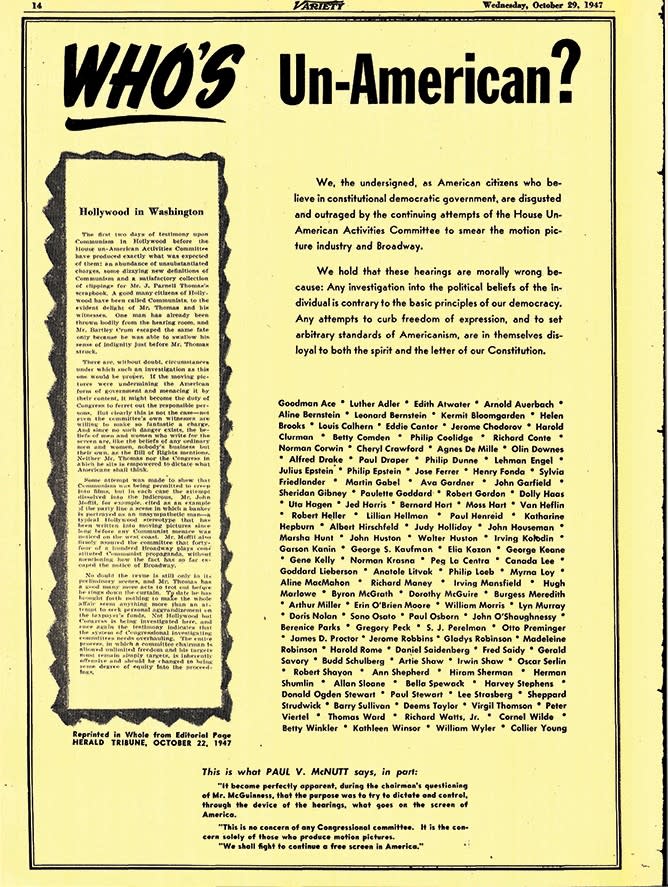 As we celebrate Women's History Month and the 100th anniversary of the 19th amendment granting women the right to vote, we honor Ava's legacy, not only as an actress, but as a trailblazing woman who stood up for what she believed in, said what she thought, and served as an example of a politically active woman at a time when women were not expected to do so.