The Great Sinner was released on June 29, 1949. The film starred a large ensemble cast including Ava Gardner, Gregory Peck, Melvyn Douglas, Walter Huston, Ethel Barrymore, Frank Morgan, and Agnes Moorehead. The main plot of the film was based on Fyodor Dostoevsky's novel, The Gambler, and the working title of the film was originally the same as the book. In this period drama filled with lavish sets and ornate costumes by MGM's head costume designer Irene, Ava plays a reformed gambling addict named Pauline Ostrovsky. Gregory Peck stars as Fedya, her love interest and a writer, also loosely based on the real Dostoevsky. Peck's character becomes interested in the effects of gambling after meeting Pauline and her father, who is portrayed by Walter Huston, the real-life father of acclaimed director and Ava's close friend John Huston.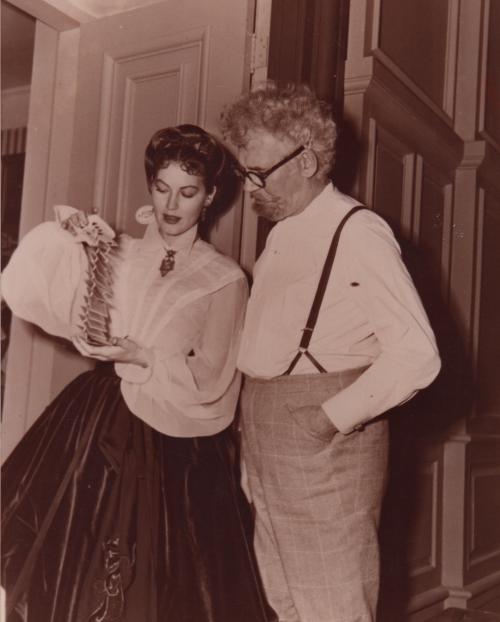 Behind the scenes on the set of The Great Sinner Ava Gardner practices a card trick with Walter Huston.
Ava Gardner was still a young rising star when she appeared in The Great Sinner. Her big break had come in 1946 when she starred as Kitty Collins in the classic film noir The Killers, after her first five years in Hollywood had been spent in largely uncredited bit parts. After The Killers she starred in several more film noir and was beginning to work in increasingly diverse genres when her home studio of MGM cast her in The Great Sinner. The role of Pauline was first slated to go to Deborah Kerr, who costarred with Ava two years earlier in The Hucksters. Lana Turner, Ava's close personal friend, was next set to star in the role, but schedule conflicts prevented her casting and Ava ultimately got the part.
Dostoevsky's novel The Gambler was originally acquired by Warner Brothers studio and a 1940 production was to be led by two German émigrés, director William Dieterie and actor Albert Basserman. By the closing of the 1940s, MGM had bought the screen rights and tasked three different writers with adapting the work for film, including Christopher Isherwood whose semi-autobiographical novel Goodbye to Berlin inspired the musical Cabaret. Through the efforts of multiple screenwriters, the finished screenplay pulled elements from The Gambler novel while also incorporating parts from Dostoevsky's other novel Crime and Punishment as well as aspects of the writer's own personal life. Isherwood later said, "I thought it was a pretty interesting idea. Rather than simply film the book, to see how it came to be written." The film's prologue explains this screenplay concept when it states, "The story is inspired by the work of a great writer, a gambler himself, who played for his life and won immortality."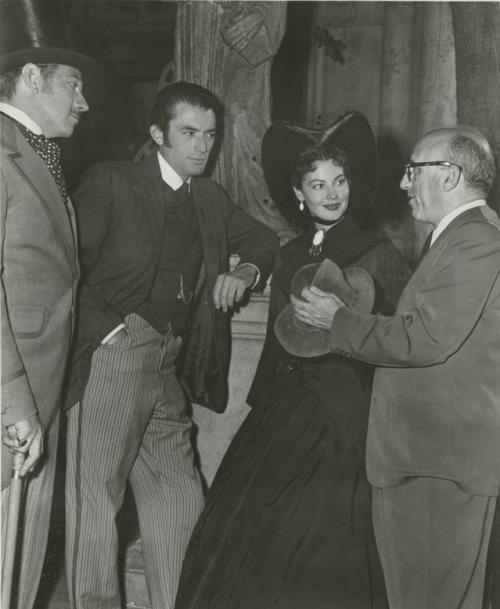 Melvyn Douglas, Gregory Peck, and Ava Gardner speaking with director Robert Siodmak on the set of The Great Sinner.
The MGM production was helmed by the successful German director Robert Siodmak, who previously directed Ava in her breakout role in The Killers (1946). With a long screenplay, lavish costumes, large set pieces, complex plot themes, and a big ensemble cast filled with noted character actors, the project was a massive undertaking for Siodmak. First-hand accounts of the production recall how the director seemed nervous and, at times, overwhelmed by the task of bringing the film's complicated story to life on screen.
Gregory Peck recalled details of The Great Sinner production in the chapter he contributed to Ava's autobiography, Ava: My Story:
"Directed by Robert Siodmak, it had a big-time cast, including Walter Huston, Agnes Moorehead, Ethel Barrymore, and Melvyn Douglas. … Ava and I had a mutually shared tendency on this picture to disregard the director, because Robert Siodmak was an absolute nervous wreck. He was a hyperthyroid type in the first place, jittery and nervous, and now he had the responsibility for this very 'heavy' picture on his shoulders. … At other times, with hundreds of people in the casino scene and Melvyn Douglas eyeing me as I'm gambling away and Ava standing there watching me lose my shirt, Bob would really be overcome with the weight of the situation. He was always sitting on the seat attached to the camera crane, and he'd mutter, 'Up, up, up' and off he'd go to hide eighteen feet above the crowds while he collected his thoughts. And Ava and I would grin at each other and say, 'There he goes again!'"
The studio considered The Great Sinner a prestige production, and they placed a great deal of pressure on Siodmak to elevate the quality of the final film into one which could have Oscar contention. With the challenges of managing an enormous cast, large sets, and multi-layered dramatic themes of addiction and romance – Siodmak struggled with the production's many moving parts. He shot an excessive number of takes, and he labored over the editing process – trying to whittle the film to a reasonable length from so many hours of footage. The film's cinematographer, George Folsey,  remembered one humorous instance of how Ava navigated the situation: "[After] sixty-some takes, in front of everyone, Ava Gardner asked sweetly, 'Bob, may I go to the bathroom after the eighty-first take?'"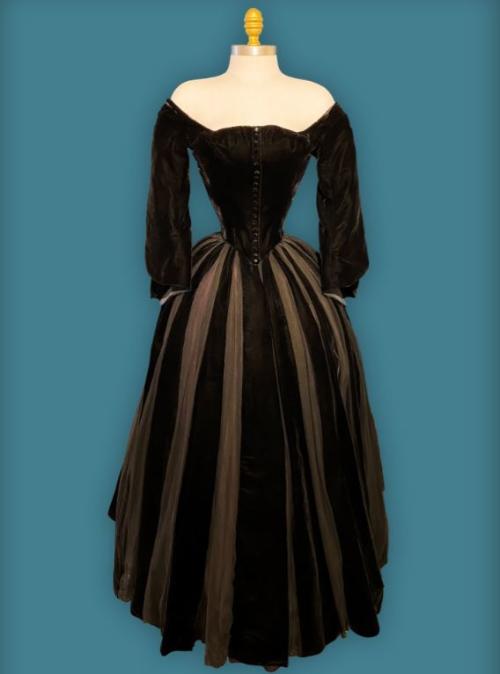 Ava Gardner was 26 years old when she wore this stunning costume in The Great Sinner. The dress illustrates just how small of a waist she had - only 19". Additionally, her height was 5'6", and her shoe size was 6-1/2.
The Great Sinner marked a turning point in Ava's career. Not only was she given the opportunity by her home studio to lead a dramatic, prestigious movie, but the film also gave her the chance to work with Gregory Peck. The two stars had met earlier in 1948 at a Look magazine event. The Great Sinner was the first of their three screen pairings. They later costarred together in The Snows of Kilimanjaro (1952) and On the Beach (1959). From their first meeting through their professional collaborations, Ava and Peck became dear friends. They deeply enjoyed each other's company and shared a mutual respect and admiration for each other's talent.
Ava remembered how thoroughly Peck approached and prepared for his role as Fedya. According to the memoir Living with Miss G by Ava's personal assistant and friend Mearene "Rene" Jordan, "In The Great Sinner, it was Gregory Peck who gained Miss G's eternal devotion. She would come back to the dressing room whispering her admiration. 'Do you know what he does, Rene? I sneaked a look at his script and [in the] margin of each page are tiny notes about his part – voice changes, emphasis, mannerisms – little touches about every scene he plays. I've never seen anyone so thorough in my life.'"
In Ava: My Story, Peck recalled how at the start of filming The Great Sinner Ava had to overcome her MGM training to get into character. He wrote, "Here was young Ava, who'd only learned how to whisper her lines in that young ladies' finishing school at MGM, holding the screen very well." Of his longtime friend, Peck later said, "As a person she has always been a close friend, and as an actress she is my favorite leading lady. … She was much better than she thought she was. She had no vanity about her talent, but she will stay in the minds of millions. … She did nothing that lowered her standards as an actress or as a lady."
Gregory Peck and Ava Gardner in The Great Sinner.
Read more about Ava and Gregory's close friendship and professional relationship in our blog post here.
Siodmak's final cut of the film came in with a runtime of around three hours. The director said, "[The film] was still too long, terribly slow, and with the additional disadvantage that now the story didn't even make sense." The studio agreed with this assessment, and so they asked Siodmak to make changes – most notably to enhance the romantic relationship between Ava and Peck's characters. The director refused, so the studio assigned another director, Mervyn LeRoy, with the task of reshoots and cutting the film down to what they considered a more "audience-friendly" runtime of one hour and fifty minutes. For his part, LeRoy did not take any credit and the final film's director is solely listed as Robert Siodmak.
When The Great Sinner was released, the studio and cast had high hopes that it would be well-received by audiences and critics alike. The Great Sinner had a premiere screening at the Howell Theatre in Ava Gardner's hometown of Smithfield, NC. Ava was unable to attend the event due to other commitments, but she sent a letter of gratitude to the theatre's owner Rudolph Howell. On official MGM letterhead, Ava's note read in part: "The picture is rather a new pursuit for me in that it is at once intensely dramatic and truly exciting. Appearing with Gregory Peck, Ethel Barrymore, and Walter Huston was a privilege I never dreamed of experiencing."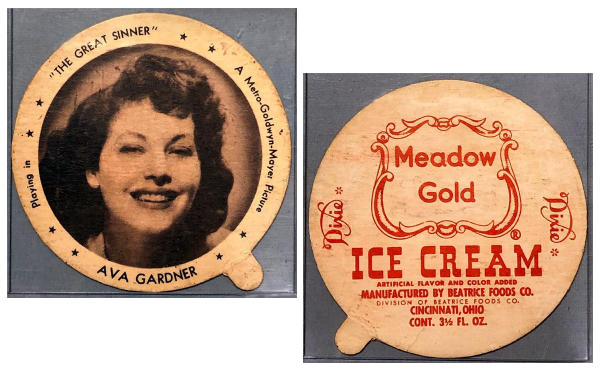 This Dixie cup lid for Meadow Gold ice cream promotes Ava Gardner's role in The Great Sinner. Millions of them would've been distributed as part of the studio's marketing efforts. Hollywood-themed lids like this were produced from the early 30s to the mid 50s.
Despite the respected director and big-name cast, the movie turned out to be a critical disappointment. It was also a box-office flop during its initial theatrical run, losing the studio an estimated $821,000. A review in the New York Herald Tribune called the film "pompous and dull entertainment." Its failure is largely thought to be due to post-production cuts and editing that stripped the film of much of Siodmak's original vision.
Time magazine also criticized the film: "The rich, exuberant flow of dialogue, incident, and atmosphere characteristic of the Russian master has been choked to a pedestrian trickle. Dostoevsky's brilliant insights into the tortured motives and emotions of his lovers have paled into klieg-lighted stereotypes."
Screenwriter Christopher Isherwood remarked, "It should have been much better than it was....but apart from a few good scenes, it was neither Dostoevsky's story, nor the story of Dostoevsky. … I rather think the film had too much MGM."
However, Ava's performance in the film received praise, and it helped to establish her further as a dramatic actress because of her ability to act convincingly alongside such established greats as Barrymore and Huston.
In Living with Miss G, Rene Jordan shares her opinion of the film as well: "At the start of The Great Sinner, everything seemed set for a very good movie, maybe a great movie. L.B. Mayer might have written the publicity blurb himself, starting with 'MGM sets new standards with this magnificent historical drama.' Based upon Dostoevsky's classic novel, The Gambler, and with a wonderful cast, Christopher Isherwood as one of the screenwriters, and with director Robert Siodmak, who had been so successful in the film-noir treatment of The Killers, it should have been memorable. What happened? Like so many movies based upon historical fact or fancy, it never came alive. It was turgid. Despite the talented cast, it did not grip the imagination. You did not believe in it. Despite the costly sets, Sydney Guilaroff's wonderful hairstyles and the magnificent costumes, there was only one word for it – boring!"
Today's viewers, however, have found The Great Sinner to be worth watching for its great performances and "high-gloss MGM" treatment.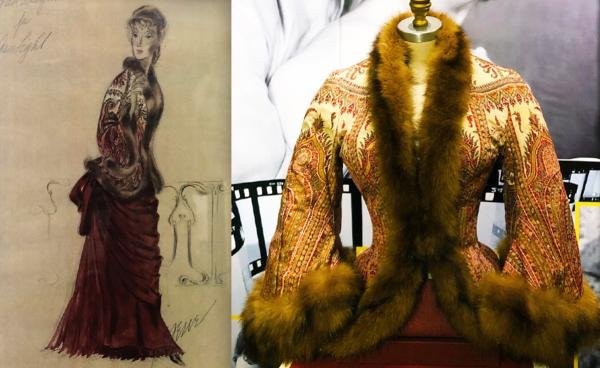 This sketch by famed fashion and costume designer Irene shows an ornate, fur-trimmed jacket. The piece was originally created for Ingrid Bergman's role in Gaslight but was later reused for Ava Gardner's role in The Great Sinner. Irene constructed it from a vintage 19th century wool shawl. The intricate pattern is hand-embroidered with silk thread, while the interior is lined with silk broadcloth.
Learn more about the film through its costumes, two of which are currently on exhibit. A virtual version of the costume exhibit is available and an episode of Ava Chats also provides a virtual tour and Q&A about the costumes. You can find both in our online gift shop here.