On the surface Gregory Peck and Ava Gardner seemed like unlikely friends, but over the course of their professional and personal lives, the two formed a deep, lasting relationship built on mutual respect and shared admiration. Peck, who was born an only child in San Diego, California, attended military school after his parents' divorce. After enrolling at UC-Berkley as an English and pre-med student, he caught the acting bug. He trained on the stage with noted acting teacher Sanford "Sandy" Meisner, even appearing on Broadway, before leaving New York to embark on a film career. Born in the small community of Grabtown, North Carolina to a large, close-knit farming family, Ava Gardner moved around with her parents before her beloved father's untimely death when she was only a teenager. She later attended secretarial school before her stunning beauty landed her a ticket to Hollywood. Ava trained at the "MGM school of acting" before finding her own, unique voice as a talented, instinctive performer.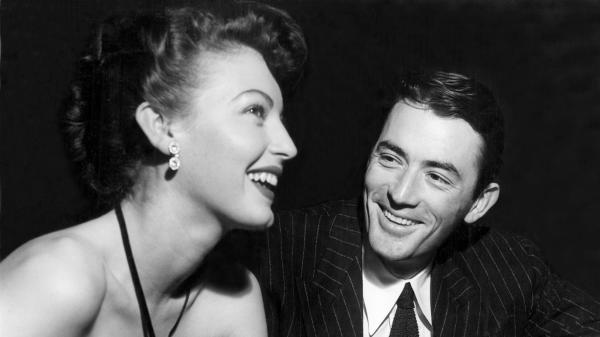 Ava Gardner and Gregory Peck at the 1948 Look magazine awards event. 
One of Ava Gardner and Gregory Peck's first meetings took place at the Look magazine awards in 1948. The two later co-starred together in three films – The Great Sinner (1949), The Snows of Kilimanjaro (1952), and On The Beach (1960). Through these productions, the pair formed a gratifying professional relationship. After the cameras stopped rolling, the two also developed an intimate friendship which endured nearly five decades, Throughout their lives, Ava and Peck referred to one another as "great old pals."
When Ava Gardner and Gregory Peck worked together on The Great Sinner in 1949 both were well on their way to establishing successful careers as major film stars. Peck, who had begun his career on the stage, made his film debut in 1944's Days of Glory. By 1950, he was a popular leading man and acclaimed actor, with four Academy Award nominations to his credit. As Peck found his footing in Hollywood, Ava Gardner's star was also on the rise. After her breakout role in the 1946 film noir The Killers, Ava began appearing in increasingly complex, secondary and lead parts. In the 1950s, her career progressed through starring roles in prestigious and inventive films like Pandora and the Flying Dutchman (1951), Show Boat (1951), and The Barefoot Contessa (1954). While both stars had critical and box-office hits in the 1940s, Ava and Peck each achieved global star recognition and some of their biggest career milestones in the 1950s.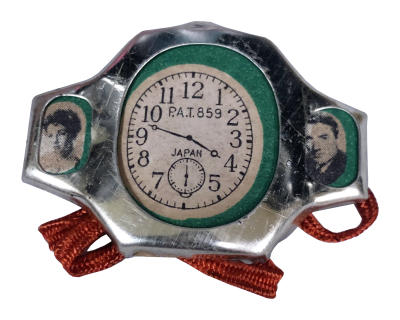 This vintage toy watch includes images of Elizabeth Taylor and Gregory Peck on either side of the clock image in center. The item is in the Ava Gardner Museum's collection of film ephemera. 
However, Ava and Peck's first film together, The Great Sinner, was not a major career success for either of them in 1949. Peck said of the film: "Directed by Robert Siodmak, it had a big-time cast, including Walter Huston, Agnes Moorehead, Ethel Barrymore, [Frank Morgan], and Melvyn Douglas, and here was young Ava, who'd only learned how to whisper her lines in that young ladies' finishing school at MGM, holding the screen very well." The Great Sinner was not initially well-received by audiences or critics. The film was actually a box-office flop, losing the studio a reported $821,000. As for the critical assessment at the time, a review in the New York Herald Tribune called the film both "pompous and dull entertainment."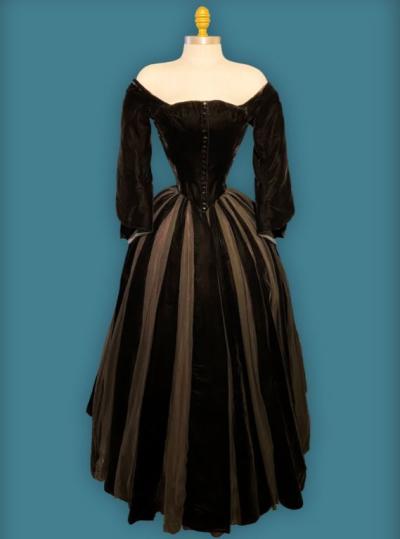 The Ava Gardner Museum has two costumes worn by Ava Gardner in The Great Sinner in our collection. They are currently on exhibit. If you can't visit in person, you can view them in our virtual exhibit. 
Over the years, audiences have rediscovered The Great Sinner and found many aspects of the movie to enjoy and praise. Reviewing the film for Turner Classic Movies, writer Jill Blake said, "It's not a terrible film, especially given the incredible talent involved. Actually, it's quite a solid, second-tier studio picture. Not exactly what MGM had originally envisioned, but it's fair to say that it has benefitted a bit from the passage of time and a reassessment by modern audiences seeking out the work of Siodmak and the all-star cast. It's always a joy to see the likes of Peck, Gardner, Huston, Douglas, Barrymore, Morgan and Moorehead at work."[1]
Gregory Peck often encouraged Ava Gardner to further develop her natural acting abilities. In her book Living with Miss G, Mearene (Rene) Jordan, Ava's long-time friend and assistant, recalled, "Gregory Peck also recognized Miss G's immense potential and tried to encourage her to believe in her talent and work at it. She never did. She lacked that ambition and lacked that confidence. She made her mark because she was always playing herself, her natural self."
Peck himself, who contributed a chapter to Ava's autobiography, Ava: My Story, reflected on Ava's growth as an actress despite her lack of confidence at times: "I worked with Ava over the years in three totally different movies; The Great Sinner, The Snows of Kilimanjaro, and On the Beach. Certainly Ava grew in experience and maturity with every one of them. I've always admired her as an actress and felt that she was underrated because people were deceived by her beauty and did not expect more from her. Also, she herself was not overly ambitious about becoming a great actress. Yet she did constantly improve and at her best I think she could certainly be counted among the better actresses on the screen."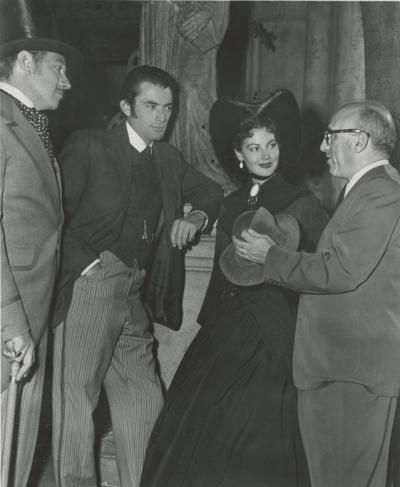 Melvyn Douglas, Gregory Peck, and Ava Gardner listening to director Robert Siodmak on the set of The Great Sinner. 
As for Ava, she remembered how thoroughly Peck approached and prepared for each role. According to Living With Miss G, "In The Great Sinner, it was Gregory Peck who gained Miss G's eternal devotion. She would come back to the dressing room whispering her admiration. 'Do you know what he does, Rene? I sneaked a look at his script and [in the] margin of each page are tiny notes about his part – voice changes, emphasis, mannerisms – little touches about every scene he plays. I've never seen anyone so thorough in my life.'"
For Ava and Peck's second film production, The Snows of Kilimanjaro, the pair worked with director Henry King, who had been active in Hollywood since the 1910s. Both actors greatly enjoyed the seasoned director, and they would later work with him again separately on other film projects. During the shoot, Ava felt at ease with her co-stars, especially her friend Peck. She also connected well with the struggles and motivations of her character. Peck said of Ava's performance: "She did things in Kilimanjaro that she could not have done three years earlier in The Great Sinner. And I think that's largely because Henry King was the kind of man she could trust."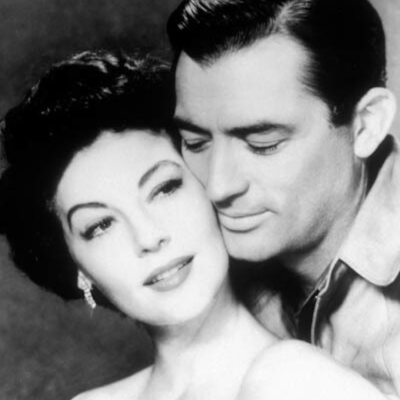 Ava Gardner and Gregory Peck in a promotional photo for The Snows of Kilimanjaro. 
Thanks to the chemistry of the cast, which also included Susan Hayward, and the story originally penned by Ernest Hemingway, The Snows of Kilimanjaro, became one of 20th Century Fox's most successful projects of the early 1950s, earning in excess of $12.5 million at the box office. The film also garnered some positive reviews. One critic in Variety said, "Miss Gardner has never been better. … [The film has] an often engrossing dramatic mixture of high adventure, romance and symbolism … [and] the color coating used to display the story's varied locales is beautiful."
When Ava signed on to director Stanley Kramer's On the Beach in 1959, she was very happy to join the cast, which included her "old pal Greg Peck." Ava played Moira, a woman living in Australia awaiting nuclear fallout to spread into the Southern Hemisphere after it had already wiped out life in the Northern Hemisphere. Peck co-starred as her love interest, an American submarine Captain in Melbourne, who is ordered to determine if a telegraph signal is a sign of life remaining in the United States.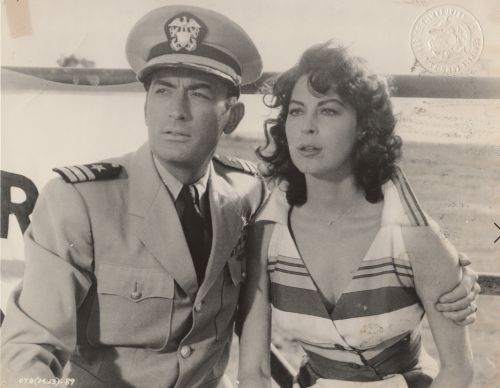 Gregory Peck and Ava Gardner in a scene from On The Beach. 
The conditions of the shoot were often challenging for the cast, but they were so committed to telling the compelling story of the film that they soldiered on. In his contributed chapter to Ava's autobiography Peck remembered:
"It did turn into quite an adventure, however. Terribly hot. There was a spell where the temperature was over one hundred degrees. Ava and I, our characters having become lovers, were trying to play a lighthearted romantic scene on the beach. But the air was so thick with flies that they almost blackened the skies. There would be thousands of flies crawling on Ava's forehead and in her hair, and the effects men would rush in with a smoke gun and blow smoke in our faces. That would get rid of the flies for a minute or two for all of us to say a few lines before they settled in again. I have worked with a few actresses, who will remain nameless, who would just not work under those conditions. But Ava was never, never the kind of actress who would complain about her working conditions. She took it like a trooper and we just kept plugging away despite everything until we got the scene."
While filming, Ava often spent her time off set with Peck and his wife Véronique, with whom she was also close friends. The Pecks rented a house during the production and brought a private chef with them. After filming wrapped for the day, their house often became a place of gathering and respite for the cast, which also included Fred Astaire, Donna Anderson, and Anthony Perkins.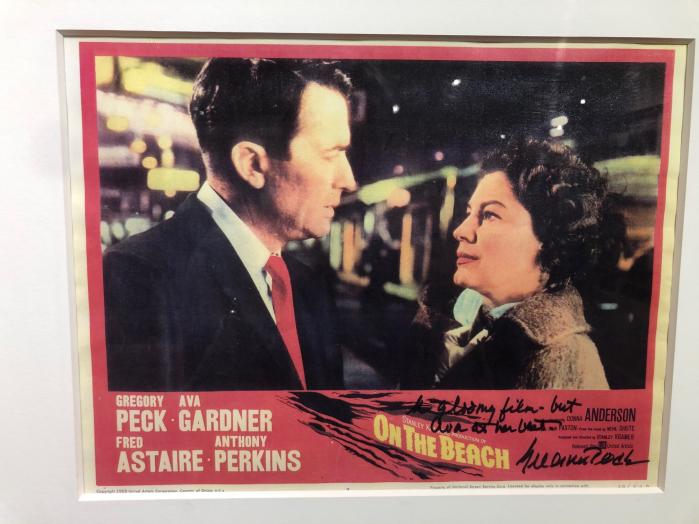 The Ava Gardner Museum has this lobby card from On the Beach signed by Gregory Peck. His inscription reads: "A gloomy film, but Ava at her best."
Apart from admiring one another's acting ability and enjoying working together, Ava and Peck developed a deep, personal friendship, which extended off the screen and lasted the rest of their lives. Rene Jordan recalls that "Miss G and Peck hit it off from the moment they met and became best of friends." The two had a lot in common, and Peck credited their friendship to their shared upbringings and values:
"What I liked about Ava was that we had so much in common it was like we were young people from the same hometown. We both were products of middle-class, small American towns where everybody knew everybody, and it was on that basis that we struck up an immediate friendship. Ava was also outspoken, and there was something refreshing about that because sometimes she'd be outspoken when other people would be afraid to. That to me shows a strength of character and the kind of grass-roots, middle-American honesty she has."
Journalists often marveled at the fact that two such attractive people could maintain a totally platonic relationship. Peck remembered that, while making The Great Sinner, Ava was "'a woman so beautiful' that when the two of them would leave the MGM sound stage for lunch, crew members would stop 'dead in their tracks to stare as she walked by.'" However, he maintained, ''I didn't have that slant on her. I certainly knew she was good looking. But I was young, too, and in youth, you sort of accept that everyone is good looking.''[2]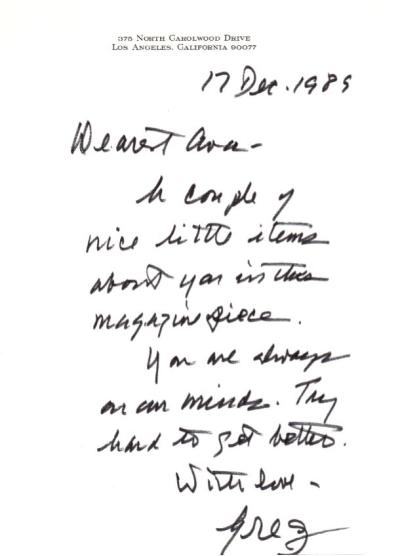 Letter from Gregory Peck to Ava Gardner, dated December 17, 1989, just about a month before her passing. The note reads: "A couple of nice little items about you in this magazine piece. You are always on our minds. Try hard to get better. With love - Greg"
Despite working with such screen legends as Lauren Bacall, Audrey Hepburn, and Sophia Loren, Gregory Peck considered Ava Gardner his favorite leading lady. He believed Ava "was much better than she thought she was." He also said of his friend, "[Ava] had no vanity about her talent, but she will stay in the minds of millions. … She did nothing that lowered her standards as an actress or as a lady."[3] Their friendship lasted the entirety of their careers and upon her death Peck called Ava "outspoken", "refreshing" and a "fine actress." After her passing from pneumonia in 1990, Ava's beloved corgi Morgan went to live with the Pecks, as did her housekeeper and dear friend Carmen Vargas.
Peck visited the Ava Gardner Museum in spring 1992 while he was in Raleigh, NC filming the made-for-television movie The Portrait costarring Lauren Bacall and Cecilia Peck, his daughter with Véronique. Author Doris Rollins Cannon shared the story of his visit in her book Grabtown Girl: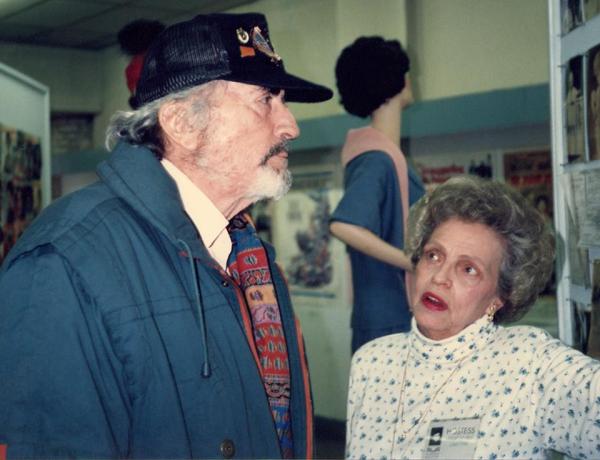 Gregory Peck with museum docent Marion Grimes Crayton when he visited the Ava Gardner Museum in 1992. 
"One day, a tall man with a scruffy gray beard and a cap pulled low on his head entered the museum. [Museum docent Marion Grimes Crayton] took the lone man on a tour. 'In 1949, Ava wore this gown in The Great Sinner with Gregory Peck,' she said when they came to a black velvet gown [in the museum's permanent collection]. 'Oh yes, I remember that gown,' the man said. Marion said she almost fainted when she heard that distinctive voice. She [realized she] was talking to Gregory Peck."
Gregory Peck was a prolific actor who continued to work into his eighties. As an actor, he is perhaps best known for his role as Atticus Finch in To Kill a Mockingbird (1962), for which he received an Academy Award for Best Actor. Beyond his film career, he also worked as a producer and acted extensively in television and theatre. A founder of the La Jolla Playhouse located in his California hometown, Peck was an ardent supporter of the theatrical arts. He was also a humanitarian and activist, using his voice to speak out against racism, antisemitism, and nuclear armament and supporting film projects that addressed those issues directly. In addition to the Oscar, Peck was awarded the Presidential Medal of Honor, the National Medal of Arts, and a Kennedy Center Honors. Gregory Peck passed away of pneumonia on June 12, 2003 at the age of 87.