"'Kilimanjaro is a snow-covered mountain 19,710 feet high, and is said to be the highest mountain in Africa. Its western summit is called the Masai 'Ngàje Ngài,' the House of God. Close to the western summit, there is the dried and frozen carcass of a leopard. No one has explained what the leopard was seeking at that altitude.'
That paragraph, one of the most famous Papa Hemingway ever wrote, is also the first words you hear in the film version of his short story that I starred in in 1952, a film that really pushed me into international stardom. Yet if the filmmakers had been as faithful to the whole story as they were to those few words, there probably wouldn't have been enough of a part for me to play to get any kind of recognition at all." – Ava: My Story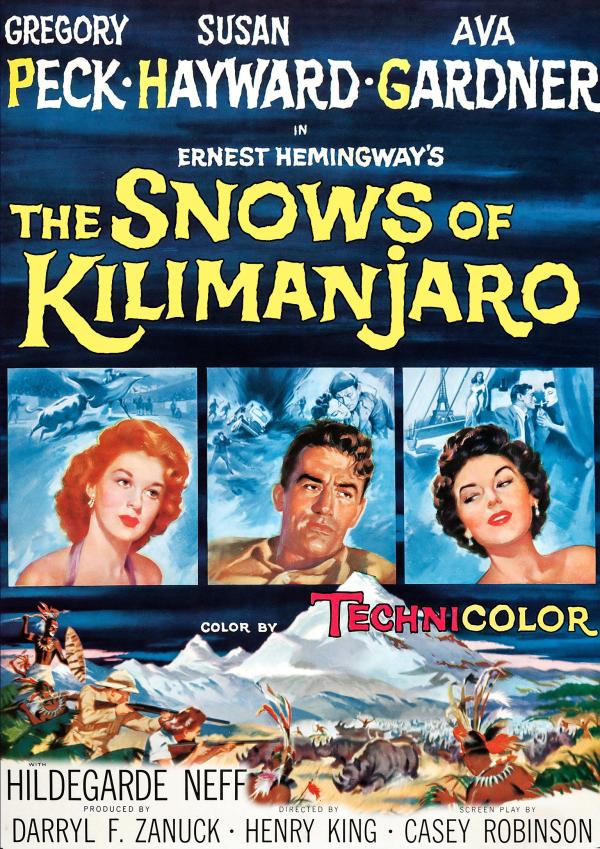 Esquire magazine originally published Ernest Hemingway's short story The Snows of Kilimanjaro in 1936. The work was later republished by Scribner's in the 1938 Hemingway anthology collection The Fifth Column and the First Forty-Nine Stories. Mark Hellinger, independent producer who worked with Ava Gardner on The Killers (1946), first purchased the story to adapt it for film, but he later restored those rights to Hemingway. In 1948, Darryl Zanuck, producer and co-founder of Twentieth-Century Fox, bought the rights directly from Hemingway for $125,000.
Zanuck was drawn to the story because of his own personal interest in big-game hunting. He tasked screenwriter Casey Robinson, who previously worked at both Warner Brothers and MGM, with adapting Hemingway's story for film. Zanuck selected prolific, Oscar-nominated director Henry King to head the production. For the cast, popular stars like Humphrey Bogart, Richard Conte, and Marlon Brando were considered for the primary male role, while Gene Tierney, Hedy Lamarr, and Anne Francis were considered for the female roles. The lead roles ultimately went to Gregory Peck as Harry Street, Susan Hayward as Helen, and Ava Gardner as Cynthia Green. Zanuck was not entirely sure Ava Gardner was the best choice for Cynthia until he saw her moving performance in 1951's Show Boat.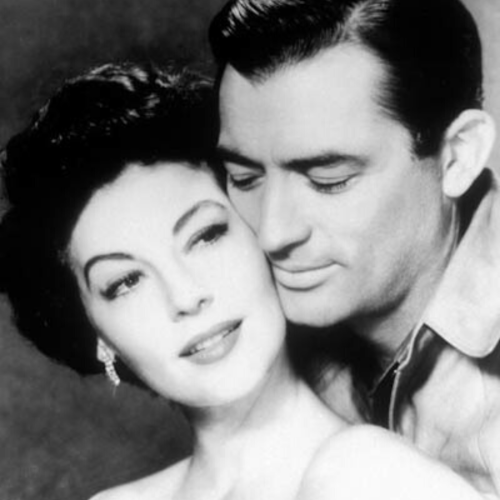 Ava Gardner with co-star and friend Gregory Peck. 
The film's story centers on the memories of disillusioned writer Harry Street (Peck) who is on safari in Africa with Helen (Hayward). He has a severely infected wound from a thorn prick and lies outside his tent awaiting a slow death. In an often-delirious state, he remembers his past relationship with Cynthia (Gardner) whom he met in Paris as members of the "Lost Generation."
These flashback scenes and the entire character of Cynthia were added by screenwriter Casey Robinson to pad the plot and expand the short story to a feature-length film. Robinson also borrowed elements from other Hemingway stories, prompting Ernest Hemingway to lament, "I sold Fox a single story, not my complete works. This movie has something from nearly every story that I ever wrote in it." Once the script was completed, the film adaptation differed significantly from the original source work. While the short story ends in tragedy, the film instead closes with a Hollywood-style happy ending, in which Peck's character lives and realizes his love for Helen.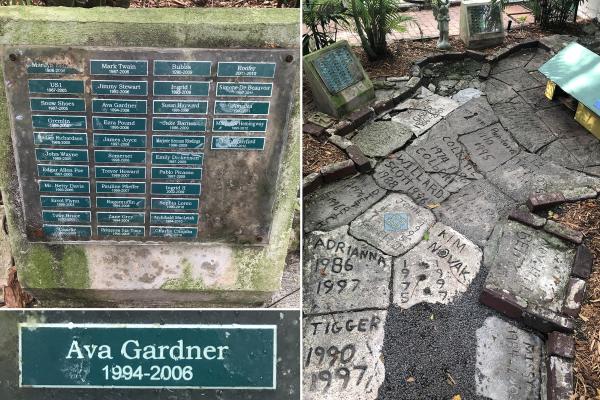 Hemingway completed The Snows of Kilimanjaro while living in Key West. The museum now housed in his estate there carries on a tradition of caring for cats on the property. The cats are named for celebrities, and a cat named Ava Gardner lived on the property from 1994 to 2006. 
The Snows of Kilimanjaro (1952) was the second of three films featuring Ava Gardner which were adapted from the works of Ernest Hemingway. She previously worked in The Killers (1946) and later starred in The Sun Also Rises (1957). Ava shared in her autobiography that she considered the role of Cynthia "probably the first one I understood and felt comfortable with, the first role I truly wanted to play." During the production, she enjoyed working with director Henry King and felt at ease with her co-stars, especially Gregory Peck who she had previously worked with on The Great Sinner (1949). She also identified with her role. She understood that Cynthia was a multi-dimensional character with complex motivations. As a result, Ava delivered one of her strongest performances up to that point in her career.
In Ava: My Story, she reflected on the role of Cynthia: "In fact, I did my biggest scene, the one in a Spanish nightclub where our marriage falls apart and I run away with Mr. Flamenco, in a single take without closeups. This wasn't at all like some of those other slinky-black-dress parts I'd had. This girl wasn't a tramp or a bitch or a real smart cookie. She was a good average girl with normal impulses. I didn't have to pretend. And if I hadn't proved that I was my own lady with the kind of life I'd led up to then, I hadn't proved anything at all."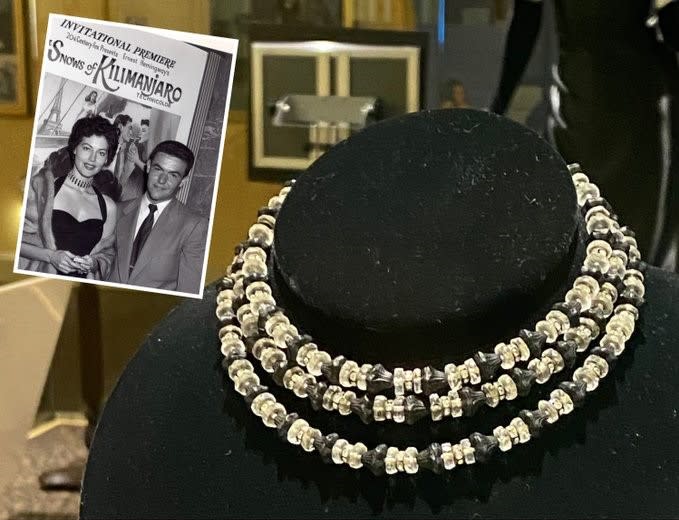 The beaded necklace Ava Gardner wore to the premiere of the film. The necklace is now in the Ava Gardner Museum collection.
Gregory Peck said of Ava's performance: "She did things in Kilimanjaro that she could not have done three years earlier in The Great Sinner. And I think that's largely because Henry King was the kind of man she could trust."
Director Henry King said of Ava: "I always enjoyed working with Ava. She was no playgirl who didn't want to work; she took her roles seriously. While working with her on Snows I learned her acting style. She is no tragedian, but when she is playing a character that she understands she has the ability, when doing a serious emotional scene, to project that she is bleeding inside without shedding a single tear. Some actresses ham it up and drown a sad scene in tears, but Ava doesn't have to cry on the screen to make the moviegoer cry. She proves that old maxim that when all the tears are on the actor's face there aren't any on the audience's faces."
At the time of filming, Ava had recently married the love of her life, Frank Sinatra. After their small wedding and honeymoon, the two traveled to New York City, where Frank was set to film the second season of his ill-fated television variety series The Frank Sinatra Show (1950-1952). Frank was experiencing a slump at this point in his career, and he was struggling to book gigs. Although Ava sought to be a supportive partner, she could not turn down the opportunity that the role of Cynthia presented. In an effort to compromise, Ava arranged with Zanuck to shoot all of her scenes in ten consecutive days, minimizing the amount of time she would be away from Frank.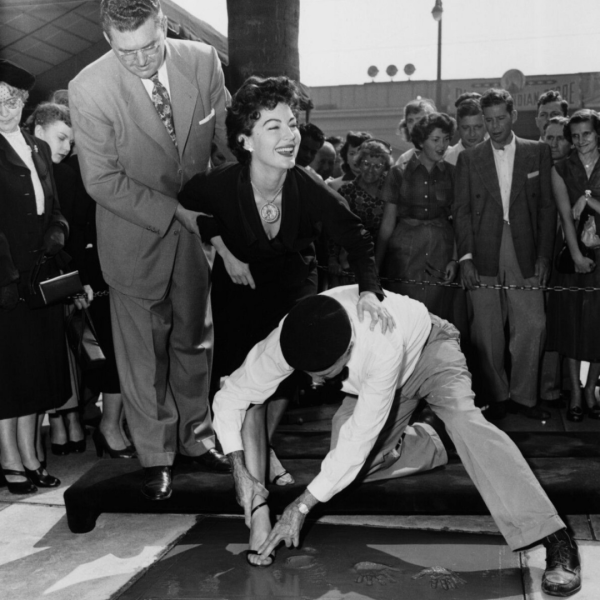 Ava's hand and footprint ceremony outside Grauman's Chinese Theatre. 
Like her other roles in Hemingway adaptations, Ava's performance in The Snows of Kilimanjaro was lauded by critics and fans alike. Variety called the film "an often engrossing dramatic mixture of high adventure, romance and symbolism," and added that "Miss Gardner has never been better." The film was the third highest grossing film at the box office in 1952, earning $6.6M at the domestic box office. It was also nominated for two Oscars: Best Cinematography (Color) and Best Art Direction (Color). In conjunction with the movie's publicity and to the delight of her fans, Ava added her hand and footprints in cement at Grauman's Chinese Theatre on October 21, 1952, before the film's Los Angeles premiere.
As for Hemingway, who rarely liked the film adaptations of his works, he told Ava once, "the only two good things in it were you and the hyena."