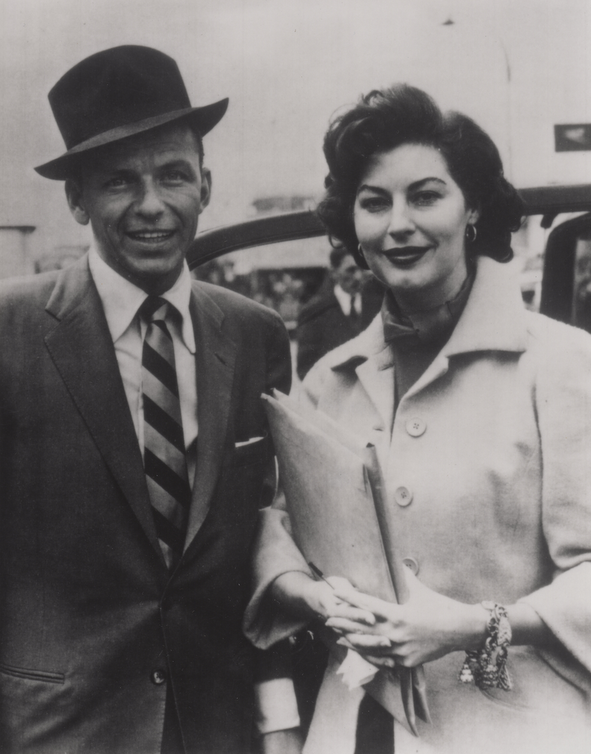 Ava met the man who would become her third husband while she was still married to her first. Years later she would meet him again and begin a love story that would ultimately last the rest of her life, even if the marriage itself didn't.
Frank Sinatra was one of the most popular and influential musical artists of the 20th century. He is one of the best-selling music artists of all time, and an Academy-award winning actor, but when he and Ava first started their relationship he was in a career slump.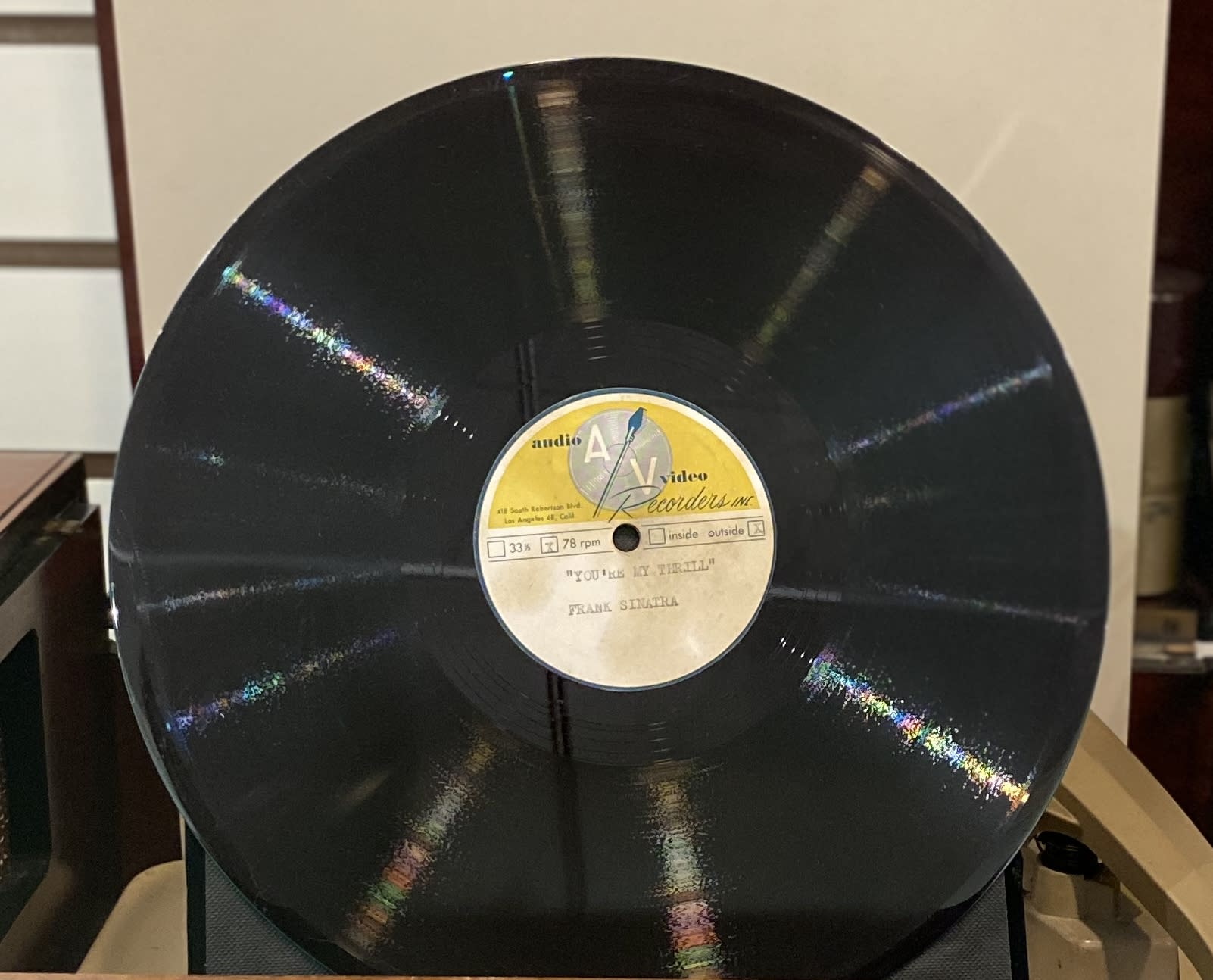 In 1949, early in their romance, Frank recorded this demo of the song "You're My Thrill" as a tribute to Ava. The song was composed by Jay Gorney with lyrics by Sidney Clare and was released in the 1950s by Billie Holiday and Doris Day. This recording by Frank Sinatra was never released. There are 3 known copies including this one which was a part of Ava's personal record collection. It is now in the Ava Gardner Museum's collection and is currently on view as part of the Frank and Ava exhibit.
Frank and Ava began their relationship in 1949 while Frank was still married to his wife Nancy Sinatra, though Frank and Nancy had been on and off and estranged for some time.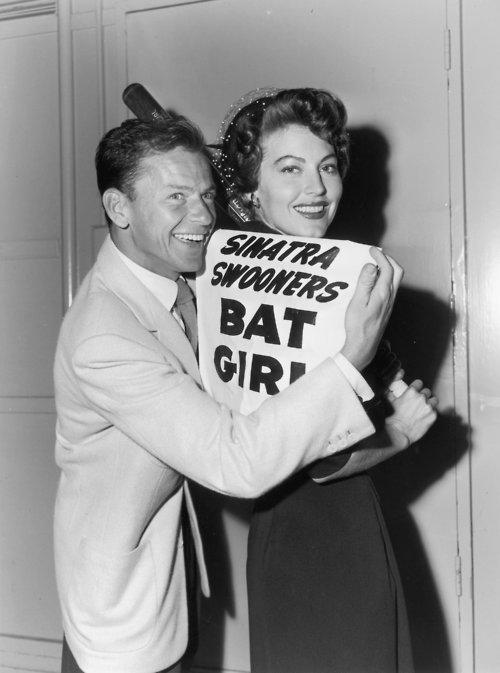 Ava was on Frank's celebrity softball team, The Swooners, in 1947, before their relationship became romantic. Frank played second base and Ava was a bat girl.
Ava ran into Frank, who she had already met and liked, at a party and their relationship began to turn into more. She described that meeting in her autobiography, Ava: My Story: "And who should arrive at my elbow, dry martini in hand, but one of those guests. The blue eyes were inquisitive, the smile still bright and audacious, the whole face even friendly and more expressive than I remembered. Oh, God, Frank Sinatra could be the sweetest, most charming man in the world when he was in the mood."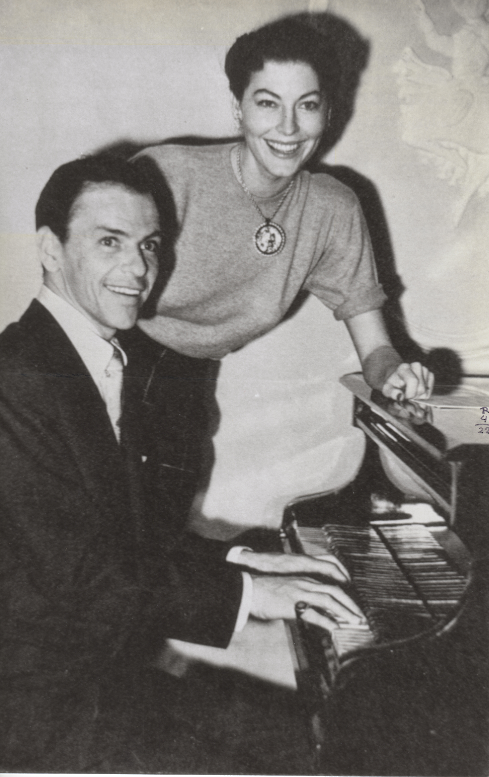 When Frank and Ava's relationship became public, Frank and Nancy Sinatra began a very lengthy and public divorce proceeding. When the divorce was finally granted in October 1951, Ava and Frank wasted no time, having been ready to wed for some time, and were officially married on November 7, 1951 in Philadelphia, Pennsylvania. Ava was 28 years old and Frank was 35.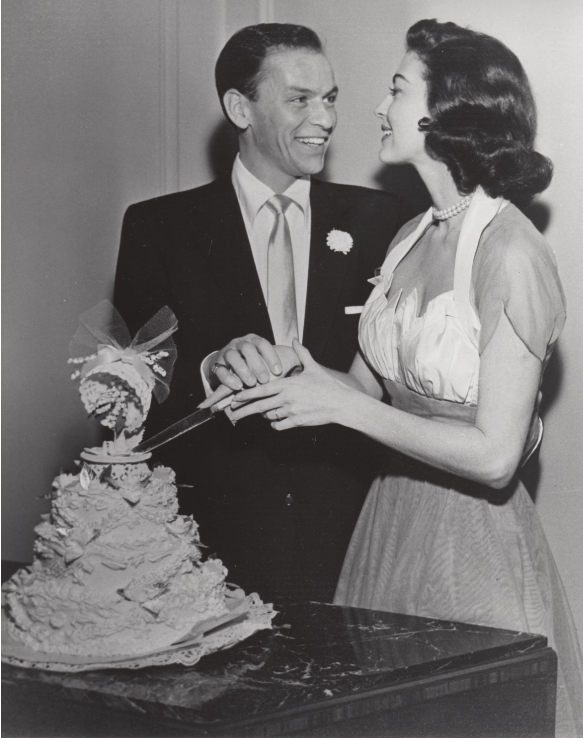 For Ava's third and final wedding she wore a mauve marquisette cocktail dress, a double strand of pearls, and pearl and diamond earrings, her "finger itching to receive the narrow platinum wedding ring that Frank and I had chosen." She forwent the corsage this time and instead carried a clutch bouquet of camellias and miniature carnations. The wedding was attended by Ava's sister Bappie, Frank's parents, and several of Frank's friends.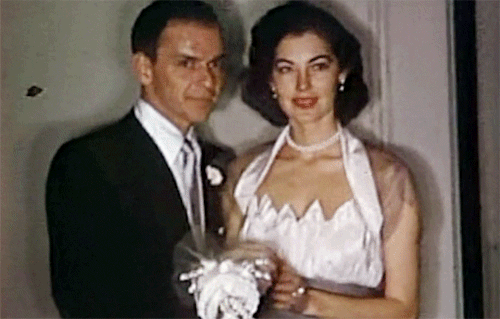 After the ceremony, Ava changed into a blue traveling suit and the two hurried off for their honeymoon, trying their best to evade photographers. In the rush, Ava forgot her suitcase, meaning for the first stop of the honeymoon, in Miami, she had none of her own clothes. Frank and Ava's courtship, wedding, and marriage garnered a lot of press attention, which limited their privacy, something the two struggled with during the course of their relationship.
"So I slept in Frank's pajamas, at least the top half of them, and the next day we walked along the empty beach, me in the bottom half of my travel suit and Frank's jacket. Naturally a photographer was lying in wait and snapped a shot of us, barefoot, holding hands. I've always thought it was a sad little photograph, a sad little commentary on our lives then. We were simply two young people so much in love, and the world wouldn't leave us alone for a second. It seemed that everyone and everything was against us, and all we asked for was a bit of peace and privacy." – Ava: My Story
They did find some of that peace when they continued on their honeymoon in Havana, Cuba, where paparazzi left them mostly alone. But peace wouldn't last long. The two had a turbulent, passionate romance with a lot of highs and lows.
"Both Frank and I were high-strung people, possessive and jealous and liable to explode fast. When I lose my temper, honey, you can't find it anyplace. I've just got to let off steam, and he's the same way."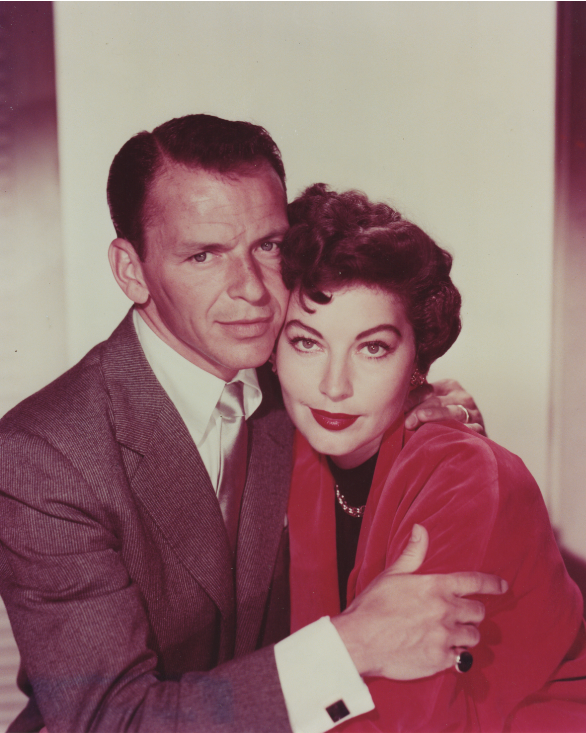 Pressure mounted from press attention, Frank's career woes, and the criticism the two faced regarding Frank's divorce from Nancy.
Ava was rising in fame while Sinatra was struggling, though Ava wrote that they never fought about their careers, only romantic jealousies and accusations. "It was another sort of jealousy that ate into our bones," she said.
About a year after they married, Frank joined Ava in Africa while she shot Mogambo. He was awaiting news about what would become his comeback role in From Here to Eternity. Ava had used her influence and connections to try to help Frank get the part. She had spoken to Joan Cohn, wife of Harry Cohn, the head of Columbia, the movie company making the film. Through Joan she had gotten to Harry and encouraged him to offer Frank a screen test. While resistant to the idea, ultimately, he relented and Frank left Africa to screen test for the role of Maggio. He returned triumphantly with the good news that he had landed it. For a short time, the two happily celebrated the success and enjoyed their time on set in Africa.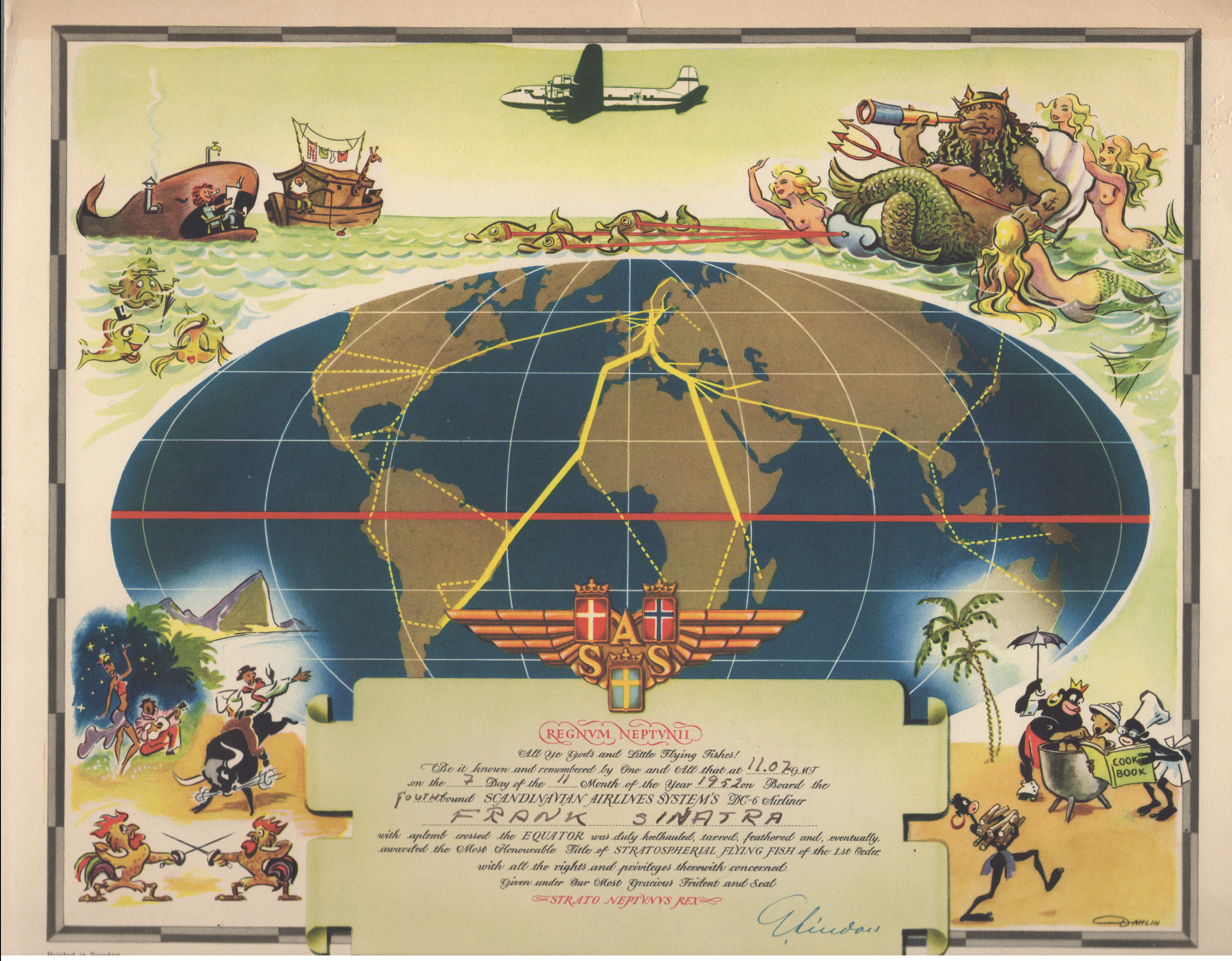 This card issued by Scandinavian Airlines commemorates Frank's crossing of the equator, on their first anniversary, November 7, 1952. This was likely the flight the two took together to Nairobi, Kenya when Frank accompanied Ava to Africa for the filming of Mogambo. We have both Ava's and Frank's matching cards in the Ava Gardner Museum's collection.
But even as Frank's career began to recover, Frank and Ava's marriage was already crumbling. They announced their plans for divorce on October 29, 1953, though the divorce would not be final until 1957. However, even after the divorce the two remained close friends for the remainder of Ava's life. She regarded him as the love of her life, "lovers forever—eternally."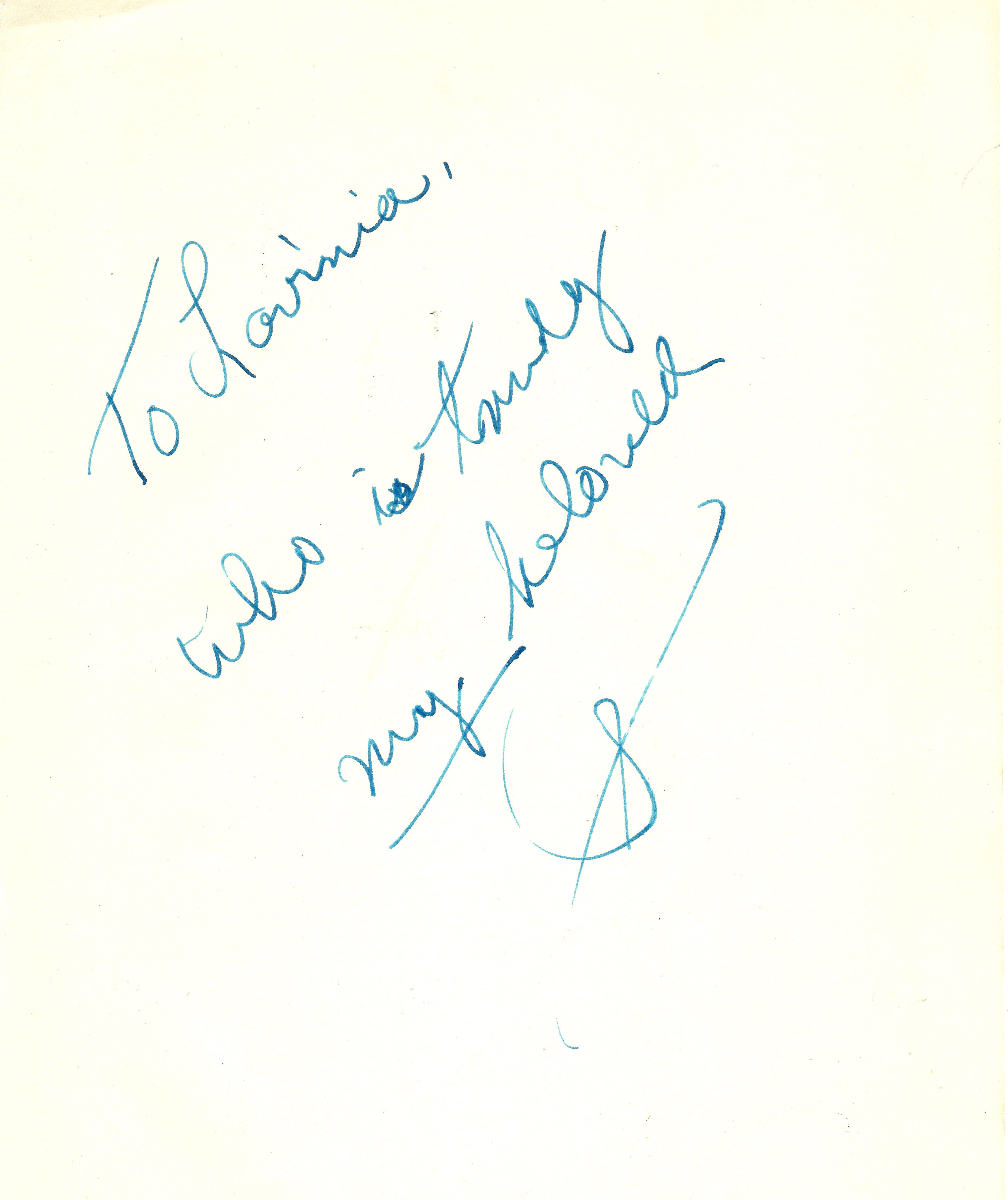 A note from Frank Sinatra to Ava Gardner that reads: "To Lavinia, who is truly my beloved." Addressed to her by her middle name, this note is written on book leaf and was found among Ava Gardner's personal collection. It is now a part of the Ava Gardner Museum's collection.
The two would reconcile a few times after their divorce, for very short reunions. Ava described in Ava: My Story one of these reunions taking place in Australia while she was there filming On the Beach in 1959.
"On a more positive note, my private life got a lift when the real Mr. Sinatra called and told me he was flying to Australia to see me. What's six thousand miles when you're still in love? Ostensibly Frank was coming down to give two concerts in Melbourne and two in Sydney. The truth was, we wanted to talk, to look at each other, to be together. The press were, as usual, as thick as flies on the beach, but we had our ways and means of being private. And with only two nights, we didn't even have time to have a fight!"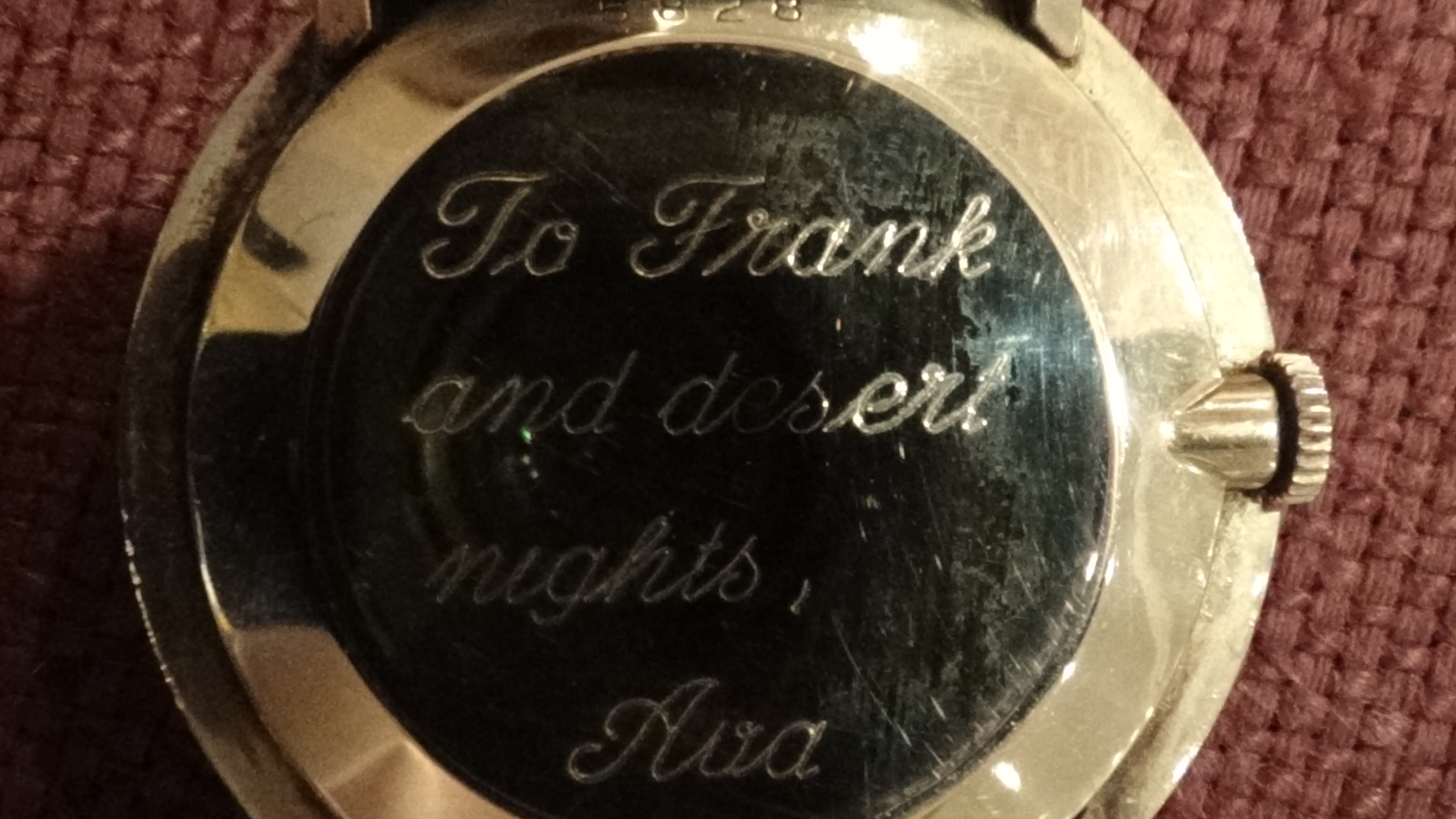 "To Frank and desert nights, Ava"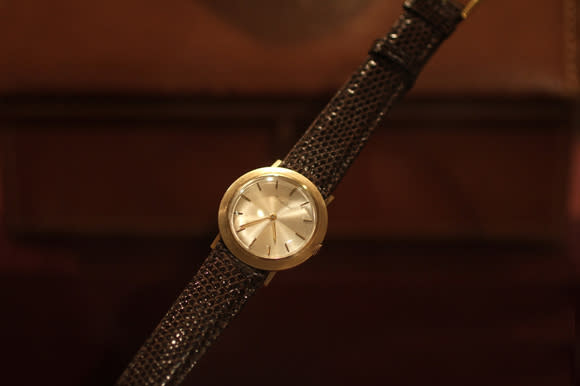 Ava gave this watch to Frank Sinatra around 1960, years after their divorce was final. It is inscribed: "To Frank and desert nights, Ava" and possibly alludes to his home and their time together in Palm Springs. The watch is a part of the Ava Gardner Museum's collection and is currently on view in the Frank and Ava Exhibit.
That the two always felt love for each other is no secret. Frank remarried twice but continued to stay in touch with Ava until her death. According to Ava's sister Bappie, Frank sent Ava a huge bouquet of flowers every year on her birthday. Grabtown Girl, a book about Ava's childhood and ties to North Carolina, shares Bappie's recollection that "after the flowers faded and died, Ava left them in their special place on her dresser until a fresh bouquet arrived on the following Christmas Eve." Frank did not attend Ava's funeral in 1990 for concerns over a media frenzy, but he did send flowers and a simple note that read, "All my love, Francis."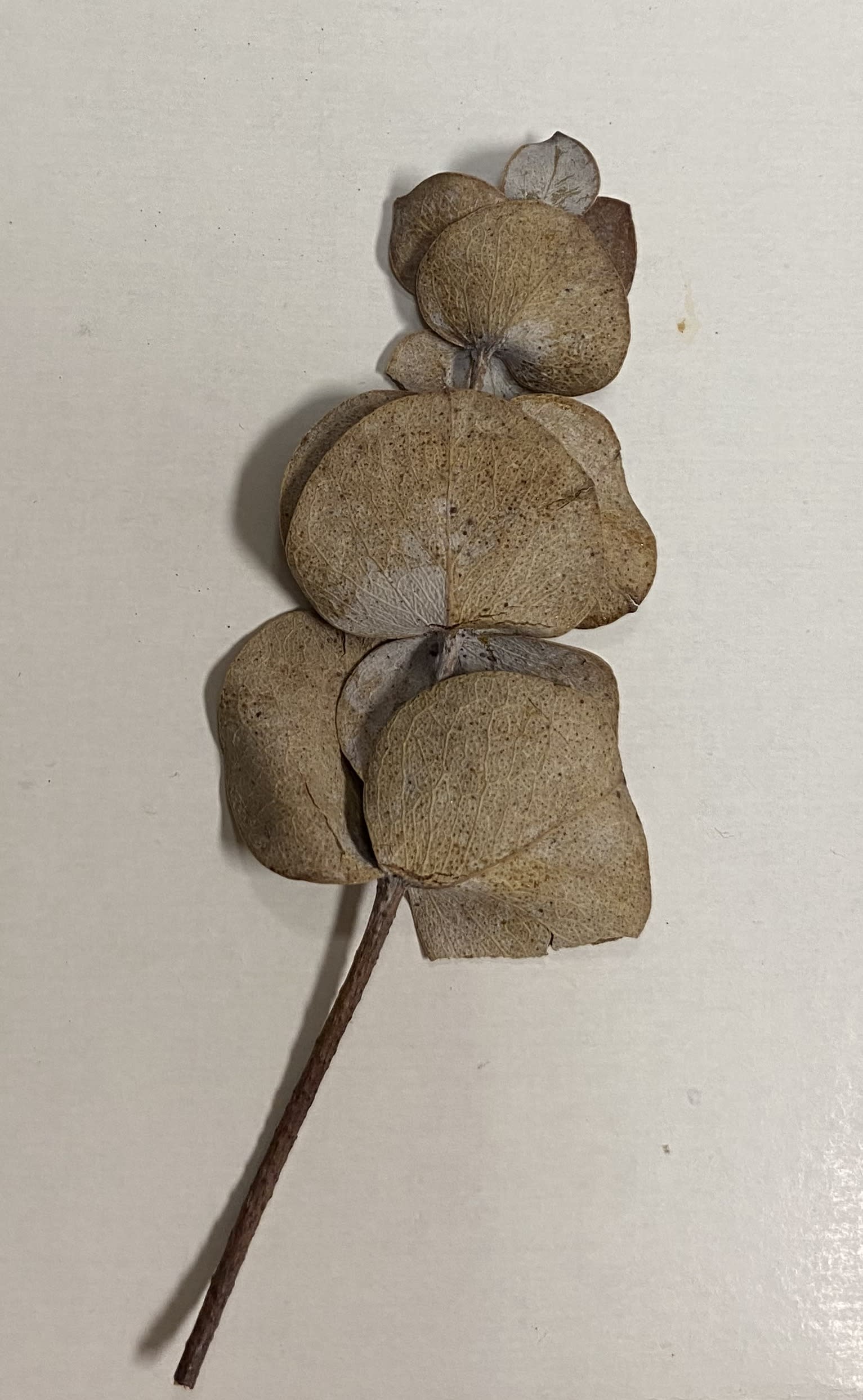 This sprig of eucalyptus is from the large floral arrangement Frank Sinatra sent to Ava Gardner's funeral. It was retrieved by a fan who gave it to Ava's sister. It is now in the collection of the Ava Gardner Museum.
Learn more about Ava's marriages in our episode of Ava Chats: Ava in Love & Marriage, available virtually via our online gift shop. 
_______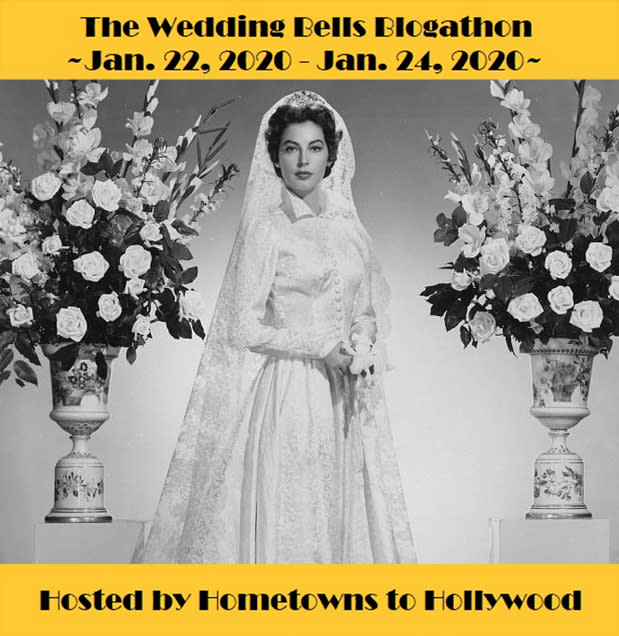 This post was originally written for Hometowns to Hollywood's Wedding Bells Blogathon! We shared blog posts about Ava's three weddings & marriages. Learn more about Mickey Rooney here & Artie Shaw here. For more posts about weddings on and off screen during the Golden Age of Hollywood, head over to Hometowns to Hollywood's blogathon page for links to the other participants' blogs.