Ava was introduced to her second husband by a mutual friend, actress Frances Heflin. Artie Shaw had just returned from World War II and was one of the most popular musicians and bandleaders of the day. Ava had been filming small bit parts in films, but was on the cusp of her big break in The Killers (1946).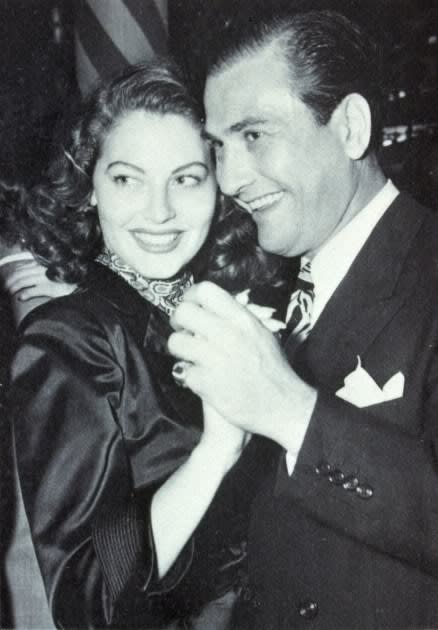 Ava recalled in her autobiography, Ava: My Story, the first time she met Artie: "Oh, my God, I thought, what a beautiful man! Artie was handsome, bronzed, very sure of himself, and he never stopped talking…But he was full of such warmth and charm that I fell in love with him, just like that."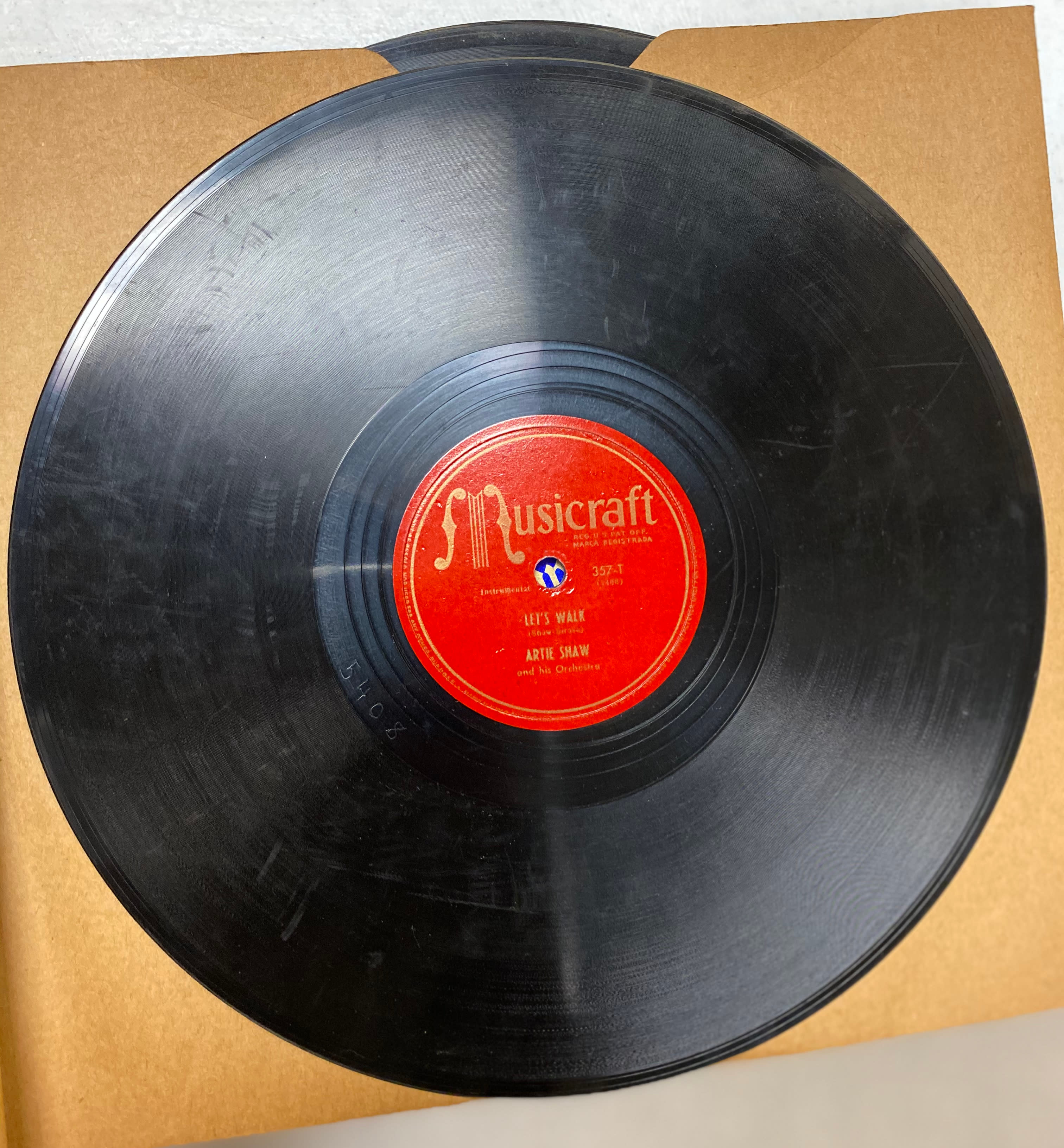 One of several Artie Shaw records in Ava's personal record collection, now in the Ava Gardner Museum Collection. Ava was a lifelong fan of music and had grown up during the big band era.
Artie Shaw was one of jazz's finest clarinetist, a composer, a conductor, and a bandleader. He was a genius musician and an intellectual that liked to discuss many subjects. Ava reflected on their relationship, saying, "I suppose Artie was the first intelligent, intellectual male I'd ever met, and he bowled me over."
The two had a longer courtship than Ava had with Mickey Rooney, dating for several months before Ava moved into his Beverly Hills home in the summer of 1944. At the time, Ava was still honing her acting skills in small film parts, so she had time to travel with Artie and his band as they toured the country.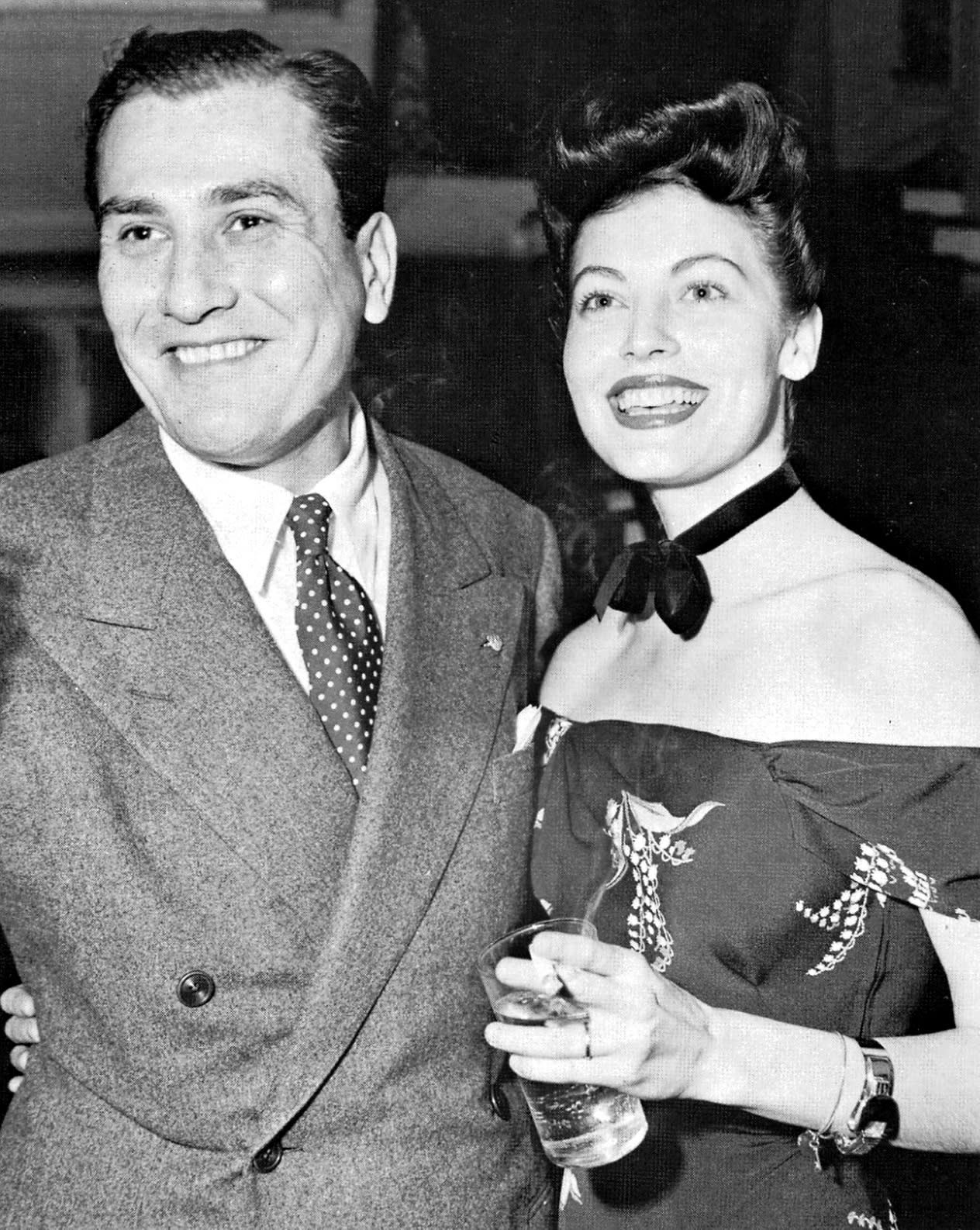 In Ava: My Story, she said: "I adored my time with Artie before we got married. We traveled all over California and went to Chicago and New York, with Artie's band playing one-night stands while I sat backstage, sipping bourbon, listening to the music, and having a ball."
During their courtship, Artie was inspired by Ava to co-write and record a song he titled "The Grabtown Grapple." The song's title pays tribute to Ava's birthplace, Grabtown, North Carolina. The song was recorded in January 1945 by Artie and his Gramercy Five for Victor records.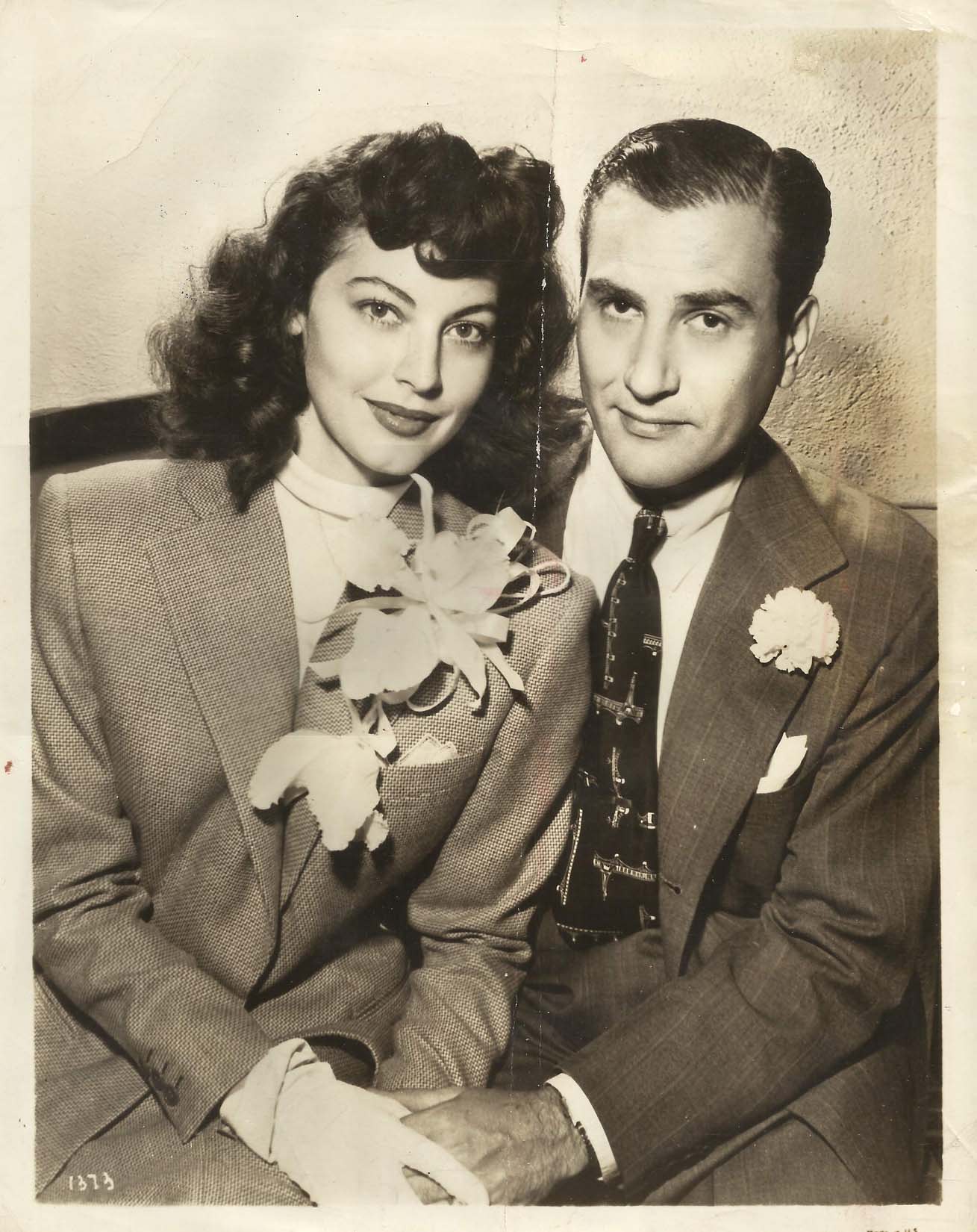 Ava, at 22, and Artie, at 35, were married on October 17, 1945 at his Beverly Hills mansion on Bedford Drive. It was his fifth marriage and Ava's second. Another small wedding, Ava again wore a simple blue suit with a corsage of Cattaleya orchids. Frances Heflin was her bridesmaid and one of Artie Shaw's oldest friends was the best man. Ava and Artie honeymooned at Lake Tahoe for a week.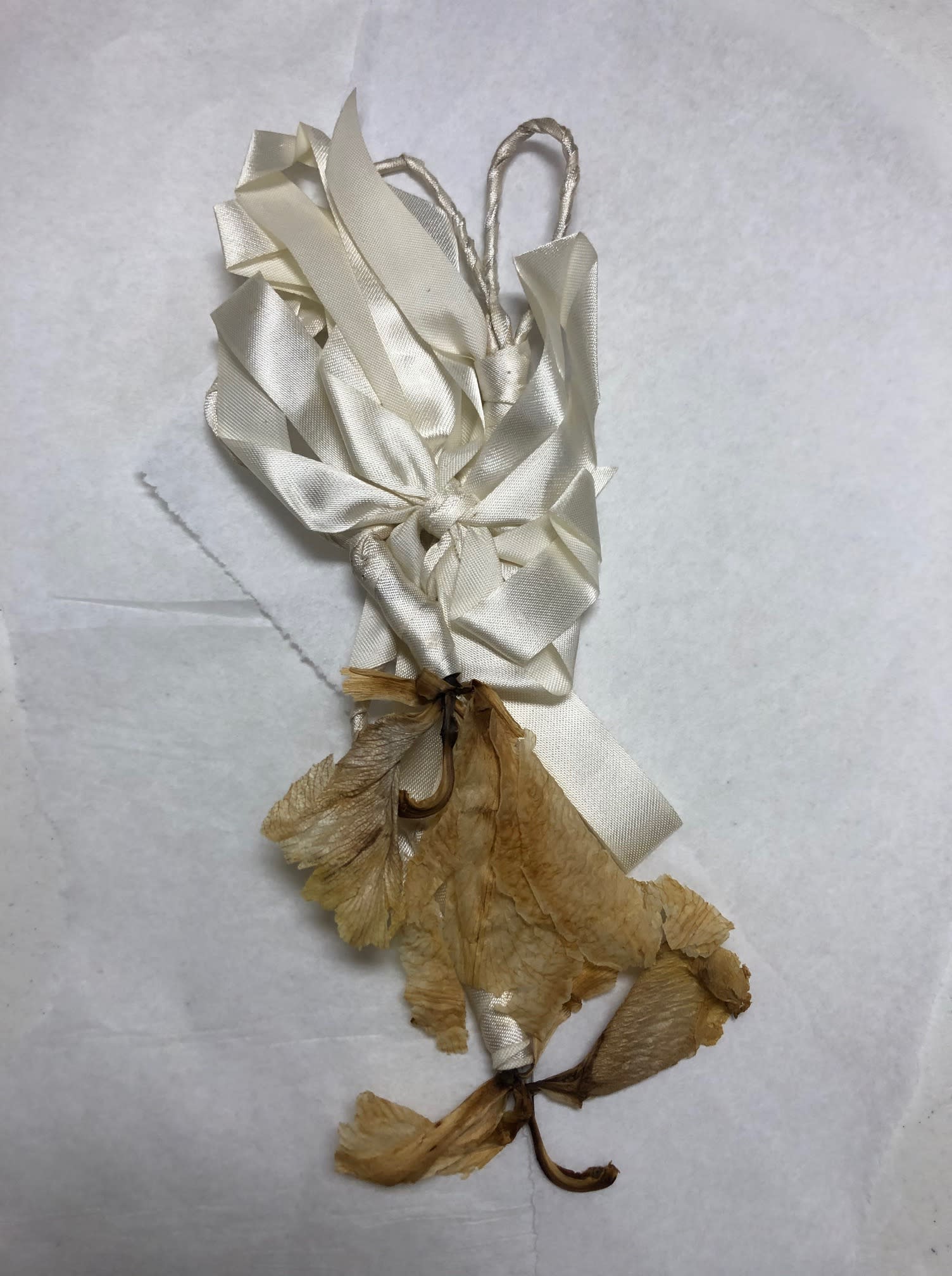 The corsage of Cattaleya orchids Ava wore at her wedding to Artie Shaw. It was found pressed between the pages of one of Ava's personal scrapbooks and is now part of the Ava Gardner Museum Collection.
Ava describes their time together in her autobiography, saying that while they had a lot of fights, they also had a lot of romance. Artie encouraged Ava to read and learn about topics from literature to chess. In an effort to please him, Ava enrolled in courses at UCLA and studied during down time on the set of The Killers.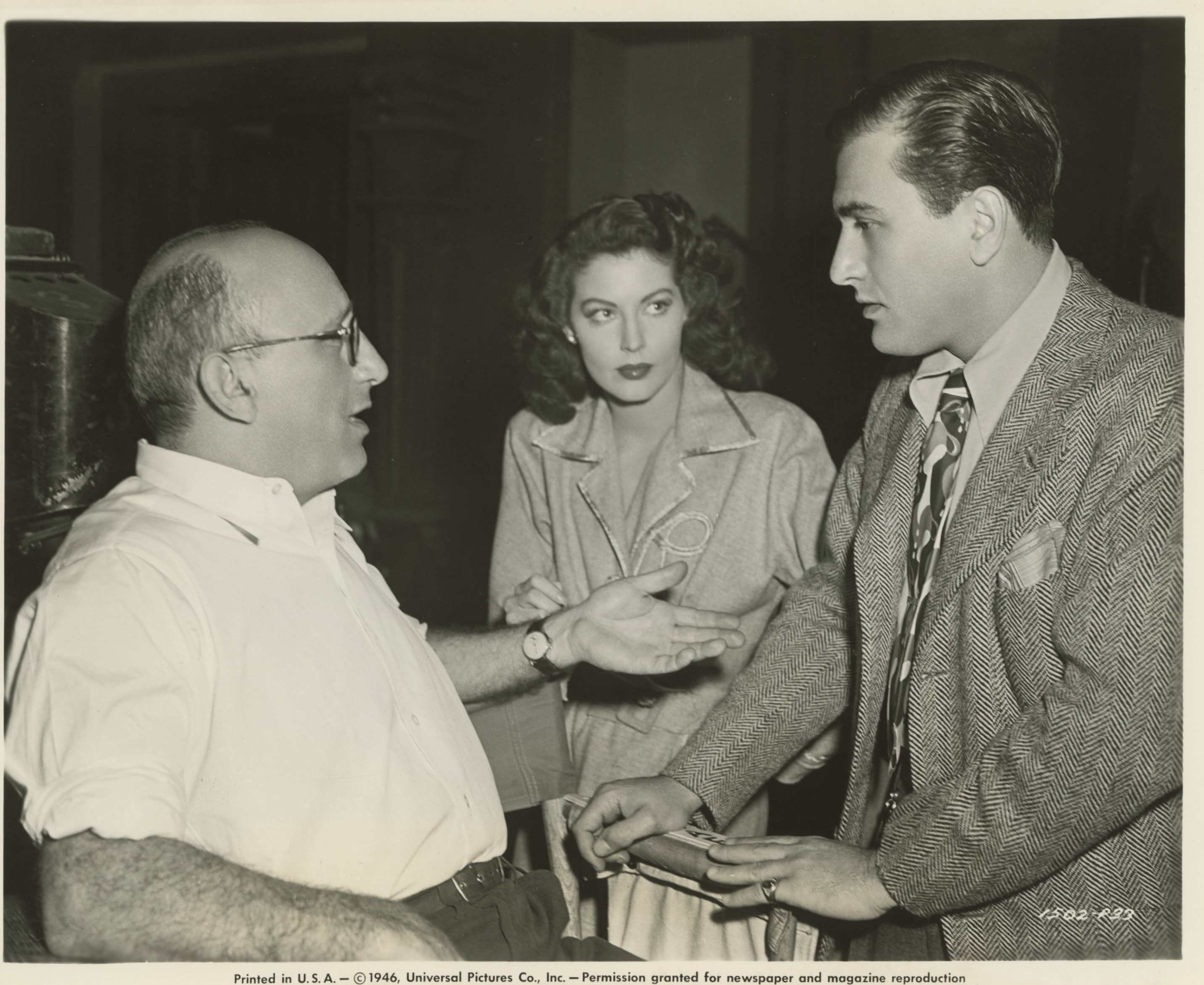 Ava, Artie and director Robert Siodmak on the set of The Killers.
Ultimately, Artie's desire to make Ava into an intellectual soured their romance. Ava moved out and Artie asked for a quick Mexican divorce so he would be free to marry his sixth wife, author Kathleen Winsor. Artie and Ava were married one year and one week.
Ava's feelings on the divorce were mixed.
"Still and all, Artie was one of the deep hurts of my life. I was so much in love with the man, I adored and worshiped him, and I don't think he ever really understood the damage he did by putting me down all the time…Yet Artie and I remained close for years, and I can't say anything against him. He taught me to study, to think, to read…Of my three husbands I had the most admiration for Artie. He's impossible to live with, sometimes even to be friends with, but he is a worthwhile human being, an extraordinary man." – Ava: My Story
Artie's efforts to "improve" Ava were hurtful to her, but she still credited him with sparking in her a lifelong interest in literature, art, classical music, philosophy, and politics. Photo: Ava Gardner in the library of Artie Shaw's Bedford Drive home in 1945.
As for Artie Shaw's thoughts on Ava, in a 1990 interview, when asked what he had found attractive about her, he simply replied, "Have you ever seen Ava Gardner?"
Learn more about Ava's marriages in our episode of Ava Chats: Ava in Love & Marriage, available virtually via our online gift shop. 
____________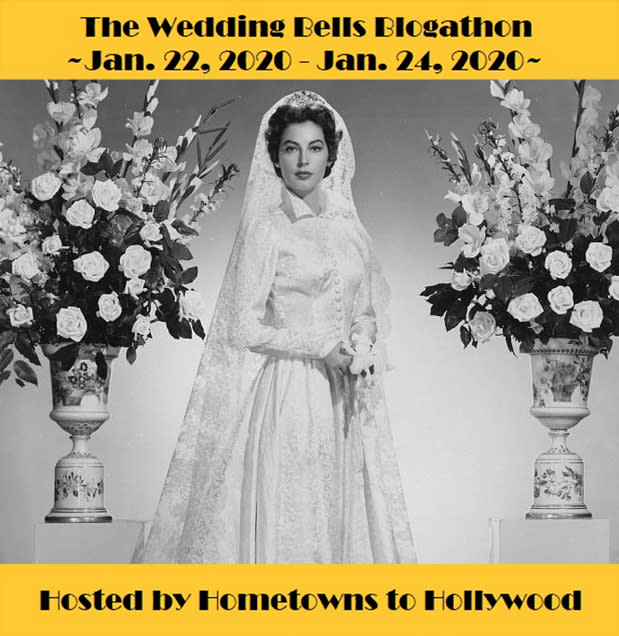 This post was originally written for Hometowns to Hollywood's Wedding Bells Blogathon! We shared blog posts about Ava's three weddings & marriages. Learn more about Mickey Rooney here & Frank Sinatra here. For more posts about weddings on and off screen during the Golden Age of Hollywood, head over to Hometowns to Hollywood's blogathon page for links to the other participants' blogs.