"The great thing is to last and get your work done and see and hear and learn and understand."
– Ernest Hemingway –
Ernest Hemingway (1899-1961) was one of the most well-known and celebrated authors of the 20th century. Hemingway's innovative writing style and wide range of works have immensely influenced generations of writers. Winning both a Pulitzer Prize and the Nobel Prize in Literature, his short stories, novels, and journalism were successful with critics and readers during his lifetime and ever since. The author of such American literary classics as A Farewell to Arms, The Old Man and the Sea, and For Whom the Bell Tolls, Hemingway's writings were often informed by his own personal life experiences. It was his position as an ambulance driver in World War I that inspired A Farewell to Arms, while his time living in Paris and Spain as an expatriate American of the 'Lost Generation' served as the basis for The Sun Also Rises – one of his many stories later adapted for film. In addition to writing short stories and novels, Hemingway also worked as a journalist and non-fiction writer, covering turbulent events such as the Spanish Civil War and the Greek Revolution. Although considered an American writer, Hemingway traveled the globe extensively during his 61 years and lived abroad for the majority of his life.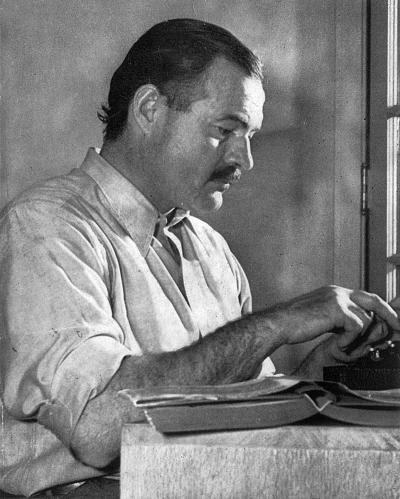 Ernest Hemingway working on his book For Whom the Bell Tolls at the Sun Valley Lodge, Idaho, in December 1939.
In fact, it was in Spain where Ava Gardner first met Ernest Hemingway. Before meeting him in person, she knew him solely through his writings. Ava considered A Farewell to Arms her favorite book, and she became enamored with the pageantry of bullfighting after reading his 1932 non-fiction book Death in the Afternoon. She felt a close kinship with the women in his stories. In fact, Ava's film roles in Hemingway adaptations were among some of her best performances because she felt such strong connections to the female characters he created. In all, Ava starred in three films based on Hemingway's writings – The Killers (1946) and The Snows of Kilimanjaro (1952), which were produced before she met Hemingway, and The Sun Also Rises (1957), which was produced after.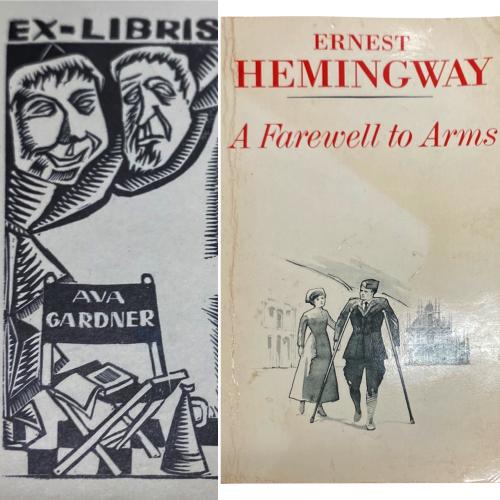 Ava Gardner's copy of A Farewell to Arms. Ava's books often have this bookplate inside the front cover. This book is now a part of the Ava Gardner Museum's collection. 
Hemingway, who was generally displeased by Hollywood's attempts to translate his work to film, considered The Killers his favorite cinematic adaptation. The film's producer gifted Hemingway with a copy of The Killers, and he often screened it for guests at his home in Cuba. Ava noted in her autobiography Ava: My Story, "[Hemingway] always considered The Killers the best of all the many films his work inspired, and after Mark Hellinger, the producer, gave him a print of his own, he'd invariably pull out a projector and show it to guests at Finca Vigia, his place in Cuba. Of course, he'd usually fall asleep after the first reel, which made sense, because that first reel was the only part of the movie that was really taken from what he wrote."
In 1954, Ava Gardner was spending more and more time in Spain following her high-profile separation from Frank Sinatra, and she eventually would relocate permanently there in December 1955. While staying in Spain, she began a relationship with professional bullfighter Luis Miguel Dominguin. She was with Dominguin in Madrid one day when she started to experience severe abdominal pain. After rushing to the hospital, doctors diagnosed Ava with kidney stones. Dominguin devotedly stayed by Ava's side as she endured the pain of passing the stones, but he did briefly leave the hospital once. When Dominguin returned, he brought with him a special visitor to see Ava, his close personal friend Ernest Hemingway, affectionately called 'Papa' by those who knew him best.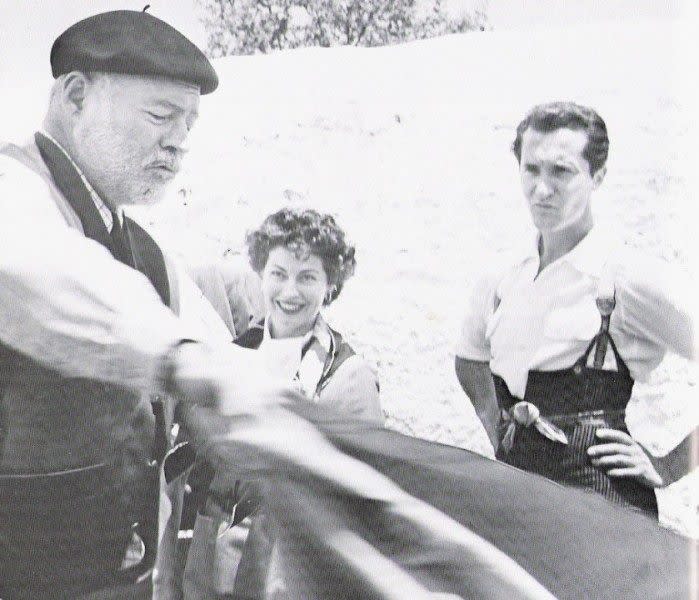 Hemingway demonstrating his bullfighting technique for Ava Gardner and Luis Miguel Dominguin in Spain, 1954. 
When Hemingway arrived at her hospital room, Ava was on the phone with executives at MGM. She was yelling rather loudly at the studio brass, telling them how she refused to play the lead role in the Ruth Etting biopic, Love Me or Leave Me (1955), a role that would later go to Doris Day. If she accepted the role, Ava knew her singing voice would be overdubbed by the studio as it had been for the release of Show Boat (1951), an incident which left her bitter at MGM. Ava was determined not to have that experience with another film.
Hemingway was immediately struck by Ava's strong-willed manner on the telephone. Also, he was amused to hear how Ava's colorful language on the call seemingly went unnoticed by the Spanish-speaking nuns staffing her hospital room. When Ava hung up the phone, she instantly changed her demeanor and tone. Greeting Hemingway with warm affection, she reportedly said, "Papa, I'm floored you'd come see me. You know I'm just a simple country girl. Come sit here on the edge of the bed." Hemingway reportedly said to Ava, "Daughter, I hope your nurses are not bilingual." To which Ava responded: "These are great gals. I may stay in this hospital forever." And thus began a friendship that would last until Hemingway's untimely death in 1961.
Ava fondly remembered that first meeting in her autobiography, Ava: My Story: "Though I obviously wasn't crazy about the circumstances, I was delighted to meet Papa and absolutely floored that he'd take the time to visit me in a hospital. I just adored the man; I idolized him, in fact, and we became friends from that moment on."
In 1957, Ava starred in her third film adaptation of a Hemingway work, The Sun Also Rises. Although Jennifer Jones was originally signed to play the female lead, the role of Lady Brett Ashley ultimately went to Ava, in no small part because Hemingway personally recommended her to the film's producer Darryl F. Zanuck. Ava wasn't totally convinced that a film could do justice to the original novel, and she wanted to give her friend Papa Hemingway a chance to review and improve the script. Ava wrote in Ava: My Story: "More of a problem than the cast was the first draft of the script. When I read it, I nearly had a fit. I took Papa the script and told him for his own pride he had to change things. Now, when Papa got mad he would stand on something and make speeches. Perched on a chair, he started to scream…" The script was eventually reworked; however, the final product still met with plenty of criticism from Hemingway.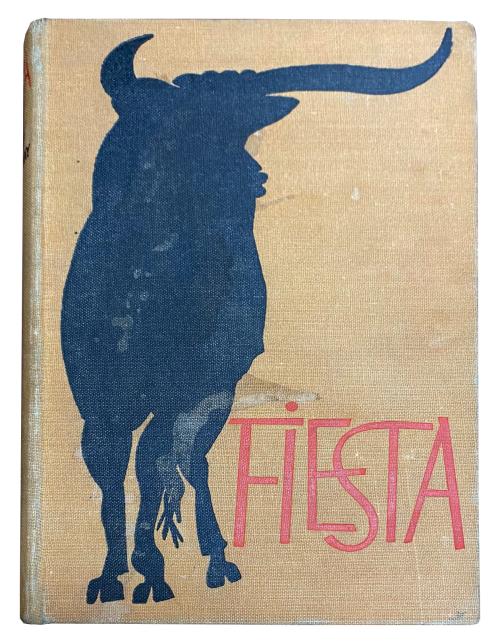 Ava Gardner's copy of Fiesta, the title under which The Sun Also Rises was published in London. This book was in Ava Gardner's personal library and is now in the collection of the Ava Gardner Museum. 
While Ava's work in all three Hemingway film adaptations were among some of her best reviewed performances and the author felt that she brought his female characters to life better than any other actress, he was often dissatisfied with the film versions of his writings. The Sun Also Rises was no exception, and although he disliked the finished film, he thought Ava's interpretation of the character was a standout. While Ava was also disappointed in the finished film, she later said, "I felt an immediate kinship with Lady Brett, who Papa wrote was 'as charming when she is drunk as when she is sober.'"
In addition to spending time with Hemingway while he was staying in Spain, Ava also visited his estate in Cuba, Finca Vigia, which translates to "Lookout Farm." Hemingway lived at the property, when he wasn't traveling abroad, from 1939 to 1960. It was there that he wrote most of For Whom the Bell Tolls and The Old Man and the Sea. According to Living with Miss G, in which Ava's friend and assistant Mearene "Rene" Jordan recounted a trip they made to Finca Vigia, Hemingway "loved Cuba and never stopped talking about it."
In Living with Miss G, Rene vividly remembered meeting Hemingway for the first time: "[Hemingway was] tanned, bearded, and fit, [and] he gave me the impression of enormous stature. I was introduced after he kissed Miss G on both cheeks. The smile he gave me was big and approving. My kiss on the cheek was also welcoming." She also described his Cuban estate: "There were fifteen acres of wilderness... Still there was room for a swimming pool, vegetable garden, vines, and more species of mango than anywhere else in Cuba. There were about five million cats, as far as I could see, along with dogs and chickens and cows that gave the place a friendly atmosphere." In addition to thinking Hemingway one of the greatest writers of their time, Rene also said that she and Ava "both thought he was a wonderful bear of a man who, when he entered a room and felt like it, could bring intensity, brightness, euphoria, and expectancy to all who were there."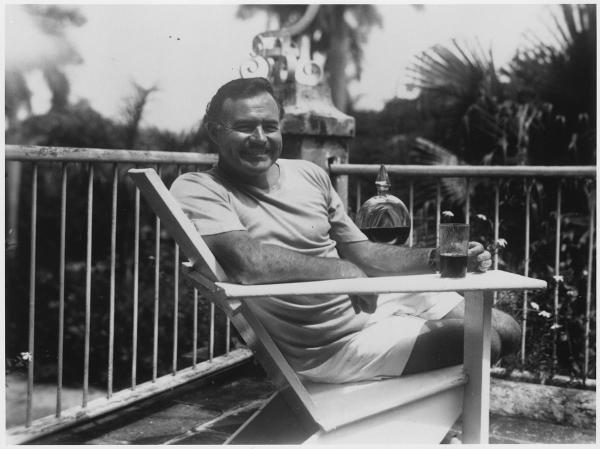 Ernest Hemingway at his estate in Cuba, Finca Vigia. 
While Ava was clearly enamored with him, Hemingway likewise thought highly of her, and he especially connected with her great sense of humor and adventurous spirit. According to Hemingway's close friend and biographer, A.E Hotchner, Hemingway said, "[Ava] was the only woman who could out drink me. She could party all night at flamenco bars and go straight to the studio and look beautiful – and then do it all again the next night. No one could keep up with her." Hemingway also told Harvey Breit, the American poet and another close friend, that "[Ava had] two sides to her personality. She could be sweet, attractive, witty, and good fun. She also had a sharp tongue and could be an absolute devil. She suffered from a sense of inferiority and reacted violently to anyone who joked about her."
As part of publicity for her film The Little Hut (1957), Ava was asked with whom she would like to be stranded on a deserted island. Her choices showcased her humorous side as well her wide range of friends: "Adlai Stevenson, Ernest Hemingway, Yul Brynner, Robert Graves, Tennessee Williams, Salvador Dali, and Alberto, the bartender from Beachcomber's Bar in Hollywood." All of these "honorees" responded to Ava through the press with funny retorts, but Hemingway gave the wittiest response. He said, "If Mr. Stevenson became President, I would naturally make a supreme patriotic effort to return him to his exhausting duties. We would keep the others for amusement value only, and do away with them if they attempted to change their status. Yul Brynner is reportedly an extremely dangerous man, so he would probably be the first to go. Ask Ava the approximate position of the island and my expected time of arrival."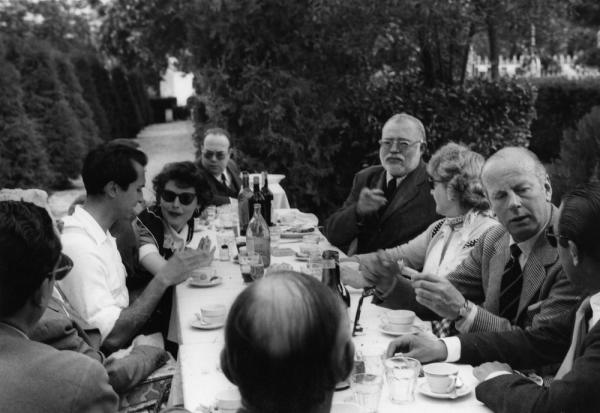 Ernest Hemingway, Luis Miguel Dominguin, Ava Gardner, and others during a luncheon in the Costa del Sol, Spain, 1954. 
The author and the actress shared a great deal in common. Before becoming international celebrities, they each had a small-town upbringing with Hemingway growing up in suburban Illinois and Ava living her formative years in rural North Carolina. Once they both achieved success in their given professions, they each spent time exploring the world in search of adventure. They both had a zest for new experiences – absorbing culture, art, food, and celebration throughout their years of travel. Ultimately, they understood each other in a unique way - enjoying one another's company and engaging in lengthy mail correspondence for several years. When Papa Hemingway passed away from suicide in 1961, Ava was truly devastated. Her time spent with him in Spain and Cuba were some of her most treasured memories, and she would remember him fondly for the rest of her life.