The first incarnation of the Ava Gardner Museum opened in the summer of 1981. Operating as a seasonal attraction, the Museum was housed in a building where Ava once lived in the rural community of Brogden, North Carolina. In the spring of 1991, the collection was relocated to Smithfield and made accessible to visitors year-round. On October 2, 2000, the museum moved into its current location in the heart of historic downtown Smithfield.
The Museum has grown substantially since 1981 and so has the scope of our mission. Today, we honor the remarkable professional career, the trailblazing personal life, and the lasting cultural legacy of Ava Gardner through both curatorial preservation and historical interpretation. Our current location provides our visitors with over 5,000 square feet of exhibit space to explore. Our vast repository of Ava's personal and professional artifacts includes photographs, jewelry, costumes, memorabilia, papers, ephemera, and much more. Beyond the walls of the Museum, we share our work and collection with fans around the world through our active social media presence and our virtual program offerings.
While we appreciate and value all of our Museum visitors, we have been very fortunate over the years to have celebrities and public figures contribute to the Museum, attend our special events, and visit us in Smithfield. Here are just a few of our noted guests and supporters.
Benefactors

(Left to right) Lena Horne, Elaine Stritch, Liz Smith
In 1992, multi-talented performers Lena Horne and Elaine Stritch along with gossip columnist Liz Smith hosted a special fundraiser in New York to benefit the Ava Gardner Museum shortly after we relocated our collection to Smithfield, NC. These three friends of Ava also willingly served on the Museum's honorary committee. Ava's devoted friend and one-time director, actor Roddy McDowall also joined the honorary committee.
Museum Visitors
Virginia Mayo
In August 1990, when the collection was displayed in Ava's childhood home in Brogden, Virginia Mayo, actress, dancer, and Hollywood contemporary of Ava, visited the Museum. While Ava and Mayo never worked together in a film, they were on friendly terms. In the late 1940s, they were both "bat girls" or cheerleaders for Frank Sinatra's celebrity baseball team called the Swooners.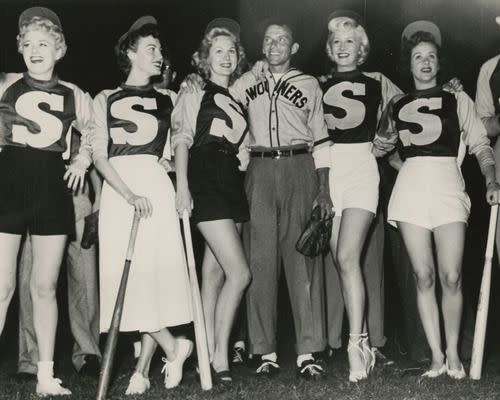 Ava and Virginia Mayo as bat girls for Frank Sinatra's celebrity baseball team, the Swooners. Ava is second from left and Virginia Mayo is third from left, next to Sinatra.
Gregory Peck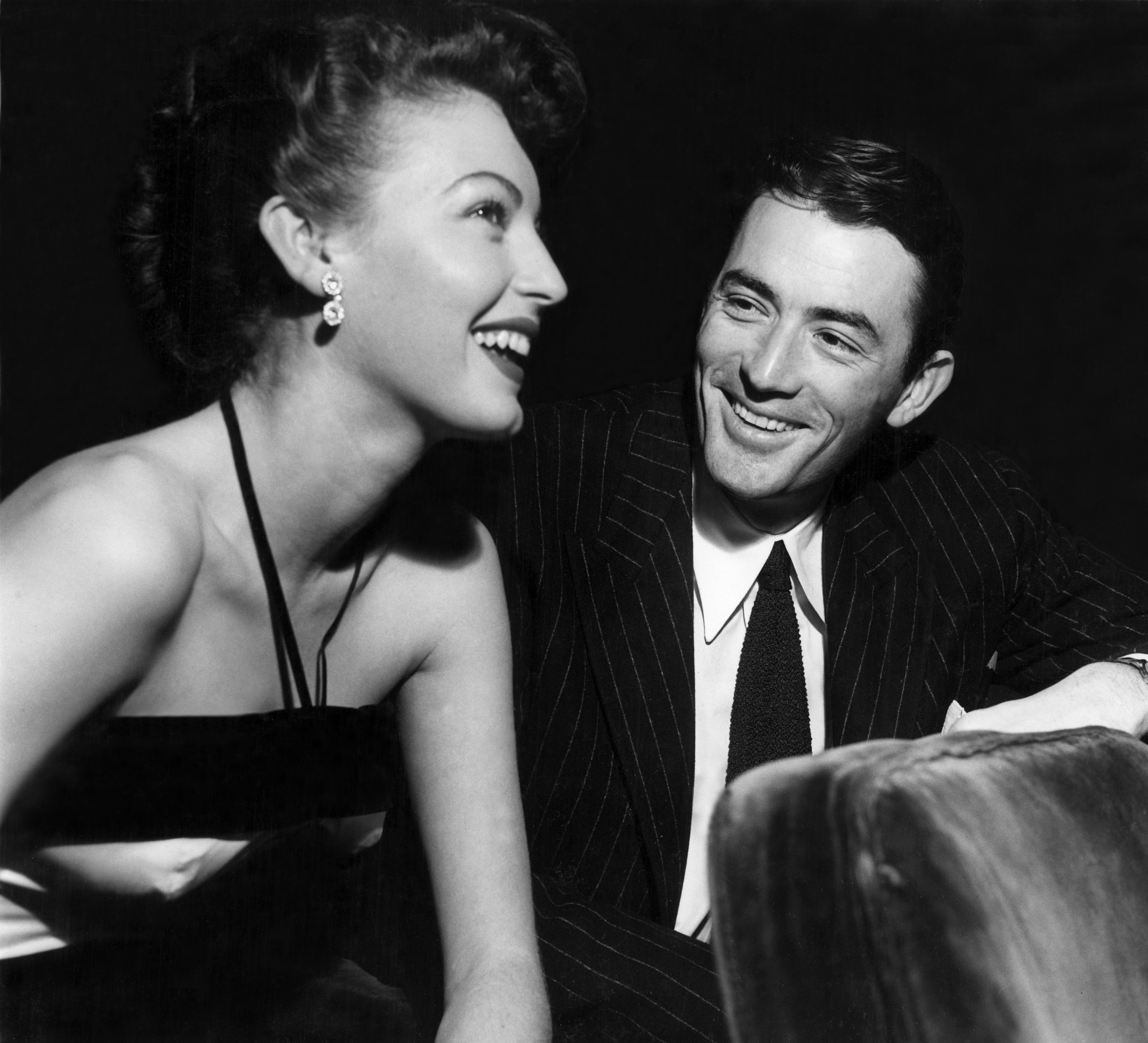 Friends and frequent costars Ava Gardner and Gregory Peck at a Look Magazine event.
Gregory Peck, Oscar-winning actor and three-time costar to Ava, visited the Museum in spring 1992 while he was in Raleigh, NC filming the made-for-television movie The Portrait costarring Lauren Bacall and his daughter Cecilia Peck.
Author Doris Rollins Cannon shared the story of his visit in her book Grabtown Girl.
"One day, a tall man with a scruffy gray beard and a cap pulled low on his head entered the museum. [Museum docent Marion Grimes Crayton] took the lone man on a tour. 'In 1949, Ava wore this gown in The Great Sinner with Gregory Peck,' she said when they came to a black velvet gown [in the museum's permanent collection]. 'Oh yes, I remember that gown,' the man said. Marion said she almost fainted when she heard that distinctive voice. She [realized she] was talking to Gregory Peck."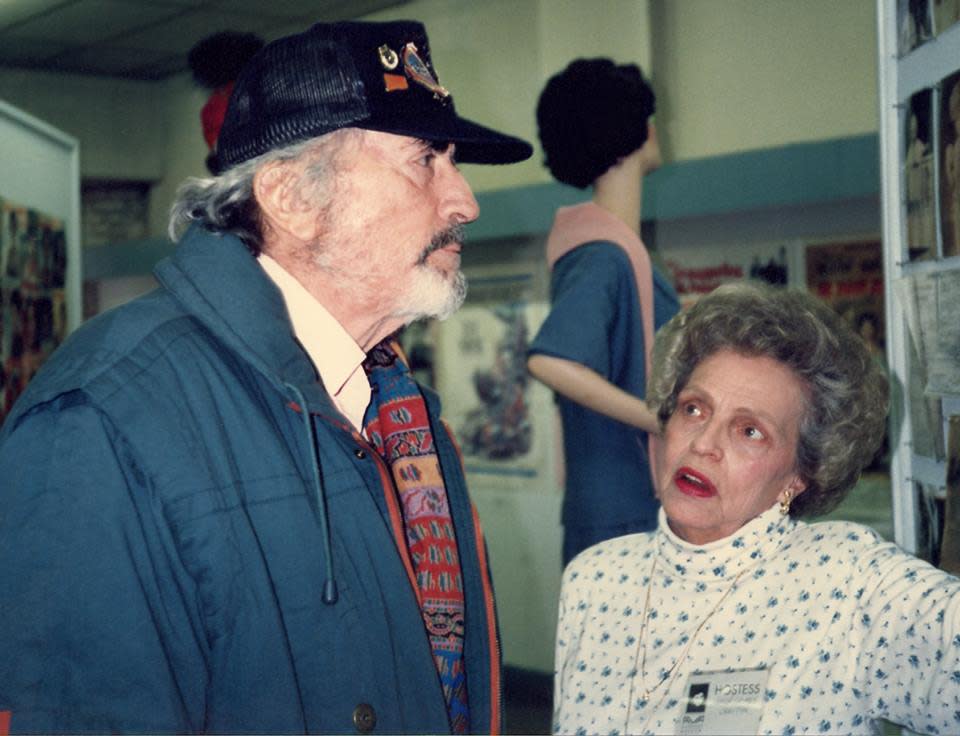 Peck at the Ava Gardner Museum with Marion Grimes Crayton, a Museum docent and childhood playmate of young Ava while she lived in the Brogden community.
While still in Raleigh filming, Gregory Peck was contacted by Bill Wilson, a devoted supporter of the Museum and an avid film memorabilia collector. Wilson had several posters, lobby cards, and still images he planned to donate to the Museum collection. Wilson asked Peck if he would sign them, and he generously agreed. This lobby card from Peck's last film with Ava, On the Beach (1959), is currently on display in our poster gallery. Peck's inscription reads, "A gloomy film, but Ava at her best."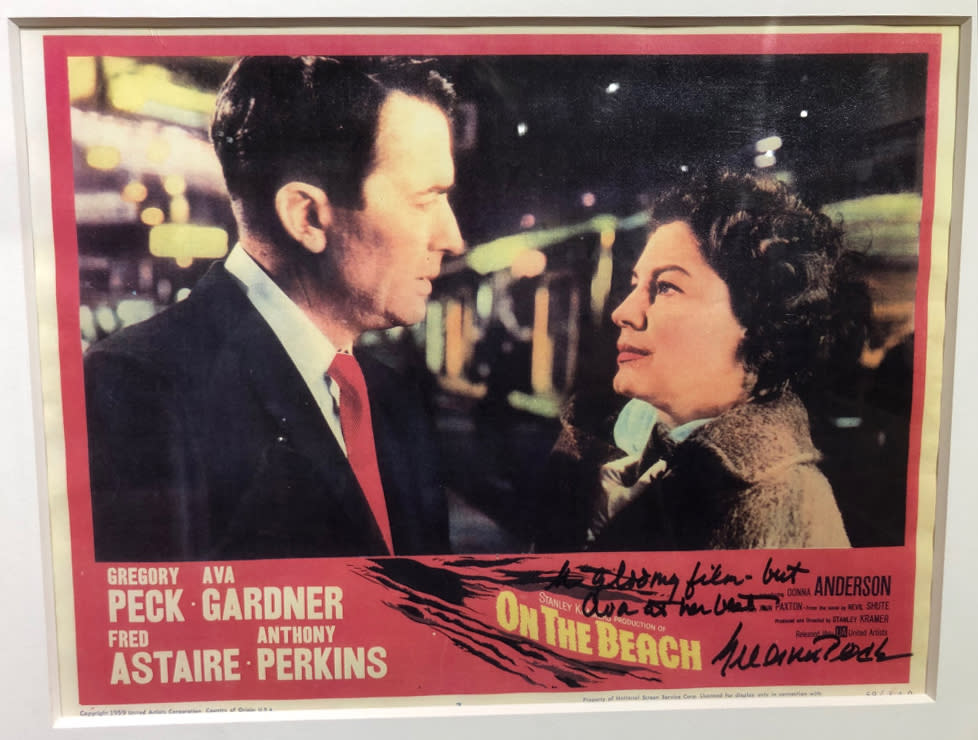 On the Beach lobby card that Gregory Peck generously autographed after visiting the Museum.
Mickey Rooney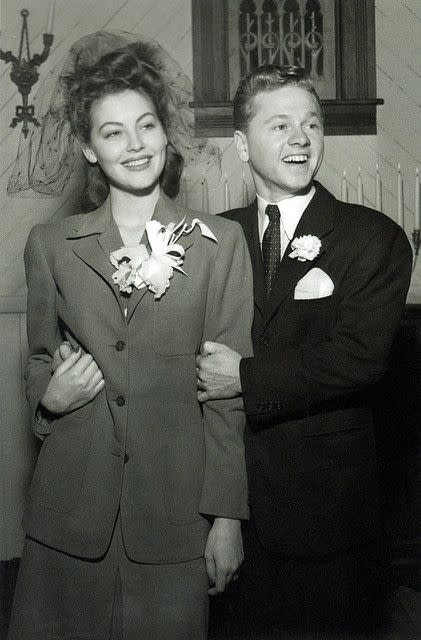 Ava Gardner, 19, and Mickey Rooney, 21, on their wedding day.
In April 2001, Mickey Rooney, famed actor and Ava's first husband, was touring with his then wife Jan Chamberlain Rooney in their production of "The One Man One Wife Show." Before their scheduled performance at the Johnston Community College Auditorium in Smithfield, the Rooneys stopped by the Ava Gardner Museum for a private tour.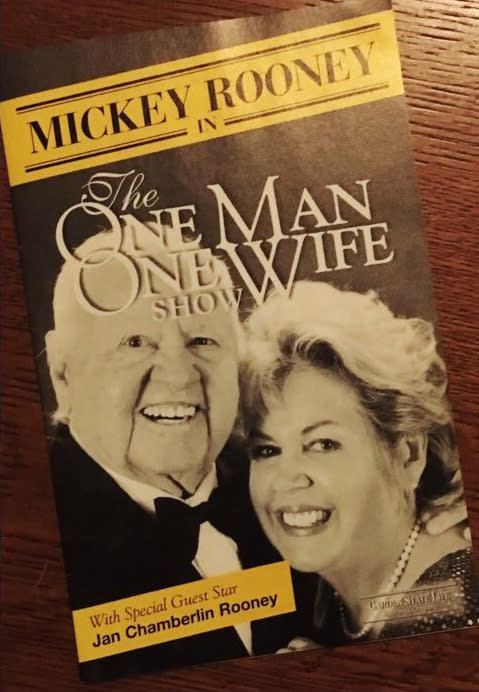 Program from Mickey Rooney and Jan Chamberlain Rooney's show at the Johnston Community College Auditorium in Smithfield, NC. 
During his visit, Mickey Rooney walked rather quickly by the various Museum displays and exhibit panels, joking with our Museum docents, "I've seen most of the photos before." He did stop his brisk walk-through to lovingly admire a large photo from his 1942 wedding to Ava.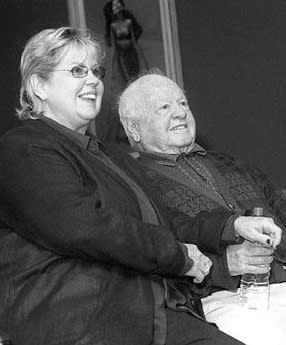 The Rooneys enjoy a screening of our introductory film in the Museum theatre. A portrait of Ava Gardner used in The Barefoot Contessa (1954) poster is visible in the background.
Butch Patrick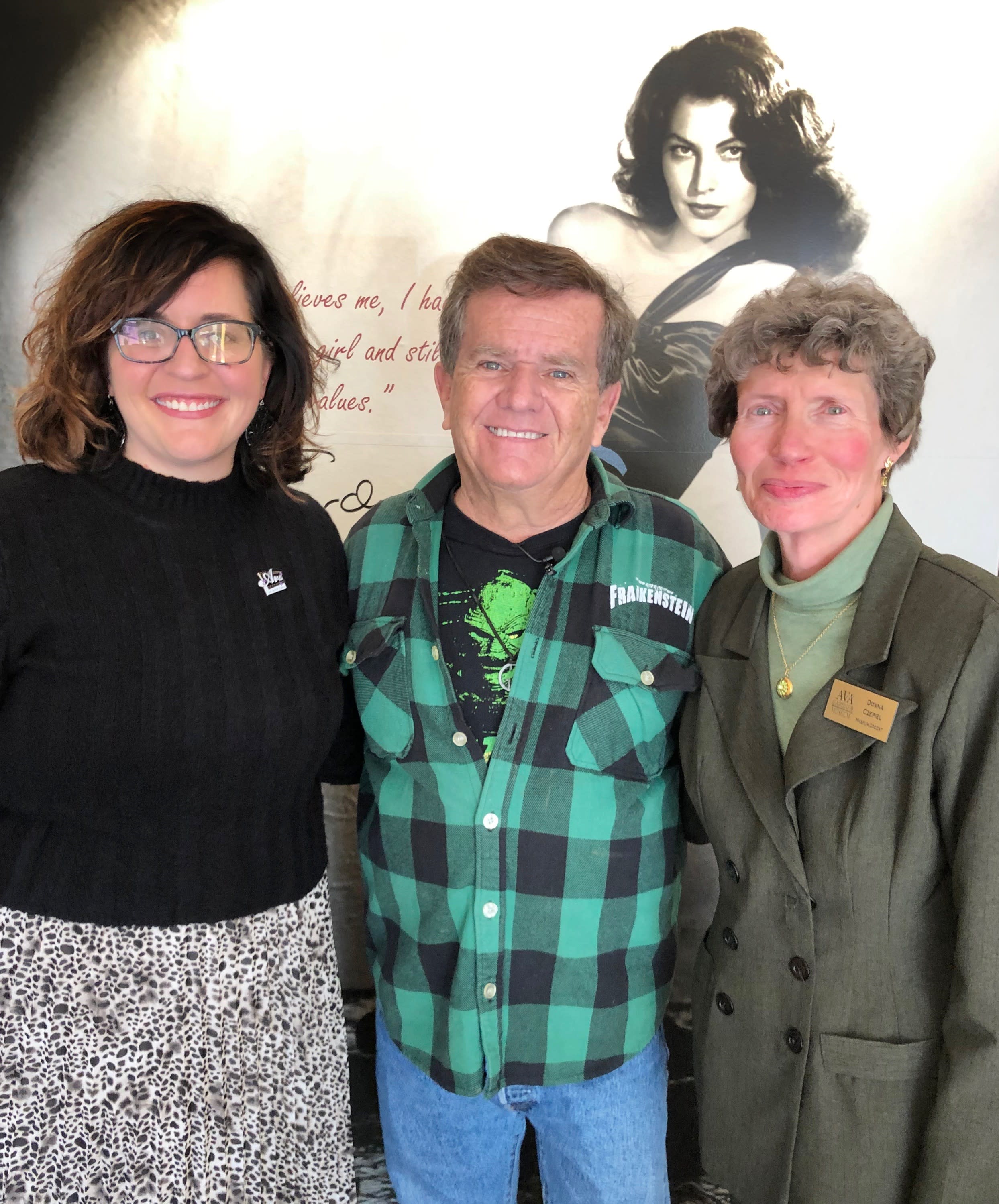 AGM board member Lora Stocker, actor Butch Patrick, and Museum docent Donna Czepiel pose for a picture in front of a Museum display featuring Ava Gardner in The Killers (1946).
Butch Patrick, former child actor best known for his role as Eddie Munster on the CBS comedy series The Munsters, stopped by the Museum in January 2020. As part of his visit, he filmed an episode of his new YouTube travel show called "Koach to Koast." While touring the Museum he was taken aback by the physical resemblance between Ava Gardner and Yvonne De Carlo, his onscreen mother on The Munsters.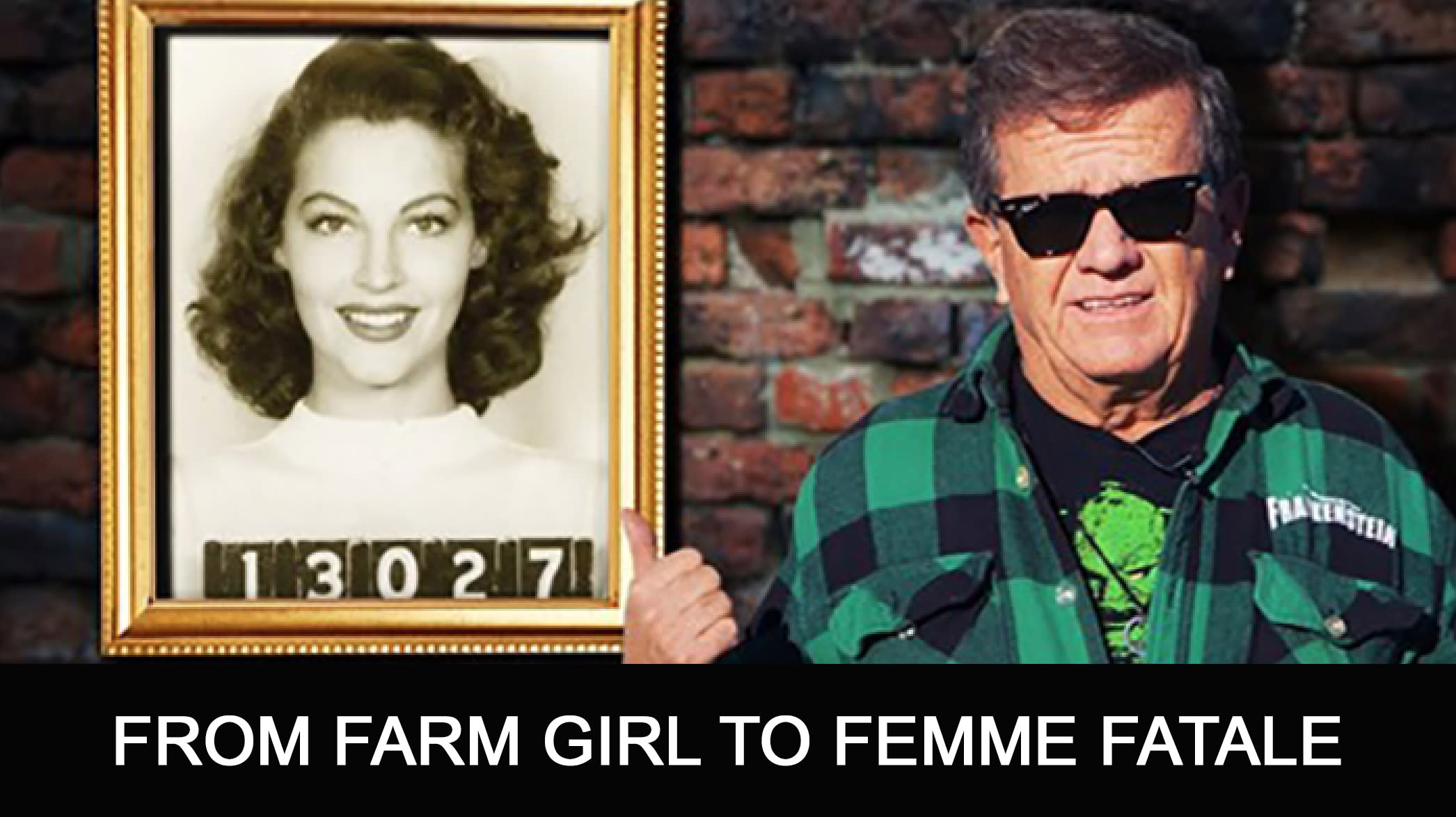 Watch Patrick's YouTube episode featuring his visit to the Ava Gardner Museum here.
Cecilia Peck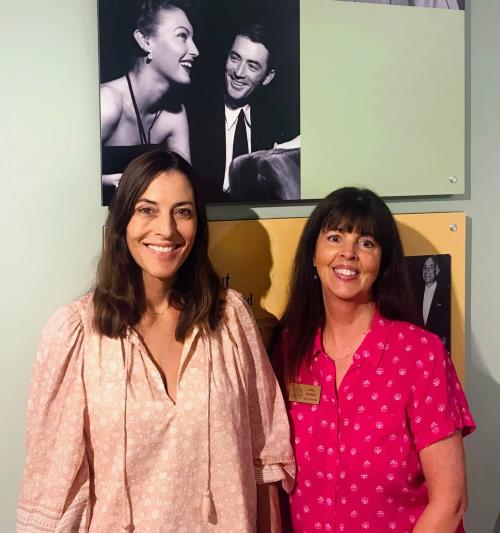 Cecilia Peck poses with Museum director Lynell Seabold in front of a photo of her father, Gregory Peck, with Ava Gardner in an exhibit at the Museum. 
Cecilia Peck, daughter of Ava's close friends Gregory and Véronique Peck, recently traveled to North Carolina. Peck, an accomplished actress, director, and producer in her own right, first spent time at the NC coast with Ava Thompson and Ava Silver, the co-trustees of the Ava Gardner Trust. Later, she made a special trip to Smithfield to see the Ava Gardner Museum. Since she was unable to go with her father in 1992, a visit to the Museum had been on her bucket list for some time. Lynell Seabold, the Museum's Executive Director, and Todd Johnson, the Chair of the Museum's Board of Directors, were both there to greet Peck and give her a private tour. After her visit, Peck wrote these kind words on social media, "The Ava Gardner Museum is a beautiful tribute to an American treasure."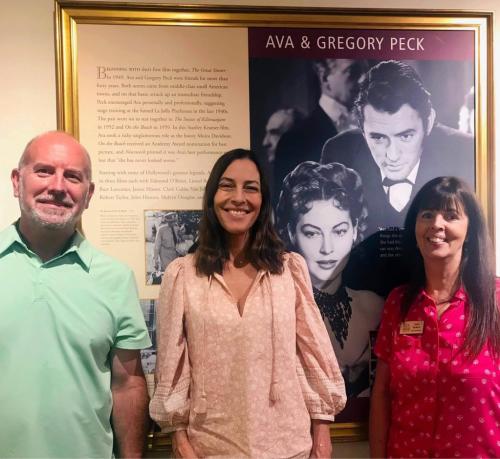 Todd Johnson, Cecilia Peck, and Lynell Seabold in front of our "Ava & Gregory Peck" exhibit at the Museum. 
Special Museum Events
Judy Keel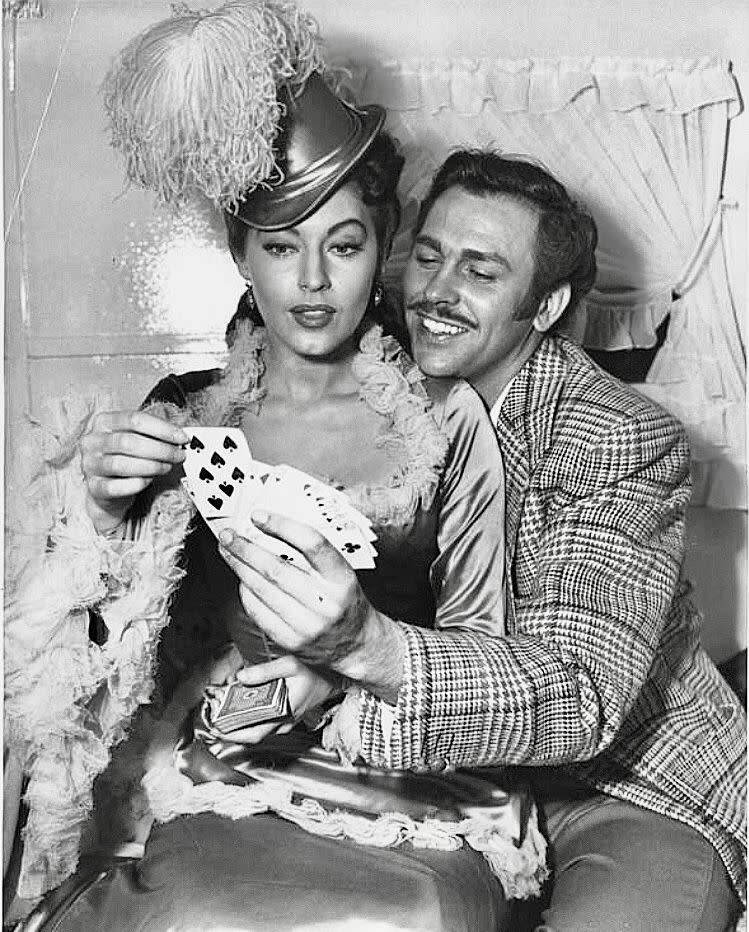 Ava costarred with Howard Keel in two films at MGM, the western Ride, Vaquero! (1953) and the musical Show Boat (1951). They thoroughly enjoyed working together and joking around on set.
Howard Keel's wife Judy Keel attended the Ava Gardner Museum Festival in 2005, the year after her husband's passing. She shared wonderful stories with our visitors during the event and signed copies of Howard's newly released autobiography, Only Make Believe: My Life in Show Business.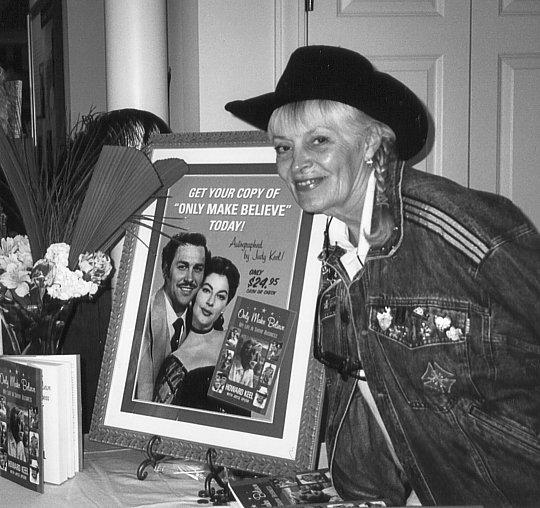 Judy Keel posing in the Museum with a display promoting her husband's autobiography.
Victoria Price
Ava Gardner and Vincent Price read celebrity fan magazines on the set of their film The Bribe (1949).
Victoria Price, daughter of actor Vincent Price and an author, speaker, and designer, visited the Museum in 2017 while on a book tour. Victoria spoke to an excited crowd of event attendees about her father's illustrious career and his memories of working with Ava on The Bribe (1949). Following her presentation, she signed copies of her father's books, for which she wrote the forwards.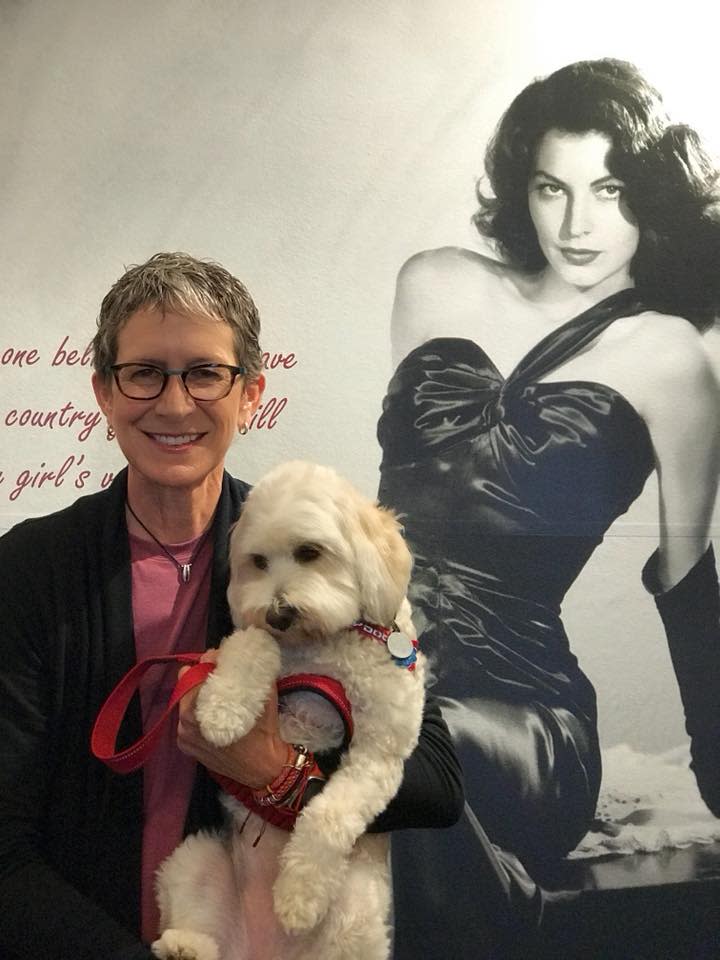 Author and daughter of actor Vincent Price, Victoria Price (pictured with her dog Allie) shares anecdotes about her beloved father's film career and his experience working with Ava.
Justin LeBlanc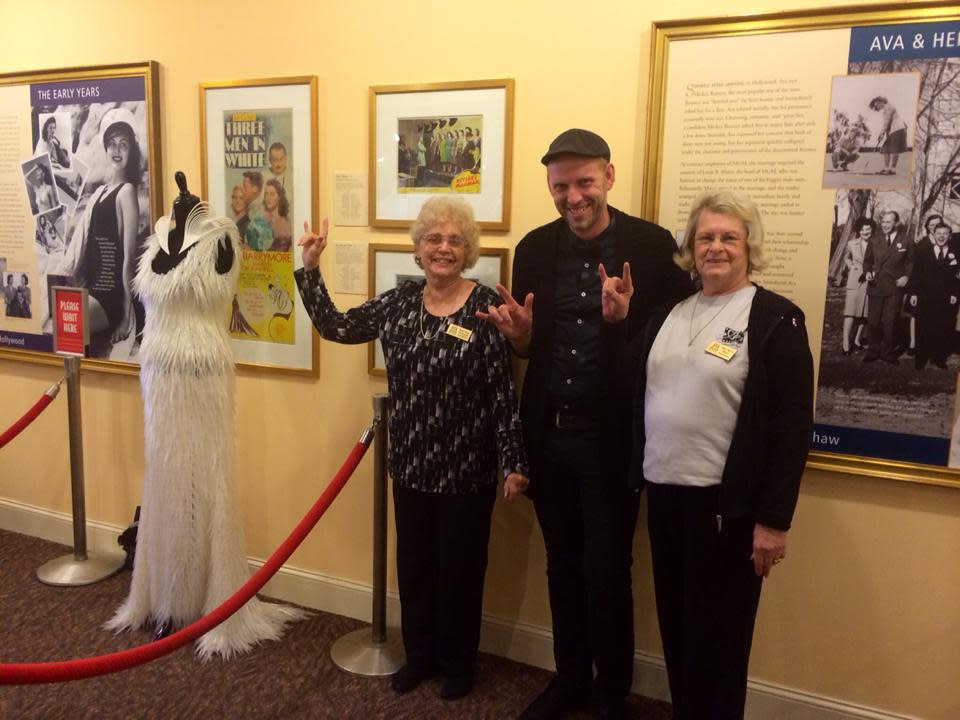 Designer and Project Runway contestant Justin LeBlanc pictured between Ava Gardner's niece and AGM Board Member Mary Edna Grantham (left) and former AGM Board Chair Mary Helen Wyatt (right).
Fashion designer, Project Runway finalist, contestant on Project Runway All Stars, and NC State Design School graduate Justin LeBlanc visited the Museum in 2014. He attended the annual Ava Gardner Museum Festival and displayed one of his Project Runway dress creations.
Offsite Ceremonies
Frank Sinatra Jr.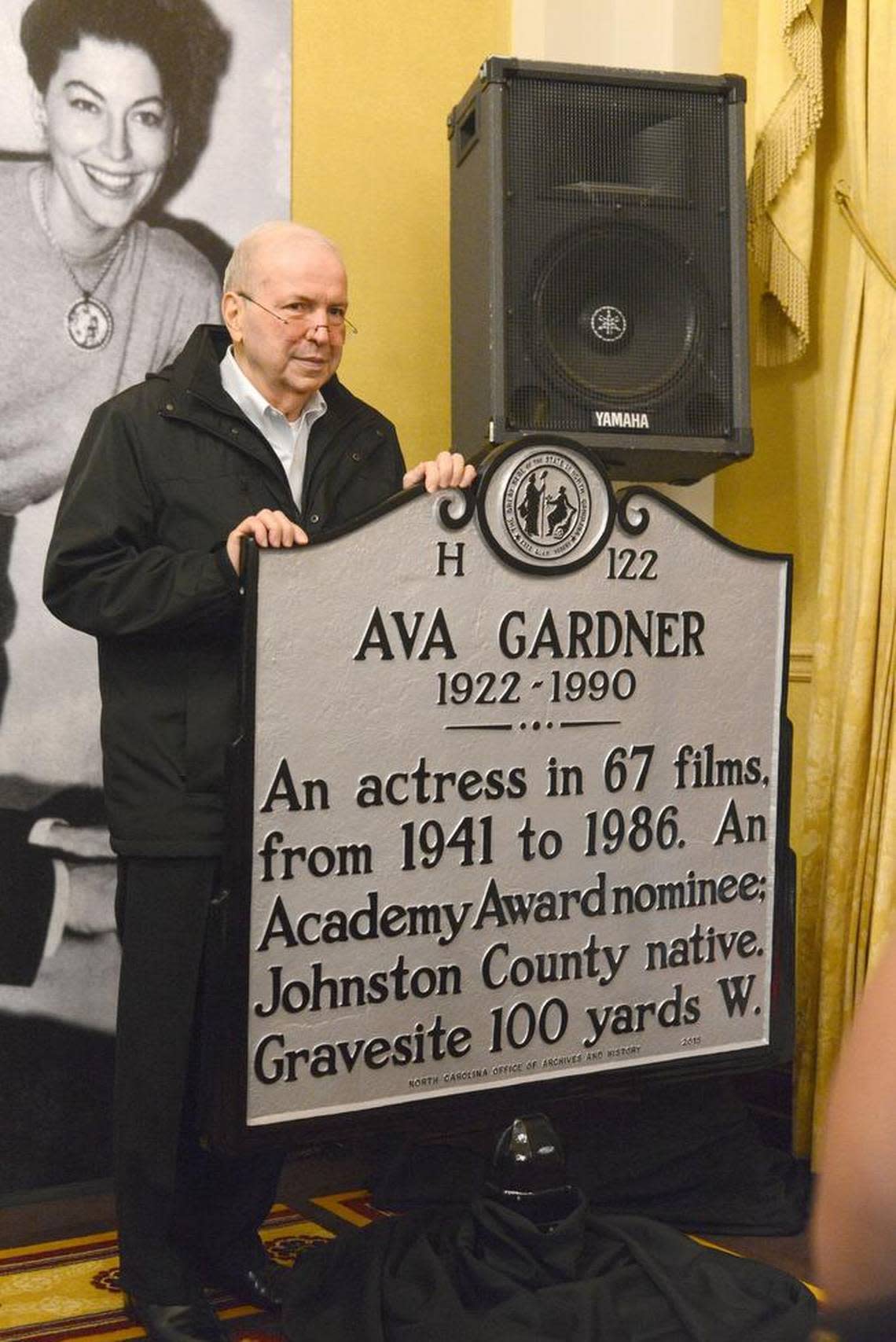 Frank Sinatra Jr. unveils the North Carolina historic marker honoring Ava Gardner.
In November 2015, Ava Gardner was honored by her home state with a North Carolina historic marker. Frank Sinatra Jr., the son of Ava's third husband Frank Sinatra and a noted musician in his own right, participated in a Museum-sponsored unveiling ceremony for the marker held at the Carolina Theatre in Durham, NC where he was performing a concert. The following day, the marker was installed and dedicated at its permanent location on West Market Street adjacent to Sunset Memorial Park cemetery where Ava is buried.
During his 30-minute speech, Sinatra recounted his experience first meeting Ava as a child and how she later helped him while he was touring in Spain. He expressed how he thought Ava was "a great star and honest person." Toward the end of his remarks, he shared the following anecdote, even imitating Ava's playful way of speaking as he said her words.
"She talked to me honestly about her roots in North Carolina. I said, '[Ava], I never knew you were a tar heel.' She said, 'Oh yeah baby, I'm a tar heel all down the line.'"
View the full ceremony here. 
Cecilia Peck & Elizabeth McGovern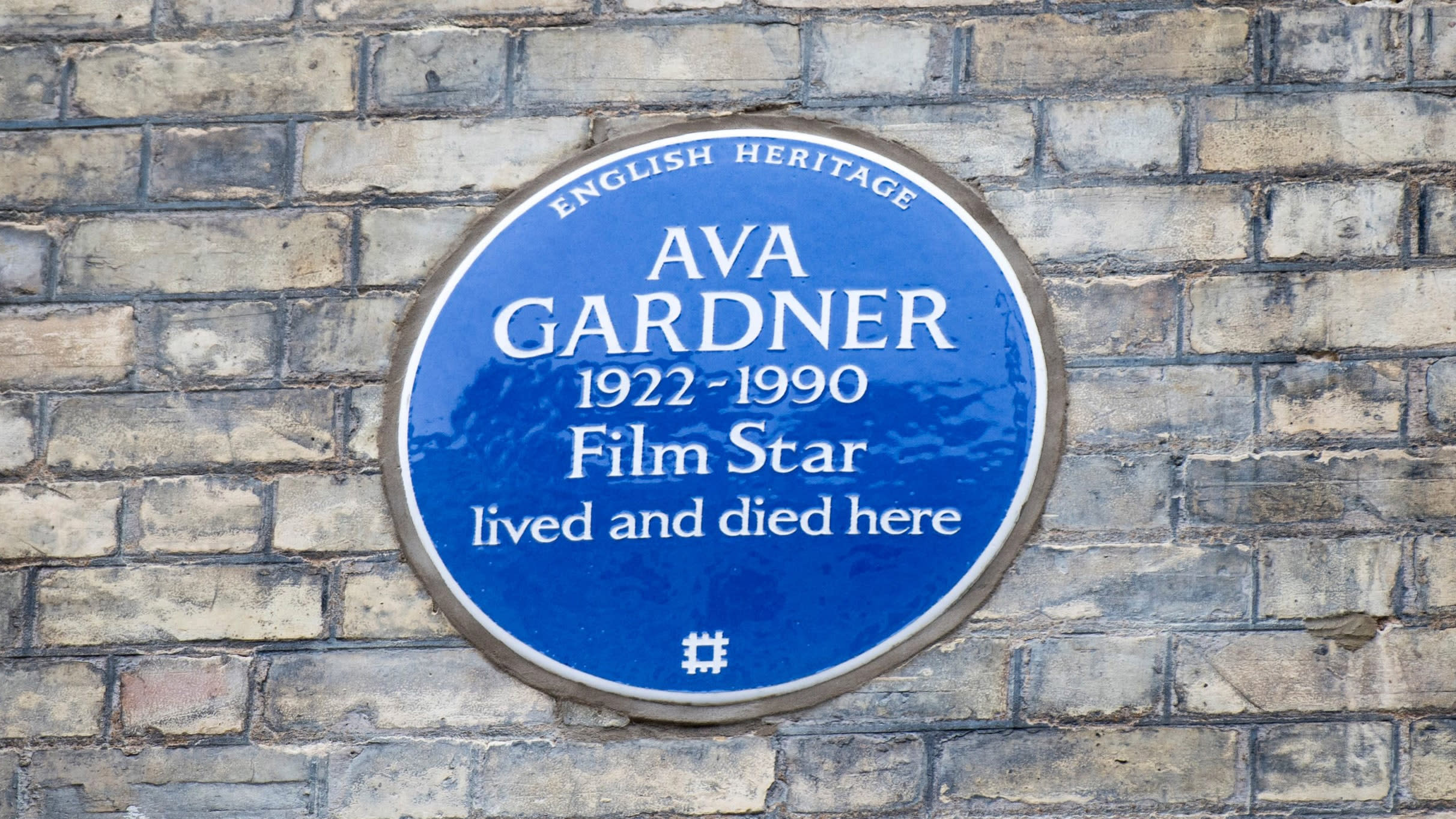 English Heritage Blue Plaque on the exterior wall of Ava Gardner's apartment at 34 Ennismore Gardens, Knightsbridge, London. 
In November 2016, Ava Gardner was honored in her adopted hometown of London with a special Blue Plaque from the English Heritage Trust. In addition to members of Ava Gardner's family and the Museum staff, celebrities Cecilia Peck and Elizabeth McGovern attended the dedication ceremony outside of Ava's former London residence.
Actress Elizabeth McGovern, best known for her Emmy-nominated role as Cora Crawley, Countess of Grantham in the British drama series Downton Abbey, is an Ava fan, and she attended the ceremony to pay tribute to her. Cecilia Peck spoke at the event about Gregory Peck's close friendship with Ava and her own experiences spending time with her. Peck shared these memories:
"I had the privilege of knowing Ava myself. I loved coming to tea at Ennismore, listening to her wonderful stories, and looking at all of her photographs and her beautiful things. She was so warm. She had such a huge, sparkling personality. She was so loving. She would call me honey and have me come sit on the sofa with her, and she was so interested in everything. She was so intelligent. She loved to tell stories. She loved to laugh. I was so blessed to know her."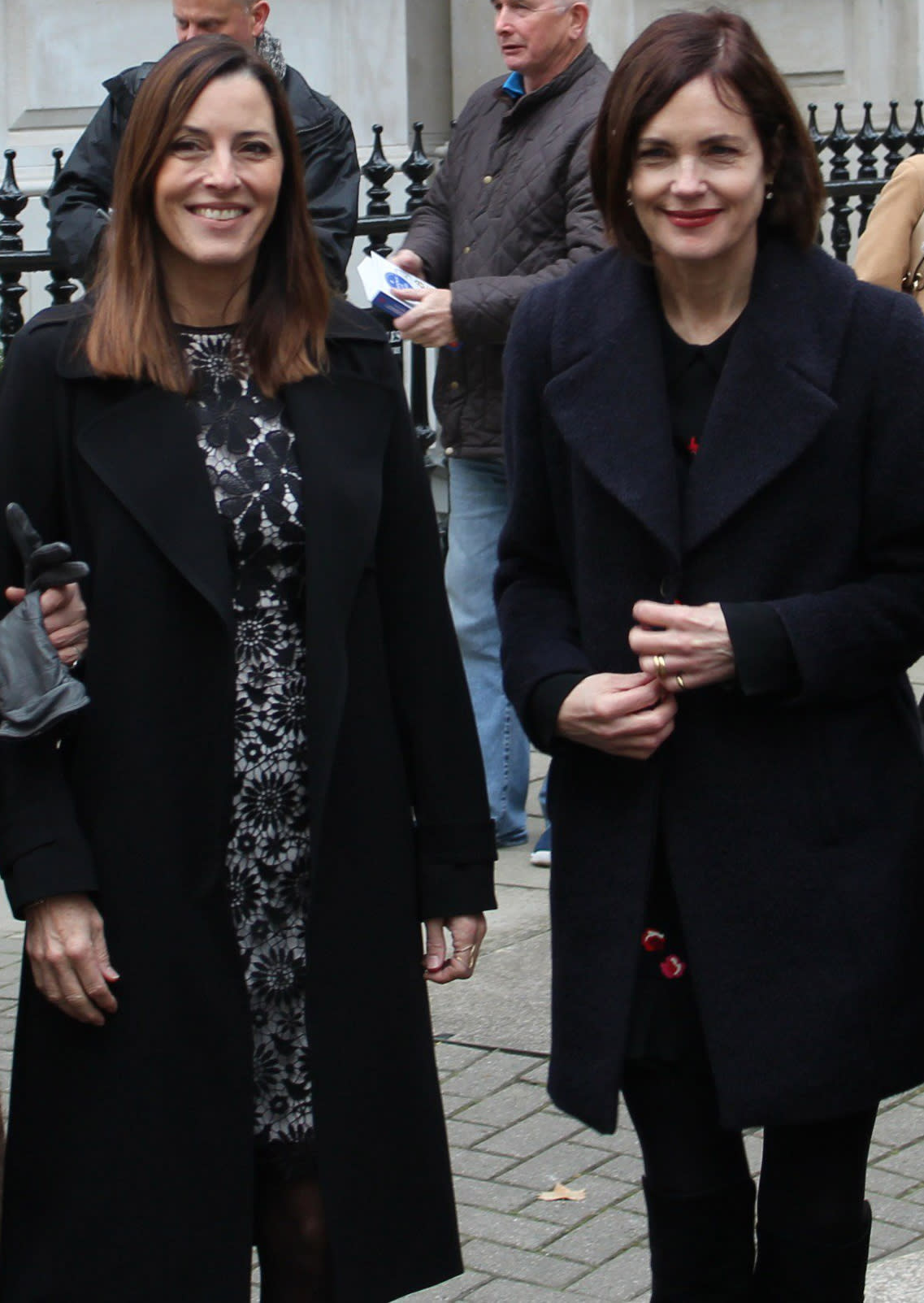 Cecilia Peck and Elizabeth McGovern smile for the cameras after the dedication ceremony for Ava Gardner's Blue Plaque. 
Governor Jim Hunt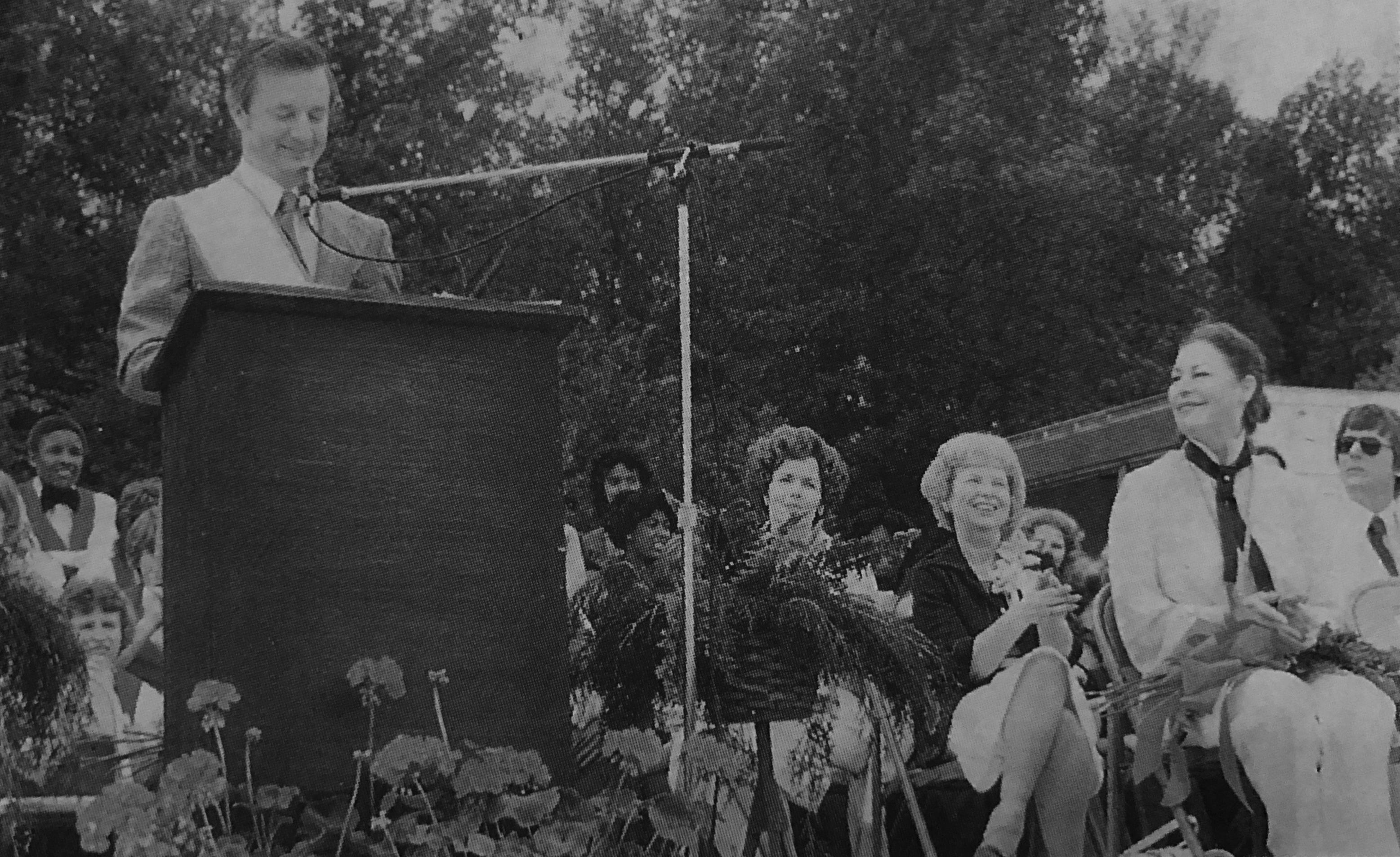 Then Governor of North Carolina Jim Hunt (standing at podium) introduces Ava Gardner (seated on the far right) at a special 1978 reunion ceremony for Rock Ridge School, where both graduated from high school. 
After attending the wedding of Princess Caroline of Monaco, Grace Kelly's eldest child, Ava Gardner left the glitz and glamour of the French Rivera for the tranquil countryside of North Carolina to attend her high school reunion. Also in attendance at the event was another noted graduate of Rock Ridge School, the longest serving governor in North Carolina history, Jim Hunt.
In May 2017, Governor Hunt and representatives from the Museum were on hand for the unveiling of a special Wilson County historic marker dedicated to Ava Gardner in the small community of Rock Ridge just outside of Wilson, NC.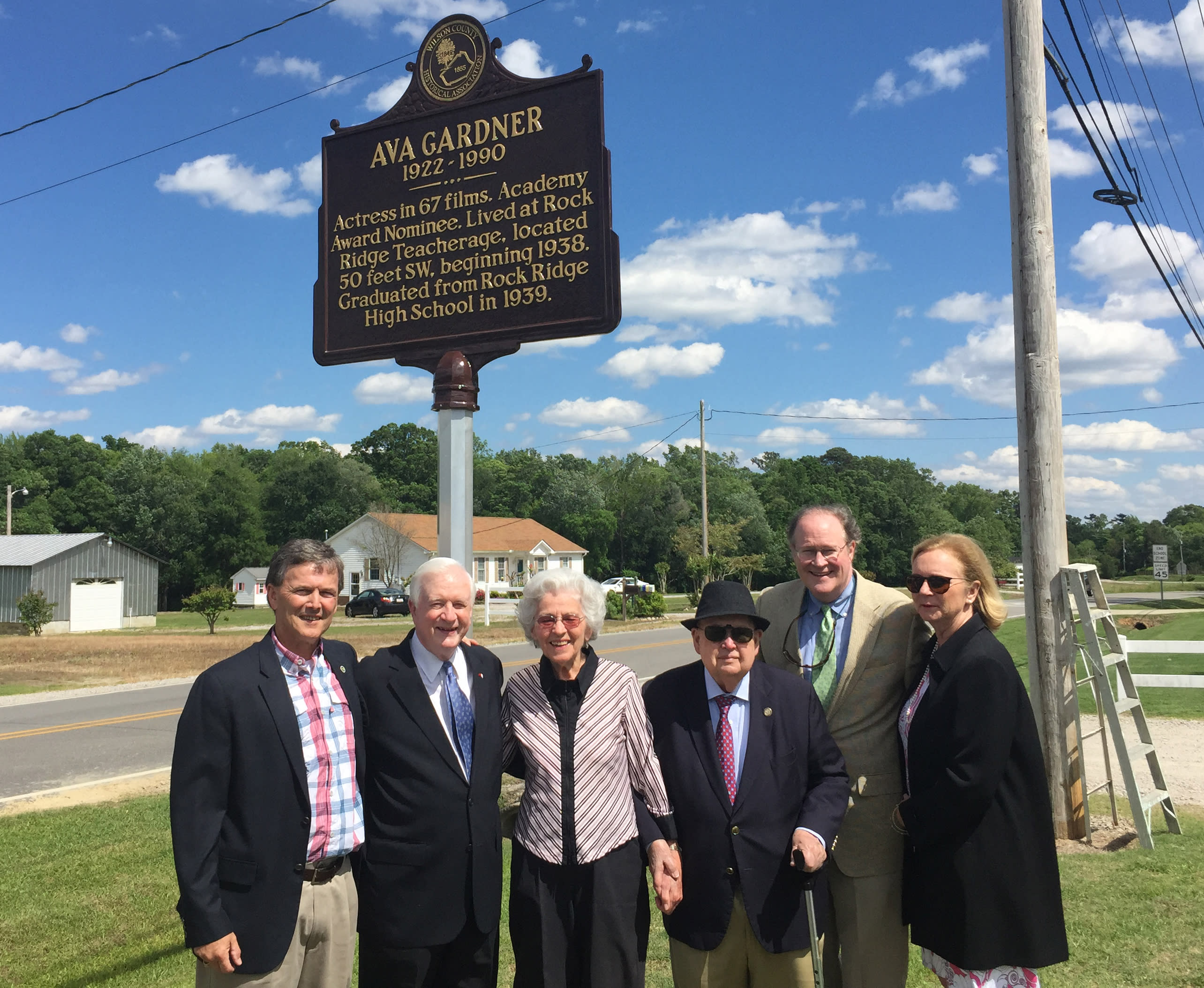 Former North Carolina Governor Jim Hunt (second from left) stands with other attendees at the dedication event for Ava Gardner's Wilson County historic marker.