Set amidst India's fight for independence from the British, Bhowani Junction (1956) stars Ava Gardner as Victoria Jones, an Anglo-Indian woman whose questions of identity and choice in romantic partner mirror issues in India's struggle for freedom. In Ava's own words: "Bhowani Junction was one of my more serious films, one that allowed me to get more emotionally involved in a part than I usually did." The film follows Victoria as she struggles to find her place in a changing India, which is represented by three possible love interests for her: Patrick Taylor (Bill Travers), a fellow Anglo-Indian man, Ranjit Kasal (Francis Matthews), a Sikh man in favor of a totally independent India, and a British colonel, Rodney Savage (Stewart Granger).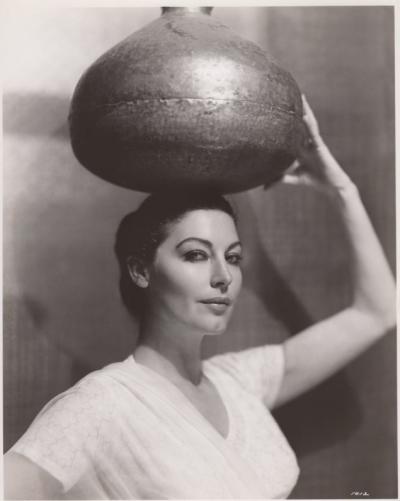 Ava Gardner in a publicity still for Bhowani Junction.
At the time the film was released in 1956, Ava was an established actress with several of her most acclaimed and popular films already released including Show Boat (1951), Mogambo (1953) and The Barefoot Contessa (1954). A true star by that point, she was making 6 figures per film. Despite her success, Ava had recently been suspended by MGM because she refused to appear in the film Love Me or Leave Me (1955). According to Living with Miss G by Mearene (Rene) Jordan, Ava's personal secretary and friend, Bhowani Junction was the reason Ava was taken off of suspension. MGM producers thought Ava would be perfect for the role and ended her suspension so she could return to work.
Article from The New York Times in August 1954 announcing Ava Gardner's role in Bhowani Junction.
Released in 1956, the epic film was based on the 1954 novel of the same name by John Masters. Ava Gardner starred alongside Stewart Granger, Bill Travers, Lionel Jeffries, Abraham Sofaer, and Francis Matthews. It was Matthews' first time acting on film after beginning his career in theatre and television. He recalled the first time he met Ava in a letter he wrote to the Ava Gardner Museum in 1994 as an addition to an early museum project: "And suddenly she was there. An hour after settling into my hotel room, searching along the arched terraces for the production office, and she was there, alone, walking casually towards me. Only an actress, only a human being like the rest of us, and yet that moment is etched vividly in my memory…An actor meets many attractive people. It goes, as they say, with the territory. But Ava was incomparable."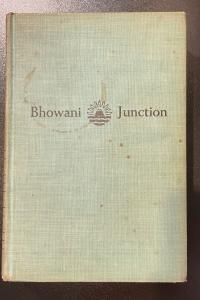 The film was based on the 1954 novel by John Masters. In the book Ava's character Victoria Jones was described as: "tall, and her eyes are brown and she has the longest legs and thick black hair. She has a figure like a film star, only better. She is beautiful."
The film was directed by George Cukor, who would become a dear friend of Ava's. Cukor was one of Ava's favorite directors to work with because he was sensitive to actors' needs, talents, and comfort levels. She would work with him again in The Blue Bird (1976).
Ava said of Cukor: "I liked George enormously myself. He was attentive to detail, he really cared, and he knew how to pull the kind of performance he wanted out of me. One afternoon, for instance, he was having trouble getting me to be angry enough for one of the many quarrels I had with the men in my life. Before shooting started, I'd told George about the particularly irritating lunch I'd had with a prying journalist. 'Ava,' he said to me now, 'why don't you get mad the way you did this afternoon with that columnist?'  'You son of a bitch' I said to him. 'I'll never tell you anything that happens to me off the set again.' But of course, that piece of direction was exactly the key I needed to successfully unlock that scene."
The admiration was mutual. Cukor wrote to Ava Gardner after filming of Bhowani Junction was complete and he was deep into post production work. He said, "Your performance 'holds up' wonderfully. No matter how often I re-run this bit or that, I'm never bored with it. In fact the more I see it, the more depth, dignity and feeling I find in it."
Cukor understood Ava's insecurities and abilities, which was one of the reasons the two worked so well together. He said about Ava to a journalist: "She interferes with herself. She's extremely intelligent. A fatalistic woman. A creature of great fascination…and desperation. An extraordinary beauty. You know, she doesn't think a hell of a lot about herself as an actress. And that's too bad."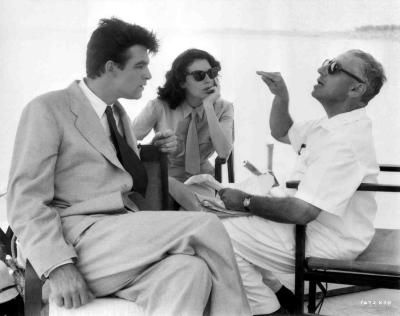 Bill Travers, Ava Gardner, and George Cukor behind the scenes on the set of Bhowani Junction.
The two remained close friends after the film wrapped. In her autobiography, Ava says it was George Cukor "who said the nicest thing that's ever been said about me. 'Ava,' he told an interviewer, 'is a gentleman.' A gentleman. I like that."
Cukor also praised Ava's work on the film because she "did everything herself, no matter how dangerous or strenuous—the kidnapping, the riots. She was black-and-blue most of the time, and Ava loathed physical violence." Ava opted not to use a body double or understudy.
Ava's commitment to the role also included a lot of prep work. The production company wanted to portray the character of Victoria accurately and so they hired an Anglo-Indian woman and former Women's Army Corps (WAC) Member to consult on the film. She had served in Delhi and provided photos of her time in service to be used as reference. Ava also worked with a voice coach on her English accent and spent time in a WAC camp.
Despite her best efforts to do the part justice, Ava did acknowledge in her autobiography the fact that she and other actors in the film were playing people of another race. "I was always amused that with eight hundred million Indians around, MGM went and employed a g****** Englishman, Francis Matthews, in that role. But he did an excellent job, and, after all, they hadn't cast an Anglo-Indian in my part, had they?" This was not the first time Ava had portrayed a character meant to be of mixed race. In Show Boat (1951) she had starred as Julie, a woman of African American and white ancestry. This practice was incredibly common at the time due to institutional racism and the desire to cast popular white stars in the lead roles of films.
The movie was filmed in Pakistan after initial attempts to film on location in India fell through due to high taxes and government restrictions that were imposed due to fears of misrepresentation. The film was largely shot in the city of Lahore in Pakistan. The conditions on set were harsh with 110-degree heat, no air conditioning, crowds of onlookers, open sewers, and an assortment of wildlife that included bats, bugs, and wild dogs. Many on set came down with dysentery, Ava included. As Rene put it in Living with Miss G: "I have to say, and I'm certain there would be no contradiction from the cast, that the Lahore location provided us with the most difficult, hair-raising, trying, exasperating, nerve-wracking, disease-ridden potential of any film location any of us had or would ever experience."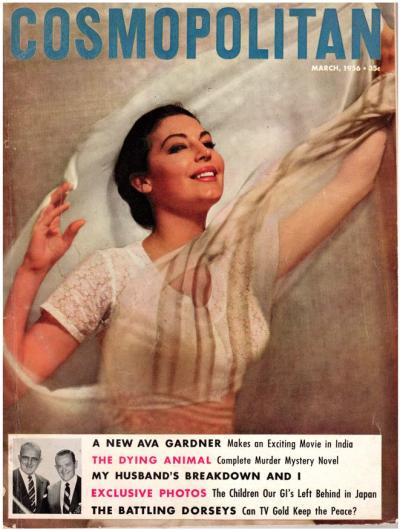 Ava Gardner appeared on the March 1956 cover of Cosmopolitan magazine to promote the film.
However, despite the difficult conditions in Pakistan, the filming was most difficult for Ava due to one particular scene: "My worst scene, the one that was so awful and horrific that it gave me nightmares, was shot not there but in a studio back in England. In it, Lionel Jeffries plays Lt. Graham McDaniel, a British officer who's always eyed me and, in Colonel Savage's words, 'operated as if his duties were at the bottom of a sewer.' And on this particular night, he follows me home and attempts to rape me."
The scene shook Ava to her core and made her feel "terrified, hopelessly vulnerable, spitting and scratching like a cat. Defeated." After the scene was finished, Ava made a point to immediately see Lionel Jeffries in order to clear the air and reset the image of him in her mind. Otherwise, she felt she'd "never speak to him" again. Ava stated in her autobiography that "No film scene had ever affected me so deeply before, had left me with such a nightmare sense of terror, and no scene would ever do so again."
Ultimately, the finished product was a bit of a disappointment for Cukor and for Ava. MGM had the film recut due to censorship concerns, which eliminated some key scenes for establishing Victoria's motivations. MGM then promoted the film in a way that seemed to run opposed to the film's subject matter, using images of Ava that leaned into her reputation as a "sex goddess," depicting her in low-cut clothing that ran counter to her character's culture and religion. Additionally, the "erotic" scenes had been cut from the film.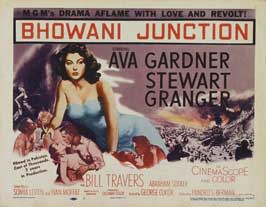 A poster for the film advertising it as "M-G-M's Drama Aflame with Love and Revolt!"
Ava discusses the publicity approach in her autobiography: "Bhowani Junction was a film with a split personality as far as Metro was concerned. On the one hand, as befitted the studio's biggest production of 1956, they were happy to ballyhoo it as an epic, with ads shouting, 'Two Years in Production! Thousands in the Cast!" But on the other hand, it had me in it, didn't it? Which meant lurid copy lines on the order of "Half-Caste Beauty and Her Three Loves" and "Ava . . . enticing . . . primitive ... she must choose . . . one world to live in ... one man to love!" Oh, brother."
The reviews for the film were mixed. Variety praised the film's realism, Cukor's direction and Freddie Young's cinematography, especially in the crowd scenes. As for Ava's performance, the New York Times had this to say: "As the Anglo-Indian lady, Ava Gardner has moments of staggering power, especially when she expresses the violence of the lady's social sentiments." Newsweek called Ava "surprisingly effective." However, The New Yorker accused the film of going "off in so many directions, and with such an enormous racket that one longs for a quiet room and a copy of 'Kim.'"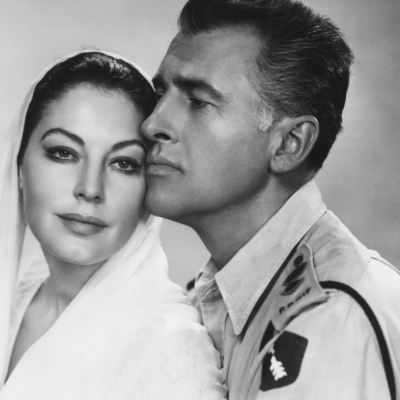 Ava Gardner and her co-star Stewart Granger in a publicity photo for the film. 
Ava's co-star Stewart Granger praised Ava's work on set: "There was no movie star thing with Ava. She never kept you waiting while she played with her makeup like so many others. She was always on time and completely professional and never complained about the heat and the flies. In fact, she was one hell of a woman!"
While filming had been difficult, and Ava was disappointed that the end result departed from Cukor's original vision, Bhowani Junction features one of Ava Gardner's most serious dramatic roles and one in which most critics agreed she performed well. Personally, the film was one of several issues that ended Ava's relationship with Luis Miguel Dominguin, as their already fragmented relationship at the time faced months of separation while she was in Pakistan. However, it brought Ava enduring friendships like the close one she developed with George Cukor.