One of Ava Gardner's most acclaimed performances was as Maxine Faulk, the widowed proprietor of a small coastal hotel in The Night of the Iguana. Adapted from the play by Tennessee Williams and directed by Ava's friend John Huston, The Night of the Iguana was released on August 6, 1964. The plot follows a disgraced reverend (Richard Burton) turned tour operator in Mexico as he struggles with various feelings for three different women (Sue Lyon, Deborah Kerr, and Ava Gardner). As quoted by Mearene (Rene) Jordan, Ava's friend and assistant who accompanied her to set, in her book, Living With Miss G, Life magazine summarized the film's plot as such: "Sue Lyon as the teenager lusts after him; Deborah Kerr as a tender artist saves him; and Ava, as the triumphant slattern, gets him."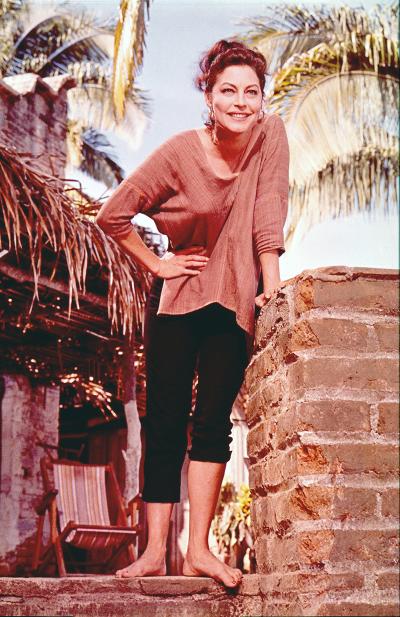 Ava as Maxine Faulk in The Night of the Iguana.
John Huston and Ray Stark, the film's producer, visited Ava at her home in Madrid to convince her to star in the film. Huston wanted Ava for the role of Maxine from the start; however, Ava had some misgivings about the role due to her nagging self-doubts about her own acting abilities. She believed a film based on Tennessee Williams' work was too serious for her. Williams himself, who was involved with the film adaptation project, initially felt Ava wasn't right for the role of Maxine because he thought she was too beautiful. However, Huston was insistent on Ava for the part. Huston's Maxine was a bit warmer and more nuanced than the role had been in Williams' Broadway production, in which Maxine was played by Bette Davis. Huston envisioned a more optimistic ending for the film as well.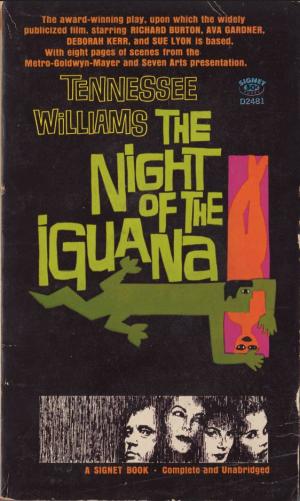 Paperback copy of Tennessee Williams' The Night of the Iguana with movie tie-ins. From the Ava Gardner Museum collection.
After some convincing, Ava ultimately agreed to take on the part. Tennessee Williams also warmed to the idea of Ava being cast and the two celebrities eventually developed a close friendship. The playwright later commented: "You want a friend? You can't do better than Ava Gardner. Good Lord, do not ask her a question, any question, unless you want the unvarnished, peppery truth. She will level you with honesty, kindness, appreciation, open and pure love. If you deserve it, of course. Do not get on her bad side. It takes a lot to get there, but don't get there. In the name of God—or anything." For her part, Ava said of Tennessee: "God, I adored him."
Filming the movie reunited Ava Gardner with several people she had worked with previously, while also introducing her to new co-stars who would become friends. John Huston and Anthony Veiller had worked together to write the screenplay for Ava's breakout film, The Killers (1946), although Huston was uncredited for his work. Together, Huston and Veiller adapted the Tennessee Williams play for the screen. This film marked Ava's first time working with Huston the director, but she quickly decided he was among her favorite. She whole-heartedly believed in trusting the director in order to do a role justice, and she felt she could trust Huston completely. She went on to work with him twice more after Iguana, in The Bible: In the Beginning (1966) and The Life and Times of Judge Roy Bean (1972).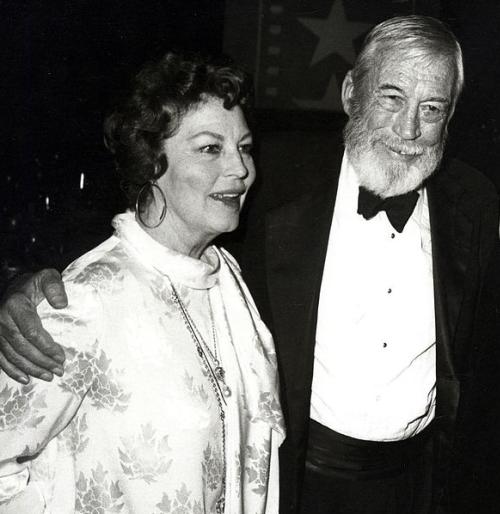 John Huston and Ava Gardner were friends for the rest of their lives. When he was honored in 1983 with a Life Achievement Award, Ava made the trip from London to Hollywood for the occasion.
Ava had also worked with Deborah Kerr years earlier in The Hucksters (1947) which co-starred Clark Gable. From their time as contract stars at MGM, Ava also knew Elizabeth Taylor, who accompanied her husband Richard Burton to set. Of Taylor, Ava said that it was like they "were two graduates from the same alma mater, pleased to find each other in the wilderness."
As for Richard Burton, Ava had never met him before working with him on Iguana. However, she admired his talent, and the two quickly became friendly on set and nothing more. Ava said of him: "He was like someone I would've liked to have had for a brother, and his teasing manner made me feel at ease."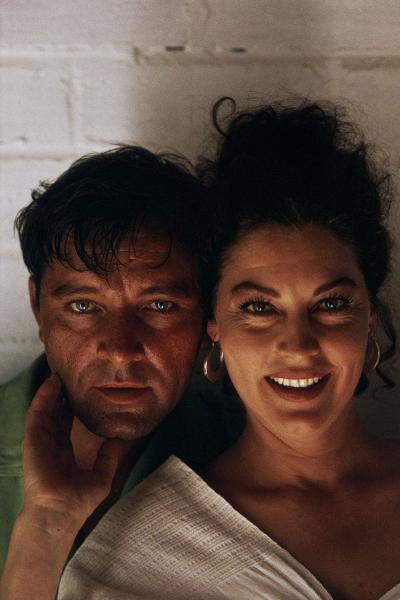 Richard Burton and Ava Gardner on the set of The Night of the Iguana.
The setting of Iguana fit Huston's pattern of filming in difficult locales, a style he liked because of how the physical conditions on a location-shoot helped actors more authentically portray their characters. The Night of the Iguana as written by Tennessee Williams took place in Acapulco, Mexico, but Huston chose to film in the more remote village of Mismaloya, which was near Puerto Vallarta. In the mid-1960s, Puerto Vallarta itself was still rather remote, and Mismaloya was even more so. The film's set was only accessible by boat. In a tropical forest, filming conditions were difficult at times, but the natural beauty of the location was inspiring to everyone involved in the production. Maxine's hotel was built from scratch on a hill overlooking the ocean and the fishing village of Mismaloya. The film's stars stayed in nearby Puerto Vallarta, with slightly more comfortable accommodations, and traveled by boat to set each day. Ava chose to commute to the set by waterskiing behind a speed boat.
The remote location made filming more strenuous than working on the MGM backlot, and there were some concerns about how the cast and crew would get along during their stay in Mismaloya. To diffuse any potential tension, director John Huston broke the ice with a gift for the main cast members, producer Ray Stark, and Elizabeth Taylor. As Ava wrote in her autobiography, Ava: My Story: "Soon after we got there, John called together Richard and Elizabeth, Deborah Kerr, Sue Lyon, Ray Stark, and me and solemnly presented each of us with a small gold-plated derringer and five bullets, each engraved with the name of one of the other recipients. Naturally, the old fox hadn't put his name on any of the damn bullets…Yet, despite the potential for a fracas presented by the combination of this high-powered cast and our godforsaken location, we all got along remarkably well."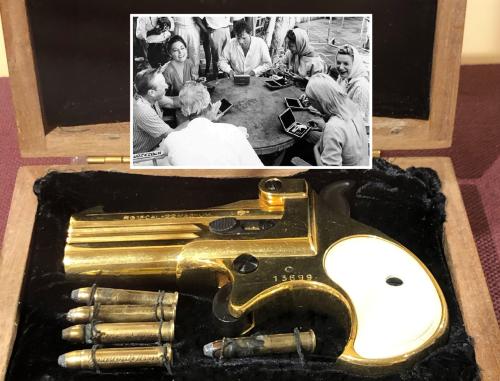 Ava's gold plated derringer pistol in its case with inscribed bullets. The inset photograph shows the moment in which director John Huston presented the guns on set. The gun is now part of the Ava Gardner Museum collection.
Huston, for as much as he was known for filming in challenging locations, was also known for his efforts to make the filming process fun and light-hearted for all involved. The set included a dining hall capable of feeding the entire cast and crew in a single sitting. Huston also installed a bar at the top of the stairs that led up to the set from the beach where the cast arrived each day.
Ava's co-stars and crew were impressed by her commitment to the role of Maxine. Deborah Kerr wrote in her personal diary: "John and I were discussing Ava today. How completely different she will appear to the public in this part; they have never seen Ava like this—funny [and] rich and warm and human, as well as beautiful. The part is marvelous for her and she's making it even better."
Ava's Maxine was completely natural, with simple costumes, very little makeup or styling, and devoid of all glamour. Ava said, "I was determined to do my best in Iguana. I even made myself look awful, had lines penciled in under my eyes, because it was that kind of part. My hair was pulled back into a tight ponytail and I didn't wear anything except a sloppy serape and toreador pants. And John let me go back to my North Carolina accent, which meant that I got to say things like 'cotton-pickin' and call folks 'honey,' which, you can imagine, wasn't exactly a strain."
John Huston also praised Ava's work on the film: "For my money Ava's performance in this film is the greatest thing she has done on the screen so far. People are going to talk about it."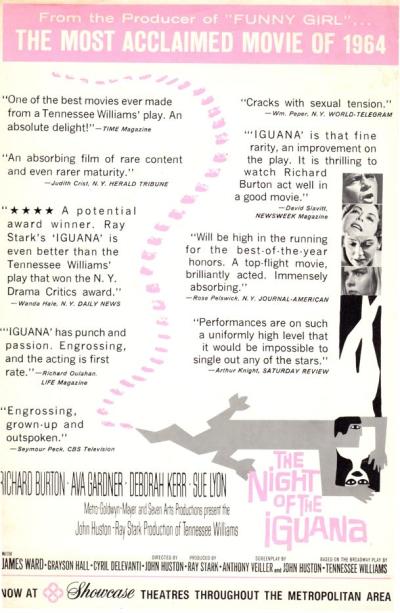 Advertisement for The Night of the Iguana. From the Ava Gardner Museum collection.
And talk they did. The box office and critical reception were very positive. The film ranked as the 10th highest-grossing film of 1964 with $12 million made worldwide at the box office. Critics praised Ava's performance. Life called her a "revelation" and wrote that she "all but runs away with the picture." Newsweek wrote that "a great woman played a great woman." The New Yorker wrote "Ava Gardner is absolutely splendid." She was nominated for both a Golden Globe and a BAFTA; however, she was overlooked for an Oscar. Tennessee Williams, who also loved Ava's performance, felt she "had been robbed" by not receiving an Academy Award nomination. For her performance on the film, Ava was awarded the prestigious Silver Shell for Best Actress at The San Sebastián International Film Festival.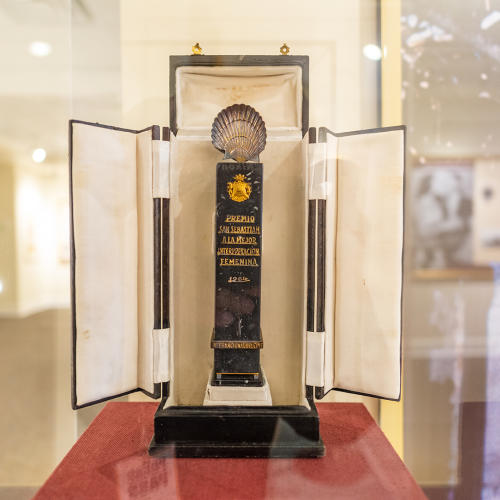 Ava's Premio San Sebastian Silver Shell for Best Actress. The trophy and award plaque she received are both part of the Ava Gardner Museum collection.
As for Ava, she felt she hadn't quite lived up to the critical hype. In her autobiography she wrote, "I've never been really happy with The Night of the Iguana; in fact, I got embarrassed about my performance the first time I saw it." As usual, Ava downplayed her own acting talent, but according to Rene Jordan in Living with Miss G, "The Night of the Iguana was without any doubt the happiest film that Miss G and I ever worked on, and arguably her best-ever movie role." Despite her personal misgivings about the finished performance, Ava greatly enjoyed her time making Iguana, and she said that working with Huston "gave me the only real joy I've ever had in movies."