"As far as my career as an actress went, Mogambo was probably as close to a pinnacle as anything I've done." - Ava Gardner, Ava: My Story
Ava Gardner received her first and only Academy Award nomination for her role as Eloise 'Honey Bear' Kelly in Mogambo (1953). For that reason, the film was a professional highlight of her career. The film was also a personal highlight for Ava because she enjoyed working with her friend Clark Gable once again, and she became close friends with costar Grace Kelly. However, Mogambo was filmed and released during a somewhat tense time in Ava's romantic life. Her then-husband Frank Sinatra was struggling in his own career as Ava's star continued to rise, and the two were on the precipice of a separation that would ultimately result in divorce. Overall, Ava fondly recalled the experience of making the film in her autobiography, Ava: My Story, though it was not without its complications.

Clark Gable reprised his role from Red Dust (1932) in its remake Mogambo (1953).
Mogambo, which was a remake of Red Dust (1932), was filmed mostly on location in Kenya, with interior shots done at the MGM-British Studios in Hertfordshire, England. Directed by John Ford, the film starred Ava Gardner alongside newcomer Grace Kelly and her friend and three-time costar Clark Gable – the two had already worked together in The Hucksters (1947) and Lone Star (1952). Gable reprised his role from the original Red Dust, a film Ava had seen as a little girl, many years before she arrived in Hollywood. Ava's role in Mogambo was originated by Jean Harlow, while Grace Kelly took the role Mary Astor played in Red Dust. While the storyline was very similar the setting changed in the films – Red Dust was set in Vietnam while Mogambo was set in Africa. Red Dust was based on a 1928 play of the same name written by Wilson Collison. Mogambo's script was adapted by John Lee Mahin who also wrote the screenplay for Ava's 1951 film Show Boat.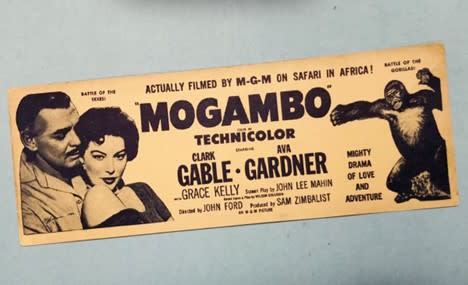 This advertisement for the film emphasizes that it was shot on location in Africa and plays up the "Mighty Drama of Love and Adventure."
Mogambo's plot focused on the love triangle that developed between Victor Marswell (Gable), a hunter leading a safari in Kenya, Eloise 'Honey Bear' Kelly (Gardner), a socialite whose safari stay in Africa was longer than expected, and Linda Nordley (Kelly), a paleontologist's wife. Set amid the danger of wild animals and unrest in the region, the storyline included romance and action.
Ava Gardner prepared for her role in part by receiving a number of vaccinations such as those to ward against smallpox, yellow fever, cholera, typhus, typhoid, and "God knows what else," according to her autobiography. At the time Ava was preparing to take on the role, she had been married to Frank Sinatra for nearly a year. Unlike Ava, his career was not going well. After being released from his MGM contract, he was struggling to get film work. He also lost his record deal with Columbia and, due to some personal struggles with his voice and changes in musical tastes, was finding it hard to book concert dates. However, he was excited and motivated by the idea of playing the role of Maggio in From Here to Eternity (1953). He felt passionate about the part and was working to secure himself the opportunity to test for it. Ava lobbied vigorously to help him get a test for the role – speaking with Harry Cohn, the head of Columbia Studios where the film was to be produced. Ava even put in a good word with Cohn's wife. When it came time for Ava to fly to Nairobi, Kenya to begin work on Mogambo, Frank had not yet heard back about his chances for the role, so he accompanied her to set. The two flew across the equator on their first wedding anniversary in November 1952, arriving a couple of weeks before filming was set to begin so that cast and crew could acclimate to the location.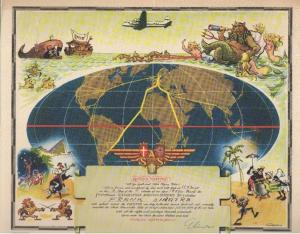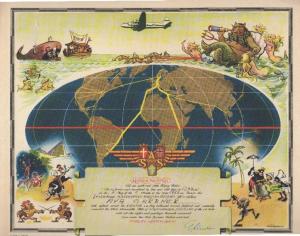 Ava Gardner and Frank Sinatra received these commemorative equator crossing cards from Scandinavian Airlines as a souvenir from their trip to Nairobi, Kenya.
Conditions in Africa were challenging at times, but the studio made efforts to make everyone feel safe and comfortable during filming. Cast and crew stayed in a huge, temporary village constructed for the production with every need planned for including tents for dining, hospital care, sports and recreation, and even a makeshift jail just in case anyone got out of line. Security was maintained by the film's own 30-man police force. Everyone in the cast was issued a weapon. Ava reported that Clark Gable got a hunting rifle, "while they gave me a presumably more ladylike .38 police special revolver." The studio also built an air strip in the middle of the jungle so that supplies could be delivered and film stock could be taken out for development.
Filming got off to a rocky start for Ava as she and director John Ford did not get along at first. Ava wrote, "John Ford, familiarly known as Jack, was one of the crustiest sons of bitches ever to direct a film…He could also be the meanest man on earth, thoroughly evil, but by the time the picture ended, I adored him." Ford's attitude toward Ava was allegedly caused by her being cast over his first choice of Maureen O'Hara. After a particularly tense exchange between Ava and Ford that resulted in Clark Gable walking off the set, the two were able to work through issues and get back to filming. Soon enough they were on friendly terms, and Ava described enjoyable experiences and interactions with her director and costars in their downtime on set.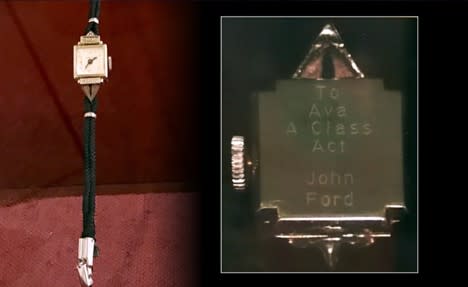 Despite getting off to a bad start, director John Ford and Ava Gardner became friends. Ford gave Ava this watch. The back of the face is inscribed: "To Ava / A Class Act / John Ford."
Ava enjoyed the role of Honey Bear, describing her character as a "sassy, tough-talking playgirl who whistles at men, drinks whiskey straight from the bottle, and says about wine, 'Any year, any model, they all bring out my better nature.'" She also called the opportunity to play such a role as a "gift from the gods." She wrote, "I never felt looser or more comfortable in a part before or since, and I was even allowed to improvise some of my dialogue."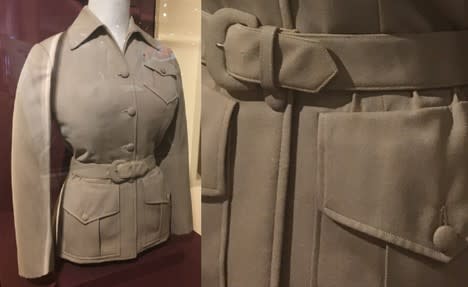 This safari jacket was worn by Ava Gardner during filming of Mogambo. Costumes for the film were designed by Helen Rose, chief costume designer at MGM.
Mogambo not only allowed Ava to reunite with one of her favorite leading men, Clark Gable, but it also introduced her to Grace Kelly, who would become a lifelong friend. Ava recalled some of the good times they had on set together in Ava: My Story: "I remember on Gracie's birthday we got a bottle of champagne from some bootlegger, and she and Clark and Jack Ford and I had a little party out in the tent. Later, we did the same thing for mine. And after that, no matter where in the world I was, every year a birthday present would arrive from Grace."
Ava also described Gracie, as she called her, as a "great lady, and also great fun, but she was never much of a drinker, though she tried hard. Her little nose would get pink, she'd get sick, and we'd have to rescue her."
Ava convinced Grace to join her on a Roman vacation after filming in Africa had wrapped. Grace wrote to a friend from Rome: "Ava and I are now great pals." Ava attended Grace's wedding to Prince Rainier of Monaco in 1956 and attended galas Grace organized in Monaco. She was also among the celebrity guests at the wedding of Princess Caroline, Grace's daughter, in 1978. Ava and Grace remained close friends until Grace's untimely death in 1986.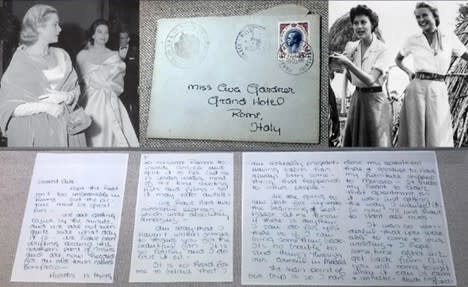 Grace Kelly wrote this letter to Ava Gardner shortly after she married Prince Rainier of Monaco. In it, she mentions being pregnant, closing her apartment in the States, and her appreciation for Ava attending her wedding.
While the making of Mogambo was joyful for Ava in many ways, her personal life was more uncertain. Her relationship with Frank was hampered by his career slump and its resulting impact on his mood. Part way through filming, Frank returned to the States to test for the part of Maggio. He went back to Nairobi in a considerably better mood. He and Ava spent a happy Christmas together on the set and celebrated Ava's 30th birthday. Frank would eventually get the part in From Here to Eternity and dazzle in it, ultimately winning an Academy Award for the role. The film project marked a turning point for Frank's career and reestablished him as an A-list star.
Filming for Mogambo extended into January of 1953. After location work wrapped, Ava stayed in Europe for the film's interior shots and then to work on the film Knights of the Round Table (1953). Ava was advised by MGM to stay abroad for some time to avoid any tax penalties. While she worked in England, Frank filmed From Here to Eternity in Hawaii. His film was released in August of 1953, and Mogambo was released in October 1953. Both films performed well at the box office, and both Ava and Frank were nominated for Academy Awards. However, their professional success would soon be overshadowed by personal strife. They separated in 1954 and divorced in 1957.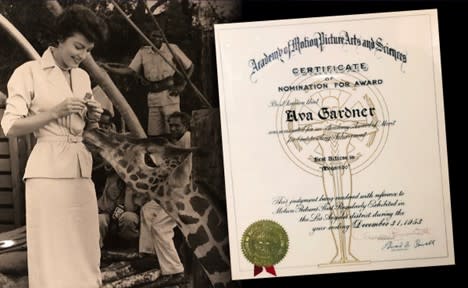 Ava Gardner was nominated for an Academy Award for Best Actress in Mogambo. Ultimately, the award went to Audrey Hepburn for Roman Holiday (1953).
Ava also received some of the best reviews of her career for her performance in Mogambo with the New York Times calling her "amusingly bewitching." Of the critical response and her Oscar nomination, Ava remarked: "I did get nominated for an Academy Award for best actress (though I was more relieved than upset when the Oscar eventually went to Audrey Hepburn in Roman Holiday) and I was told that I came within one vote of winning the New York Film Critics award, with even Bosley Crowther of the Times, who usually treated me like a bad smell, fighting gallantly in my defense."
Even with good reviews and an Oscar nomination under her belt, Ava continued to downplay her acting prowess throughout her life. Her friend and personal assistant, Mearene Jordan wrote in her book, Living with Miss G, that Ava was "really very pleased when Audrey Hepburn won the award for Roman Holiday. I mean, really pleased. If Miss G had won, how could she have gone on protesting that she knew absolutely nothing about acting?" Despite any of her personal feelings about her work in the film, Mogambo remains one of Ava Gardner's best-known films, and it is beloved by her fans around the world.