During a 1942 war bond rally at Pershing Square in downtown Los Angeles a 13-year-old British child actor named Roddy McDowall first met a 19-year-old, up-and-coming MGM contract-player named Ava Gardner. McDowall later recalled: "I got her autograph: what she signed was 'Mrs. Mickey Rooney.'" By the early 1960s, after both actors had been working in Hollywood for over two decades, Ava and McDowall had developed an intimate friendship that would continue for the rest of their lives.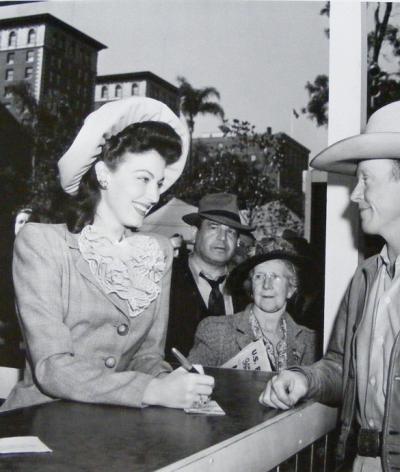 Ava Gardner selling war bonds at Victory House in Pershing Square, Los Angeles, 1942, most likely the event at which Roddy McDowall met Ava Gardner for the first time. 
Beyond almost all other relationships in her life, Ava deeply valued and remained ardently devoted to her closest friends and family. She once said simply, "I'm a damned good friend." And playwright Tennessee Williams felt that "[Ava's] ego was centered, it seemed to me, around friendships." McDowall contributed a chapter to Ava Gardner's posthumously released autobiography Ava: My Story in which he wrote fondly of his friend: "Ava was like the most fantastic relative, because she didn't make you pay a price for knowing her. She was the great older sister who just adores you. And spoils you. Her loyalty was devastating. In fact, it could be embarrassing. Because if she was your friend, she would kill for you, and sometimes you didn't want her to. She believed in the good decent things, she really did. And to the best of her ability, she lived that way."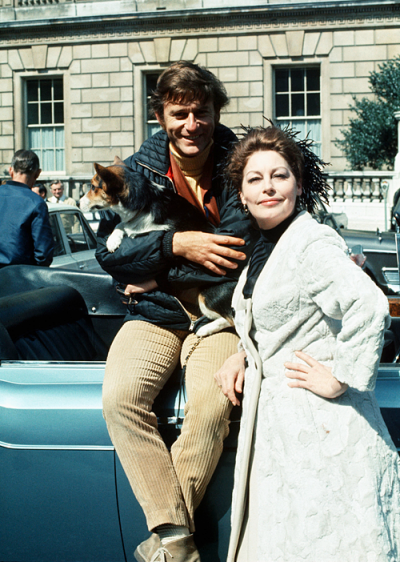 Ava Gardner, Roddy McDowall, and Ava's pet corgi, Cara, on set of The Ballad of Tam Lin, circa 1969.
Roddy McDowall was a prolific actor working across a myriad of genres in film, television, theatre, and radio. He started appearing in films as a child in 1938 and remained active in Hollywood until his passing in 1998. In his nearly six-decade career, he appeared in a wide range of classic films from How Green Was My Valley (1941) and Lassie Come Home (1943) to The Poseidon Adventure (1972) and Overboard (1987). In the later part of his career, he was in high demand as a voice actor for film projects like A Bug's Life (1998) and animated television shows like Pinky and the Brain (1995-1998). McDowall won a Tony Award for his supporting role in Time's Fool (aka The Fighting Cock) (1960) and an Emmy Award for his supporting role in Our American Heritage: Not Without Honor (1960). He was also nominated for a Golden Globe Award for his performance as Octavian in the film Cleopatra (1963). Today, McDowall is perhaps best remembered for his portrayal of Cornelius and Caesar in the original Planet of the Apes film series.
McDowall and Ava's friendship was built on mutual appreciation and respect away from the often harsh spotlight of the entertainment business. McDowall found Ava to have a great strength of character, and he admired her approach to life and child-like enthusiasm. He shared this endearing anecdote in Ava: My Story: "[Ava] was a very passionate woman about things that she liked doing. For instance, I live right across the street from Gene Autry and that really thrilled her. 'I've got to go over and see him,' she said. 'You can't,' I said. 'It's ten o'clock at night.' 'But he was my mother's favorite actor.' Well, it was hysterical. Who's going to believe that Ava Gardner was down there on Autry's not-so-mini estate, throwing pebbles at his windows and saying, 'Mr. Autry, my name's Ava Gardner.' I don't think he was even there. Her responses to things were so childlike, it was so sweet. She was totally immediate. She had no pretensions, none whatever."
Although Ava and McDowall were dear friends, the two did not work together professionally until 1969 when Ava agreed to star in McDowall's only directorial effort, The Ballad of Tam Lin (aka The Devil's Widow). The film was a passion project for McDowall, who had long wanted to work as a director. He felt that no other actor of the time but Ava Gardner possessed "the maturity, extravagant beauty, stature, and commercial viability" to fully inhabit the film's lead role.
Like many of her other friends, co-stars, and directors, McDowall marveled at Ava's intuitive acting abilities on set even as she minimized her own talent and skill. In Ava: My Story, McDowall described his experience working with Ava during the Tam Lin production:
"In 1969, we made a movie together, I directed her in The Ballad of Tam Lin. She hadn't made a film in a couple of years, it was a very large part, and she was very nervous. It was not a successful movie, by any manner of means, but her performance is remarkable and dead-on. Ava was one of the most perfect screen actresses I've ever encountered because she had a childlike concentration, which is wildly important. It's one of the major things that a film actor or actress should have, because immediacy is tremendously important to hold. I found that when you were working with her you should really never have more than three takes. Because she really did it. Watching her act was a fascinating thing to me I was often stunned. There was one time when she had to take a dagger, stick it into a desk, and say something like, 'I will not die.' And when she said it, her eyes in that moment just filled with blood. It was incredible. She didn't have acting craft, but she had this immediate instinct. So in a sense perhaps the toll was larger for her than somebody who had craft at their fingertips. Because she had to really completely do it in that moment."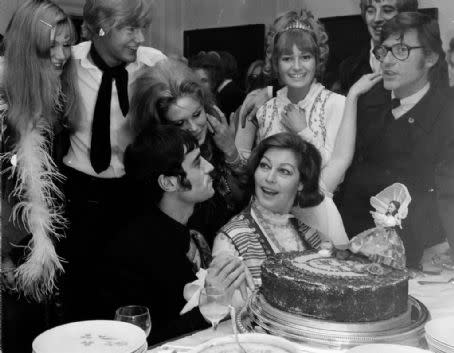 Ava Gardner's birthday celebration in London with the cast of The Ballad of Tam Lin: Madi Smith, Michael Bills, Ian McShane, Joanna Lumley, Stephanie Beacham and Roddy McDowall. 
Mearene (Rene) Jordan, Ava's close friend and personal assistant, remembered Ava's friendship with McDowall and their working relationship in her book, Living With Miss G:
"Roddy McDowall was one of Miss G's oldest friends. He had been in films for years, starting off as a British child actor. His latest movie was Planet of the Apes. Roddy had been a smash hit as the leading ape-man. He had long harbored ambitions of becoming a director and after directing various features, he had put Tam Lin together as a movie package. The fact that Miss G agreed to play the lead may have helped him get backing."
As Rene shared in her book, Ava supported her friend's directorial debut even as the film's funding faltered:
"The trouble was that practically nobody saw Tam Lin. First of all, the film company ran out of money – no fault of Roddy's – and had to find an extra injection of cash to complete the music dubbing. Then no one wanted to distribute it. Afterwards Miss G said to anybody who asked, 'I saw it, and it's a damn good little picture. I care terribly what happens to the film, not so much for me but for Roddy. He is just starting to make a career for himself as a director, and this is so important to him.' Miss G was being loyal as usual to all her friends. I don't think she even got paid her fifty thousand dollars' salary. The film company just went broke. Even when the film was salvaged later by American International Pictures, it attracted only minor headlines."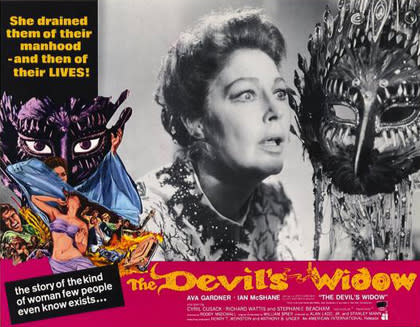 Lobby card for the reworked U.S. version of The Ballad of Tam Lin entitled The Devil's Widow. 
Tam Lin received an extremely small British release in 1970. After the film rights were acquired by American International Pictures, a re-edited and recut version under the name The Devil's Widow was released to a limited number of US screens in 1972. This course of events greatly disappointed both Ava and McDowall, although it never impacted their personal relationship. Tam Lin was all but lost until two decades later when director Martin Scorsese came to the rescue. He viewed McDowall's print, which was one of the few remaining copies available, and became a champion of the movie. Scorsese tracked down the copyright, retrieved missing elements of the film, and returned the film to McDowall's original vision. In the late 1990s, the Scorsese-led restoration was brought back into video circulation in the US. Although Ava did not live to see this happen, McDowall did, and he was able to contribute commentary for the VHS release.
After Tam Lin, Ava and McDowall teamed for one additional film production. At the urging of director and friend John Huston, Ava agreed to appear in a featured role alongside McDowall, Paul Newman, and a large ensemble cast in the 1972 movie The Life and Times of Judge Roy Bean.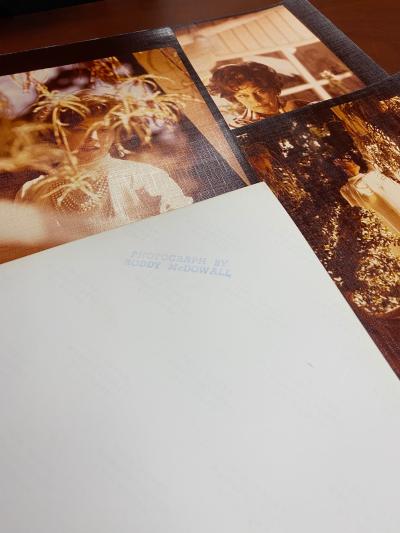 Photographs of Ava Gardner taken by Roddy McDowall. The back of each photo is stamped "Photograph by Roddy McDowall." From the Ava Gardner Museum Collection.
Apart from his work as an actor and director, McDowall was also an accomplished photographer, contributing to publications including Look, Vogue, Collier's, and Life. On a number of occasions, he photographed Ava as well as his other friends in the entertainment world. Starting in 1968, he published five books of his photographic works. His book series entitled Double Exposure featured his photographs of celebrities alongside write-ups contributed by fellow stars. Ava Gardner's photograph is featured in one volume while a piece she wrote about her friend and one-time co-star Elizabeth Taylor is featured in another volume.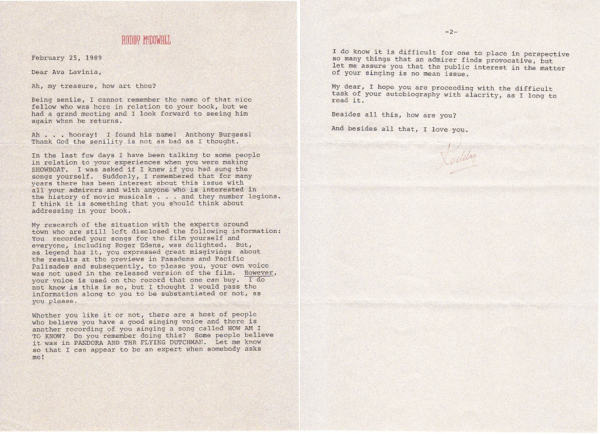 Roddy opens his February 25, 1989 letter to his close friend, "Dear Ava Lavinia," using Ava's middle name lovingly. "Ah, my treasure, how art thou?" His letter, which discusses matters relating to Ava's autobiography, ends with "Besides all this, how are you? And besides all that, I love you. Roddy." From the Ava Gardner Museum Collection. 
Ava and McDowall maintained a loyal and loving friendship until the end of their lives. While he lived in Los Angeles and she resided in London, the two stayed in touch through regular correspondence and phone calls. After Ava's untimely passing from pneumonia in 1990, McDowall honored his friend with kind remarks whenever asked about her by interviewers. He was also an early supporter of the Ava Gardner Museum – serving as a member of the Museum's honorary committee and personally donating copies of his two photography books featuring Ava to the Museum's permanent collection. On October 3, 1998, following a battle with cancer, McDowall peacefully passed away at his Los Angeles home at the age of 70.
In his director's commentary for Tam Lin, which was recorded shortly before his death, McDowall shared these thoughts about his dear friend and her lasting impact: "God bless the valiance of Ava Gardner who traversed endless displacement in relation to the task of living but has left a cannon of work that has enriched our film heritage to no end and hopefully, somewhere, subliminally [she] was knowledged that she was destined to leave a remarkable legacy."