Early in the morning on Friday, March 10, my daughter, Ava Malissa Silver, and I boarded a train from the Victoria Station in London headed to East Grinstead, home of the Queen Victoria Hospital (QVH). This day was long awaited and very important to us since the QVH is one of three beneficiaries of the Ava Gardner™ Trust. From the beginning of its designation as a beneficiary, our beloved Ava has contributed £650,000 British pounds to the benefit of the hospital, over $800,000 in US dollars. We were eager to meet the medical staff and others who continue the work of the world renown Sir Archibald McIndoe who helped so many of the burned pilots of World War II.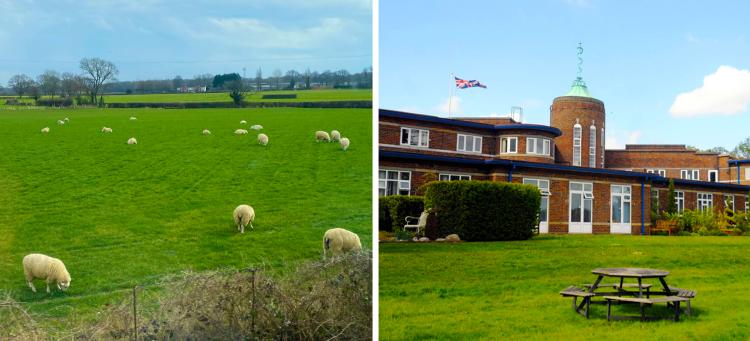 On the train ride to visit QVH (right) in East Grinstead, Ava Thompson and her daughter Ava Malissa Silver were able to observe the tranquil beauty of the English countryside at the start of Spring.
This little town nestled in the beautiful English countryside has become known as the "town that didn't stare." McIndoe insisted that the disfigured and burned pilots be able to move about town without undue attention to their injuries. He insisted that they be a normal part of the bustling life of this charming little town. East Grinstead has also become known as the "town with a heart" for the affection shown to the many pilots from across many nationalities.
The day was overcast and misting rain, but the countryside was alive with Spring. Daffodils were in bloom around every bend and the rolling hills were green with trees budding everywhere. The day held the promise of renewal, and much to learn, and much to be thankful for.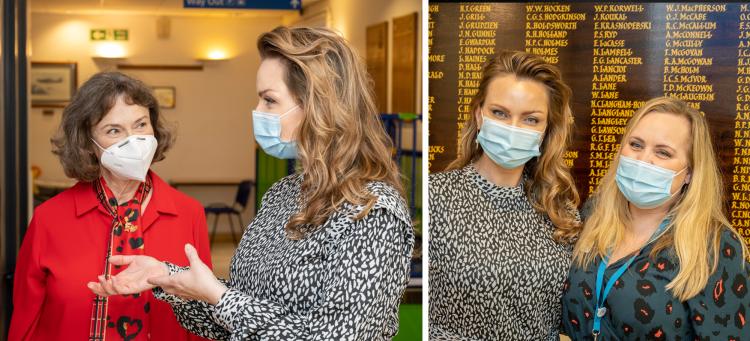 QVH's Camilla Slattery (far right) coordinated the Ava Gardner Trust's trip to East Grinstead and made sure Ava Thompson (far left) and Ava Malissa Silver (middle) had an opportunity to speak with various leaders at the hospital during their visit. (Photo Credit: Queen Victoria Hospital)
We were met at the station by Camilla Slattery, Head of Fundraising and Voluntary Services at QVH. On arrival at the hospital, we were introduced to the CEO, Steve Jenkin, and others in leadership positions, but the dynamic surprise was meeting Bob Marchant, the Secretary of The Guinea Pig Club. He is the one man who knows the complete history of the hospital and who worked with so many of the burned pilots and with the McIndoe team of surgeons. Bob showed us dozens of vintage black and white photos depicting the history of the hospital. He talked about The Guinea Pig Club as we listened in awe.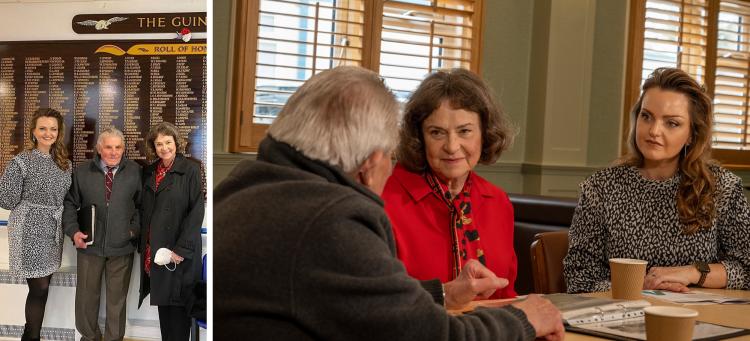 Speaking with Bob Marchant of The Guinea Pig Club was a highlight of Ava Thompson and Ava Malissa Silver's time at QVH. They were absolutely captivated by his stories of the club and memories of the important work of Sir Archibald McIndoe and QVH. (Photo Credit: Queen Victoria Hospital)
For those not familiar with The Guinea Pig Club, here's an excerpt about it from The Guinea Pig Club: A Short History by Jack Topper Esq., MBE:
"Archie McIndoe arrived at the cottage hospital in September of 1939 and by 1940 when the Battle of Britain began, burned pilots were being taken to the hospital that was to become world famous. One of the pilots suggested forming a club. Another claimed The Guinea Pig Club would be appropriate because guinea pigs were used in medical experiments and so were burned airmen. Treatment and plastic surgery were then in its infancy."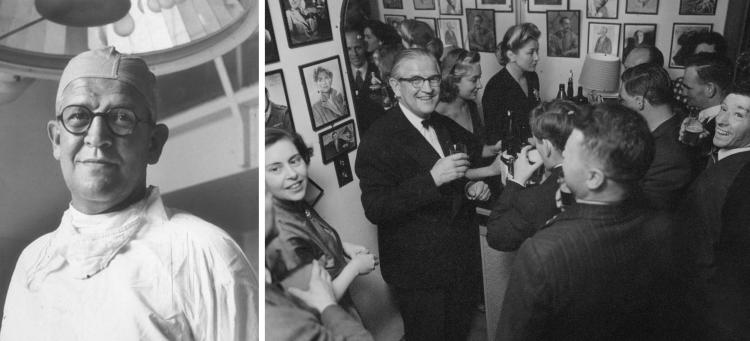 Dr. Archibald McIndoe (left) began working in the surgical department at QVH in 1939. In 1947, less than 10 years later, McIndoe was knighted in recognition of his pioneering plastic surgery techniques and holistic approach to the treatment of allied aircrew during World War II. As part of his holistic approach to healing, McIndoe encouraged his patients to be social and rejoin the community of East Grinstead during their time at QVH. After their treatment was complete, members of The Guinea Pig Club (right) routinely gathered for reunion parties with their beloved doctor. (Photo Credit: East Grinstead Museum)
"The Secretary was a pilot with badly burned fingers which meant he was excused from writing many letters and the Treasurer was a member whose legs were burned, this ensured he could not abscond with the funds. Initially, the Club was to be a drinking club, which would disband after the war but instead it grew in strength and through the generosity of many people became financially sound."
"There were 649 Guinea Pigs from all the Allied countries. After 81 years since its formation the Club ensures that Guinea Pigs and their widows in need of financial assistance are taken care of and if medical service is needed, it is generously given."
A prominent wall in QVH is adorned with this permanent memorial to The Guinea Pig Club. This "roll of honour" lists all 649 members of the club since its founding in 1941. 
"Sir Archibald McIndoe sadly died in 1960. From that time H.R.H. Prince Philip, Duke of Edinburgh was their President up until his recent death. From the original total of 649 airmen, 5 remain worldwide including 4 British and 1 other overseas."
Ava first met Sir Archibald McIndoe when he treated her for a leg injury because of an automobile accident. Later, in October of 1957, when she fell from a horse at the Peralta ranch near Seville in Spain, she knew she needed him again. She had a large lump on her cheek that was not going down. She explained in her autobiography, Ava: My Story, "I knew that in comparison to what was going on with those badly burned pilots, my little injury was of almost no consequence. But Archie was a man of enormous compassion and understanding, and he had enough to spare for me."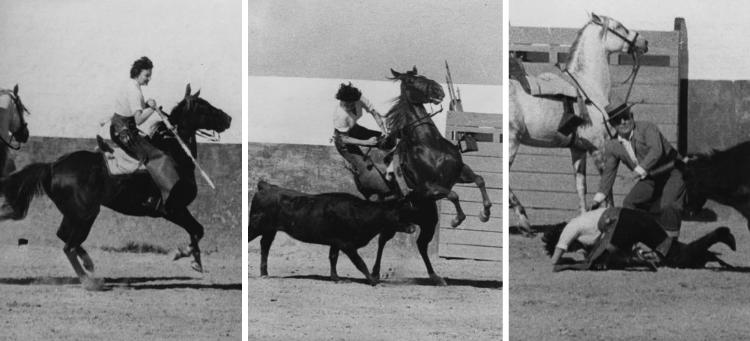 In October 1957, while visiting the Peralta ranch in Spain, Ava Gardner was thrown from a horse. The painful fall resulted in a hematoma to her right cheekbone, an injury which could have permanently disfigured her face. Thanks to the expertise of Dr. McIndoe and the noninvasive treatment he prescribed, Ava fully recovered from her accident and, after a two-year hiatus, was able to resume her successful film career. A high-speed camera at the ranch captured this series of photos showing Ava's startling incident. The images were later published in the French magazine Paris Match.
McIndoe told her that she would need heat treatment and massage, but not to let anyone operate or use a needle. He advised her it would go away in time and to be patient. Ava continued to visit Archie and became more involved with the burned pilots. Ava said, "It was the best possible therapy for me because compared with their injuries my lump couldn't have been more insignificant. I met a lot of them, and we danced and laughed together. They were so brave I could have wept. Archie told me my visits did them a lot of good, but I'm sure they helped me more than I ever helped them."
Archie invited Ava to come to the QVH Nurse's Fair in November of 1958 to sell autographs and to help raise funds for the hospital. She was terrified but could not say no to Archie. Unknown to her, he had invited all the press from far and wide to come turn their cameras on her. The next day there were wonderful photos of her in all the papers and Archie confessed what he had done.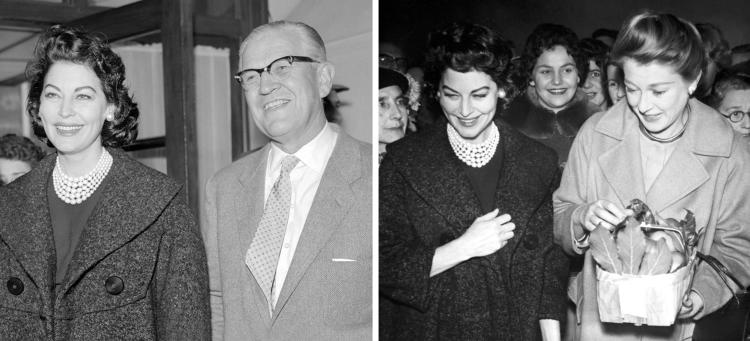 On November 15, 1958, Ava Gardner attended the QVH's annual Nurses' Fair at the behest of Sir Archibald McIndoe. The fair included an auction in the hospital's Whitehall Building. Large crowds of patients and locals gathered to support the nurses and to see Ava Gardner, who, at the request of McIndoe, had agreed to sell autographs at the event to raise money for QVH. The fair brought in over £400 that day. The next day, pictures like this series of Ava Gardner at the fair (left with Sir Archibald McIndoe, right with Lady Constantine Belcham McIndoe) made all the major newspapers. (Photo Credit: East Grinstead Museum)
In her autobiographical recordings, Ava recounted McIndoe saying to her after the fair: "I turned the press on you deliberately. I rang every newspaper editor in London and said, 'You can come down to my fair and photograph Ava Gardner from as close as you wish and from any angle. And you can see for yourself if any plastic surgery has been done, if any knife has ever touched that magnificent face.'" She also remembered: "That statement [from Archie] almost moved me to tears. What more could Archie have done for me? Without letting on, he'd given me back my self-confidence. As he had done with so many young airmen, he had given me back my life."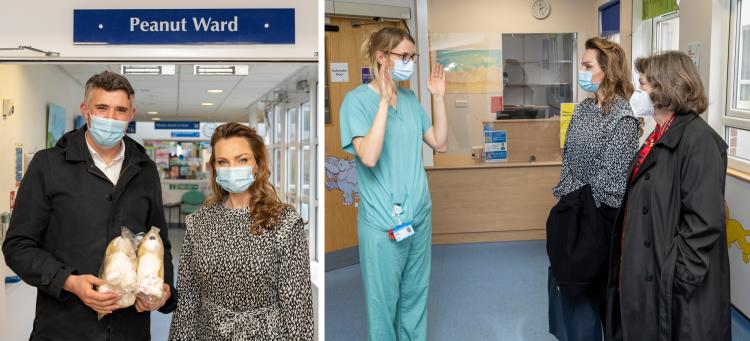 Following their enlightening conversation with Bob Marchant, Ava Thompson and Ava Malissa Silver toured other areas of the hospital and met with QVH staff and leadership. (Photo Credit: Queen Victoria Hospital)
After about an hour with Bob, we toured the entire hospital. We were able to talk extensively with several of the teams including theatres, critical care, and burns, and come to understand all the wonderful innovation that is in progress. This hospital's renowned expertise and world leading specialist skills in treating burns, cancer, complex eye conditions as well as being the country's largest facial palsy unit is inspirational! It is the second smallest hospital in Britain's National Health Service, but still is a world leader in in specialist areas. McIndoe was a world leader in reconstructive plastic surgery for burn victims. The hospital is still on the forefront with specialties in Maxillofacial Surgery and Corneoplastics. Today the hospital provides post graduate training in these specialist fields.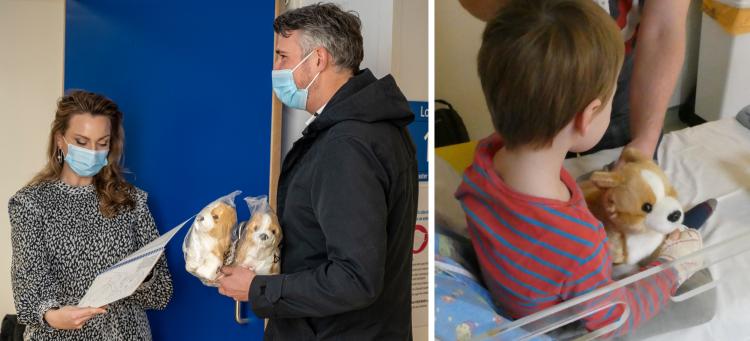 During the visit, Ava Malissa Silver (left) presented the QVH Director of Nursing (center) with patient gifts brought from the Ava Gardner Museum. While touring the hospital's facilities, these Ava Gardner-themed gifts – coloring books and stuffed corgis – were given to pediatric patients in the Peanut Ward. This little fellow (right), who was recovering from hand surgery, loved one of the corgi stuffed animals given to him by the trustees of the Ava Gardner Trust. (Photo Credit: Queen Victoria Hospital)
The last ward we visited was the Peanut Ward. This is the children's ward. It was named from a fundraiser many years ago when a bag of peanuts was offered to anyone who donated 12 pennies to the hospital fund. We left gifts with the nurses. Most of the gifts were for the children. We also received gifts of art and crafts from the children.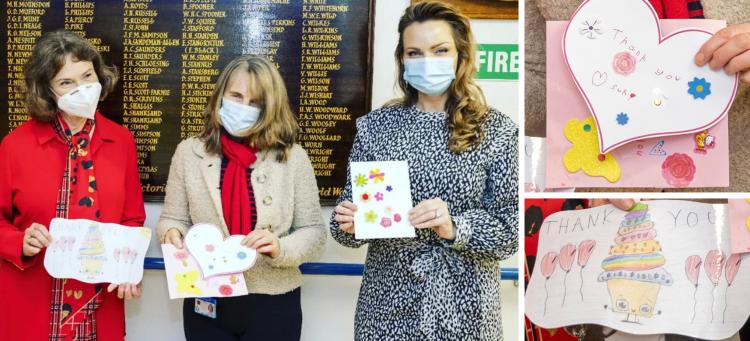 Before leaving QVH, Ava Thompson and Ava Malissa Silver were presented with special, handmade gifts of appreciation from the children receiving treatment at the hospital. (Photo Credit: Queen Victoria Hospital)
We arrived back in London feeling very inspired to continue the work of the Ava Gardner Trust to bring in funds for this wonderful little hospital!
To hear more about Ava Thompson and Ava Malissa Silver's visit to Queen Victoria Hospital, as well as other details about their trip to London, check out our recent episode of the Museum's virtual program Ava Chats. You can watch it for free on the Ava Gardner Museum's YouTube channel here.