"There is something in [Ava Gardner's] character that goes beyond physical beauty: an unselfconscious combination of humour, intelligence, warmth, and humility that the camera was able to capture, and we can still enjoy today."
– Elizabeth McGovern –
Actor, Musician, Producer, Playwright
In January 2022, a brand-new production will premiere at London's Riverside Studios called Ava: The Secret Conversations. The play comes from the team of actor and playwright Elizabeth McGovern, producer Karl Sydow, and the design studios of 59 Productions. It follows the fascinating and complex story of an international film star and British journalist collaborating to write a Hollywood memoir.
This new play is based on the 2013 book Ava Gardner: The Secret Conversations by Peter Evans and Ava Gardner. The book is not a traditional biography, instead it tells the story of Ava and Evans' working relationship over the course of several months in early 1988 as they attempted to write an official Ava Gardner biography. During the project, the two had a disagreement, and Ava severed ties with Evans. She later worked with other ghostwriters to complete her autobiography, Ava: My Story, which was published after her passing in 1990. Years later, Evans turned to his recorded interviews, notes, and recollections from his time with Ava to begin writing a new book about the famous star. In the fall of 2010, after reviewing a preliminary draft of 40,000 words written by Evans, Ava Gardner's former business manager, Jess Morgan, authorized the book project to proceed. The Secret Conversations, which was published after Evans' passing in 2012, was an instant hit with readers and critics and ultimately topped the New York Times best-seller list.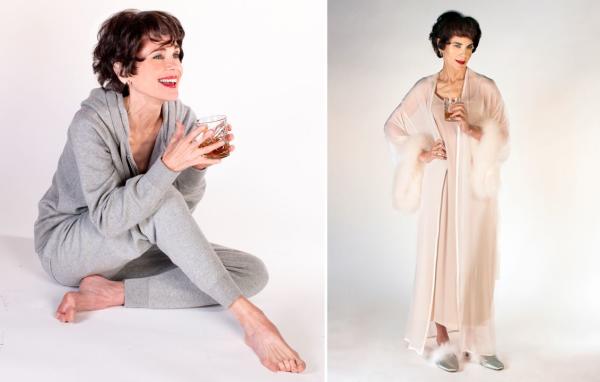 Elizabeth McGovern as Ava Gardner in promotional stills for the play.
The new play's writer and star, Elizabeth McGovern, has been an admirer of Ava Gardner for decades. While developing her craft as a performer, starring in film, television, and stage productions, McGovern studied Ava's life and career – finding a wellspring of inspiration in the process. So deep was McGovern's admiration for the classic Hollywood star that one Christmas her husband even gave her a framed portrait of Ava.
A vision for a stage production about Ava Gardner began to emerge for McGovern after she read The Secret Conversations while working on the hit show Downton Abbey. In 2016, she began talks with representatives from the Ava Gardner Trust and the Peter Evans Estate about translating the book to the stage. As her concept for the play developed further, a formal agreement between all parties was officially reached in early 2017. After working with two different writers and finding their work unsatisfactory, McGovern decided to take pen to paper to realize her vision for the play's script. Of Ava Gardner, McGovern has said, "She was a funny, warm, wonderful person. I kind of fell in love with her so I wanted to share her story."
Elizabeth McGovern discusses how she creates the character of Ava Gardner for the new play Ava: The Secret Conversations.
From the beginning of the project and throughout the development phase, McGovern has assured that all involved parties as well as Ava Gardner's devoted fans worldwide will be proud of the script, casting, and caliber of the finished stage production. McGovern's passion for the project and Ava's legacy are clearly apparent when she's spoken about the production. McGovern has said, "I was drawn to The Secret Conversations to begin with by my fascination with Ava Gardner. But also, the conversations were mostly unadulterated, and, without coming to any pat conclusions, reveal the price she paid for fame, the toll it took on her life. I wanted to explore this for selfish reasons. I feel qualified to draw from my own experience in order to explore the subject."

Elizabeth McGovern and Karl Sydow attended the 2016 unveiling of the Blue Plaque commemorating Ava Gardner's London residence at Ennismore Gardens.
Left: (Pictured from left to right) Cecilia Peck, Elizabeth McGovern, Ava Thompson, and Carmen Vargas.
Right: (Pictured from left to right) Elizabeth McGovern, Karl Sydow, and Ava Thompson.
Great-niece of Ava Gardner and co-trustee of the Ava Gardner Trust, Ava Thompson, recently shared her opinion about Elizabeth McGovern taking on the iconic role of her beloved aunt. "I think Elizabeth is perfect for the role she has created. She is an experienced, skillful, accomplished actress who is passionate about Ava Gardner. Elizabeth is playing a mature Ava in her later years in London bringing an understanding of Ava from her own life. Elizabeth is a great student of human nature and will bring a deeper understanding of Ava Gardner to the stage. She has said that her life has given her the right to play Ava Gardner, and I could not agree more." Regarding the written depiction of Ava Gardner in the play's script versus the real person she knew intimately, Thompson had this to say: "As one would expect, creative license has been employed, so the work is part fiction, but it focuses on the time Ava Gardner and Peter Evans spent working on Ava's autobiography. This is not a biographical work, but will, in dramatic form, illustrate a more personal Ava Gardner."
The play's producer Karl Sydow and design studios 59 Production have previously collaborated on several highly successful and groundbreaking shows including City of Glass and Sting's The Last Ship. Their efforts to bring Ava: The Secret Conversations to life on stage promises to be another innovative production – with state-of-the-art video, special effects, and more deployed to tell this unique story.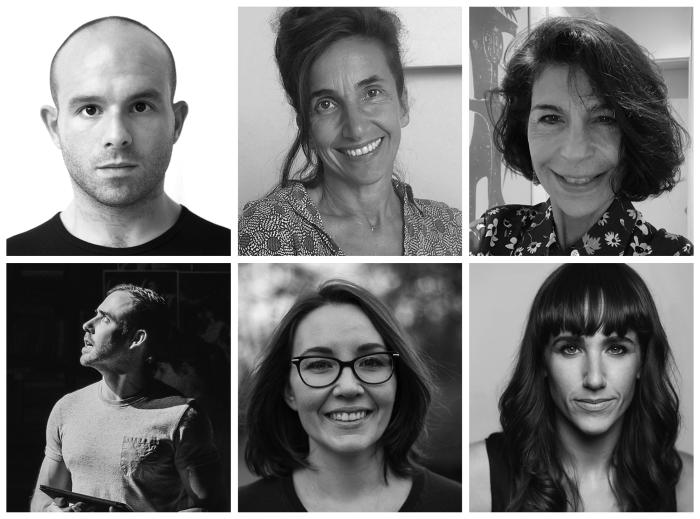 The production's creative team has expanded over the last few months since the show was first announced.
Top row, pictured from left to right: Anatol Yusef in the role of Peter Evans, Director Gaby Dellal, and Costume Designer Fontini Dimou.
Bottom row, pictured from left to right: Lighting Designer Elliot Griggs, Sound Designer Ella Wahlström, and Movement Director Gemma Payne.
The London production will run through April 16, 2022. To book your ticket, visit Riverside Studios online. To stay up-to-date on news and details about Ava: The Secret Conversations, follow the play's official social media accounts on Facebook, Twitter, and Instagram and the hashtag #AvaGardnerPlay.