Lena Horne was born on June 30, 1917. A talented triple-threat, she was a gifted actress, dancer, and singer as well as a civil rights activist and female trailblazer. Horne's career spanned over 70 years, with roles in film, television, and on stage. She received many honors and accolades over the years including Tony and Grammy awards, two stars on the Hollywood Walk of Fame, a Kennedy Center Honors, and an honorary doctorate from Howard University. For her enormous talent and accomplishments on and off the stage, Lena became a legend, but to Ava Gardner, she was even more than an icon, she was a close personal friend.
Lena Horne, 1946
At the beginning of the 1940s, both Lena and Ava arrived in Hollywood. Lena came from an already decade-long career performing in East Coast nightclubs, and Ava came from the rural, farming communities of Eastern North Carolina. The budding stars gravitated towards each other almost immediately while working under contract at MGM, becoming fast friends and eventually even neighbors in the Nichols Canyon area of Los Angeles. Although their lives and careers took them in different directions over the years, they formed a lasting friendship that transcended whatever the entertainment business threw at them – from casting controversies, racially-prejudiced social expectations of the time, and even similarities in their choice of men. Ava admired Lena's natural beauty, powerful singing voice, and immense talent. Ava "always thought that [Lena], along with Greta Garbo and Katharine Hepburn, was one of the three most beautiful women in the world." Lena thought of Ava as a "younger sister" who "you couldn't help but like."
Lena Horne got her start as a performer at the young age of 16, singing and dancing on the nightclub stage. After successful stints in notable New York City establishments like Café Society and the Cotton Club and recording music with RCA Victor, Lena made her way to the West Coast. Lena made her first film appearance in the 1935 short Cab Calloway's Jitterbug Party, and her first credited role came three years later in The Duke Is Tops from 1938. In 1942 she signed a seven-year studio contract with Metro-Goldwyn-Mayer.
After being discovered in New York, Ava Gardner left her secretarial studies at Atlantic Christian College in Wilson, NC to pursue a career in the motion picture business. She first arrived in Hollywood with a probationary MGM contract in 1941 and spent years working in a string of uncredited or bit-part roles before finally breaking through. In 1943, Ava appeared in an uncredited part as a receptionist in the film Swing Fever, in which Lena appeared performing as herself. MGM was slow to put Ava in any major, featured roles, seemingly not knowing how to cast her properly. It was not until MGM began loaning her out to other studios that her career began to take off.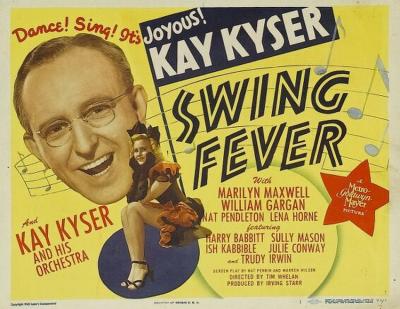 Lobby card for the 1943 film Swing Fever, in which Lena Horne performed and Ava Gardner appeared in an uncredited part.
Lena and Ava shared similar views on MGM and the studio system – both considering parts or all of their Hollywood experiences to be rife with disappointments. They sharply disagreed with how the studios treated actresses, though Lena's experience was exacerbated by systemic racism. According to Lena they both felt "screwed" by MGM: Lena "for racial reasons" and Ava "for being liberated long before it became acceptable."
When Lena signed a seven-year deal with MGM in 1942, she was the first Black actress in more than 25 years to sign a studio contract. At first, her Hollywood career seemed to flourish, with starring roles in two all-Black musicals in 1943, MGM's Cabin in the Sky and Stormy Weather from 20th Century Fox. Both films were critical and box-office successes. Lena's rendition of the title song Stormy Weather even became a major recording hit on the charts.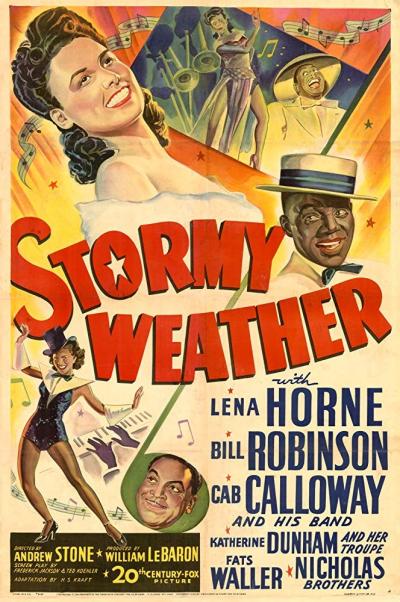 Poster for Lena's film Stormy Weather. 
Despite her initial successes, MGM struggled with how best to cast and present a glamourous, multi-talented African-American actress like Lena on the screen beyond small, supporting roles. At this time, before the modern-day Civil Rights Movement and with segregation still the law of the land in much of the country, film censors in the Southern United States mostly banned movies that depicted people of color in equal social situations with whites. A deeply principled person, Lena refused to play any role she considered to be demeaning or perpetuating negative racial stereotypes. After 1943, Horne was mainly relegated to stand-alone segments in musical films. These sequences showcased Lena's wonderful vocal talents and glamorous persona, but they were not critical to the storyline of these films. To accommodate the racist rules of Southern film censors, regional distributors would remove these featured musical numbers before the films screened for Southern audiences.
Mearene (Rene) Jordan, Ava Gardner's personal assistant and friend, reflected on the racism of the era in her book Living with Miss G: "Today people cannot comprehend the difficulties of being a 'black anything' in the forties and fifties. Admittedly, there were lots of black musicians and artists playing in their own black groups, but none with white artists. Artie Shaw, to his credit, was the first to use Lena Horne in his band as a Black vocalist."
In 1946, Horne was cast in MGM's Till the Clouds Roll By, a musical biopic loosely based on the life and career of Broadway composer Jerome Kern. The all-star cast featured some of MGM's top talent of the time – including Judy Garland, Frank Sinatra, Tony Martin, Kathryn Grayson, and June Allyson. In a 15-minute segment highlighting Kern's most successful stage production, Show Boat, Horne played her dream role of Julie LaVerne, singing the song "Can't Help Lovin' Dat Man." Like her other musicals of this period, her numbers in Till the Clouds Roll By were edited out of the film when it reached theaters in the South. When MGM later decided to produce a lavish, Technicolor remake of Show Boat in 1951, Horne wanted to reprise the role of Julie, but studio censorship meant that a Black actress could not appear on screen in a romantic relationship with a white actor. The interracial relationship depicted in Show Boat could stay in the plot, but the role of Julie, a mixed-race singer married to a white man, ultimately went to a white actress, Lena's friend Ava Gardner.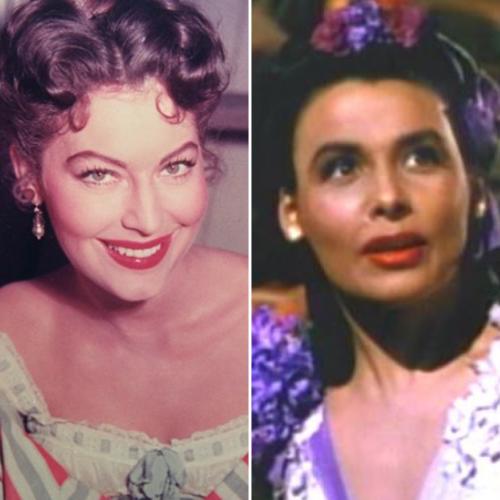 Ava Gardner as Julie LaVerne in Show Boat (1951) and Lena Horne as Julie LaVerne in Till the Clouds Roll By (1946).
Lena and Ava were close friends long before and long after the Show Boat casting controversy, and they considered themselves spiritually akin. Ava felt Lena was better for the role and was angered over the reasons why the part wasn't given to her, but there was no friction between the two friends. In her book Living with Miss G, Mearene (Rene) Jordan recalled Ava saying, "Of course, Lena should really have been given the part of Julie in the first place. She's already done a marvelous recording of Show Boat singing Julie's songs. She's perfect for it." Lena contributed a chapter to Ava's autobiography, Ava: My Story, and in it she addressed the issues around the casting of the film: "We talked about the nonsense about Show Boat, the fact that she was going to do it, and I wanted it…The [studio's] reasoning behind it made her angry, for my sake. 'Forget it', I'd said. We knew, we understood why it happened. So there was no friction about it. We were both very logical. It was a big laugh." Lena added, "[Ava] felt that life was crappy and that a lot of people got mistreated for weird reasons, and she liked to see people like each other. She was a real good dame."
While Ava believed the role in Show Boat should have gone to Lena, she wanted to do her best to bring the complex character to life on screen, even training with a vocal coach and practicing extensively so she could sing Julie LaVerne's songs. To Ava's great disappointment, MGM decided to have Annette Warren dub her singing voice for the film's theatrical release. The studio, however, was forced to use Ava's real singing voice on the soundtrack in order to market it with her name and likeness. Ironically for the album recordings, Ava was instructed to sing the songs the way Lena had done five years earlier.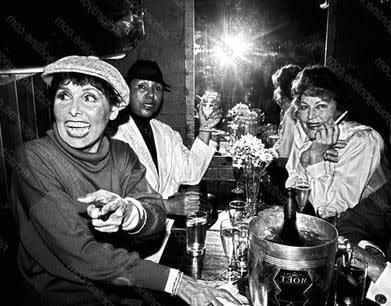 Lena and Ava out together with friends.
Lena and Ava were friends from the beginning of their Hollywood careers through the rest of their lives. In Living with Miss G, Rene remembers Ava saying, "[Lena is] one of the most beautiful women in the world, inside and out." In her contributed chapter to Ava: My Story, Lena said, "[Ava] and I were spiritually akin…[and she] had great inner warmth." In an interview on the Johnny Carson show, Lena also said of her friend: "Ava and I sort of took to each other right away because she is Southern, she is basic, she is down, she is laid back, and because she was raised under the same sort of circumstances as I was raised. We just naturally went toward each other. She came from North Carolina. She'd lived with black and white people, poor all her life. I was sent to live in Georgia when I was five with poor people all my life. So she and I got together, see. And because she had a big mouth like mine, we had no subtlety, no discretion, and before we thought we spoke which, in those years, was not always the right thing to do."
The two shared much in common, from their upbringings in the South to their similar personalities and temperaments. They also had similar tastes in men, even both having relationships with some of the same men, like Artie Shaw. Things that might have destroyed other friendships, never damaged the connections Lena and Ava shared. They were loyal to one another always. After Ava's third marriage ended in divorce, Lena even carried a lifelong grudge against Frank Sinatra, ultimately holding it longer than Ava herself who remained friendly with Frank for the rest of her life. When Gardner died in 1990, Lena was devastated: "How dare she go, too? She left me. She had a nerve dying."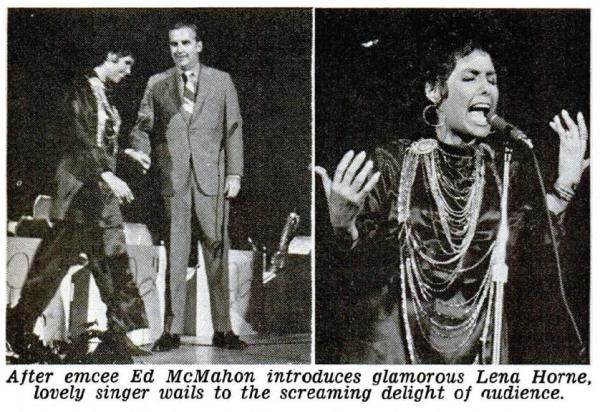 Lena Horne attended and performed at the benefit for the Free Southern Theatre that Ava Gardner co-chaired and hosted at the Waldorf Astoria in New York City in 1969. [Image from Jet Magazine, May 29, 1969]
In the 1940s, Lena joined First Lady Eleanor Roosevelt in campaigns to try to pass anti-lynching laws. She also worked on behalf of Japanese Americans who faced discrimination during and after WWII. During the 1950s anti-communist hearings, Horne was targeted because of her political beliefs and social activism. Following her experiences under the studio system, Lena became heavily involved in the Civil Rights Movement of the 1960s. She took part in the March on Washington in August 1963. She also performed and spoke around the country, using her celebrity status to support the NAACP, SNCC, and the National Council of Negro Women.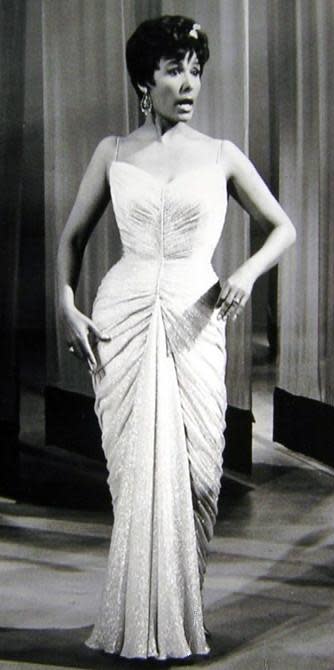 Lena Horne performing in 1965. 
Lena ultimately appeared in over 20 feature and short subject films, but, after years of frustration with Hollywood, Lena returned to her roots as a stage performer. In addition to her long-lasting nightclub career, she also appeared regularly on radio and television. She maintained an active recording career that stretched from 1936 to 2000 and brought her three Grammys, including a Lifetime Achievement Award in 1989. Lena also performed on Broadway, including in her own Tony-winning one-woman show, Lena Horne: The Lady and Her Music in 1981-1982. In 1984, Lena Horne was presented with the Kenney Center Honors for her lifetime of achievement and contributions to American culture. Lena passed away on May 9, 2010, at the age of 92.