Ava Gardner made fewer films in the 1970s and 1980s, preferring her quiet life in London to any film set. In the 1980s, she briefly worked on the small screen, predominantly in television movies and miniseries, though she did also appear in seven episodes of the long-running primetime soap opera Knots Landing. Her choices in television work mirrored those she made in many of her later films, showing her preference for character roles and location work over projects shot in Hollywood.
In all of her television roles, she was sought out for her status as a Hollywood icon. The directors she worked with marveled at her professionalism and skill on set. Her last completed project, the television movie Harem, was released in 1986. She also shot a pilot for one other television project, Maggie (1986). Although it was not picked up to series, Maggie later aired as a TV special.
A.D. – Miniseries (1985)
The biblical epic A.D. cast Ava in the role of Agrippina, the mother of Emperor Nero. Set in the time period just after Jesus' death, the miniseries takes place during the Roman Empire and follows the Biblical events of the book of Acts.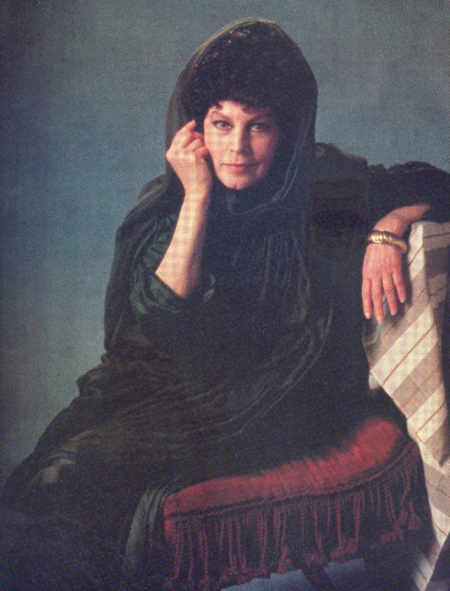 Ava in her role as Agrippina in A.D.
The series' title stands for "Anno Domini" which is Latin for "in the year of our Lord." The miniseries was adapted from the novel The Kingdom of the Wicked by the prolific English writer and composer Anthony Burgess. The teleplay covered the Acts of the Apostles in the decades after Jesus' death, chronicling his disciples' lives during the reigns of several Roman emperors.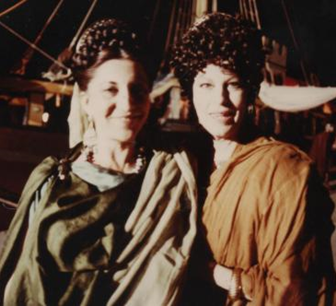 In this behind-the-scenes shot from the set of A.D. (1985) Ava is dressed as her character of Agrippina while her dear friend and London neighbor Nahid Mirza, the former First Lady of Pakistan, is dressed in costume for a background cameo appearance in the production. Read more about their friendship in this blog.
The series featured a large, star-studded ensemble cast including Anthony Andrews, Colleen Dewhurst, Ian McShane, Ben Vereen, Richard Roundtree, Jack Warden, John Houseman, James Mason, and Susan Sarandon, with many more extras and small parts. Ava previously starred with Mason in East Side, West Side (1949), Pandora and the Flying Dutchman (1951), and Mayerling (1968). A.D. featured close to 400 actors with speaking parts and filmed on massive sets in the Tunisian desert. Between the large cast, countless props and costumes, and the magnificently constructed set pieces, the massive production cost $25 million. The NBC release of the Italian/American film was also on an epic scale. Starting on March 31, 1985, the miniseries aired in 12 hours over five consecutive nights. Ava appeared in all five episodes.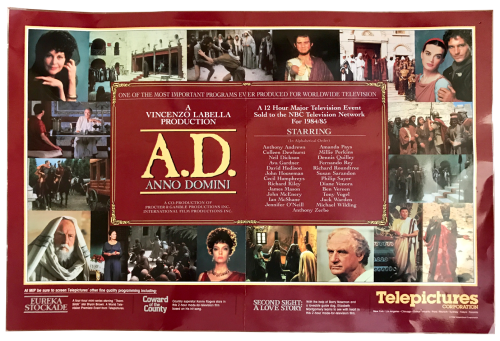 Publicity program for A.D. featuring some members of its large ensemble cast, which included Ben Vereen, Richard Roundtree, Jack Warden, John Houseman, and James Mason.
For her performance in the miniseries, Ava received mostly positive reviews. Upon the show's release, the New York Times television critic John J. O'Connor wrote, "And then there is the truly special appearance, in this instance provided by Ava Gardner as Agrippina, Nero's scheming mama. Miss Gardner, now 62, remains every inch the star."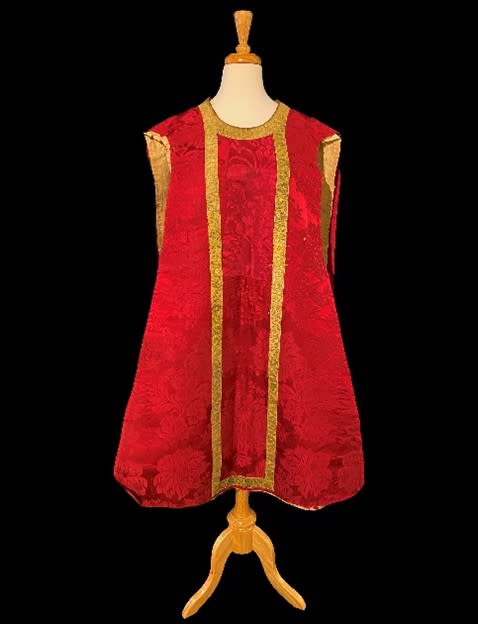 One of Ava's costumes from A.D. The costumes for the miniseries were designed by Enrico Sabbatini, Domenico Moncino, and Giovanni Viti. See more of Ava's costumes and learn more about her television work in this virtual exhibit.
Knots Landing – Primetime Series (1985)
In a rare return to a Hollywood studio, Ava made seven guest appearances in episodes of the primetime CBS soap opera, Knots Landing in 1985. CBS sought Ava out as a "big name" for the nighttime program to compete with other stars like Joan Collins and Linda Evans who were starring on other primetime soaps.
According to Mearene (Rene) Jordan, Ava's friend and assistant, Ava's response was: "Why not? Everybody is watching Dallas or Dynasty, so if I don't do it now I never will." Ava received $50,000 per episode.
She played Ruth Sumner Galveston, the mother of a ruthless lawyer, who was portrayed by William Devane. Rene wrote in her autobiography, Living with Miss G, that Ava was very nervous about working on the soap opera. She recalled that Ava said, "Rene, you know how much I rely on a director, sticking to his coattails, getting to know him. Jesus! Here they use a different director for every episode!"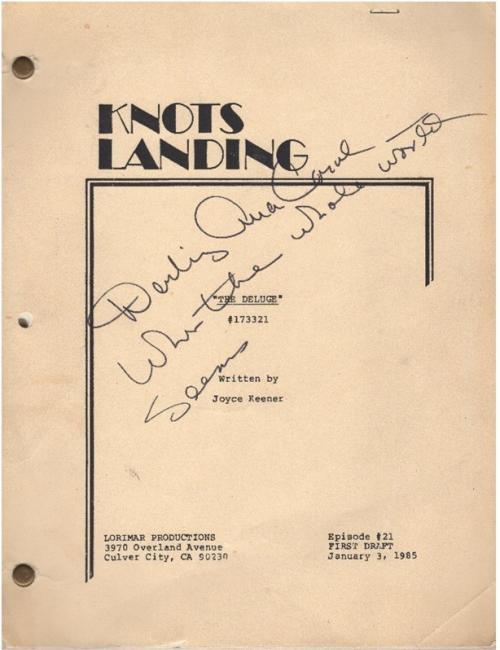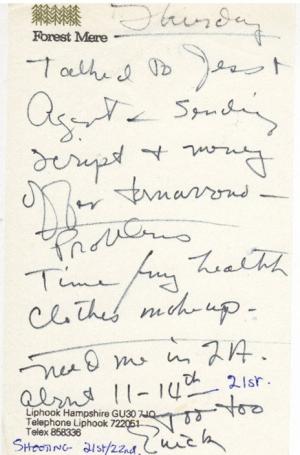 Ava's script from her first appearance as Ruth Sumner Galveston. On loan from Gardner family members Joe and Beverly Creech. Learn more about this item and see other items in our Ava Collections Showcase exhibit through a virtual tour in this Ava Chats episode.
On the cover of Ava's script for the first episode in which she appeared is an unfinished note in Ava's handwriting for her great-niece Ava Creech Thompson. Ava would often send family members mementos, clothes, letters, and other gifts from around the world. The script is dated January 3, 1985, and the episode aired February 28, 1985. The script's pages are dog-eared where she had lines.
Inside the script, there was a note written by Ava:
"Thursday, talked to Jess [Morgan] & agent & sending script & money offer tomorrow. Problems, time/my health, clothes, make up. Need me in LA 11-14th.Too too quick."
The note shows Ava's concerns about agreeing to appear on the show. For all of her concerns and nervousness, her performance on the show was a hit. Knots Landing producer Larry Kasha said of Ava, "She's just wonderful. I can't get over it. She's professional, knows her lines, is very respectful, and very prepared. I love her. She is nothing like the star thing you always hear about. She really is an actress."
The showrunners asked Ava to stay on for a longer arc, but she declined, ready to return to her quiet life in London and her dog Morgan. She told a friend that television series actors have to work very hard, and she was "too old for that sort of thing." She was 62 at the time.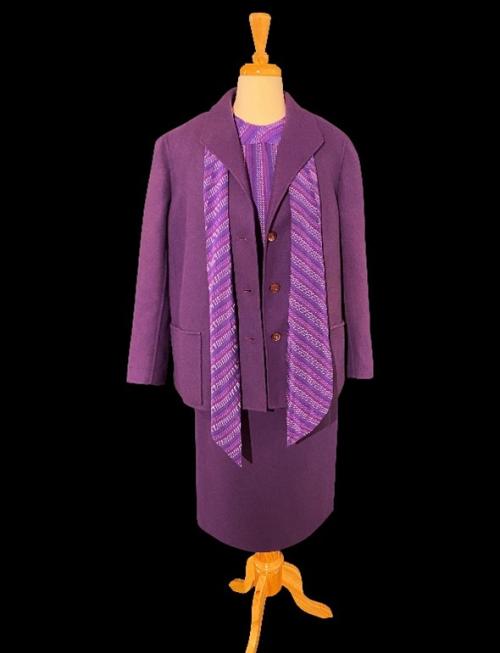 Ava wore this three-piece purple suit for her role in Knots Landing.
The costumes for the show were designed primarily by William Travilla, the man known for draping an Idaho potato sack on Marilyn Monroe for a now-famous snapshot. Travilla worked with Monroe on several of her films, including Gentlemen Prefer Blondes (1953) and The Seven Year Itch (1955). Travilla also designed costumes for the hit TV show Dallas.
Knots Landing aired 344 episodes from 1979 through 1993. The show was a spin-off of another long-running soap opera, Dallas, which aired from 1978 through 1991.
The Long Hot Summer – Television Movie (1985)
Ava starred in this made-for-television movie, based on the novel by William Faulkner, with Jason Robards, one of her favorite stars, Cybill Shepherd, and Don Johnson. Don Johnson presented Ava with a red rose each day during filming.
After her roles in Knots Landing and A.D., Ava was sought after by television producers who saw her as an asset. Ava declined most offers she received; however, she agreed to The Long Hot Summer because she would be starring alongside one of her favorite stars, Jason Robards, and because she was eager to work with the younger talent in the film, Don Johnson and Cybill Shepherd. According to Mearene (Rene) Jordan, before filming Ava told her, "Rene, remember how we used to look at those actors and producers and say, 'But they are so old!' How times alter. Now we look and say, 'Jesus, they are just kids!' About time we thought of quitting." Ava was paid $160,000 for the role.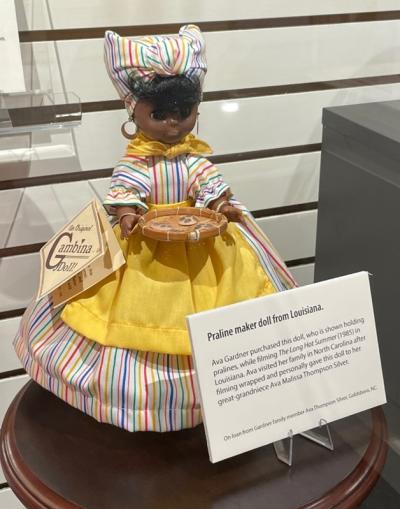 Ava Gardner purchased this doll, who is shown holding pralines, while filming The Long Hot Summer (1985) in Louisiana. Ava visited her family in North Carolina after filming wrapped and personally gave this doll to her great-grandniece Ava Malissa Thompson Silver. On loan from Gardner family member Ava Thompson Silver. See more items from collectors around the world in our Ava Collections Showcase exhibit at the Museum or in a virtual tour in this episode of Ava Chats.
Filming took place in Thibodaux, Louisiana and Marshall, Texas. Ava didn't fully enjoy the location shooting as she struggled with the heat, humidity, and bugs in the area. The climate made her feel unwell despite her attempts to keep healthy by staying active during her down time by swimming, playing tennis, and walking. According to Rene, it was the only time Ava had ever tried to pull out of a job. She spoke with the producers and her agent, but unfortunately, by that point it was too late, and she was needed on set. The director did shorten Ava's shooting schedule to allow her to finish her parts of the film ahead of schedule so she could return home to London.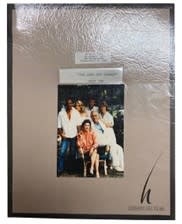 This script for the show was in the collection of Thomas Banks, an Ava Gardner fan whose collection began the Ava Gardner Museum.
Ava had previously worked with the TV movie's director, Stuart Cooper, on A.D. Ava was fond of Cooper, and he was one of the reasons why she agreed to work on the TV movie. Cooper said of Ava's work on the film:
"I wish the part had been bigger, something that she could really get her teeth into, because when you have someone like Ava Gardner around, you want to let her go, let her paint…There is a diamond there. It is special. It can't be taught, and you can't learn it. You either have it or you don't."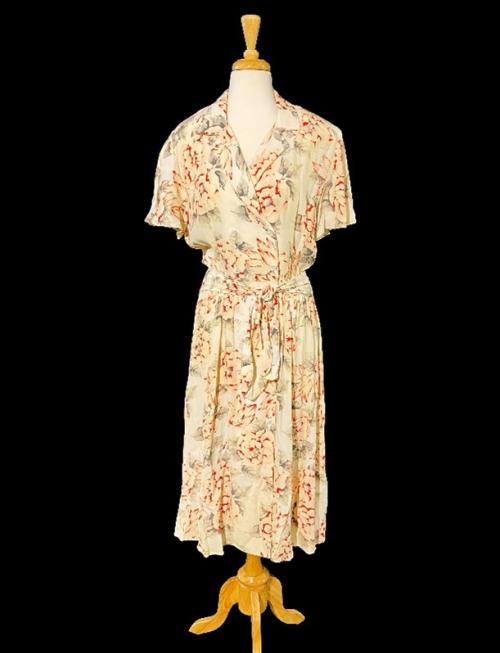 Costumes for The Long Hot Summer, including this floral dress that Ava wore for her role in the TV movie, were designed by Shay Cunliffe whose costume credits include recent films 2012 (2009), The Bourne Legacy (2012), Self/less (2015), and the television show Westworld (2020).
Harem – Television Movie (1986)
In this television movie, Ava portrayed Kadin, the Sultan's wife. Ava's appearance in Harem was her final film role. Ava starred in Harem with Omar Sharif, her former costar in Mayerling (1968), Sarah Miles, her co-star in Priest of Love (1981), Nancy Travis, and Yaphet Kotto. The TV movie aired over two nights on ABC.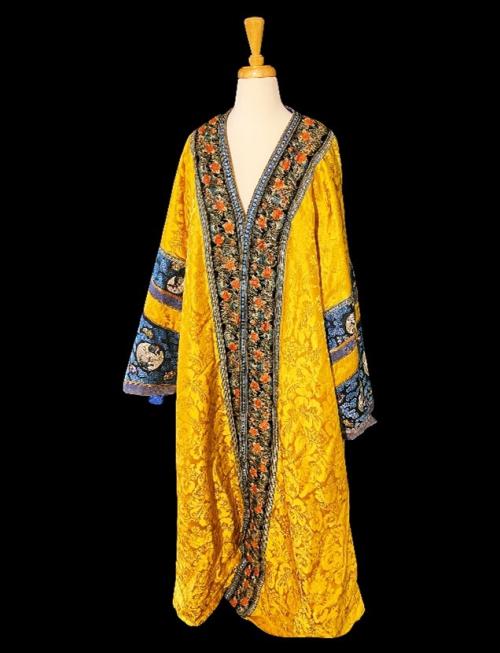 The Ava Gardner Museum has several of the elaborate, colorful costumes for this film in our collection, including this full-length robe with intricate embroidery and vivid details.
Ava was dear friends with her Harem co-star Omar Sharif. Sharif later remembered Ava as his favorite leading lady and "the most beautiful woman" he had ever known.
Costumes for Harem were designed by Yvonne Blake who is known for her work on Fahrenheit 451 (1966), Superman (1978), and Goya's Ghosts (2006).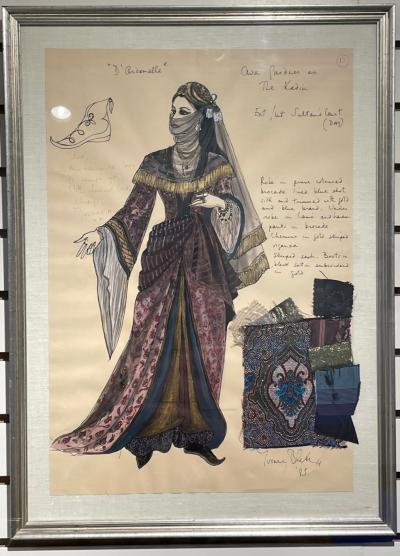 This wardrobe sketch shows one of several elaborate costumes designed by Yvonne Blake for Ava's role as the Kadin in the television movie Harem (1986). On loan from Gardner family member Joe Glenn. Learn more about this item and see other items in our Ava Collections Showcase exhibit through a virtual tour in this Ava Chats episode.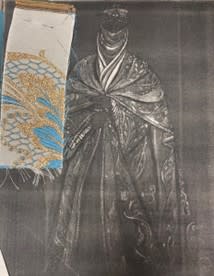 This copy of a costume sketch from the television movie Harem has swatches of fabric material attached. This behind-the-scenes look at film costume planning belonged to Thomas Banks, an Ava Gardner fan whose collection was the original basis for the Ava Gardner Museum.
Maggie – TV Pilot/TV Movie (1986)
Ava Gardner had one other television project in her later years, a pilot she filmed with her friend Stefanie Powers for a television show entitled Maggie. Despite Ava's concerns about appearing in a regular series, she agreed to film the pilot in 1986. CBS ultimately did not pick up the pilot for production of the series; however, it was aired instead as a TV movie in July of 1986.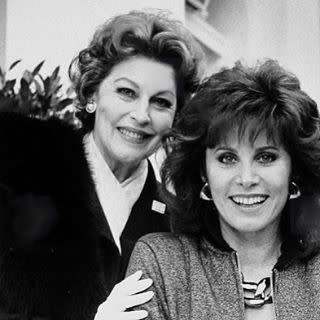 Ava Gardner with her friend and Maggie costar Stefanie Powers.
Ava's time in television was short, but she brought the skills and professionalism of a seasoned actress to all of her television roles. She chose primarily to work in the medium via television movies and miniseries, which were more similar to the film production she was accustomed to. However, she was sought out for these roles as her name and star power still carried weight 40 years after her Hollywood breakthrough.