Greetings from the Ava Gardner Museum! The staff and board of directors of the Ava Gardner Museum wish you all very happy holidays.
It's been a very busy time here at the AGM, and we'd like to update you on the 2022 Festival as well as some upcoming events.
Ava Gardner Festival Recap
The Ava Gardner Centennial Celebration, held in October, was a huge success and a great time was had by all. We had hundreds of Ava fans here for the weekend, and we all enjoyed getting to know each other face-to-face instead of the usual virtual connections.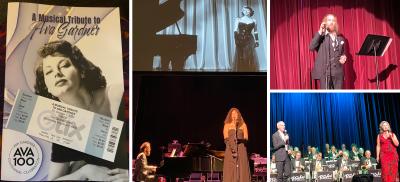 The weekend started with "A Musical Tribute to Ava Gardner." The concert was phenomenal with guest performers John Arthur Greene and Angelique Alexander performing Frank Sinatra and Ava Gardner songs respectively and the talented Jonathan Levin presenting a medley of songs featured in Ava's films. All that, plus the sounds of the big band era performed by the NC Revelers Orchestra made for an entertaining and enjoyable evening.
Before the musical tribute, we had a reception for concert-goers, which included a special 100th birthday cake in honor of Ava. This was, of course, a coconut cake inspired by the family recipe used for Ava's birthday every year.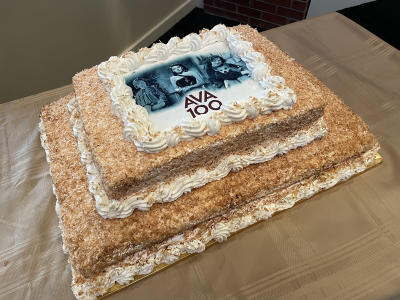 The next day started with an official proclamation from North Carolina Governor Roy Cooper declaring October 8, 2022, as "Ava Gardner Museum Day." We also officially debuted our two, brand-new exhibits – "Love and Marriage: Ava's Husbands" and "Ava Collectors Showcase." The rest of the weekend was full, with the mural and rose garden dedication, heritage bus tours, watching three of Ava's films shown in a local movie theatre, a special talk by Ava's great-niece Ava Thompson, wine tastings, tours of the Museum and new exhibits, and lots of animated conversations with other Ava fans.
For more details about the 2022 Ava Gardner Festival activities, check out our recap here. 
Ava 100
Several upcoming events are planned to celebrate Ava's 100th birthday on December 24th. We are honored to share that Ava is the Turner Classic Movies "Star of the Month," with four Thursday evenings in December being dedicated to programming featuring Ava's films. During this tribute, we're collaborating with the TCM social media team all month long to share special content on social media including artifacts and videos.
On December 16th, the AGM will welcome Karie Bible, host of the web show "Hollywood Kitchen," for a special presentation live from the Museum. Karie will be preparing Ava's coconut birthday cake and will be joined by our own board member and social media specialist Lora Stocker along with Ava's great-niece Ava Thompson to talk about Ava and the Museum. You can watch this "Hollywood Kitchen" episode live at 3pmET on Karie's Facebook page.

Other News
The U.S. premiere of the play Ava Gardner: The Secret Conversations, based on the 2013 book by Peter Evans and Ava Gardner will open on April 4, 2023, at the prestigious Geffen Playhouse in Los Angeles. Elizabeth McGovern, who wrote the play, stars as Ava. You don't want to miss this special performance! Learn more here.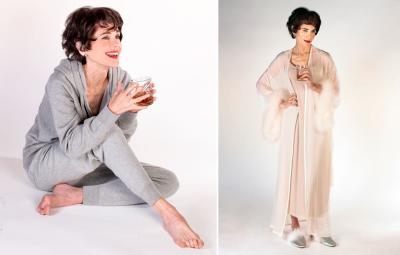 Gift Shop
Our gift shop is teeming with new items! We have just received the brand-new Goddess Blend coffee from Breakfast at Dominique's, inspired by Ava. We have all had a chance to try this new blend, and, if you are a coffee lover, or know someone who is, it is smooth and strong just like Ava! It also makes a great gift!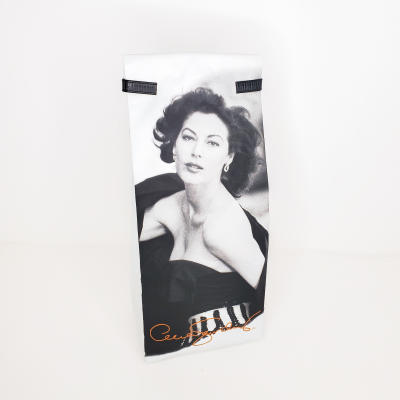 Speaking of gifts, be sure to check out our 2022 Holiday Gift Guide and all of our new merchandise for something unique for that classic movie fan in your life. Shop our online gift shop here.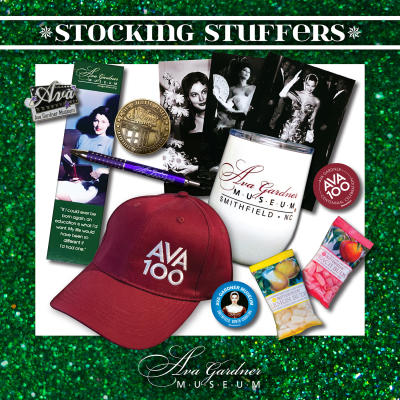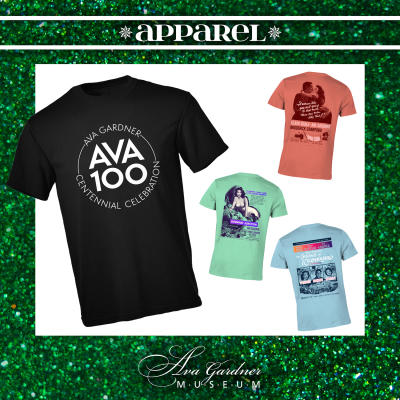 Thank You
We have so many people to thank this year! To our Centennial Celebration sponsors, it is with your support that we were able to make the 2022 Ava Gardner Festival such a remarkable and special weekend. To the attendees of the festival, thank you for taking time out of your lives to come all the way to Smithfield, NC, and celebrate with us. To our Ava Advocates, your ongoing support enables us to do what we do every day of the year to honor and remember Ava's life and career. And to all of the Ava fans around the world, we appreciate you!
We hope you and yours are having holidays filled with fun, food, and love and that you all have a fabulous New Year! You can contact the museum by calling 919-934-5830 or emailing us at avainfo@avagardner.org. Please stay connected with us for the latest updates on our social media, blog, and website as we continue to celebrate Ava's 100th birthday throughout 2023!