While no major biopic film about Ava Gardner's life has been made yet, Ava Gardner has been depicted in films and television series by several different actresses over the years. Each portrayal has focused on a different aspect or time in Ava's remarkable life, from her personal relationships to her time abroad. Almost all of the actresses who have played the character of Ava Gardner have spoken of their hesitation on taking on the role of such an iconic star; however, each representation has strived to capture Ava's unique personality and passionate approach to life.
The Aviator (2004) – Kate Beckinsale
Kate Beckinsale portrayed Ava Gardner in The Aviator (2004), the biopic film about billionaire aviation tycoon and movie magnate Howard Hughes from Director Martin Scorsese. Hughes and Ava had an off-and-on-again friendship for over twenty years. The film, which stars Leonardo DiCaprio as Howard Hughes, focuses on Hughes' aviation pursuits including the development of the H-4 Hercules flying boat (also known as the Spruce Goose). Following Hughes' life in the years between 1927 and 1947, the film doesn't focus intently on Hughes' relationship with Ava Gardner, the two not meeting until the 1940s. The film does alter the timeline somewhat so that Hughes meets Ava sooner. While the film shows their relationship with more romance than Ava herself recounted in her autobiography, it does accurately capture the ways in which Hughes doted on Ava, lavishing her with gifts, nights out, and travel. The film has been criticized for leaving out Ava's point of view, including her allegations of violence. However, it does depict much of the essence of the relationship as Howard relentlessly pursued a resistant Ava for many years.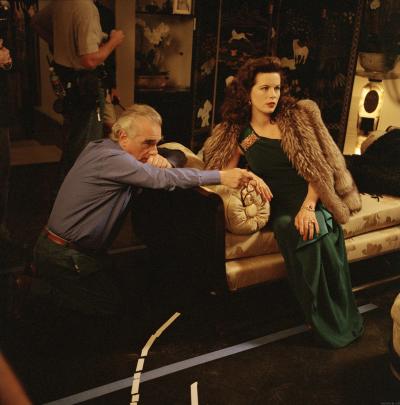 Martin Scorsese directing Kate Beckinsale as Ava Gardner on the set of The Aviator (2004). (Image Credit: Warner Brothers/Miramax, 2004.)
As for Kate Beckinsale, she had this to say about Ava Gardner: "She was this very passionate, fiery, feisty woman, and she just had a lot of warmth and a lot of strength at the same time – a lot to play. She was like one of the guys." Beckinsale prepared for the role by gaining twenty pounds ("It was quite fun. It was a shame to lose it, really.") and watching Ava Gardner films in order to work on her voice. "I rented a bunch of movies of her. I locked myself in a small, padded cell with that and the description. It was great. I love all that stuff – that's the fun part of my job."
Beckinsale found the character of Ava Gardner to be somewhat challenging due to the emphasis in most scenes placed on Ava being the most beautiful woman in the world. Beckinsale said of that lofty label, "It does give you a lump in the throat." She also found the audition in front of co-star Leonardo DiCaprio and the film's director Martin Scorsese to be intimidating.
"It was one of the auditions I most dreaded because you think you don't want to be in front of people that you admire and think are really talented. It turned out to be one of the auditions I enjoyed most of my life. It was fun work, and after a while, I forgot about the audition side of it, and we had fun in the scenes."
The film received mostly positive reviews, especially for DiCaprio's acting and Martin Scorsese's direction. The Aviator received eleven Academy Award nominations, winning five.
To learn more about the film's portrayal of Howard Hughes and Ava Gardner, read these articles.
To discover the real story of the relationship between Hughes and Ava, visit our virtual exhibit about the pair.
Sinatra (1992) – Marcia Gay Harden
In 1992, Marcia Gay Harden played Ava Gardner in the CBS miniseries Sinatra. The series tells the life story of Frank Sinatra, Ava Gardner's third husband and the love of her life, from his childhood through 1974. Sinatra's youngest daughter, Tina Sinatra, developed the series and served as executive producer. Frank Sinatra himself also approved of the series.
In an interview about her role, Harden said that Gardner, who was Frank's second of four wives, was "the love of Frank's life." She went on to say: "They went over the top with each other…they fought so much, they eventually fought their way out of love."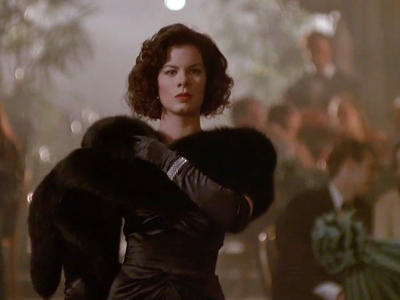 Marcia Gay Harden as Ava Gardner in Sinatra. (Image Credit: CBS, 1992)
Like Kate Beckinsale, Harden was initially intimidated by Ava's renowned beauty, and she worried about capturing Ava's legendary looks and personality on screen. She said, "They ended up doing a lot of makeup work on me." Of her performance, Harden said: "Sometimes I thought, 'Oh, Marcia, this is just extraordinarily bad acting on your part – all this breathy, nostril-flaring stuff you're doing.' But at times I really got caught up in her and the story and believed it all."
Harden was director James Sadwith's first and only choice to depict Ava in the miniseries. The director said of the audition process: "We had actresses more glamorous than Marcia Gay Harden, but from the first I knew I wanted her. I had seen her in 'Miller's Crossing,' thought she was pretty good, and thought she was terrific in 'Broad Daylight.' We had other women walk in, so gorgeous they made you want to fall over." Despite the large amount of competition for the role, Harden remained the director's top choice.
The series was nominated for seven Emmy Awards, winning two, and two Golden Globe nominations, winning one.
Read more about Sinatra, the series:
To learn more about Ava and Sinatra's passionate relationship, read our blog post about their marriage.
To take an even deeper dive into Ava's three, high-profile marriages, watch our episode of Ava Chats all about "Ava in Love."
The Rat Pack (1998) – Deborah Kara Unger
Deborah Kara Unger portrayed Ava Gardner in a supporting role in HBO's 1998 film The Rat Pack, about the legendary group of entertainers that in the 1960s included Frank Sinatra, Sammy Davis Jr., Peter Lawford, Dean Martin, and Joey Bishop. The film's focus is on the 1960s, after Ava's marriage to Sinatra had already ended and thus Unger's time on screen as Ava is brief.
Critic Tom Shales' review of the film for the Washington Post praised Unger's depiction of Ava Gardner as a highlight: "Next to Mantegna's Dean Martin, the most uncanny impersonation in the picture is Deborah Kara Unger's brief knockout performance as Ava Gardner, Sinatra's one true love who taunts him sexily with a sultry toreador dance in the bedroom."
The film starred Ray Liotta as Frank Sinatra, Don Cheadle as Sammy Davis Jr., Joe Mantegna as Dean Martin, Angus Macfadyen as Peter Lawford, and Bobby Slayton as Joey Bishop. It received mixed reviews for what critics called "uneven performances," but it was nominated for several Emmys, winning three, and two Golden Globes, with Don Cheadle winning for his performance as Sammy Davis Jr.
Learn more about The Rat Pack:
Arde Madrid (2018) – Debi Mazar
Debi Mazar starred as Ava in Arde Madrid (Burn Madrid Burn), a Spanish television series inspired by Ava Gardner's life in Spain. The comedy-drama viewed Ava's life in Madrid through the eyes of her maid and chauffeur. The show used artistic license to imagine that Ava's staff were actually spies for Francisco Franco, the dictator who led Spain from 1936 to 1975. Ava Gardner lived in Spain from 1956 to 1968 before relocating to London until her death in 1990.
The show is not really a true biopic even though it features several real-life people from Ava to her Spanish neighbor, former Argentinian dictator, General Juan Perón. However, the show's creators did aim to interpret the character of Ava accurately. Anna Rodriguez, the show's co-screenwriter, described the considerable preparation that went into the series: "The research work turned most specifically on Ava Gardner, what she was like, how her life functioned. She was a person who almost always lived alone, so those who worked for her were a great support. So we used biographies of Ava Gardner, her films, Hollywood films in Madrid, Madrid's society, music, everything about the time."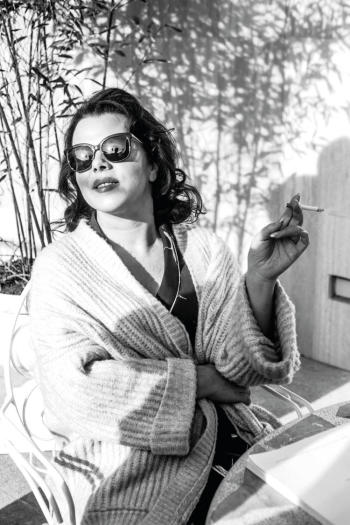 Debi Mazar as Ava Gardner in Arde Madrid. (Image Credit: Movistar+, 2018)
Director Paco León adds, "We wanted to avoid a biopic on a public figure, to default to the anecdote, to find her point of view. We also went for a premise that was difficult to comply with, but one which I think gives character to the series. Viewers don't see or hear anything that the servants don't see or hear. It was very complicated. And the same happens for Ava."
Debi Mazar also extensively prepared for the role in an effort to represent Ava authentically. Mazar learned Castilian Spanish, studied up on Ava's life, and moved to Madrid temporarily. While Mazar "never particularly wanted to play someone who was so iconic" she found Arde Madrid to be "so well written, so original…It's so good and for me, it's a real departure." Of her performance as Ava she said, "She was a full-spirited girl, and it comes across. I think I did her some justice."
The series was critically acclaimed with reviewers, who especially found Mazar's portrayal of Ava "hypnotic," "vibrant," and "stand-out." Arde Madrid was nominated for several Spanish and international television awards, winning the Rose d'Or for Best Comedy Drama and Sitcom and Ondas award for Best Spanish Series. Mazar also won a Feroz award for best supporting actress in a series, the Spanish equivalent of the Golden Globes, for her portrayal of Ava.
Learn more about Debi Mazar as Ava and the series Arde Madrid by visiting these links:
Debi Mazar on Live with Kelly and Ryan  
Introducing Dorothy Dandridge (1999) – Jon Mack
Jon Mack portrayed Ava Gardner in a small role in the 1999 HBO biopic Introducing Dorothy Dandridge. The television film was based on the biography of Dorothy Dandridge written by Earl Mills and starred Halle Berry as the trailblazing African American actress, singer, and dancer. Ava Gardner was a friend and contemporary of Dandridge, and Mack depicts her briefly on the screen in that context. The scene shows Ava with Dandridge and Marilyn Monroe under a piano at a Hollywood party.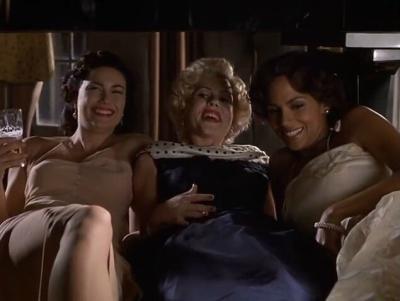 A scene from Introducing Dorothy Dandridge featuring portrayals of (left to right) Ava Gardner, Marilyn Monroe, and Dorothy Dandridge. (Image Credit: HBO, 1999)
Berry's performance in the film was universally heralded by critics and the television movie received nine Emmy nominations, winning five, and three Golden Globe nominations, winning one. Berry won the Emmy for Outstanding Lead Actress in a Miniseries or a Movie, the Golden Globe for Best Performance by an Actress in a Mini-Series or Motion Picture Made for TV, and the SAG award for Outstanding Performance by a Female Actor in a Television Movie or Miniseries.
Learn more about the Dorothy Dandridge biopic:
Read more about Dorothy Dandridge on our blog. 
Walter Chiari – Fino all'ultima risata (2012) – Anna Drijver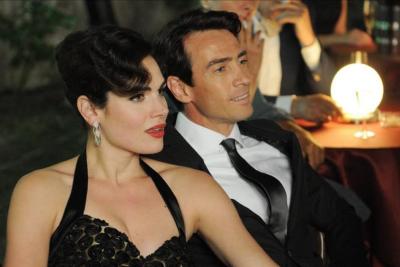 Anna Drijver as Ava Gardner and Alessio Boni as Walter Chiari in the television miniseries about Chiari's life. (Image Credit: Casanova Multimedia/Rai Fiction, 2012)
In 2012, Anna Drijver played Ava Gardner in the television miniseries about the life of Italian actor Walter Chiari, who Ava dated in the late 1950s and early 1960s. The series, which aired in two parts on the Italian channel Rai 1, received mixed reviews.
This post is a contribution to Hometowns to Hollywood's Biopic Blogathon.