In honor of Black History Month, we are celebrating some of Ava Gardner's African-American contemporaries and friends from the studio era. We are also sharing some of Ava's personal experiences and relationships which shaped her into a lifelong supporter of equal rights.
In her 45-year career, Ava worked with many Black actors and performers including Clarence Muse, William Warfield, Ben Vereen, Cicely Tyson, and Richard Roundtree, just to name a few. A lifelong music lover, she counted artists like Roy Eldridge, Phil Moore, and Sammy Davis, Jr. among her friends. Two stars in particular, Dorothy Dandridge and Lena Horne, were her close personal friends and appeared in Hollywood films at roughly the same time as Ava. Their careers were limited by the racial discrimination of the time while Ava's was not, but, despite societal challenges, these women were trailblazers, accomplishing much and giving acclaimed performances that have stood the test of time.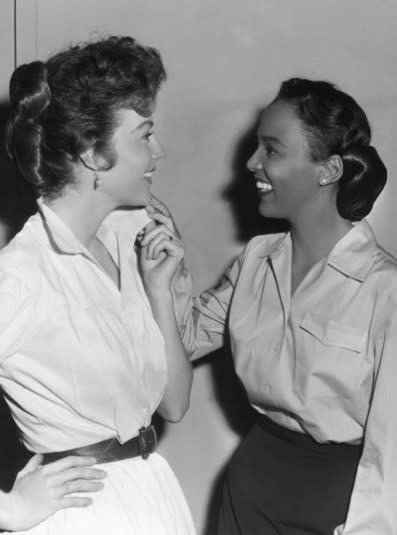 During the contract system, the studios controlled the public images of their stars. Because of potential negative reactions from Southern audiences in the age of segregation, it was viewed as improper for whites to socialize on equal footing with African Americans. Interracial friendships, even between people in the same profession, were underreported by media outlets and rarely photographed. However, this 1953 photo of Dandridge visiting Ava on the set of Ride, Vaquero! while she was working on the MGM film Bright Road still survives.
Dorothy Dandridge began her entertainment career in a song-and-dance act alongside her older sister Vivian. The group later morphed into The Dandridge Sisters, which included a third member, schoolmate Etta Jones. After a series of headlining performances at nightclubs like the Cotton Club, the group received offers from Hollywood. They were featured in a series of stand-alone performances in a series of films during the 1930s, including The Big Broadcast of 1936 (1936) and A Day at the Races (1937).
After The Dandridge Sisters went their separate ways, Dorothy continued singing and dancing on stage and appearing in small film roles throughout the 1940s. She received her first credited screen role in 1940's Four Shall Die. Her big Hollywood break came in 1952 when a scout for MGM saw her act at the Mocambo nightclub. The studio ultimately cast her in her first leading role, as Jane Richards in Bright Road (1953). The following year, she made a splash as the titular character in the 20th Century Fox release Carmen Jones. For this role, she was nominated for a Golden Globe and a BAFTA; she became the first Black woman featured on the cover of LIFE magazine; and she was the first African-American actress to receive an Academy Award nomination for Best Actress.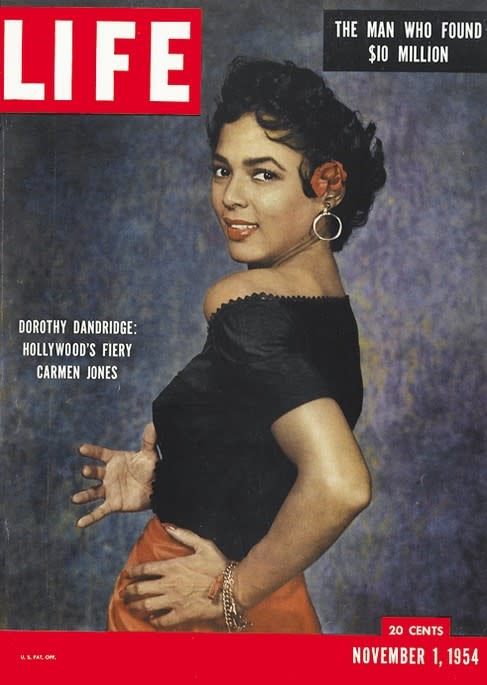 In 1954, Dorothy Dandridge became the first African-American woman to be featured on the cover of LIFE magazine.
Sadly, although she continued to act in films and perform on stage throughout the 1950s and early 1960s, Dandridge was never able to match the success of Carmen Jones. On the evening of September 8, 1965, Dandridge was found unresponsive in her hotel room. She died of an alleged accidental drug overdose at the young age of 42.
Like Dorothy Dandridge, Lena Horne got her start singing and dancing on the stage. After stints in notable New York nightclubs like Café Society and the Cotton Club, Lena made her way to Hollywood. When she inked a seven-year contract with MGM in 1942, she became the first Black actress in more than 25 years to sign a studio contract.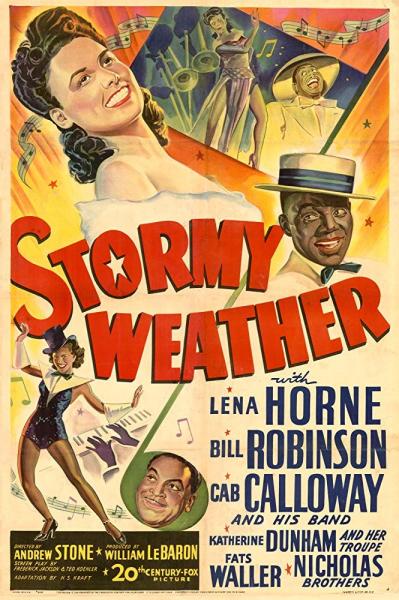 Lena Horne was prominently featured on this poster for the all-Black musical film Stormy Weather (1943).
At the time, film censors in Southern states banned movies that depicted people of color in equal social situations with whites. A deeply principled person, Lena refused to play any role she considered demeaning or perpetuating negative stereotypes. After successfully starring in two all-Black musicals in 1943, MGM's Cabin in the Sky and Stormy Weather from 20th Century Fox, Horne was mainly relegated to stand-alone segments in musical films. These sequences showcased Lena's immense vocal talent and glamorous persona, but they were not critical to the storyline of these films. Regional distributors would remove these featured musical numbers before the films screened for Southern audiences.
In 1946, Horne was cast in MGM's Till the Clouds Roll By, a musical biopic loosely based on the life and career of Broadway composer Jerome Kern. The all-star cast featured some of MGM's top talent of the time – including Judy Garland, Frank Sinatra, Tony Martin, Kathryn Grayson, and June Allyson. In a 15-minute segment highlighting Kern's most successful and ground-breaking stage production, Show Boat, Horne played her dream role of Julie LaVerne, singing the song "Can't Help Lovin' Dat Man." Like her other musicals of this period, her numbers in Till the Clouds Roll By were edited out of the film when it hit theaters in the South. When MGM later decided to produce a lavish, Technicolor remake of Show Boat in 1951, Horne lobbied to reprise the role, but the studio was hesitant to cast a Black actress in the role for fear of Southern backlash, so they ultimately cast Ava Gardner instead.
Horne was a one-time neighbor and lifelong friend of Ava. She even contributed a chapter to Ava's autobiography, Ava: My Story. Addressing the issues around the casting of Show Boat, Horne wrote: "We talked about the nonsense about Show Boat, the fact that she was going to do it, and I wanted it…The [studio's] reasoning behind it made her angry, for my sake. 'Forget it', I'd said. We knew, we understood why it happened. So there was no friction about it. We were both very logical. It was a big laugh."
In her book Living with Miss G, Ava's long-time personal assistant Mearene (Rene) Jordan recalled Ava saying, "Of course, Lena should really have been given the part of Julie in the first place. She's already done a marvelous recording of Show Boat singing Julie's songs. She's perfect for it."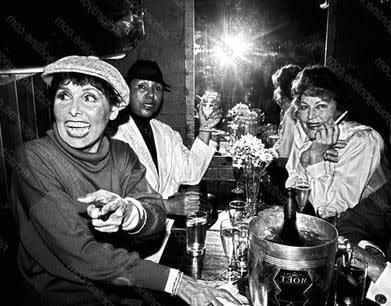 Lena and Ava were friends from the beginning of their Hollywood careers through the rest of their lives. In Living with Miss G, Rene Jordan remembers Ava saying, "[Lena is] one of the most beautiful women in the world, inside and out." In her contributed chapter to Ava: My Story, Lena said, "Ava was like my younger sister; she and I were spiritually akin…[and she] had great inner warmth." Read more about Lena and Ava's close friendship on our blog here.
Ava Gardner's anger at the studio system's mistreatment of Lena Horne was one of many instances when she bristled at the racism of her own time. Ava was reviled by racial injustice from the time she was a little girl. Growing up in the segregated South, Ava regularly broke the societal expectations of the Jim Crow system, sitting with her Black friends in the "colored" section of the movie theater. Early experiences and friendships across racial lines shaped Ava into someone with a lifelong commitment to advocate for equal rights. Throughout her film career, Ava used her influence to support equality via formal and informal means, contributing her time and money to support racial equality causes and standing up for her friends and acquaintances in more personal ways.
In the 1948 presidential race, Ava supported the Progressive Party candidate, Henry Wallace. Wallace outspokenly supported desegregation of public schools and racial and gender equality. He also refused to speak in front of segregated audiences while traveling across America in support of his campaign. During his campaign tour through North Carolina, Ava joined him on the dais at a luncheon in Raleigh at the Sir Walter Hotel and promised to support his campaign. This showing of political support threatened Ava's burgeoning film career. She recalled in a 1985 interview in the New York Times, ''When I appeared for Henry Wallace when he ran for President in 1948 Louis B. Mayer called me in and told me I had to stop. He told me that Katharine Hepburn had ruined her career doing things like that.''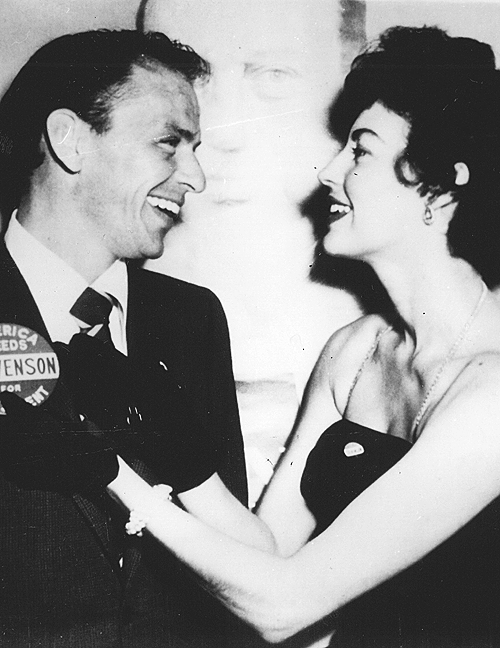 Ava's support of Wallace in 1948 was not her last foray into politics. She also campaigned with then husband Frank Sinatra on behalf of Democratic presidential candidate Adlai Stevenson in 1952. Read more about Ava's political activism on our blog here.
In 1968, Ava became a life member of the National Association for the Advancement of Colored People (NAACP). Her certificate of life membership reads: "This Certifies that Ava Gardner is a Life Member of the National Association for the Advancement of Colored People, having paid the sum of Five Hundred Dollars into the Treasury of the National Office, testifying forever to her Faith in the Cause and Future of the Negro in the United States and in the Foundation Principles of the American Republic." The certificate was issued August of 1968.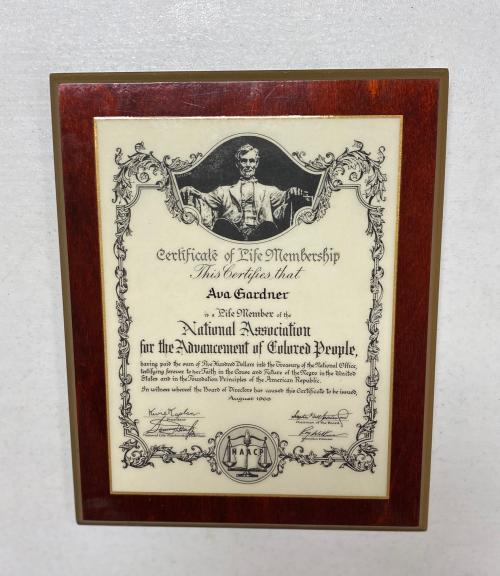 Ava Gardner's NAACP Life Membership Certificate, issued to her in August 1968. The certificate plaque is a part of the Ava Gardner Museum's collection.
In 1969, Ava co-chaired a fundraising event for the Free Southern Theatre, a New Orleans-based organization that provided free theatre for mostly Black communities of the rural South. In a piece in Jet magazine in May 1969, the benefit was profiled in the article entitled, "Southern Theatre Brings Soul Food to Waldorf: Stars Pay $100 Per Plate to Raise $50,000 for FST." Ava co-chaired the event which was the first time the famed Waldorf hotel served soul food and attempted family-style service. It was also the first time Ava organized an event. Her co-chair for the event was Bill Cosby and the event was attended by some of the biggest stars of the day including Sidney Poitier, Harry Belafonte, Duke Ellington, Chico Hamilton, Lena Horne, Diana Sands, Brock Peters, Gregory Peck, Rosalind Russell, Soupy Sales, Lauren Bacall, Liza Minelli, and Muhammad Ali. Performances of the evening included Lena Horne, Duke Ellington, and Liza Minnelli.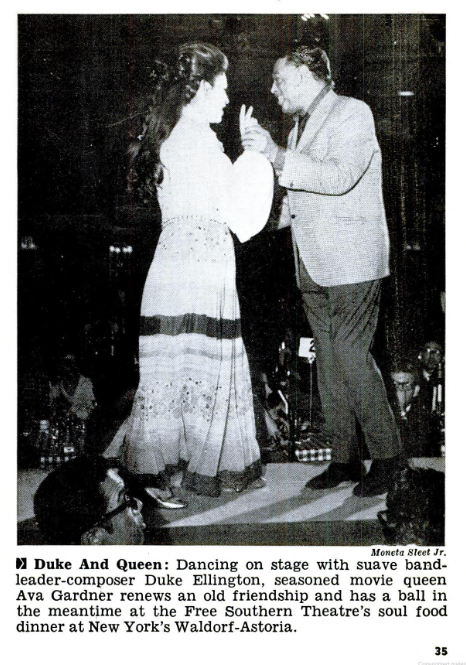 Ava Gardner and Duke Ellington dancing together at the Free Southern Theatre's soul food dinner at the Waldorf, image from Jet Magazine, May 29, 1969.
In addition to these formal shows of support for the cause of racial equality, Ava Gardner regularly flouted social expectations of segregation in her personal life. Ava's personal assistant Rene Jordan was African American, and their working partnership quickly turned into a long-lasting friendship – with the two becoming as close as sisters over the course of their four-decade relationship. Ava said of her in her autobiography, Ava: My Story: "she was also as good a friend as I've ever had…we hit it off from the start and we've spent more years as close companions than I care to think about."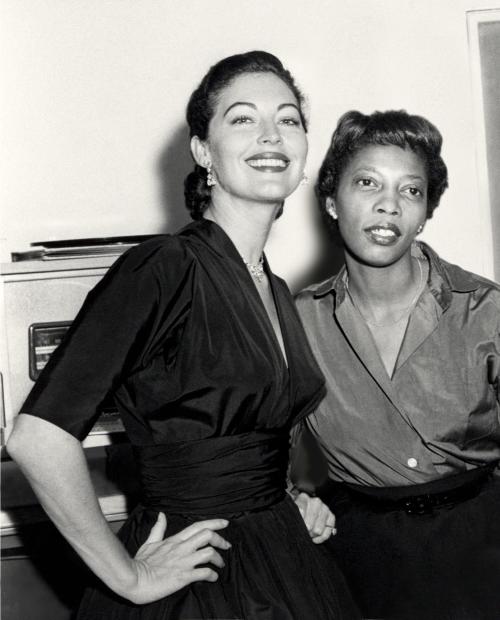 Ava and Rene Jordan, her long-time friend and personal assistant.
Rene said of Ava in a chapter she contributed to Ava: My Story: "She was fun, and very sharing. If I ever made her anything, from a cup of coffee to a martini, she'd say, "Well, where's yours?" She wasn't what we thought of as the stereotypical Southerner. We'd go to clubs during the time before integration, and if they threw me out, she'd leave too. So to keep her, they'd tolerate me."
Rene wrote her own book about her time with Ava called Living with Miss G. In it, she tells personal stories from her own perspective about her life alongside Ava Gardner. She says of first meeting Ava: "I liked Miss G from that very first moment. I suppose when my older sister said for me to go down there and look after that girl, I took that responsibility seriously. For the rest of her life I took it seriously, and she did the same for me."
Rene described the first time she attended a whites-only club with Ava:
"I'll never forget that first jazz joint she took me to in downtown L.A. She was known there and in a lot of other places too because Artie Shaw was rated as a species of saint in those quarters. We slipped in and sat in the back. The décor was a sort of black – you couldn't see much – and I hoped nobody could see me as I knew what would happen…Then the big, tough, tuxedoed waiter spotted me and started to beam in, and I thought, "Uh-oh!" … He let his eyes talk: "Leave now or get thrown out." He gave my white side-kick a glance, saw it was female, and hesitated, especially as it was giving him a real hard look with a nasty glint from green eyes."
The waiter recognized Ava and apologized and Ava ordered drinks for her and Rene. Again and again, Ava would use her status to ensure Rene was allowed into the same spaces as herself, to stand up for Rene's inclusion, and to make Rene feel welcome.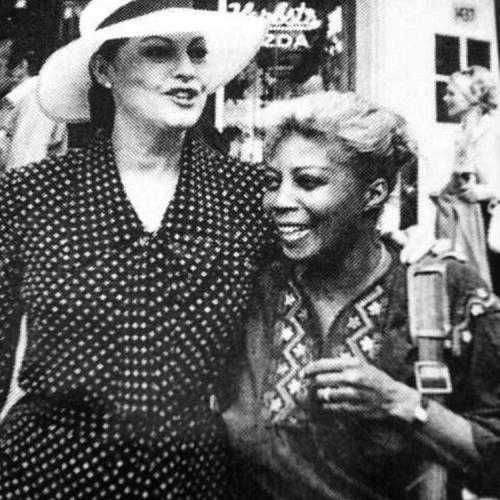 Ava and Rene remained close friends long after their professional relationship ended.
Living with Miss G is full of anecdotes about the relationship between the two women, the heart-to-heart conversations they shared, their friendship and misadventures, and their lifelong bond of sisterhood, even years after Rene no longer worked with Ava.