I am passionate about "bubbly!" My beloved aunt, Ava Gardner, cultivated my taste for great champagne by introducing me to the best that France had to offer. From the time I was a teenager, I was always served champagne just as anyone else at the table. While visiting the finest restaurants and nightclubs with Aunt Ava, she would say, "Bring my Baby a champagne!" Ava got away with it, and no one ever questioned her about my age.
In the beginning, I only took a sip or two but was not impressed. I think now of all the Moët or Cristal that I left in my champagne coupe on the table, and I am very regretful. Over time, I learned to like champagne more and more, and now it is one of my favorite spirits. Thanks to Aunt Ava for my gradual introduction to champagne, I can enjoy it responsibly and appreciate its many layers of deliciousness.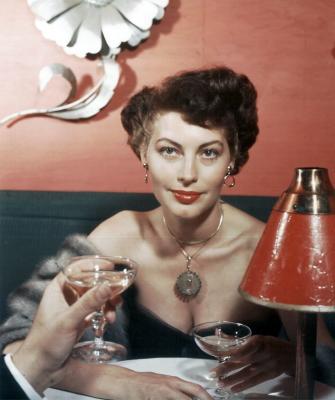 Ava Gardner loved great champagne, often drinking the finest "bubbly" available while enjoying a night out with friends and family.
In late 2019, when the Ava Gardner Trust began collaborating with Seven Jars Distillery and Winery, one of the first beverage products we discussed was a sparkling wine. Outside the Champagne region of France, it must be called sparkling wine even though it may be produced in the very same way with the same exacting standards as products created in France. After an intricate and exhausting search throughout this country, the Trust and Seven Jars finally found one that lives up to the name of Ava Gardner – expertly crafted in the emerging wine region of Lodi, California. It is with great pleasure that the Ava Gardner Trust in collaboration with Seven Jars Winery and Nostra Vita Family Winery introduces the new Ava Gardner Signature Sparkling Wine "Celebration!"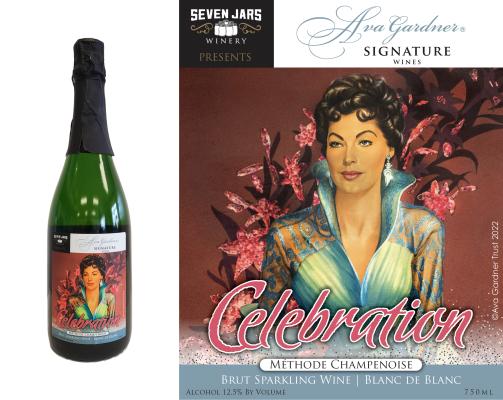 The label for the new Ava Gardner Sparkling Wine "Celebration" showcases the captivating artwork of Bert Pfeiffer, an avid Ava fan and portrait artist. Many of Pfeiffer's paintings of Ava are now part of the Ava Gardner Museum permanent collection.
Tasting Notes and Serving Recommendations
"Celebration" is a Brut style sparkling wine, which means everything you taste is coming directly from the vineyard, with very little intervention by the winemakers. Using 100% chardonnay grapes from their Clements Hills vineyard in Lodi, CA, Nostra Vita Family Winery meticulously crafted our Ava Gardner Sparkling Wine using the labor-intensive Méthode Champenoise process. Just as in France, the method takes a beautiful wine through secondary fermentation in the bottle.
This wine is dry and has a creamy texture. The chardonnay grapes and the fermentation process create a toasty bouquet of fruit and yeast from aging over 12+ months in the bottle. The sparkling wine's suppleness finishes mid-palate with a bright, crisp impression. Tiny bubbles signify the exceptional quality of this product, and it never fails to deliver in both flavor and aroma.
For me personally, this delicious tasting sparkling wine awakens all of my senses. I am mesmerized by the tiny, fast-moving bubbles. Remarkably, a single bottle of "Celebration" could have an estimated five million bubbles. The smaller the bubbles, the higher the quality. Before sipping, I always take a minute to watch and enjoy the "dance of the bubbles." In addition to the bubblies, I also love the color. The subtle shade of soft, pale yellow indicates to me the exceptional quality of this sparkling wine. Held up to the light, it truly sparkles and gleams!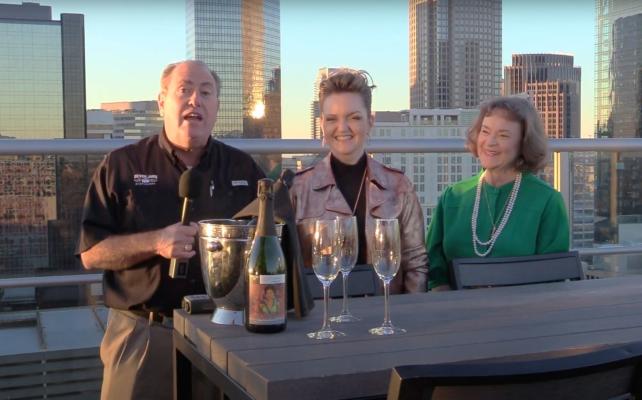 The Co-Trustees of the Ava Gardner Trust, Ava Thompson and Ava Malissa Silver, recently joined Del Ratcliffe, Managing Partner of Seven Jars, to discuss the inspiration and development of the new Ava Gardner Sparkling Wine. To hear more about "Celebration," watch their chat on the Ava Gardner Museum's YouTube channel here.
After admiring the bubbles and color, I like to enjoy the very pleasing aroma. I always sniff before sipping, so I recommend hovering over the glass and letting all the unique aromatic notes of nature wash over you. Although there are many layers, I detect strong notes of apples and stone fruits like peaches. Others who have enjoyed a glass of Ava's French-style sparkling wine have noticed aromas of citrus, herbs, tropical fruits, honey, florals, and even minerals.
Being Brut, Ava's sparkling wine is not too sweet or too sour. It is mellow on the palette with no bitter or heavy alcohol taste. I think it strikes the perfect balance! I personally recommend taking tiny sips to enjoy all the complexities that come through each successive sip. This is a sparkling wine to linger over and savor for all its layers of aroma and flavor!
Some like to serve sparkling wine with a charcuterie board. I like to complement my glass of Celebration with either a simple pairing of various nuts and dried fruit or some artisan chocolates. In my opinion, there is nothing better than a glass of chilled sparkling wine with a piece of delicious chocolate!
Remember, while it is fun to open a bottle of "bubbly" with a big pop, it loses lots of bubbles with such a powerful burst. Under the pressure of 70 to 90 pounds, it is much better to open a bottle of sparkling wine by placing a towel over the cork, after the foil and wire net have been removed, and ease it out of the neck of the bottle by gently twisting the bottom of the bottle. You want to remove it with just a whisper.
Toast to Ava
Ava Gardner was a cheerful, happy person, and she felt that a little bubbly added extra joy to any occasion. Like Ava, I think there is a reason to celebrate the joy in life every day. It only seemed right that the Trust and Seven Jars named Ava's bubbly "Celebration" since we are in a year-long celebration of her 100th birthday. My daughter, Ava Silver, and I, are proud to be the co-trustees of the Trust that Ava Gardner herself established. We endeavor to license only those products that are authentically Ava Gardner. I have no doubt that Ava would love her French-style sparkling wine "Celebration!"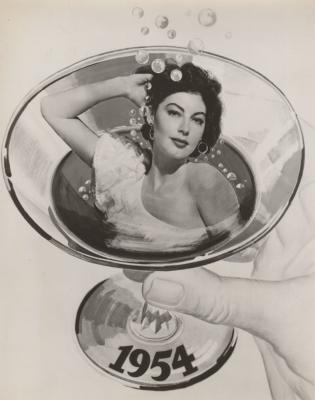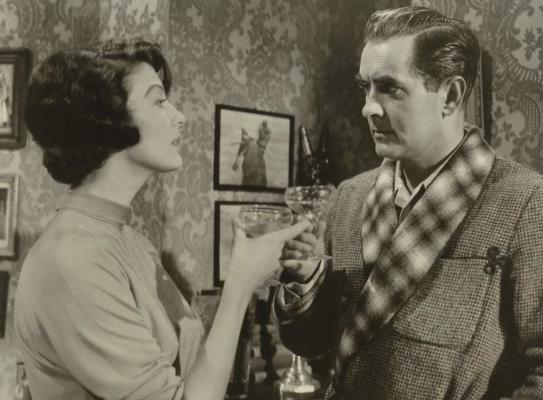 Just like in her real life, Ava often portrayed characters on screen and in promotions who enjoyed champagne, as can be seen in this 1954 New Year's Eve promotional image from MGM (left) and this 1957 production still from The Sun Also Rises (right).
We, along with all of our wonderful friends at Seven Jars and Nostra Vita, wish you many joyful celebrations in the months and years ahead. Join us in raising a glass to Ava Gardner, and, like her, let's be thankful for all of life's joyful, precious moments. Don't just mark a special occasion with a bottle of Ava's French-style sparkling wine, enjoy it more often to celebrate life's small accomplishments.
To get your own bottle of the Ava Gardner Signature Sparkling Wine "Celebration" visit the gift shops at the Ava Gardner Museum in Smithfield, NC or the wine shop at Seven Jars in Charlotte, NC for all in-person purchases. Shipping is also available directly from the Seven Jars online store at sevenjars.com.