A mural of Ava Gardner was proposed at the very first planning meeting for the Ava 100 Centennial Celebration over a year ago and has been in the works ever since. Our first order of business was to choose a muralist that could bring Ava's beauty and essence to life on a large canvas to be installed on the outside wall of the Museum. We looked at many artists' work, always keeping in mind that the most important detail would be Ava's face. We interviewed four muralists and decided on Brian "Jeks" Lewis, an artist from Greensboro, North Carolina, who has painted remarkable murals of Andy Griffith, Aretha Franklin, LeVar Burton, Marilyn Monroe, and many others. Seeing his work convinced us that he was the right person for the job.
The board of directors and I met many times to discuss the mural and the message we wanted to convey. We wanted to celebrate Ava's 100th birthday in a big way, and a mural of "snapshots" throughout the years seemed the way to do that. We wanted to tell a story with the mural by selecting pictures of particular milestones in her life. The pictures were meant to represent the trajectory of Ava's life, starting with her discovery and ending with her living a quiet, happy life in London with her beloved corgi, Morgan. After we decided to do a mural for her centennial, I asked the board of directors to pick two or three of their favorite images of Ava. Although we have thousands of pictures of Ava and many, many options were submitted, there were a few favorites that enabled us to narrow it down.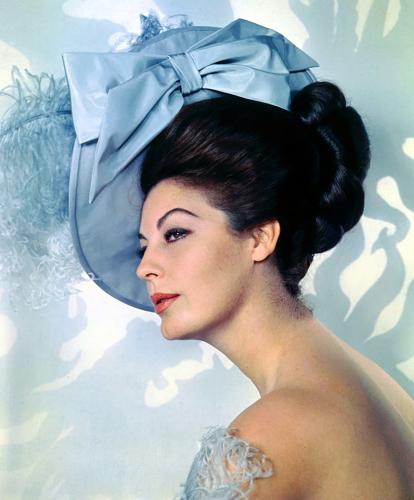 By the 1960s, Ava was no longer under contract and in complete control of her career. She was selective in the films she made and only worked on projects that truly interested her. Famed fashion photographer George Hoyningen-Huene shot a series of elaborate portraits of Ava Gardner as the character of Baroness Natalie Ivanoff in the 1963 period drama 55 Days at Peking. The dynamic lines and distinctive costume in this photograph perfectly fit artist Jeks' vision for the important, central image in the Ava Gardner mural. 
The hardest part was the centerpiece of the mural. After working on at least four different versions, with many different background options, our artist Jeks came up with a photograph of Ava in the 1963 film 55 Days at Peking by photographer George Hoyningen-Huene. He liked that the image was a profile view of Ava that offered the interesting focal point of her large blue hat. This color photography contrasted with the rest of the images, which are all in black and white and forward facing. We also liked that this image represented a more mature Ava, in keeping with the theme of telling the story of her life and career in pictures. Right at the end, Jeks added the blue feather on the hat, which was not in his original design but was in the source photo.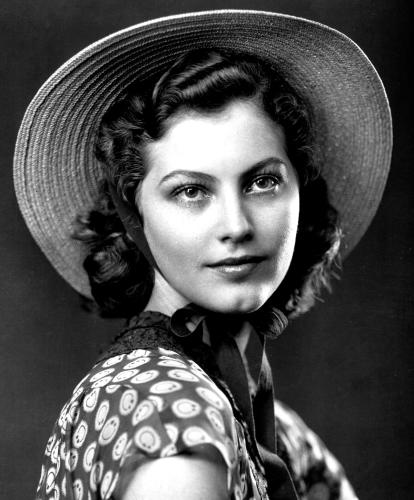 Although only a teenager when this photograph was taken by her brother-in-law, Larry Tarr, Ava Gardner had already developed the captivating features and striking good looks that would launch her entertainment career. Ava's oversized straw hat with ribbon in this portrait reflects the "Southern belle" aesthetic that was sweeping the country in the late 1930s as a result of the massive popularity of Gone with the Wind.
The portraits of Ava in the mural start with what we call the "Discovery" photo. This photograph was taken when Ava was 16 and visiting her older sister, Bappie, in New York City. Bappie was married at the time to a photographer named Larry Tarr, and he took some shots of the photogenic teenager as a gift for her mother, Mollie. One year later, after Larry posted one of the photos in his photography studio window, a young man who worked for Loew's walked in pretending to be a talent scout for MGM Studios (then a subsidiary of Loews). He didn't get the phone number of the pretty girl, but as he left, he mentioned they should get those pictures to the people at MGM. Larry Tarr took that advice, stayed up all night running prints, and sent them off to the MGM offices in New York. And that was the start of Ava Gardner's film career.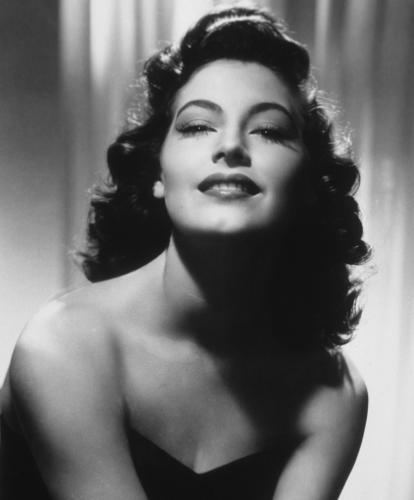 Ava Gardner was 18 years old when she left her North Carolina home and headed to Hollywood with a seven-year studio contract. Her first five years at MGM were filled with performing in small, often uncredited film roles and modeling in endless publicity or pinup photoshoots. This stunning image of Ava was shot by the studio around 1943 just at the beginning of her career.
The next image is a classic publicity photo. After arriving in Hollywood in 1941, Ava spent a lot of time in her first few years taking publicity pictures and posing in many different themes and outfits.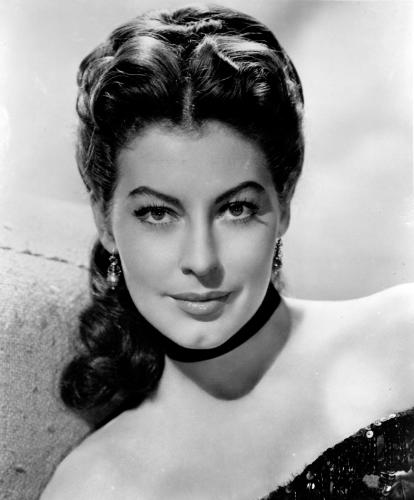 When the 1950s began, Ava had proved herself professionally to her home studio of MGM, and she was on the cusp of making some of her biggest films. In 1951 alone, she starred in the romantic fantasy Pandora and the Flying Dutchman, the period drama My Forbidden Past, and the musical Show Boat. The latter film, was a massive hit with audiences and critics alike and put Ava firmly on the A-list of stars at MGM.
After the center image from 55 Days at Peking is a picture of Ava as Julie LaVerne in the 1951 film Show Boat, one of her most well-known roles and a part that showed her depth and range as an actress. Show Boat was directed by George Sidney, who was in charge of selecting new talent at MGM when Ava's original screen test was sent to the studio. George was one of the people responsible for Ava even being in Hollywood, which was a full circle moment for her. Ava's voice is on the soundtrack of Show Boat (although it was dubbed in the film by Annette Warren), and she would receive royalties for the songs she recorded for the rest of her life.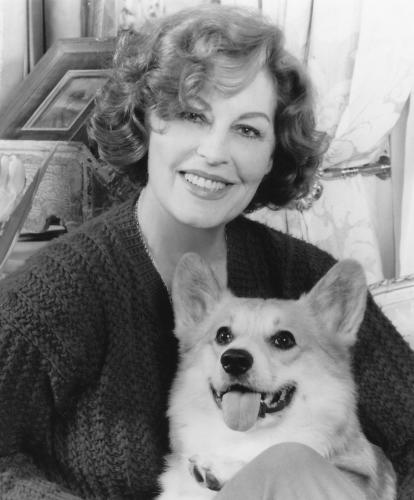 By the 1980s, Ava Gardner had moved to her final home in a peaceful neighborhood in London's West End. She lived quite comfortably in a lovely apartment with her corgi, Morgan, by her side. During the decade, she worked primarily in television and only when she wanted to do so, appearing in various shows and miniseries. The rest of Ava's time was filled with quality time spent with her beloved family and her many close friends.
The final image is one of Ava and Morgan, shot by her close friend and photographer Jonathan Sharpe. As one of the last professional photos of her, it is a fitting way to end the story of Ava's life. Ava had lived an exciting life, full of travel and experiences that took her far away from her North Carolina roots. As her career slowed down, she moved to London in 1969 and eventually settled at Ennismore Gardens in the Knightsbridge neighborhood of London. Bordering vast Hyde Park, Knightsbridge is an upscale area with grand Victorian homes and leafy garden squares. The tree-lined streets and quiet neighborhood reminded Ava of home, and she was finally able to live the quiet and peaceful life she craved.
Ava was always an animal lover, and she set up the Animal Health Trust in London as one of the beneficiaries of her Trust. Her love for Pembroke Welsh corgis started when her then-husband, Frank Sinatra, gave her Rags the first (there would be two dogs named Rags) as a gift in 1953. Ava considered her corgis her babies and often wrote to Frank in Rags' "voice." Ava rarely went anywhere without her corgis, and taking film roles or traveling was often contingent on being able to bring her dogs along.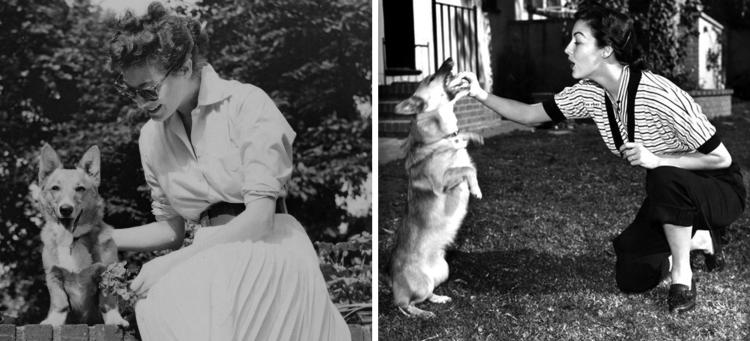 Many photographs exist of Ava with her dogs. These images show Ava affectionately playing with her first Pembroke Welsh corgi, Rags, which was a gift from her third husband and the great love of her life, Frank Sinatra.
Morgan was the last of her beloved corgis. His favorite treat was raw carrots, and Ava enjoyed taking him on long daily walks to Hyde Park where Morgan would endlessly play "fetch." She even sent him little cards when she was out of town. When Ava died of bronchial pneumonia in 1990, Morgan went to live with Ava's dear friend, Gregory Peck. When Morgan died a few years later, Greg buried him in his backyard.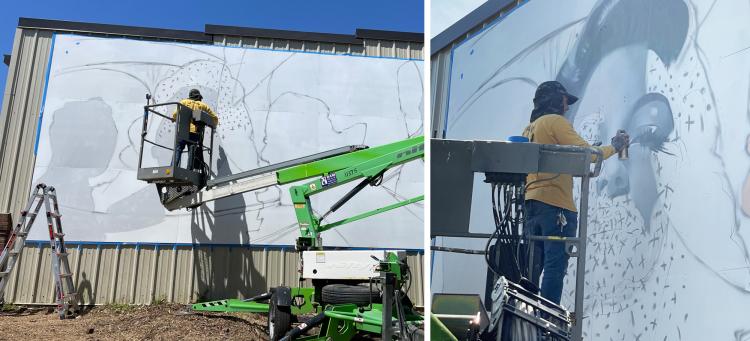 After months of planning, including many rounds of image selection and design development, North Carolina artist Jeks finally began painting the Ava Gardner mural on April 10, 2022. This video, produced by the Museum, shows the step-by-step development of the mural. In this video, produced by the Johnston County Public Information Office, Jeks shares a bit about his creative process.
Watching this mural come to life was amazing. Some people have phenomenal natural talent, and Jeks is one of those people. This mural was done with a spray can in one hand and photos on a cell phone in the other. Throughout the day, many people walking along busy Market Street in downtown Smithfield were captivated and stopped for several minutes just to watch him work. Several talked to him about the process. Every day we would gather outside to watch our dream come to reality. It turned out even better than we could have imagined.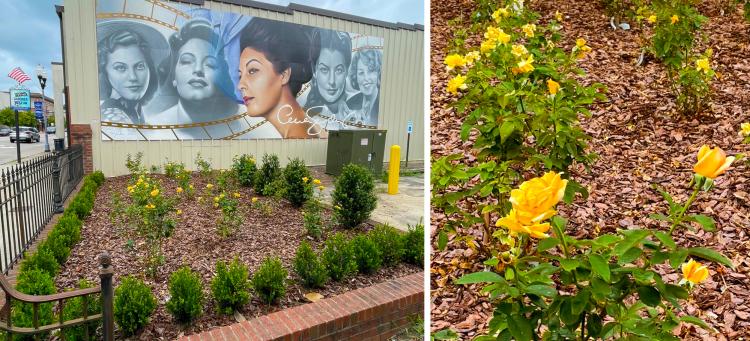 After Jeks completed his work, an expert team of horticulturalists from Witherspoon Rose Culture in Durham, North Carolina, began installing a garden at the base of the mural. The garden consists of miniature boxwoods and yellow hybrid tea roses, Ava's favorite flower. This breed of rose produces a large, elegant bloom and glossy foliage. This short, time-lapse video, produced by the Museum, documents how the garden took shape over several days of preparation and planting.
The rose garden, situated in front of the mural, started as an idea from Carmen Vargas, Ava's longtime friend and companion, who was with Ava until the end of her life. Carmen knew that Ava's favorite flower was yellow roses, and for the 2019 Ava Gardner Festival, she sent us a beautiful bouquet from Ecuador (Carmen's home country). Sometime later, Carmen contacted us with the idea of installing a rose garden in Ava's memory. Due to the pandemic, this idea has taken longer to come to reality, but, once we decided on the mural to celebrate Ava's 100th birthday, we knew the rose garden had to be a part of that plan. After determining that the Ecuadorian roses would not thrive in North Carolina's weather, we settled on a lovely yellow rose called "Hotel California" which we thought was appropriate for Ava's years in Hollywood. As a native Californian myself, I was certainly in favor of installing this variety!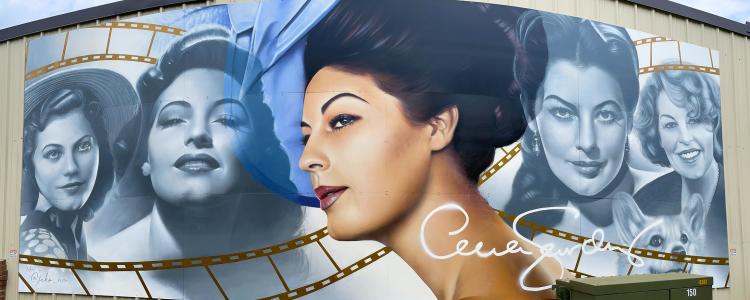 The Ava Gardner Museum is deeply grateful to the sponsors who generously provided monetary support to make this "AVA 100" project possible. The rose garden was funded, in part, by Ava's personal companion Carmen Vargas. Additional funding for the rose garden and financial support for the mural was provided by the Joy W. Pope Memorial Grant and the Johnston County Arts Council.
I am still in awe every day that I walk past this memorial to Ava's legacy. Although I know she would be slightly embarrassed by all of this, I hope that she would be pleased with the way we have honored her life and memory at the Ava Gardner Museum.