The Ava Gardner Museum has spent the last few months participating in #MuseumAlphabet, sharing artifacts from the collection from A to Z as a way to bring the museum to you at home. Now you can explore the collection and museum from Ava to Zanuck right here to learn more about Ava Gardner's life, career & her connections to Smithfield, NC.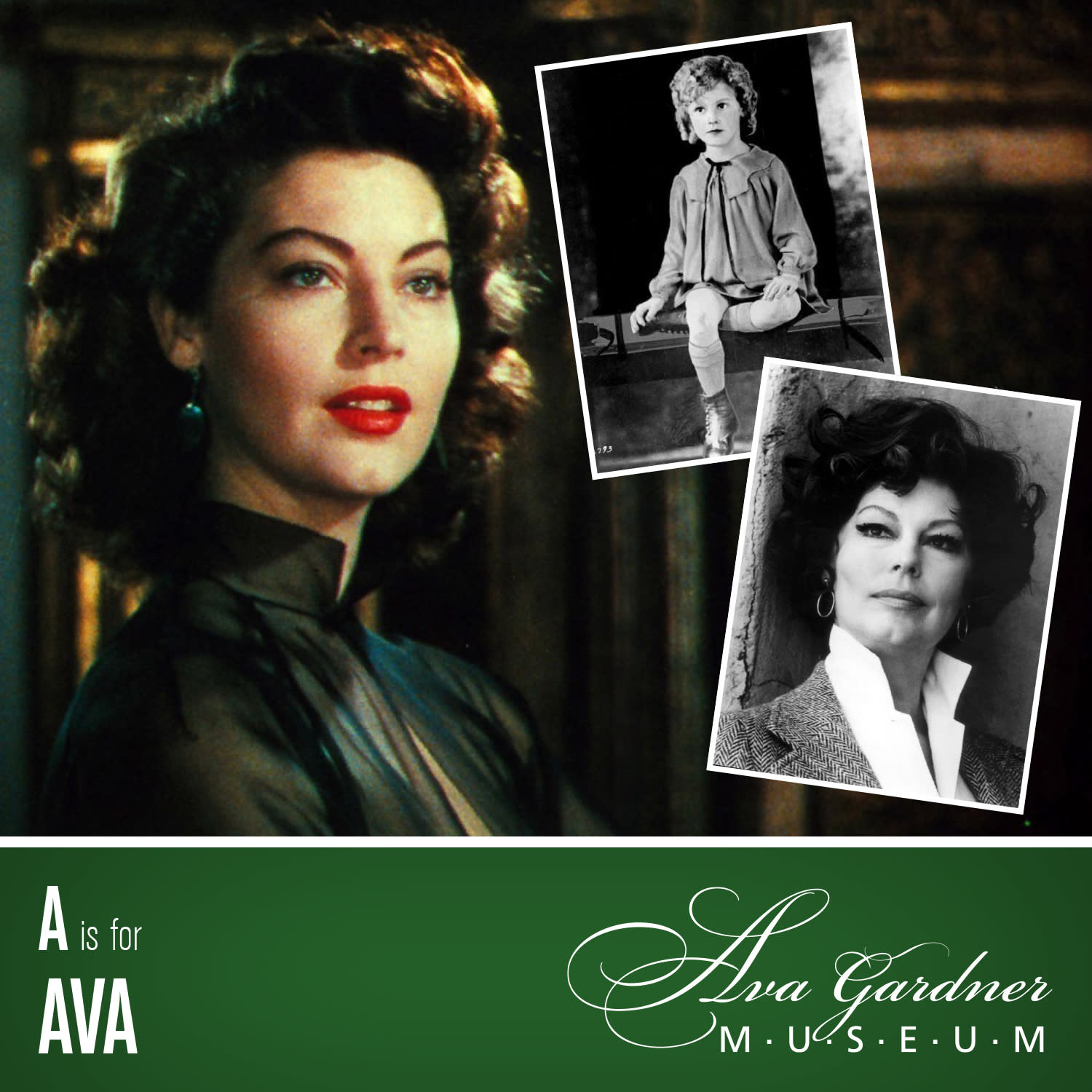 Ava Lavinia Gardner (1922-1990) was one of Hollywood's most glamourous leading ladies. A reluctant star, Ava was born near Smithfield, NC where our museum about her life and career preserves & presents her legacy. Learn more about the museum here.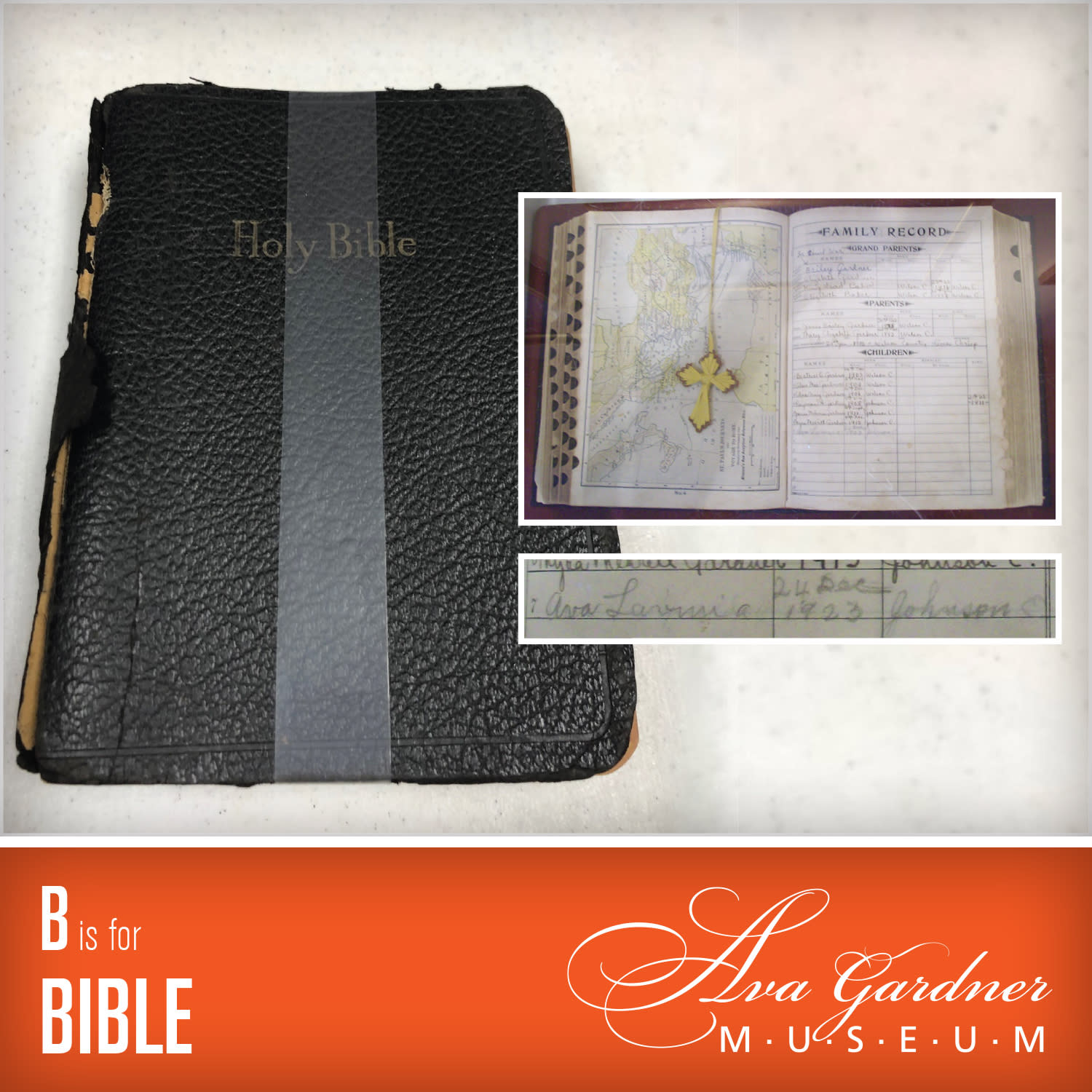 We have two Bibles in our collection. Ava's birth is recorded in the family Bible incorrectly as 1923, most likely because it was not written in until the new year had passed. Ava was born on December 24, 1922 in Grabtown, North Carolina, the youngest child of Mollie & Jonas Gardner. The Gardner family bible is in our current exhibit about Ava's early life. We also have Ava's personal childhood Bible in our collection. She was raised Baptist. Learn more about Ava's early life in our virtual tour here.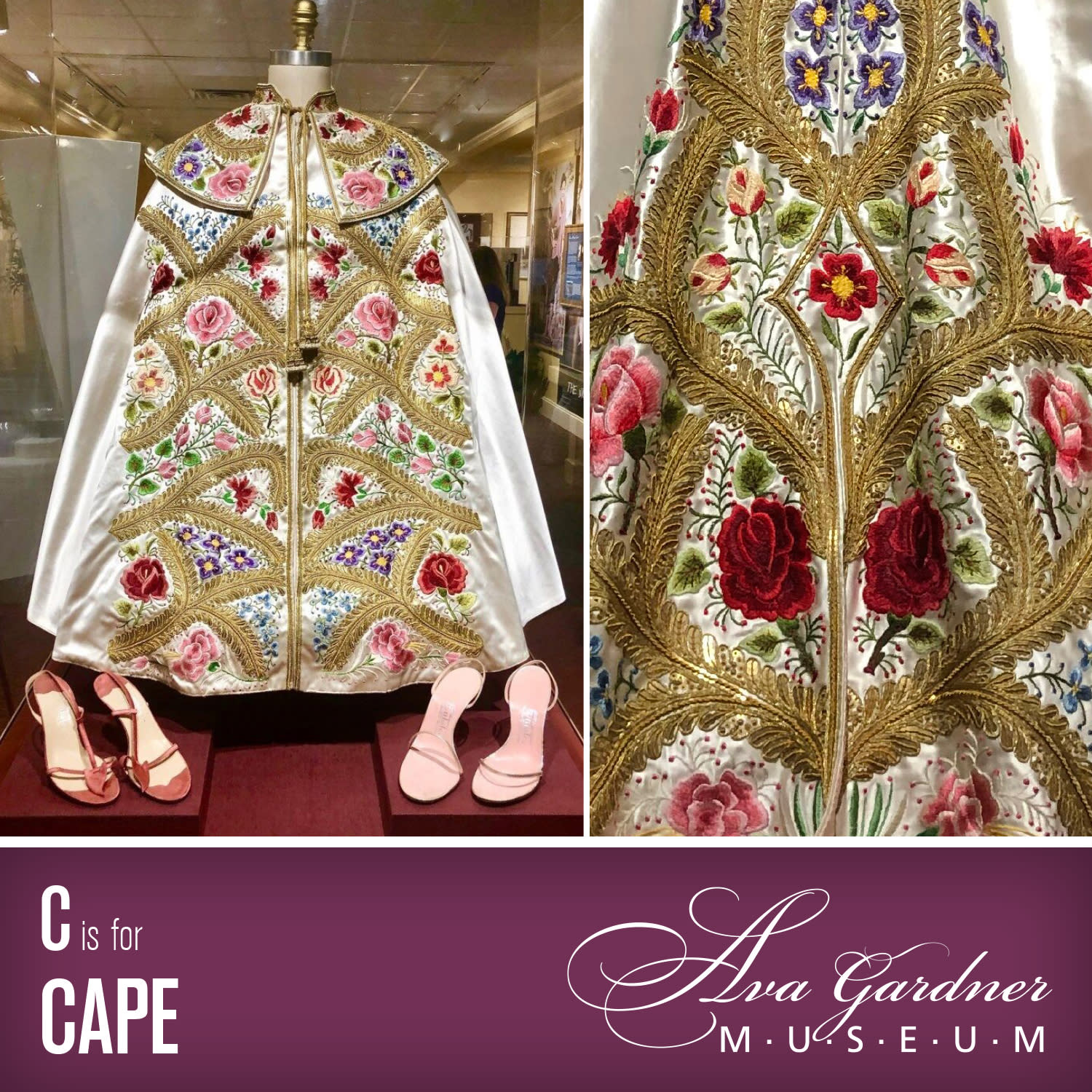 This stunning silk satin cape, embroidered with gold thread & brass sequins, was worn by Ava in publicity shots for The Barefoot Contessa (1954); however, the costume does not appear in the final version of the film. View this cape and learn more in our virtual tour here and learn more about the film here.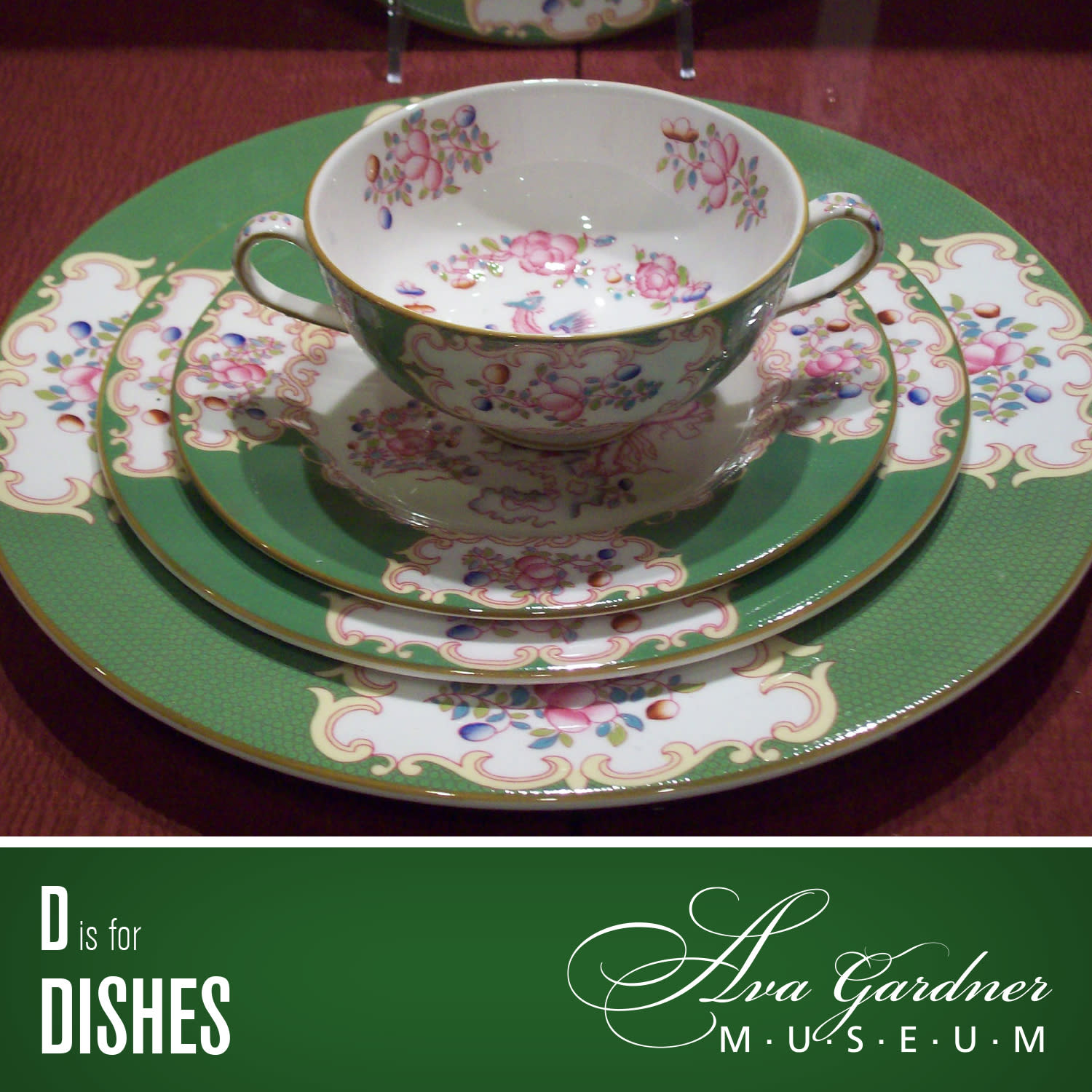 These Cockatrice-patterned dishes were among Ava's personal possessions and were used in her London apartment. Ava moved abroad in 1955 and originally lived in Spain for several years. She moved to London in 1968 where she lived until her death in 1990. Living abroad gave Ava the privacy and normalcy she had lacked in the years she lived in Hollywood.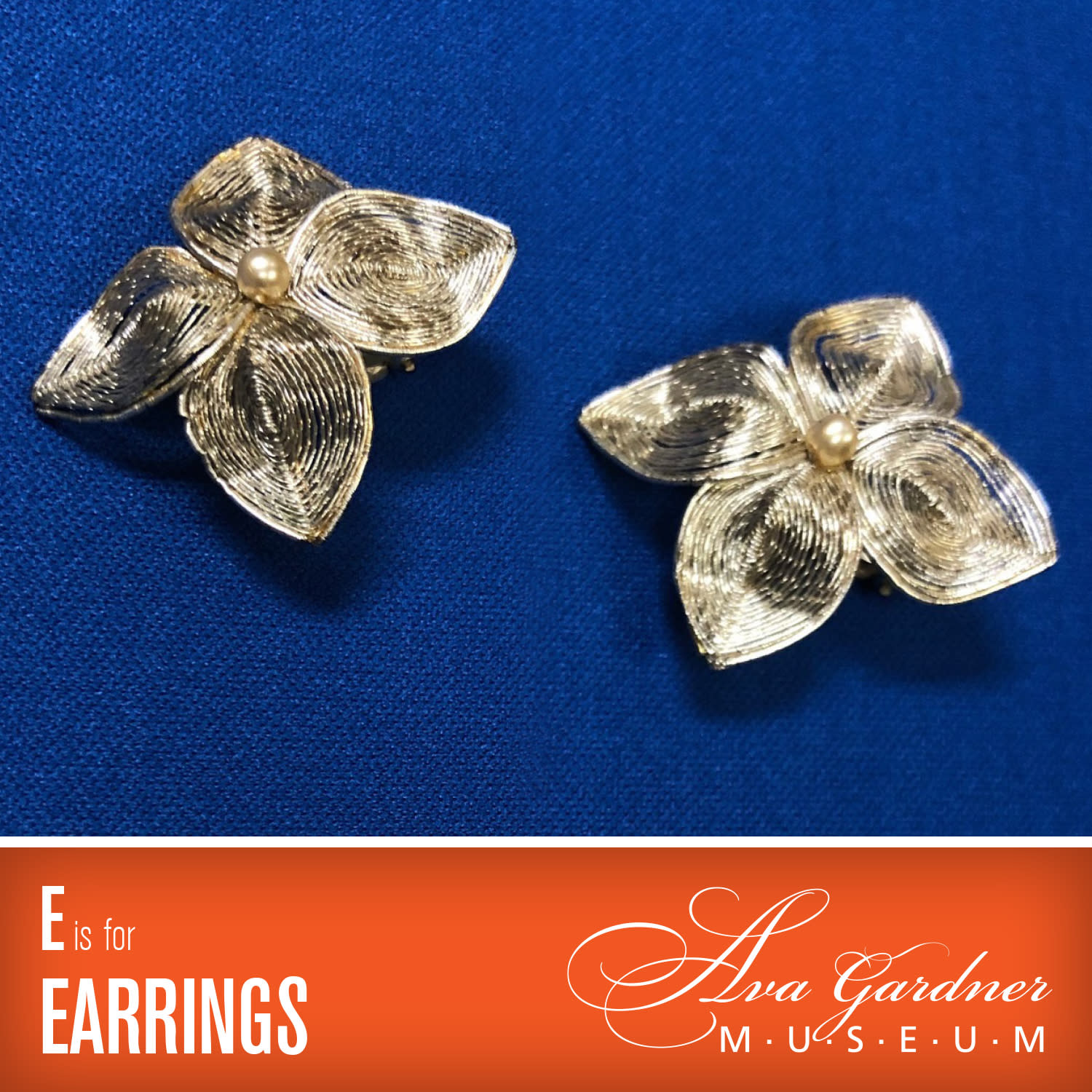 These earrings were donated to the museum alongside the matching brooch. Worn by Ava Gardner on the set of Pandora and the Flying Dutchman, these silver wire & pearl earrings do not appear in the final version of the film, but Ava did wear them to the wrap party. Learn more about this acquisition and the film here.
These porcelain figurines of a bull & bullfighter were in Ava's home in London. Ava had a fascination with bullfighting that began while she was filming Pandora and the Flying Dutchman in Spain. When Ava moved to Spain, she regularly watched bullfighting & spent time with bullfighters, including her long-time lover Luis Miguel Dominguin.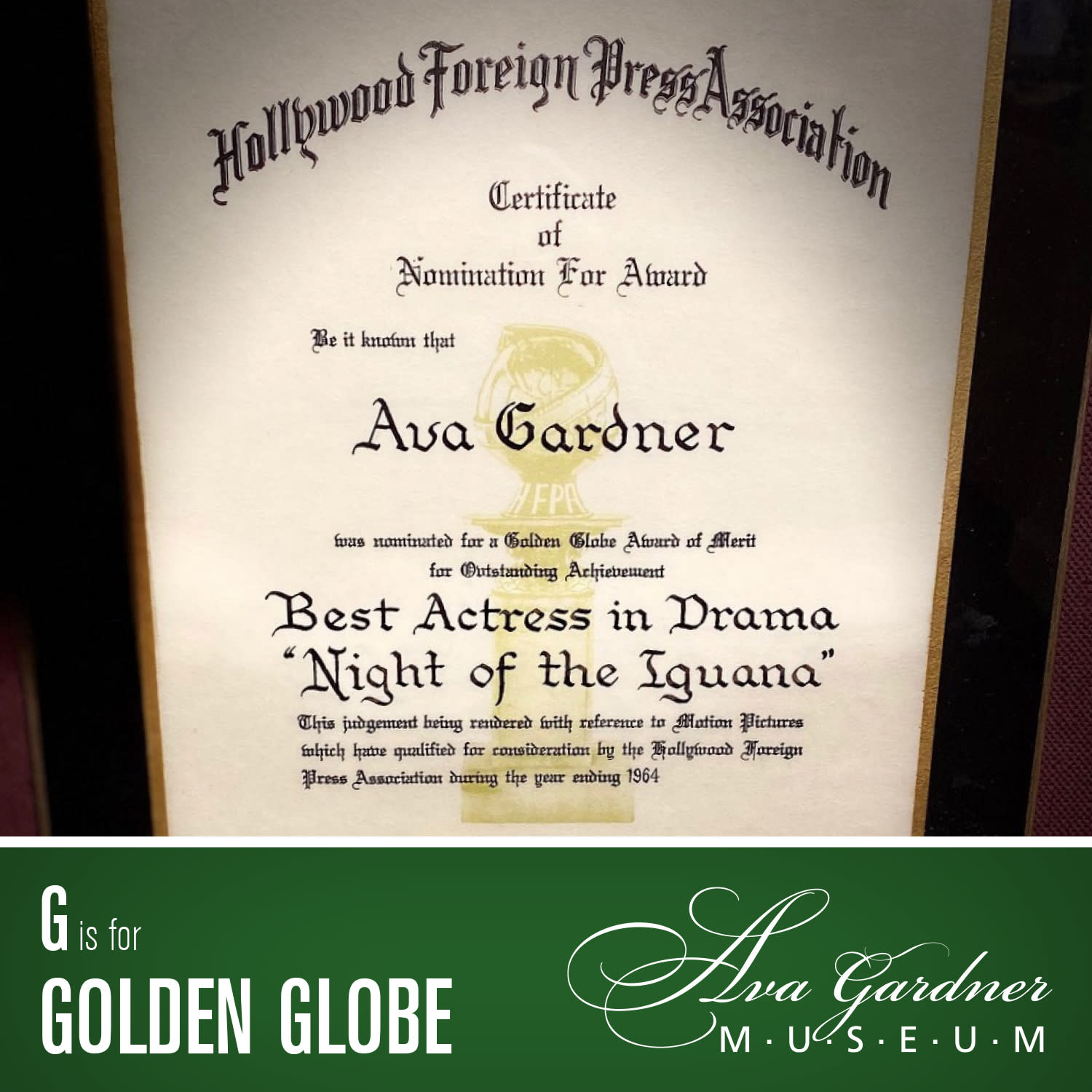 Ava was nominated for a Golden Globe for her role in The Night of the Iguana (1964). The film was based on the Tennessee Williams play of the same name. Ava's role as Maxine Faulk was one of her most lauded. She was also nominated for a BAFTA. View more of Ava's awards in our virtual tour here or read more about Ava's awards on the blog here.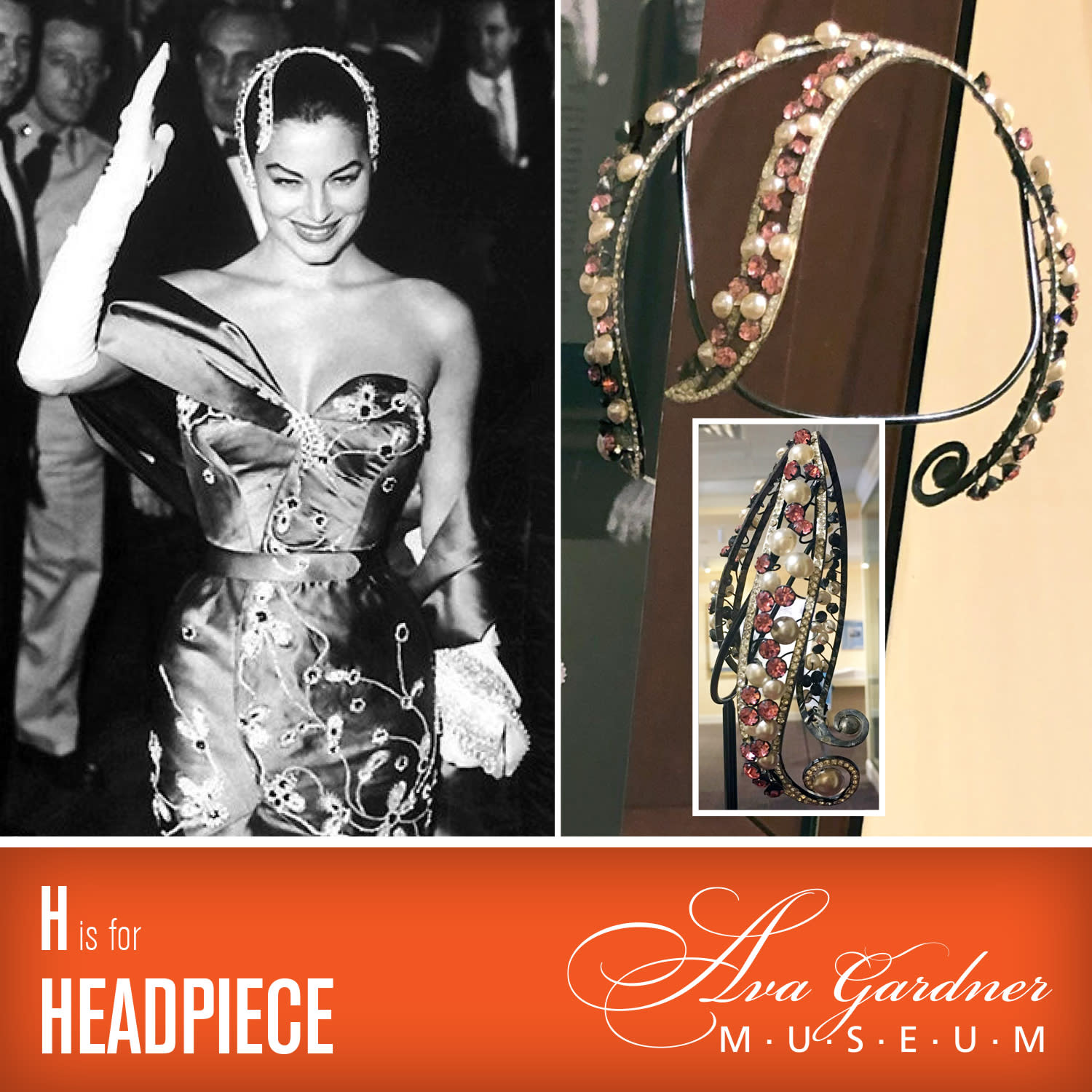 Ava originally wore this headpiece in her film The Barefoot Contessa (1954). It was one of her favorite pieces and she later wore it to several premieres and photo shoots, including one for Look magazine with legendary photographer Milton Greene.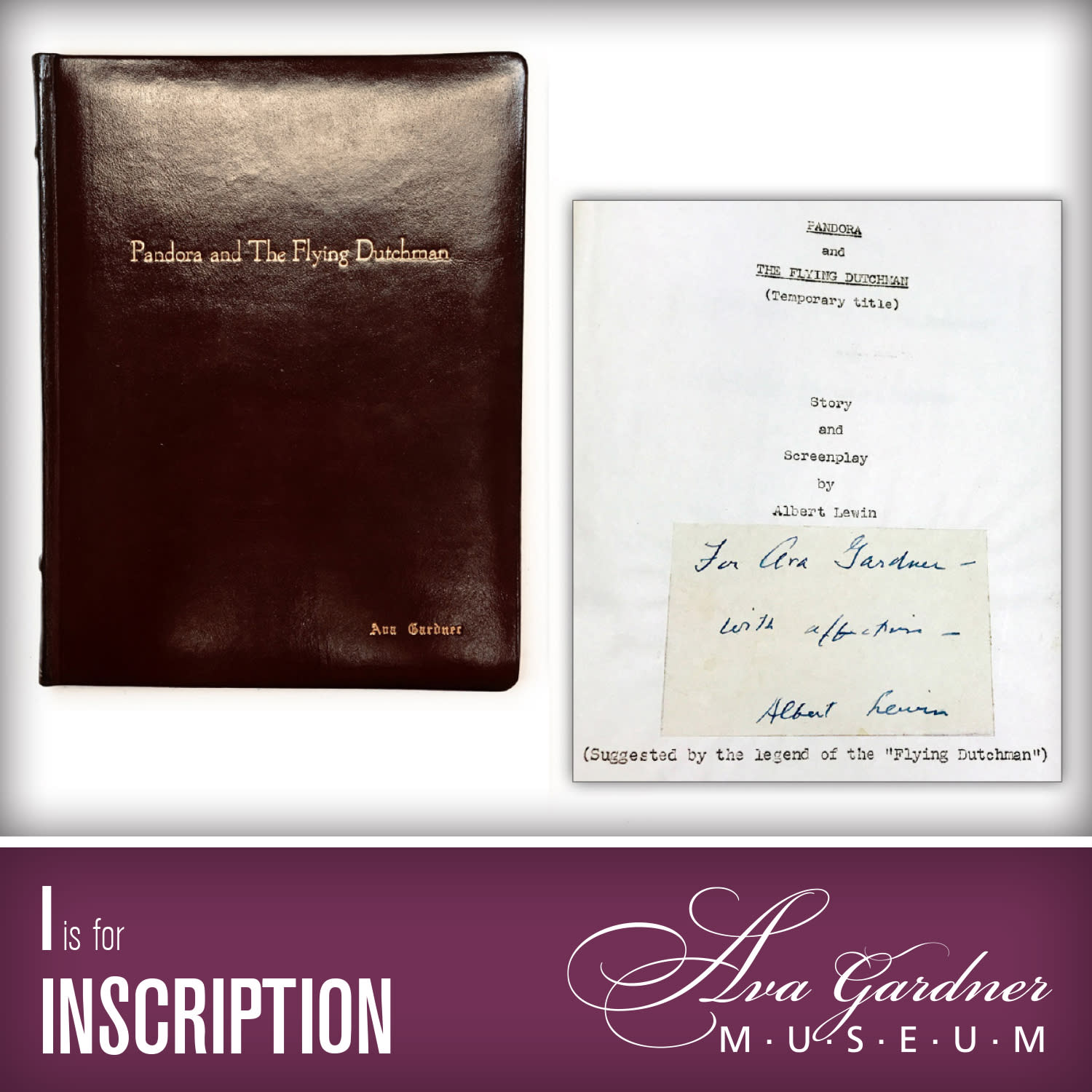 Director Albert Lewin left this inscription in Ava's commemorative copy of the script for Pandora and the Flying Dutchman. It reads: "For Ava Gardner – with affection. Albert Lewin." In her autobiography, Ava refers to Lewin as both "curious" and "painstaking" in his directing style. Learn more about how Lewin created Pandora here.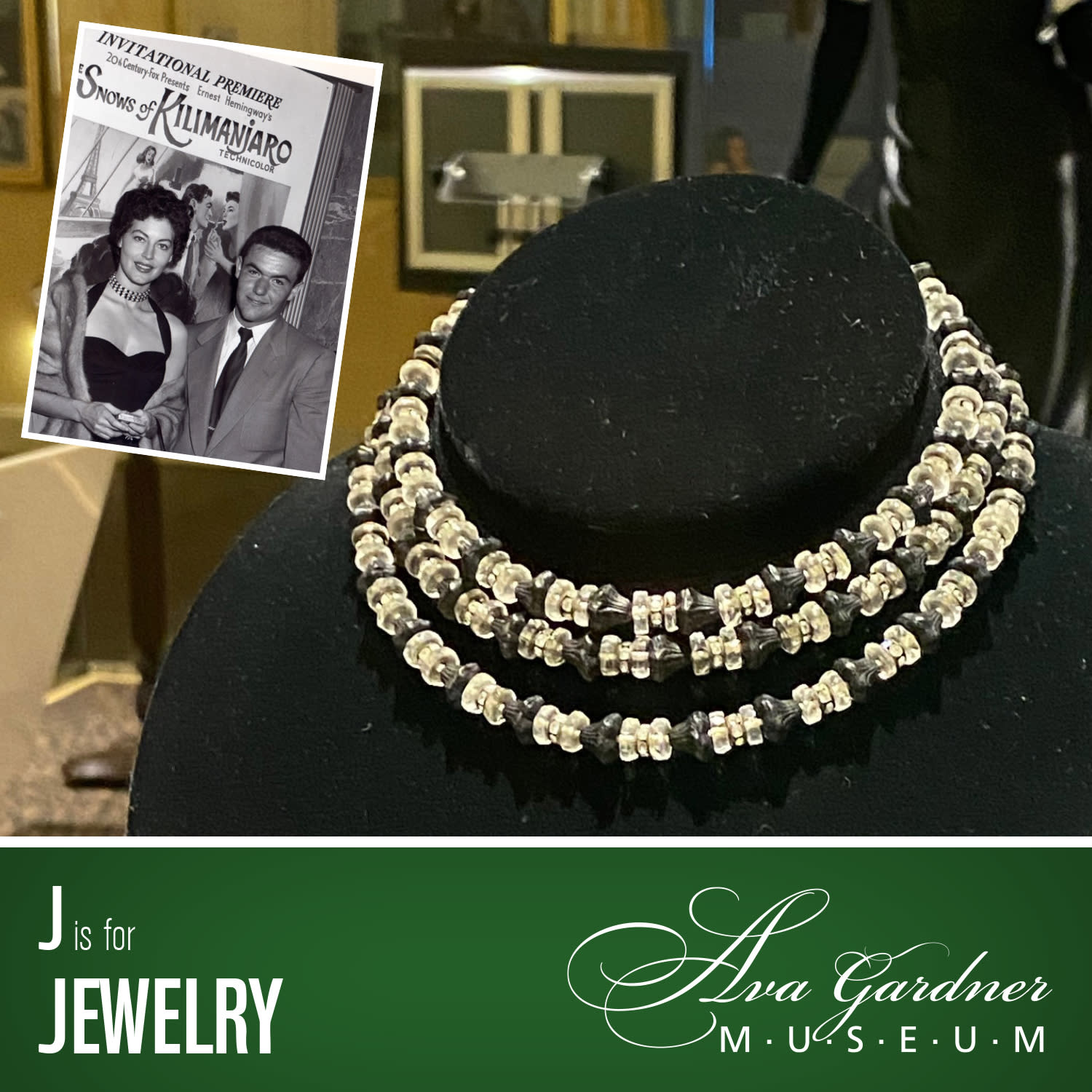 Ava wore this necklace to the premiere of The Snows of Kilimanjaro (1952). It is one of several pieces of jewelry worn by Ava either in her personal life or on the set of her films that now resides in the museum's collection. This beaded necklace is part of a current exhibit about Ernest Hemingway adaptations starring Ava, of which there are three: The Snows of Kilimanjaro, The Sun Also Rises, and The Killers.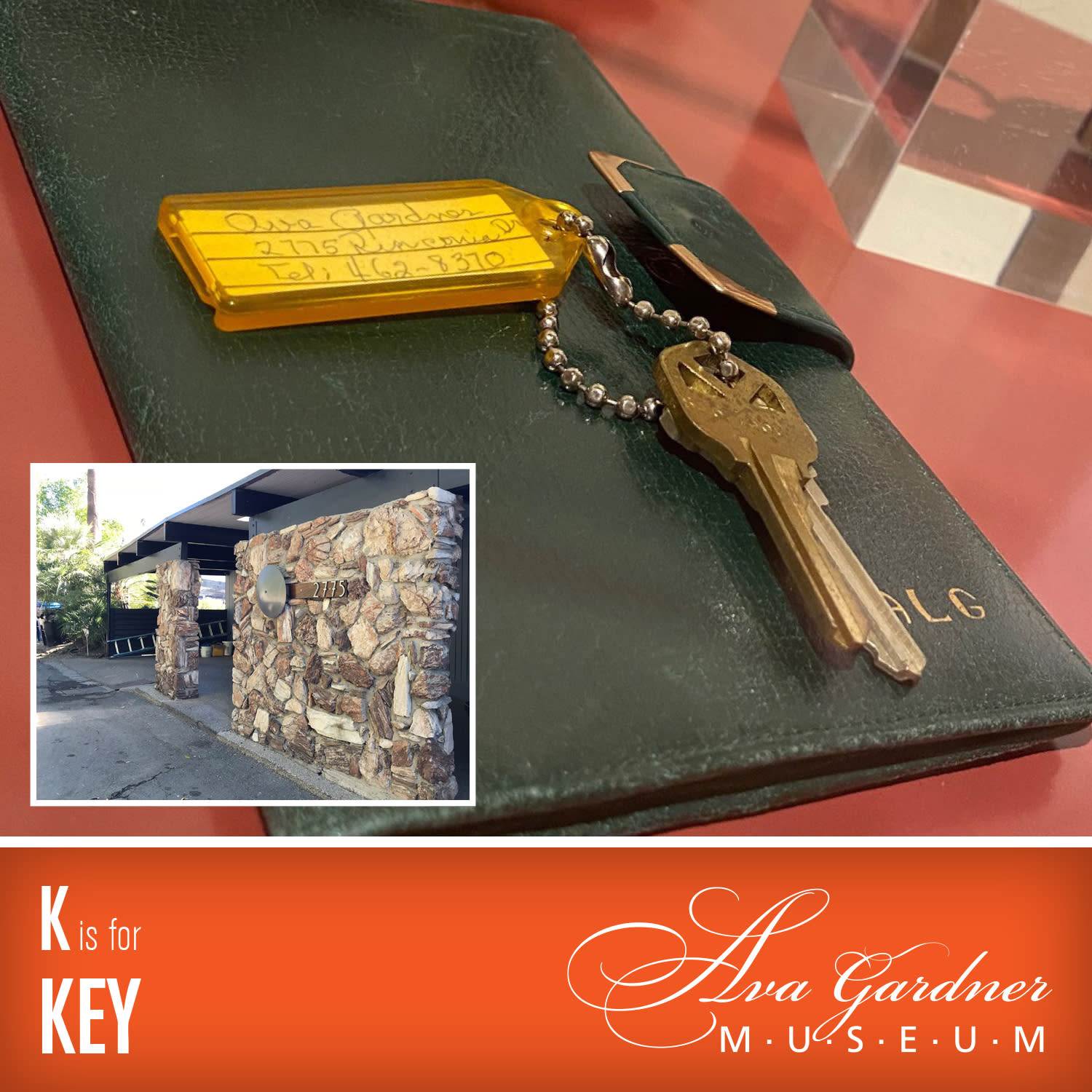 This key opened Ava's home at 2775 Rinconia Drive, Los Angeles. Ava's sister Bappie lived in the Hollywood Hills house, designed in 1959 by Ed Fickett in mid-century architectural style. After moving abroad, Ava stayed there whenever she was in LA. Read more about Hollywood houses & locations related to Ava's life there in this blog post.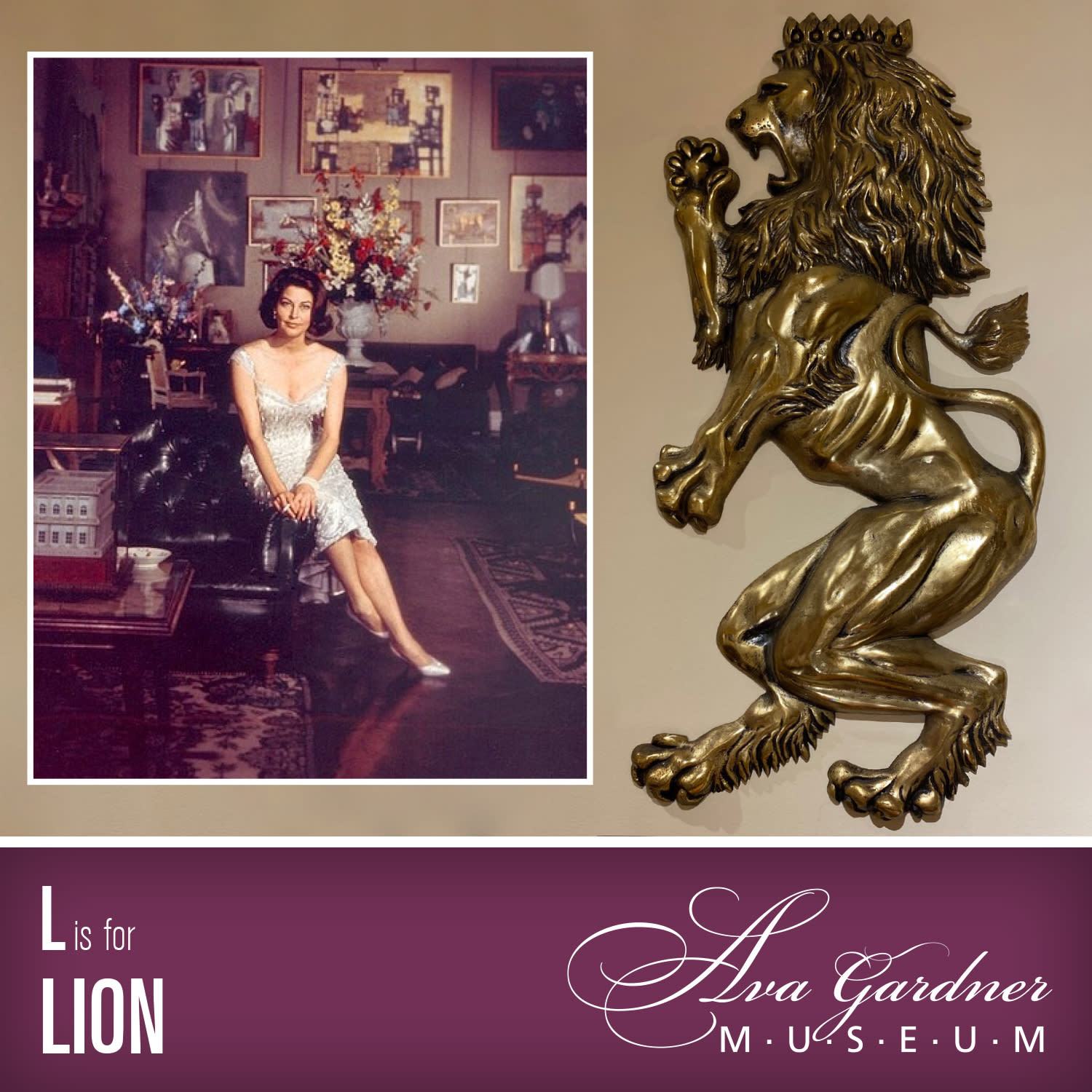 This lion was one of a pair of bronze lions that welcomed visitors to Ava's home in Madrid by adorning the front gate. Ava lived in Spain from 1955 to 1968. She moved abroad to escape press attention that followed her everywhere in Hollywood, especially in the midst of her split from Frank Sinatra.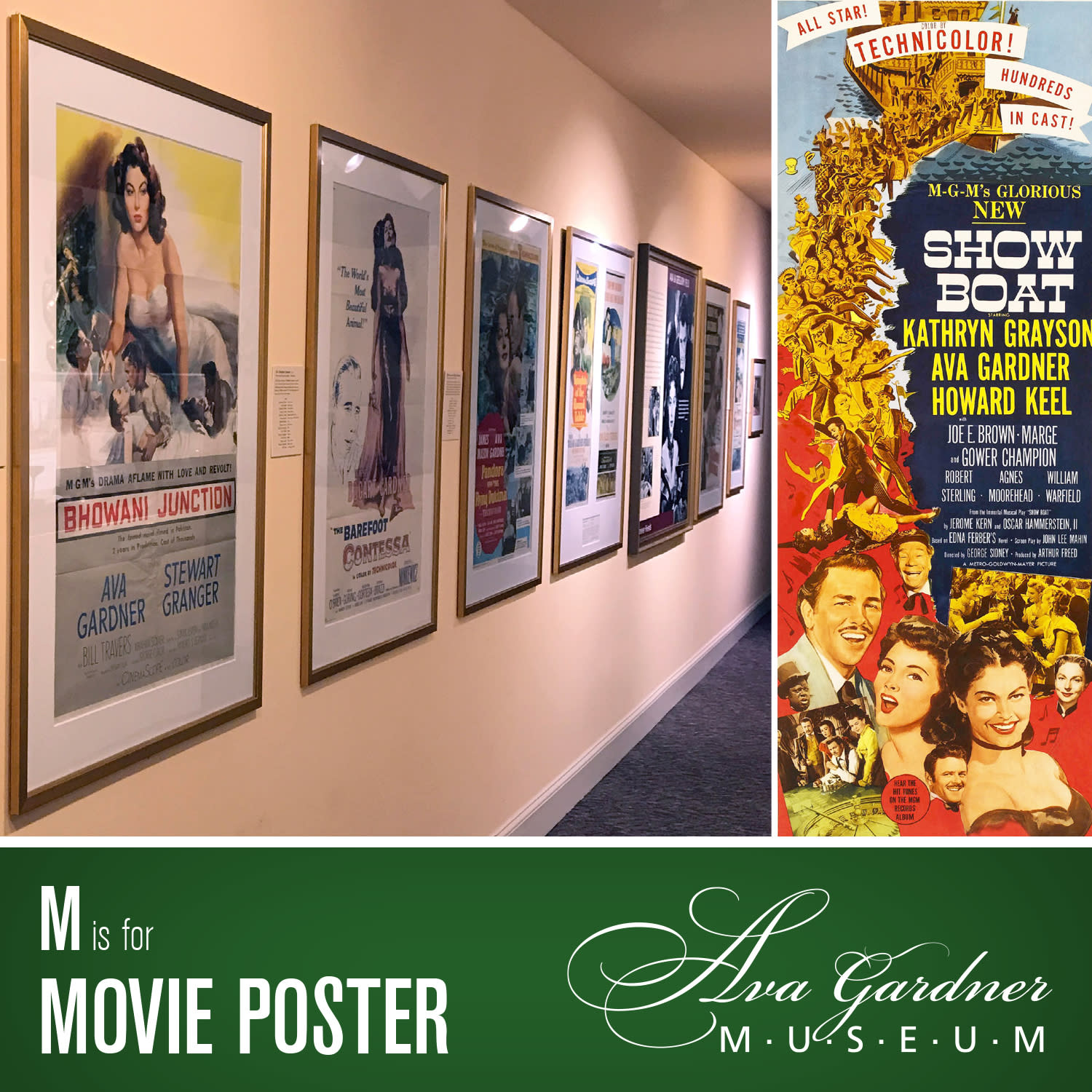 We have a vast collection of movie posters and lobby cards from Ava's films. Movie posters between the 1940s and 1980s were created by the film distributor and were sent to theaters. They were meant to be returned once the screening of the film was complete. During this time drawings were more common than photographs for visuals on posters. View more posters in our virtual tour of the museum here.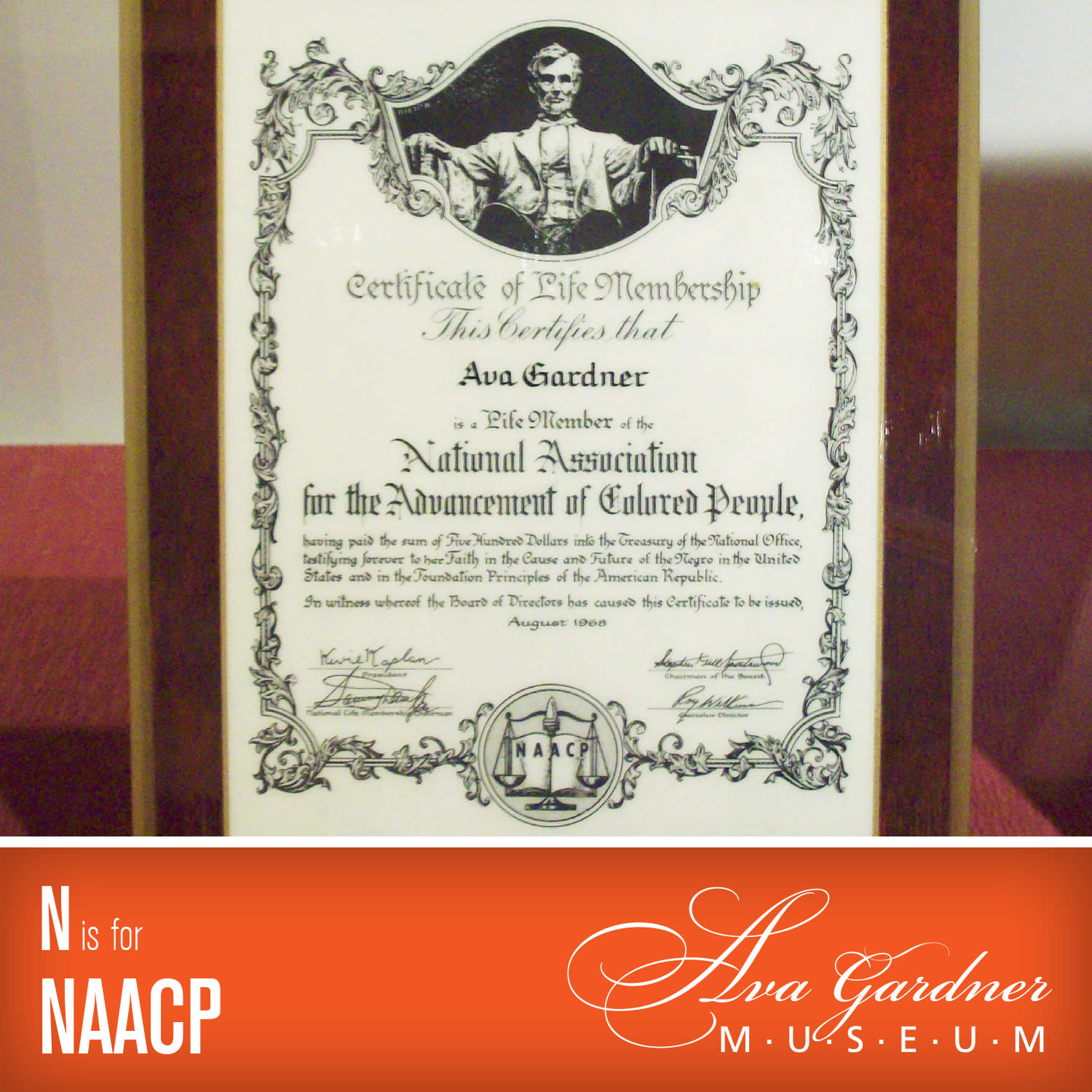 Ava became a lifetime member of the NAACP in 1968 by donating $500 to the cause. Ava supported a variety of political and social causes throughout her life, most notably racial equality. She did so through formal & informal means, including pressuring segregated venues to allow her black friends to join her for drinks. Learn more about Ava's activism here.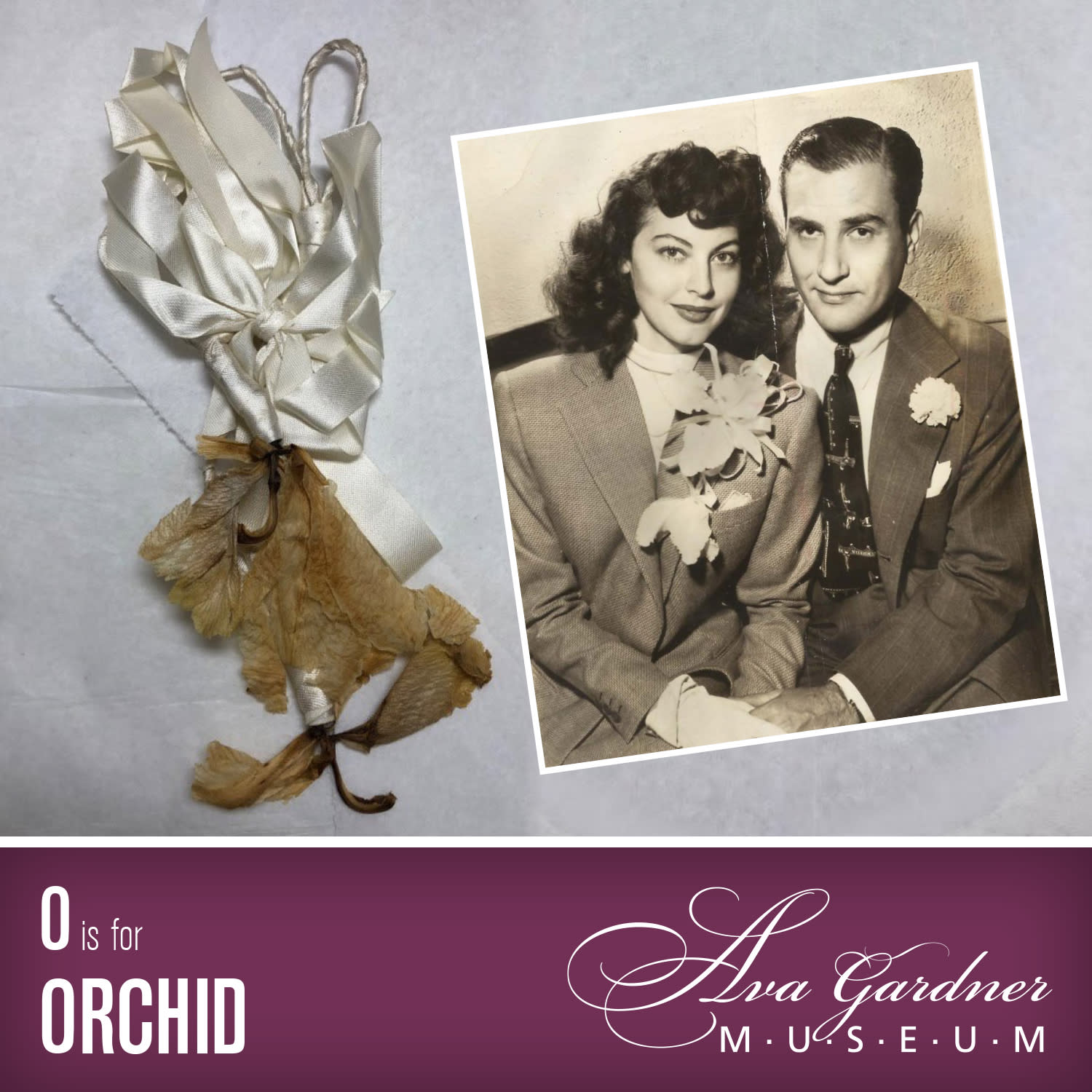 Ava wore this orchid corsage at her second wedding when she married bandleader Artie Shaw. The two were married just over a year. Ava had worn a similar corsage at her first wedding when she married Mickey Rooney. Ava forewent a corsage in favor of a bouquet when she wed Frank Sinatra several years later. Learn more about Ava's marriage to Artie in this blog post.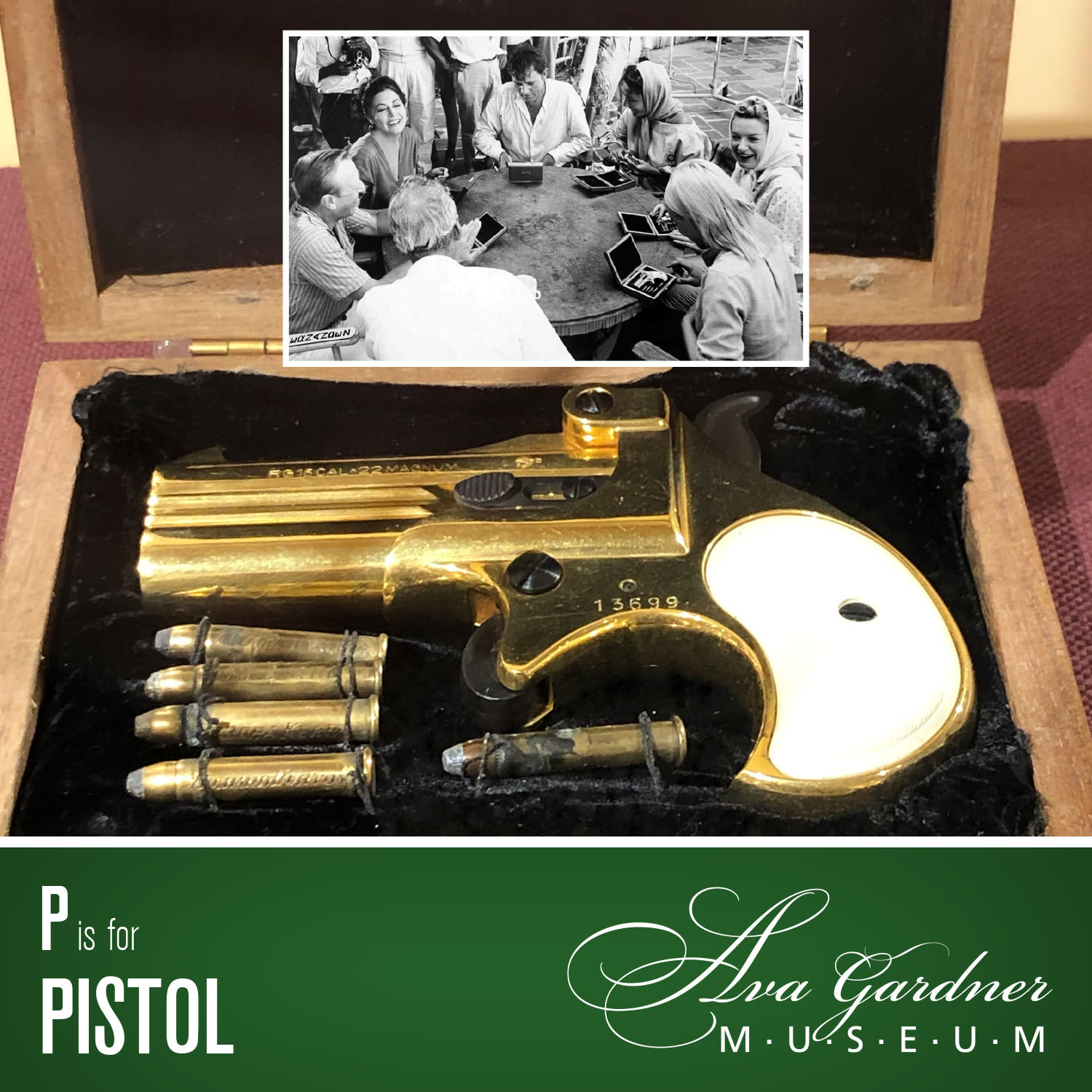 This gold-plated derringer pistol was given to Ava by director John Huston on the set of The Night of the Iguana. Each of the bullets is inscribed with one of her cast member's names. Huston gave identical guns to each of the film's main personnel: Richard Burton, Deborah Kerr, Sue Lyon, and Ray Stark, plus Elizabeth Taylor who had accompanied Burton to the remote set. View the pistol and learn more about the film in our virtual tour here.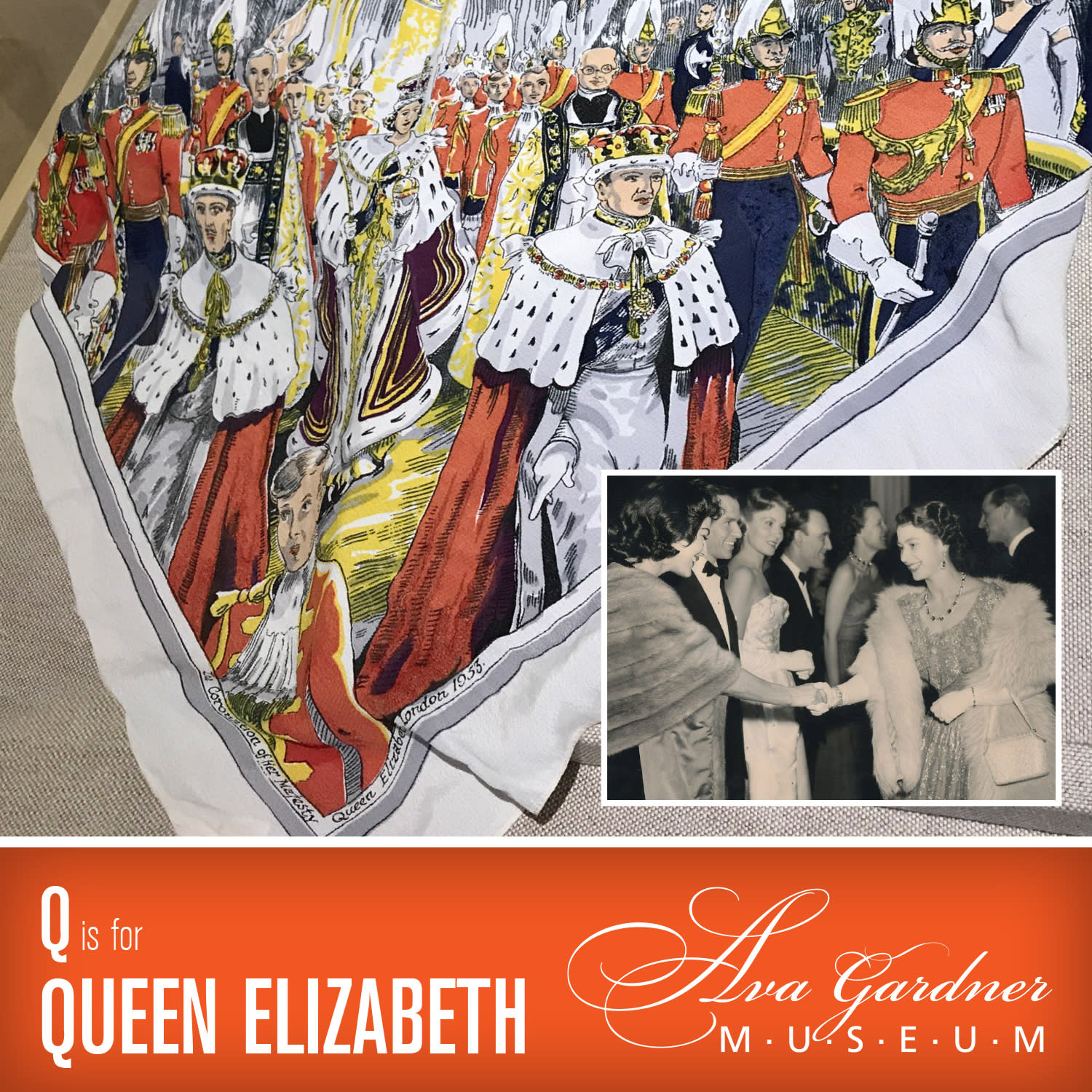 Ava met Queen Elizabeth on two occasions and she owned this coronation scarf which commemorated Elizabeth II's 1952 coronation. Ava shared with the Queen a love of Welsh Corgis.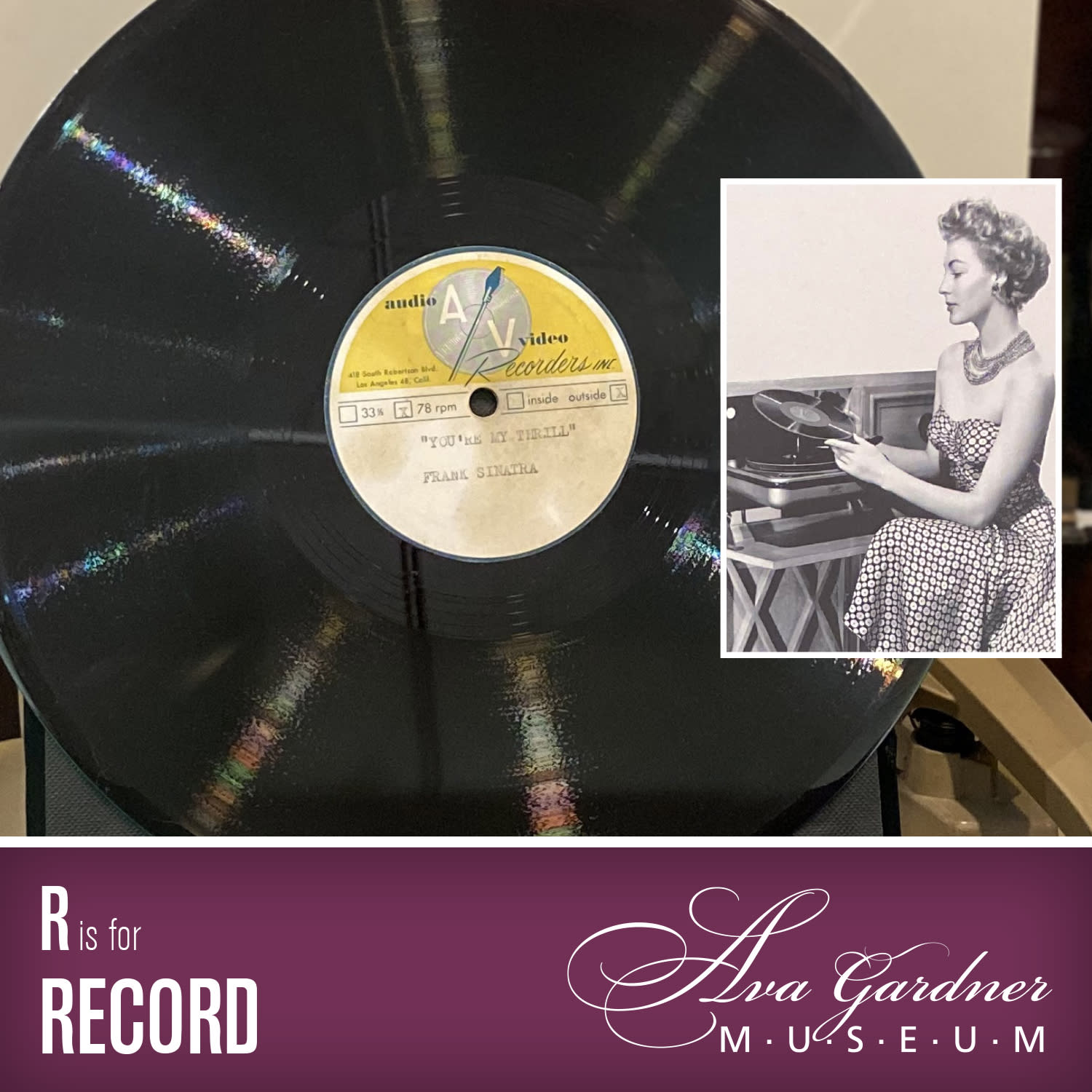 Ava had an extensive personal record collection including titles by two of her husbands: Artie Shaw & Frank Sinatra. This demo recording of "You're My Thrill" is one of only three unreleased copies of Frank Sinatra performing the song. Learn more about Ava's musical tastes and talents in this blog post. And check out Ava's Playlist on Spotify.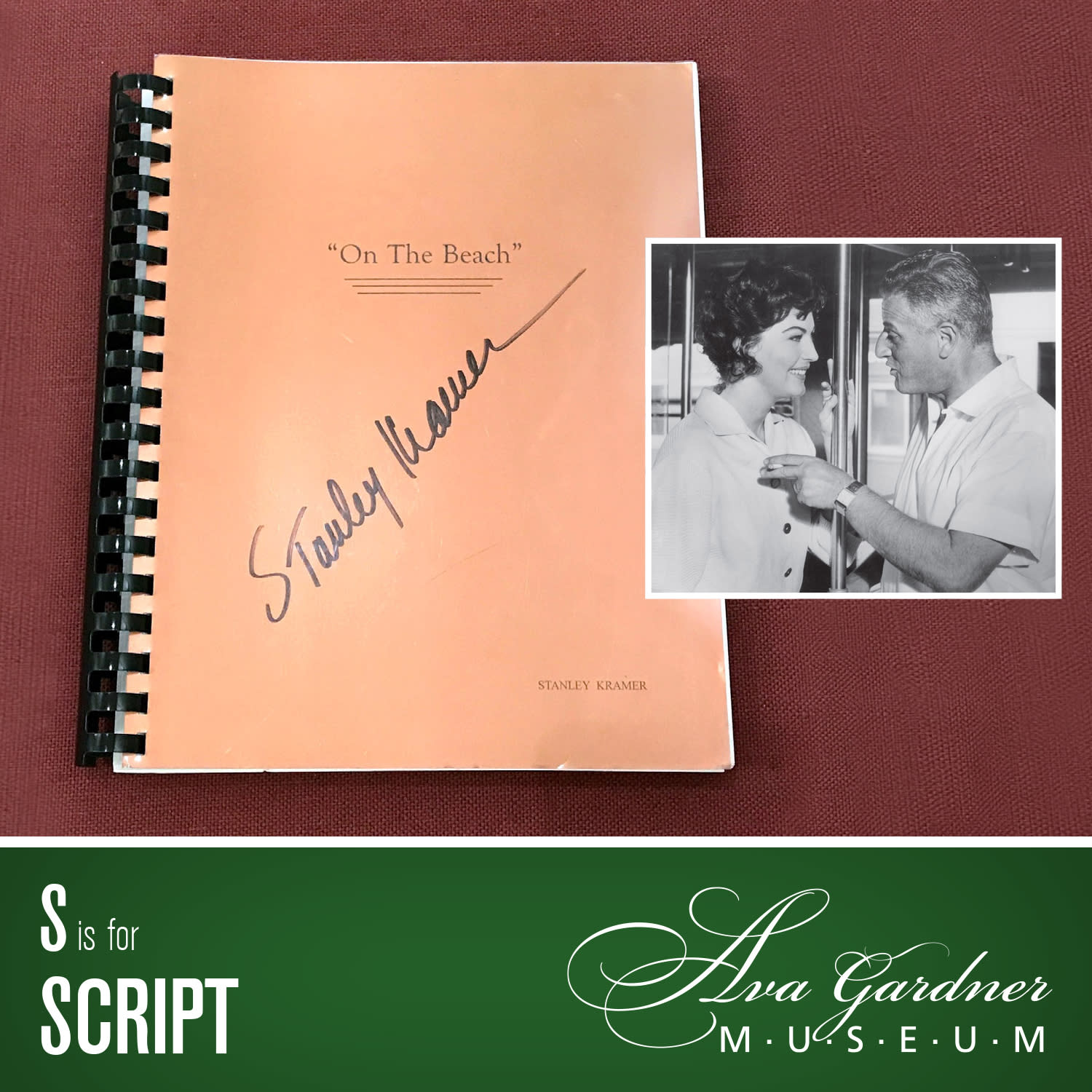 This script for On the Beach is autographed by director Stanley Kramer. Kramer is known for directing movies with a message. On the Beach, released during the Cold War, cautioned the world about the dangers of nuclear warfare. View a poster from the film signed by Gregory Peck, who costarred with Ava in the film, in our virtual tour here and read more about the film on our blog here.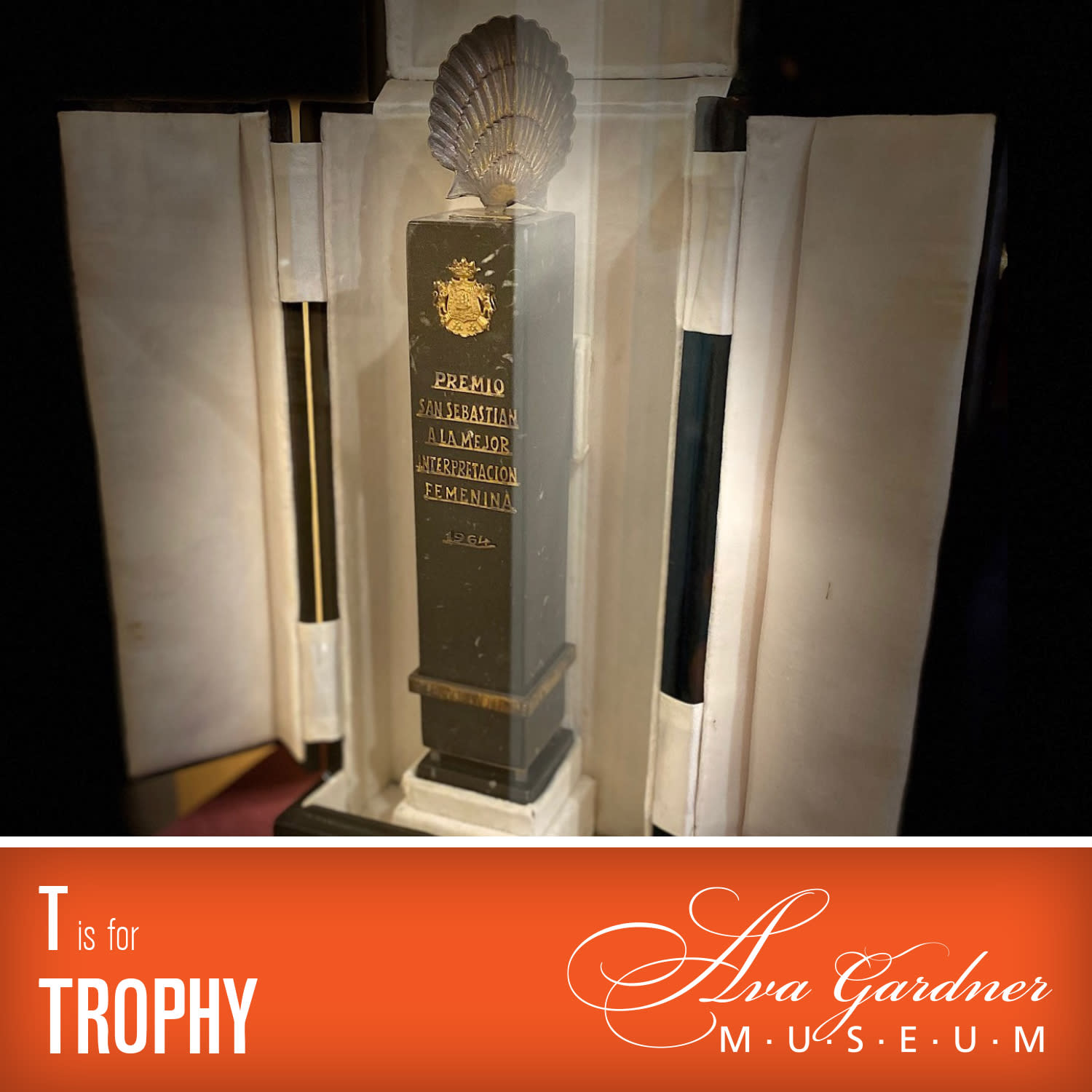 Ava won the Silver Shell for Best Actress at the San Sebastian International Film Festival in 1964 for her performance as Maxine Faulk in The Night of the Iguana. It was her most awarded film role, also garnering her Golden Globe & BAFTA nominations. Learn more about Ava's awards here.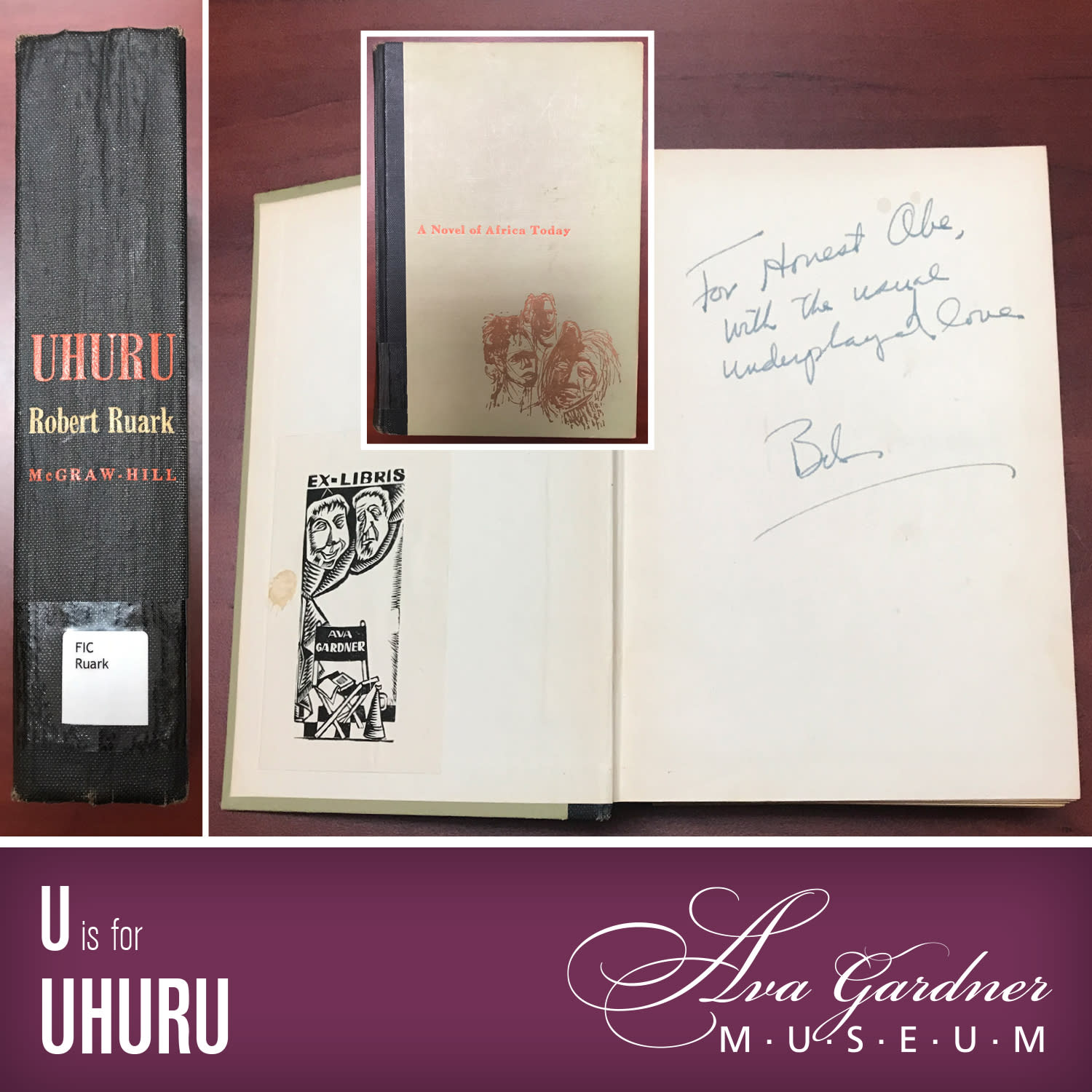 This book, entitled Uhuru, was written by Ava's friend and fellow North Carolinian Robert Ruark. It was found in Ava's personal library. The inscription reads: "For Honest Abe, with the usual undisplayed love, Bob" Ava met Ruark while filming in Spain but they were both originally from North Carolina.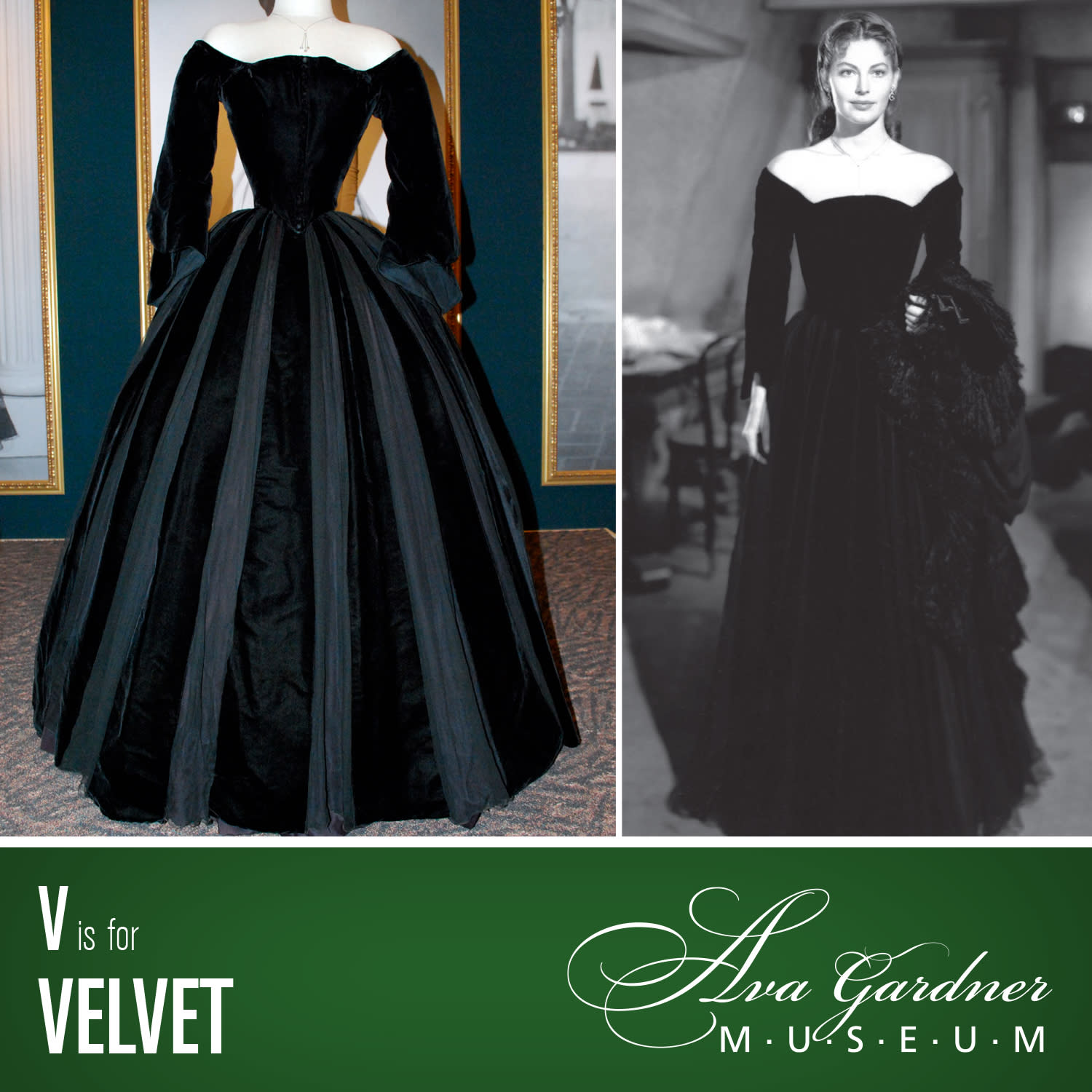 This velvet dress was worn by Ava in her role as Pauline, a gambling addict, in The Great Sinner (1949), her first of 3 films with Gregory Peck and her 2nd film with director Robert Siodmack. View more about Ava's friendship with Gregory Peck in our virtual tour here.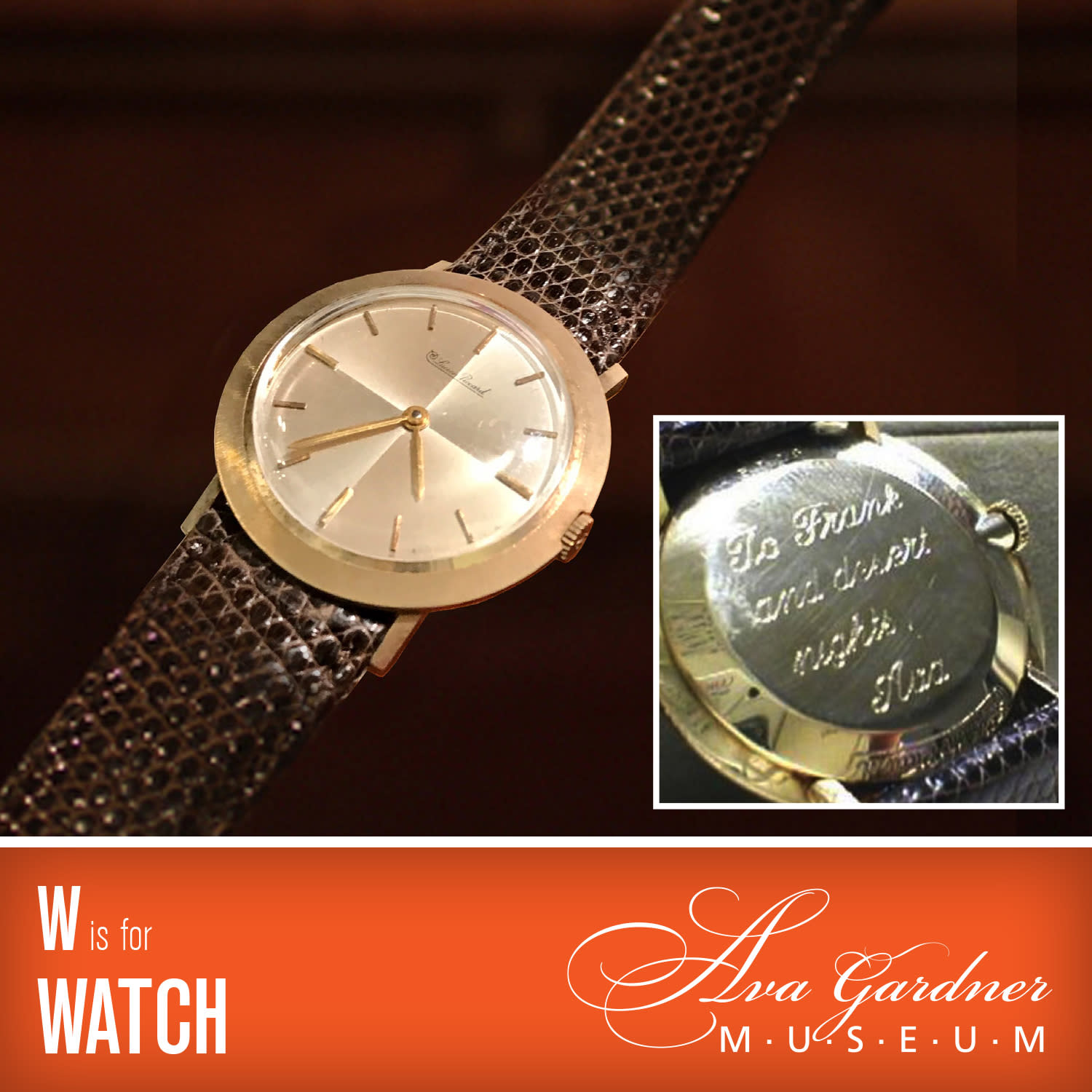 Ava gave Frank Sinatra this watch in the 1960s, years after they divorced. It is inscribed "To Frank and Desert Nights, Ava" referring to their time spent at Frank's home in Palm Springs. Learn more about their relationship in this blog post and check out our Frank and Ava exhibit in our virtual tour here.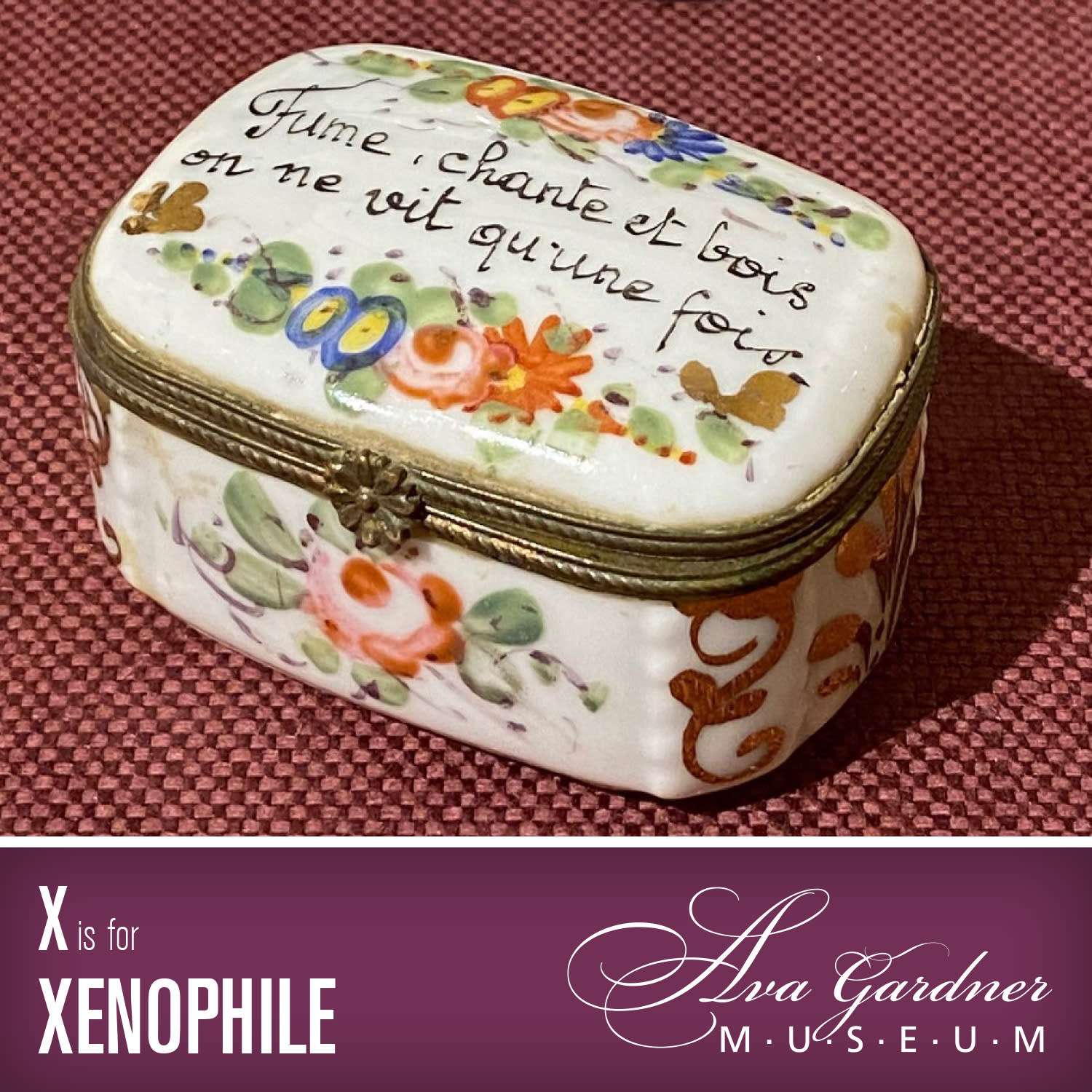 Ava was a xenophile, someone who loves foreign cultures. She moved abroad in 1955 and acted largely in movies filmed away from Hollywood, traveling to Pakistan, Australia, Russia, Spain, Africa, and more for film roles. This box from Ava's personal items features a French saying that translates to "Smoke, sing, and drink. We only live once."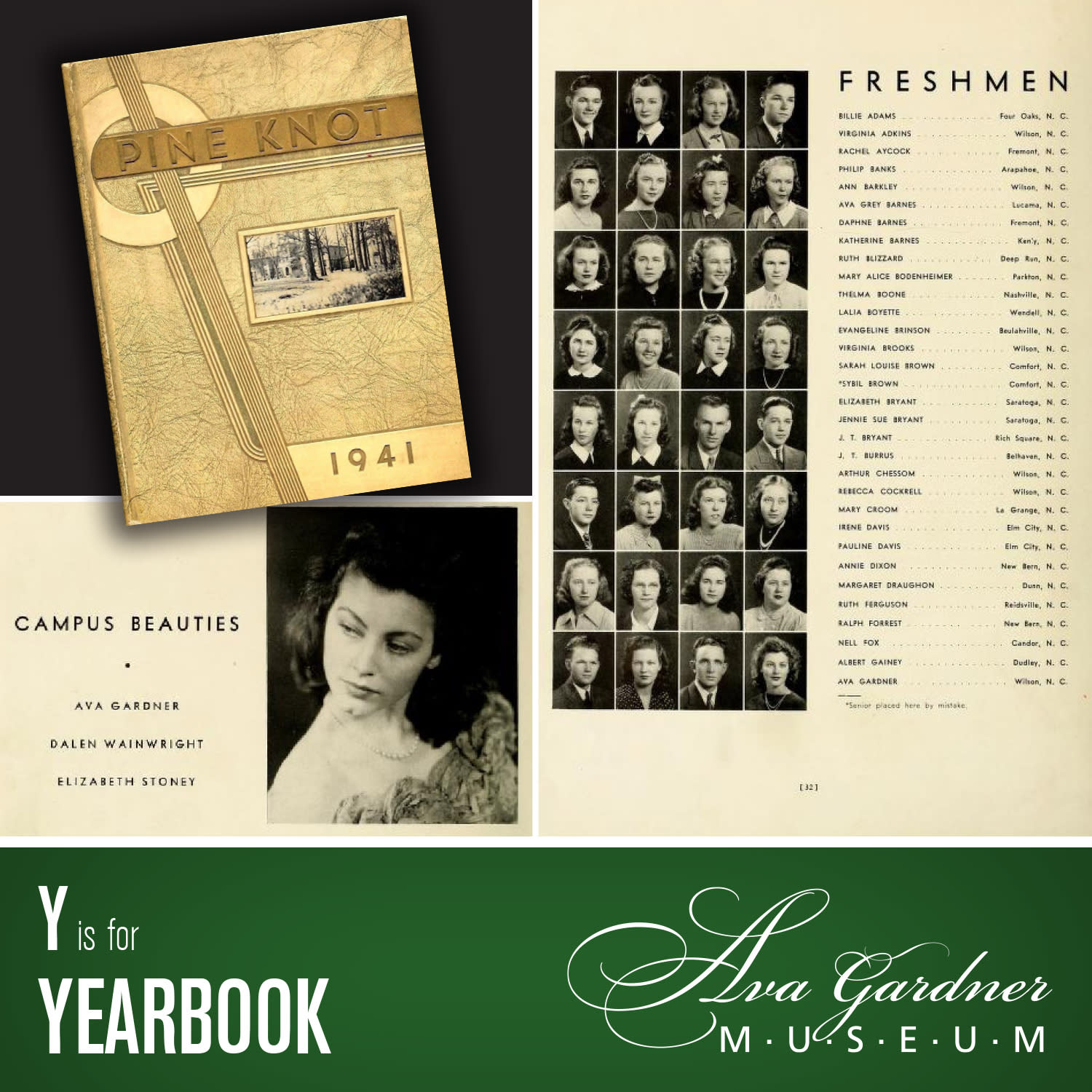 Ava's yearbook from her time in secretarial classes at Atlantic Christian College in Wilson, NC is part of our exhibit about Ava's early life. She was featured on the "Campus Beauties" page in 1941, just before she was discovered and left for Hollywood. Learn more about Ava's discovery in our virtual tour here.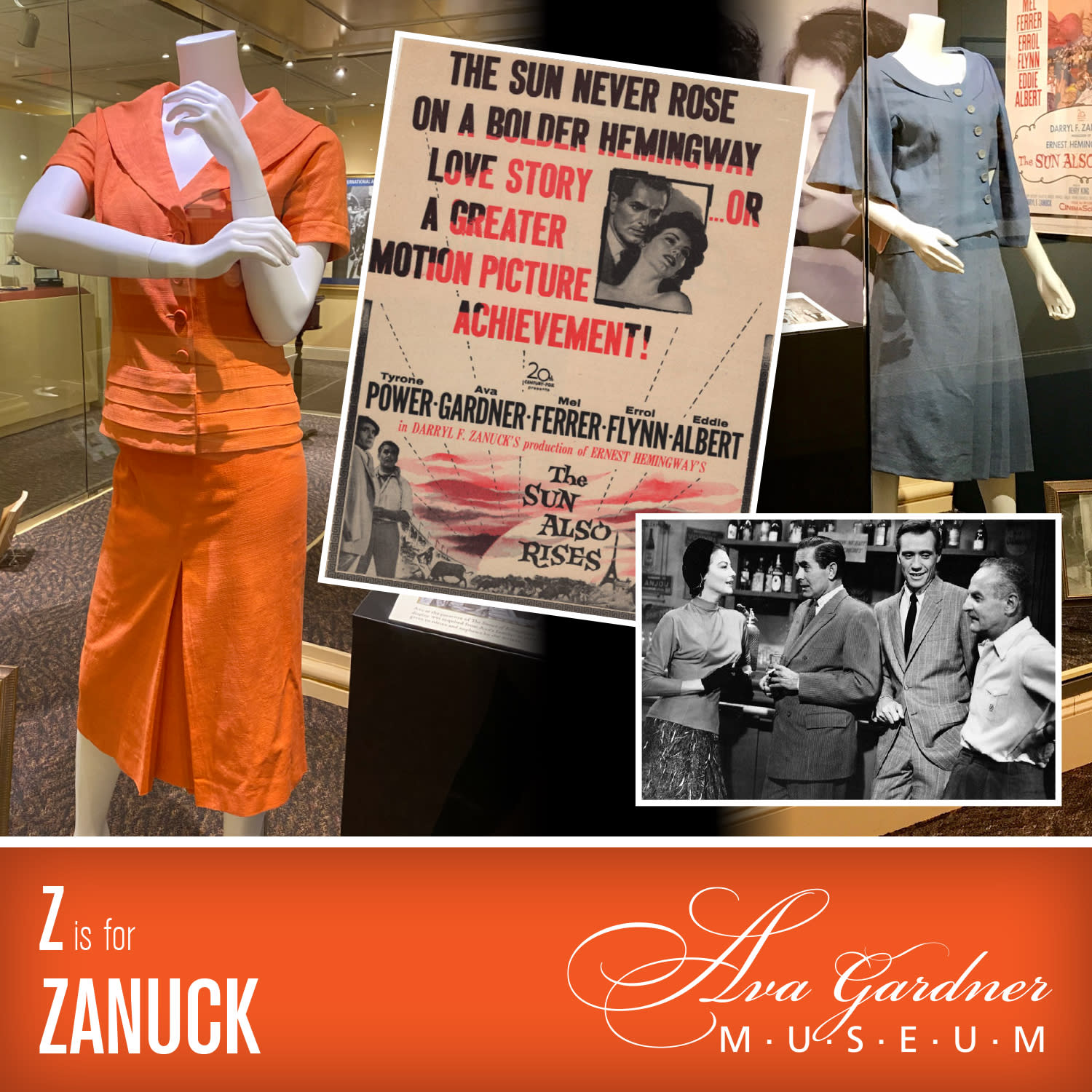 Darryl Zanuck was a famed producer in Hollywood. He produced The Sun Also Rises (1957), in which Ava stars as Lady Brett Ashley. It was Ava's 3rd turn starring in an Ernest Hemingway adaptation. Of Lady Brett and Hemingway's characters, Ava said: "I always felt close to Papa's women." View dresses from the film in the museum's virtual tour here. Learn more about The Sun Also Rises here.