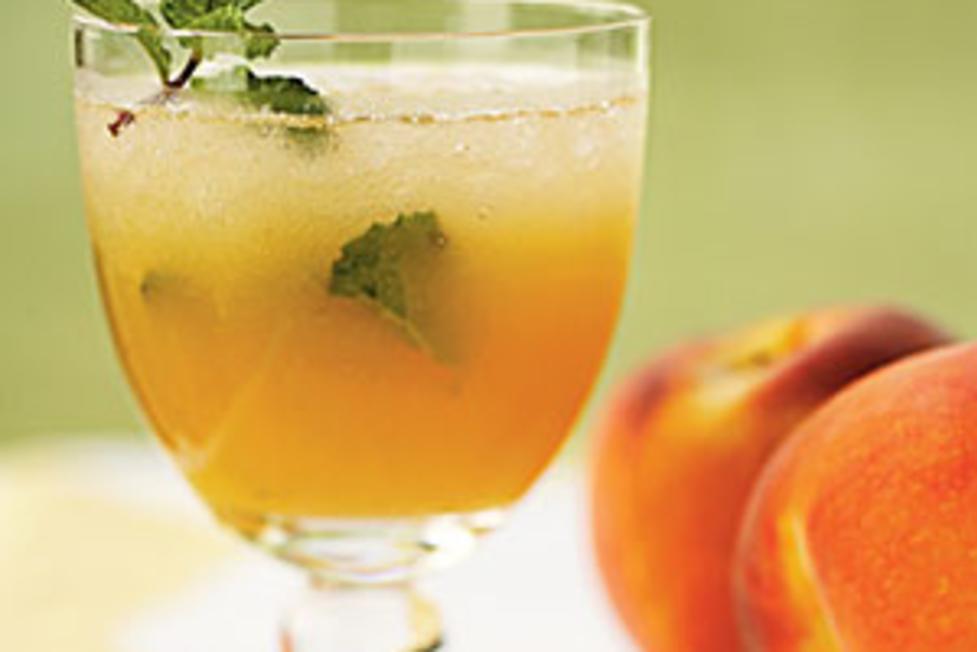 Peach Mojitos
A surefire stress-free way to enjoy peaches!
Ingredients
3 cups coarsely chopped peeled ripe peaches (about 1 pound) 
1 teaspoon grated lime rind 
1 cup fresh lime juice (about 4 large limes) 
3/4 cup sugar
1/2 cup packed mint leaves 
2 cups white rum
4 cups club soda, chilled
Crushed ice
Mint sprigs (optional) 
 
Preparation
Place peaches in a blender or food processor; process until smooth. Press peach puree through a fine sieve into a bowl; discard solids.

Combine rind, lime juice, sugar, and mint in a large pitcher; crush juice mixture with the back of a long spoon. Add peach puree and rum to pitcher, stirring until sugar dissolves. Stir in club soda. Serve over crushed ice. Garnish with mint sprigs, if desired.

Note: Use a wooden muddler to crush the mint mixture in the pitcher, if available. The procedure releases the mint's essential oils, melding them with the lime juice.