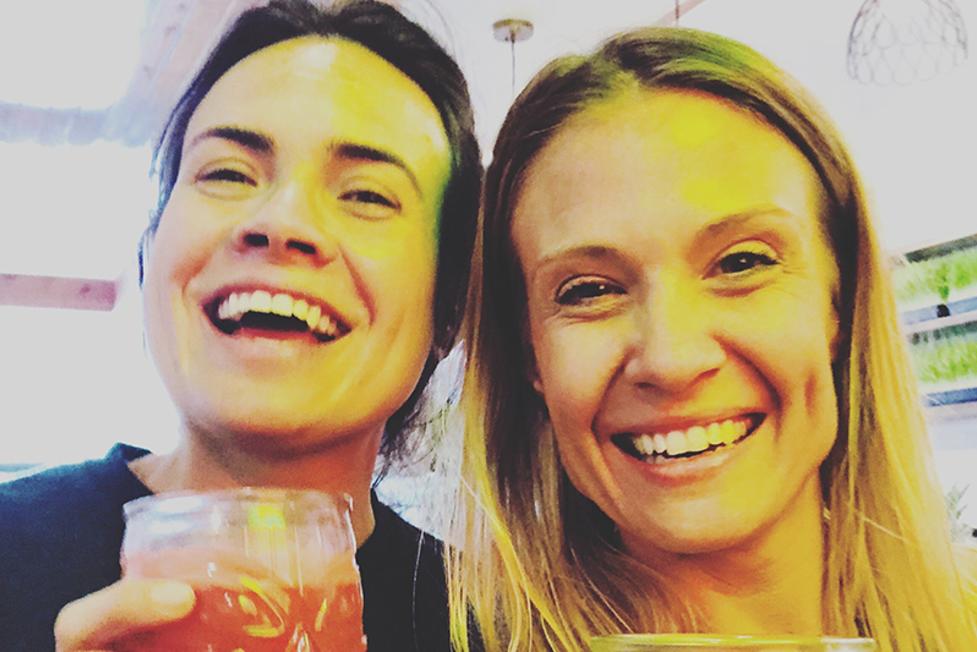 For nearly ten years, JuiceVibes has been bringing the island feel to Clayton. As soon as you walk in you feel like you've been transported to the Caribbean. With reggae music playing and always a warm greeting from the staff, it's a place where you can hang out and eat healthy.
Owners, Liz Layman and Stephanie Holloman are hopeful for world domination. "We want to raise the vibration of the world," they told me recently. Their mission is to "cause radical change in the health of our communities with plant-based nutrition."
JuiceVibes offers fresh, nutrient dense juices, smoothies and munchies with only the purest ingredients available. A lot of the ingredients are sourced locally...a lot! When available they provide local wheatgrass, elderberry, CBD, fruits and veggies from the farmer's market, English muffins, bread, peanuts, hemp seeds, sea moss, ginger beer and coffee.
A native of Raleigh, Liz has worked in the service industry since the age of 15, learning every angle. With a passion for food, it was a natural progression when she decided to go to culinary school. However, at the same time she was also making a huge lifestyle change. 
Suffering from anxiety, digestive disorders and chronic colds growing up and into her mid-twenties, Liz had no idea it could be linked to her diet. At the age of 28, she tried a plant-based diet and has never looked back. 
Unfortunately, the culinary world wasn't on the same page. "That didn't line up with the changes I was making personally," she recalls.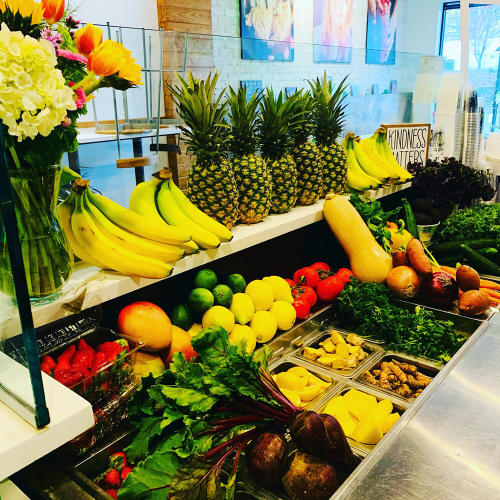 So she decided to take a huge risk and open her own plant-based eatery. "I remember sitting down with the food rep and he was laughing telling me this was never going to work," she remembered. 
Not listening to the naysayers, she followed her heart and opened the first JuiceVibes location in Clayton in 2012. Liz's dream was to provide a place where someone could customize their order based on their health needs. She wanted JuiceVibes to be an integral part of a person's health journey. 
Five years ago, future business partner Stephanie Denton entered the picture. With a background in teaching and education, she loved helping her students grow and making a difference in their lives, but felt she could do more. Her passion in life has always been to serve others. She had been praying for several months about her next step.
Stephanie's mom had recently visited JuiceVibes and recommended she go and check it out as a possible business venture. Not plant-based at the time, Stephanie watched a lot of documentaries on plant-based lifestyles. When Stephanie decided to scope it out, she walked in the door and immediately met Liz. "There was an instant connection!" she exclaimed. They quickly realized they had the same visions for a company. 
After meeting Liz, instead of opening a juice bar of her own, Stephanie joined the team. "It was all uphill from there," she laughed. Not only did she and Liz become business partners, they also became best friends. "We're in this together," Stephanie said. In 2017, Liz and Stephanie grew the business and opened a second JuiceVibes location in Cary. In fact, they were on track to open another location just before COVID-19 came along. 
"It was a big stir for us. We didn't know if we were going to make it," said Liz. Opening another brick and mortar business requires a lot of overhead costs, so they decided to switch directions. With the help of Cindy Nanez at Divine Marketing Group, the first thing they did was to develop an online ordering system. This allowed JuiceVibes to remain open throughout the pandemic although with a minimal staff. Oftentimes it would be just Liz and Stephanie working.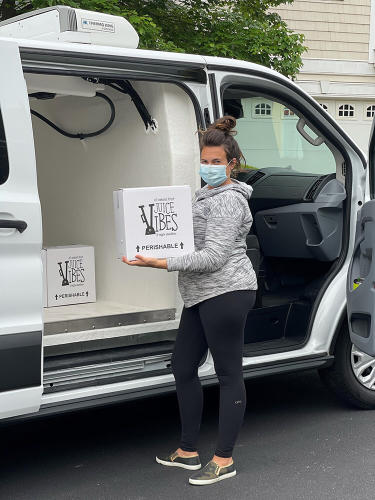 These ladies stayed focused on their mission of a higher vibration and began offering wellness boxes to enable customers to keep their immune systems strong. The wellness boxes were customizable allowing folks to pick juices and pharmacy shooters to target their personal health goals. 
Another shift, one that Liz had in the back of her mind for a while, was offering smoothies that could be shipped directly to the consumer. She and Stephanie picked nine of the most popular smoothie blends, including the Health Nut and Rip Tide. The ingredients are delivered to your door frozen and sealed with a plastic shield in a food-safe container. All that is left to do is add water and blend. The frozen smoothies are already available at the Cary location and they hope to launch a new website this summer. They will also offer energy bites and juices for delivery.
This is just another way for these ladies to spread the word about why plants are so good for your body. For them, it's about getting the message out in whatever way is necessary. With today's society wanting everything five minutes ago, they feel the smoothies are a step in the right direction. "I don't think you have a choice," Liz remarked, "It's either pivot or be left in the dust."