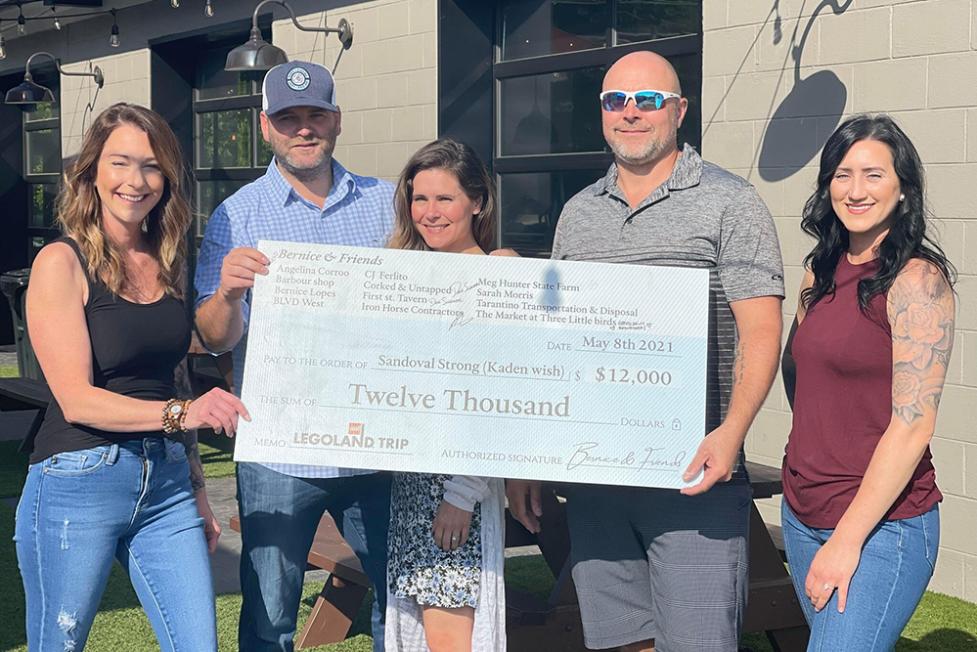 If you think living in a town where people know your name and have your back is only from television shows like Leave It To Beaver, think again. Clayton is truly a town that cares about its own. 
When SueAnn Hallinger, a K-5 technology teacher at Riverwood Elementary school and Riverwood resident found out that one of her second grade students, Kaden Sandoval, was diagnosed with stage 4 anaplastic astrocytoma (brain cancer) she thought, "What am I gonna do?"
That same day, she ran into another Riverwood neighbor Bernice Lopes, who knew Kaden and his family too. Upon hearing the devastating news, "I knew I had to do something," she recalled.
Lopes also learned that due to COVID-19, Make A Wish couldn't make Kaden's wish of going to Legoland in Florida a reality. Up all night thinking about this family of seven, Lopes reached out to her closest friends and in less than three hours, they had collected $12,000 to send Kaden, his parents and four siblings on the trip.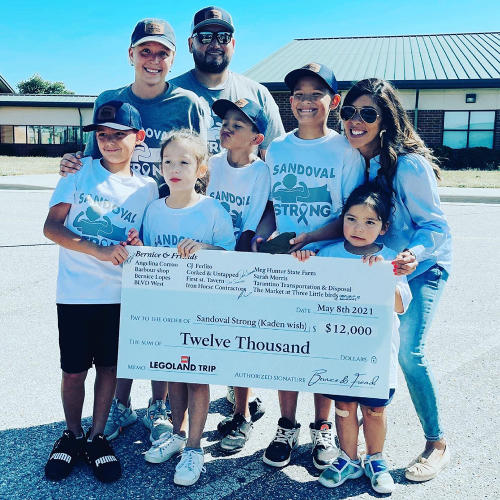 Bernice and Friends is made up of several small business owners who have had their own struggles over the last year. Still, they jumped in immediately and were committed to helping this family. "When I contacted them," Lopes said, "it was never about 'what am I getting back'." Realtor Angelina Corroo of Home Town Realty, Dan Barbour of The Barbour Shop, Oisin and Jaclyn Finn of Boulevard West, Dave Schearer of Corked & Untapped and First Street Tavern, and Christi Burwell Thompson of Three Little Birds raised money, even matching donations out of their own pockets. "They are not only an essential part of the economy of our town," said Lopes, "but they care and are always willing to support the community and come together as one."
The money Bernice and Friends raised was put into an account and when the Sandovals are ready to go to Legoland, all they have to do is say the word.  Local travel agent, Matt Engel, will make all of the arrangements for free. He is donating his commission to Kaden too. 
A lot of folks would stop there and think making one dream come true was enough, but the residents of Clayton and the Riverwood neighborhood aren't like most folks. 
Back to SueAnn Hallinger, the technology teacher. When she was pondering what she could do, her first thought was, "Let's have a bake sale!" Then she decided to also have a 5k fun run that began  at the crosswalk where Kaden and his family cross every day to get to school. She reached out to different connections who had put on similar types of events and listened to their advice and suggestions. "What happened from there was this organic ebb and flow of thoughts and ideas and it grew into this thing," Hollinger said. 
On May 8th, just six weeks after Hallinger's initial idea of "something not too big", was transformed into Sandoval Strong Community Day.  
The magic started as soon as the sun was up. At 7:45 am, Kaden and his family were surprised when a convoy of emergency personnel roared into the neighborhood. Clayton Police, Clayton Fire, Archer Lodge Fire and members of the Johnston County Sheriff's Department, and North Carolina Highway Patrol were there to give Kaden and his family a ride to the event. With lights flashing and sirens blaring, Kaden arrived in true rockstar fashion.
Once there, the family got another of many surprises. They were presented with the check from Bernice and Friends for $12,000. "It was the best kept secret," said Lopes. 
The magic continued and included all the things children dream about. There was face painting, a meet and greet with Anna, Elsa and Olaf from the movie Frozen and there was even a Ghostbusters car that drove Kaden and his four siblings around the neighborhood. "He loves Ghostbusters!" exclaimed Hollinger. The owner of the car offered his services for free when he heard the story of Kaden, driving all the way from Charlotte. So dressed in full Ghostbusters gear, they rode around looking for ghosts to blast. 
Kaden's entire second grade class had a craft sale, donating all of their sales to the Sandovals. 
Businesses like 9Bar Coffeehouse, Redneck BBQ Lab, Carolina Packers and Pelican's Snoballs of Riverwood were also there serving up tasty food for all to enjoy. Unbeknownst to the Sandovals, every business that participated in the event donated 100% of the proceeds to the Sandoval family totaling upwards of $60,000. 
Hallinger remarked, "It was a beautiful day for a little boy."