The Ava Gardner Museum in Downtown Smithfield, NC unveiled a new exhibit on the 10th of December last week. The museum has displays that change annually so that visitors to the museum can see new items from the vast collection the museum curates of Ava's clothes, costumes, photos, personal mementos, art, letters, and props. This year's exhibit is called Ava Living in London and highlights Ava's life in London from the movies she filmed there to her time as a permanent resident starting in 1968 up to her death in 1990.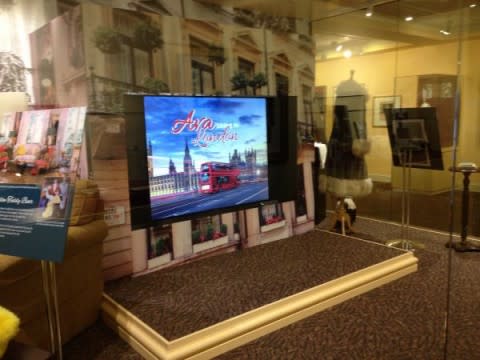 Close to 100 people attended the unveiling and ribbon-cutting ceremony including Ava's great-niece Ava Carol Thompson and family, Ava's niece Mary Edna Grantham, Smithfield Mayor Andy Moore, Smithfield Town Manager Mike Scott, Executive Director of the Johnston County Visitors Bureau Donna Bailey-Taylor, as well as Teresa Grant from the Johnston County Board of Education. Many of these people assisted in cutting the ribbon to officially unveil the exhibit. During the ceremony, Ava Gardner Estate Trustee and Museum Director Deanna Brandenberger presented a framed photo of Ava, gifted to the estate from the Academy of Motion Pictures and Sciences in London, to Ava Gardner Museum Board Chairman Rick Lotz in honor of this year's international success. This aforementioned success stems from the recent honor Ava received as an English Heritage Blue Plaque recipient with multiple events in London surrounding the honor, which the Ava Gardner Trust and family members of Ava's attended.

Ava Loved London and London Loved Her

Deanna Brandenberger, Director of the Ava Gardner Museum, states that, "The Ava Living in London exhibit is the grand finale of nearly three years of work to have Ava honored in London, to make connections in international communities, and to portray a side to her that people have rarely seen, because it was the most private time in her life. I am very grateful to have the chance to draw attention not only to Ava Gardner's Museum & Estate, but also to the charities she still supports, and the communities of Smithfield, Johnston County, and North Carolina that she continues to promote as an ambassador of unique history and culture."

The unveiling event even had a proper English tea, provided by local coffee shop Grapes & Grounds. The Ava Living in London exhibit is an avant-garde tableau which demonstrates digitally Ava's prowess on the screen, but also portrays her at home and "out-and-about" in the city she loved so greatly! The museum has a great many items on loan just for this exhibit including a stunning evening gown from Harrod's, personal make-up, and everyday items that carry the capricious charm with which Ava was recognized. Visitors to the Ava Gardner Museum will have the opportunity to view the Ava Living in London exhibit, included in the cost of admission, for the next year. 

Johnston County Charm Meets London Chic

The new exhibit is the finishing touch on a whirl-wind Fall for Ava, her estate, and her museum. The trip to London involved events beyond the blue plaque dedication, including a collaboration with the Victoria & Albert Museum Clothworkers' Centre to view their facility and the gifts Ava donated to them from her own collection – pieces that will more than likely be on display during the V&A museum's 2017 fashion exhibit. Representatives of Ava's trust also attended an evening banquet hosted by the state tourism team Visit North Carolina in downtown London and got to meet members of the film-making and tourism industry while representing Ava and North Carolina.

All these events created buzz for the opening of the exhibit, which Brandenberger said was apparent in the attendance at the unveiling, "The premiere exhibit had a wonderful turnout by our community. It was great to see people from different organizations, fans, partners in the business community, and people who work every day to bring Ava to life with their love and hard work come together for the event. We do it in the hopes that our visitors may continue to enjoy Ava for generations to come."

Learn more about Ava and how to visit her museum at www.avagardner.org.  Make sure to follow the museum on Facebook and Twitter for current news.