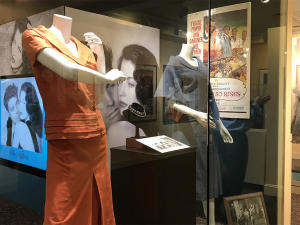 This orange two-piece suit worn by Ava in "The Sun Also Rises", was on display at the Retroback 2014.  North Carolina's own Hollywood legend Ava Gardner was honored during an international classic film festival in Granada, Spain, February 21 through March 2.

The ten-day event, Retroback 2014, featured screenings of Gardner's movies and other classic films in the Isabel la Catolica Theater. An opening ceremony included a tribute to Gardner and a concert by Granada's philharmonic orchestra. An added attraction was an exhibition of memorabilia from the Ava Gardner Museum in Smithfield, NC, open to the public in a nearby bank, the Fundacion Caja Rural.  Museum Director, Todd Johnson traveled to Spain with movie posters of Ava's films being shown, as well as, several movie costumes from the Ava Gardner collection.

Retroback has been held annually since 2009 and to date has honored Hollywood greats Audrey Hepburn, Humphrey Bogart, Marilyn Monroe, and Marlon Brando. Hepburn's son, Sean Ferrer, is Honorary President. "Miss Gardner's life and own 'Cinderella' arc is almost a carbon copy of my mother's life story of 'poverty to legend'," he said. His father, Mel Ferrer, co-starred with Gardner in Knights of the Round Table (1954) and The Sun Also Rises (1957). "He always referred to her as a 'true lady' and the most classically beautiful woman he had ever met."

Festival organizers decided to honor Gardner because they consider her "one of the great myths of cinema." She first visited Spain in 1950 while filming Pandora and the Flying Dutchman and moved there in 1955 to escape constant media scrutiny in the US. She fully embraced Spanish language and culture and spent much of her leisure time dancing the Flamenco and attending bullfights. "Her free spirit and her passion for life made her love Spain and Spain love her," a recent Retroback release stated. Although she retained her American citizenship, the Spanish government attempted to collect huge sums in back taxes from the actress, so in 1968 she moved to London, where she lived until her death in 1990.

Today Gardner is memorialized with a bronze statue by noted sculptress Cio Abelli at Tossa de Mar on the Mediterranean coast in northern Spain. It was commissioned in 1998 by leaders of a grateful community who recognized the vital role Gardner played in bringing tourism to the area after her unforgettable portrayal of the enchantress Pandora Reynolds in 1951.

The Ava Gardner Museum is located in Smithfield, NC and showcases exhibits on Ava's life and career, visit www.avagardner.org or call 919-934-5830 for more information.