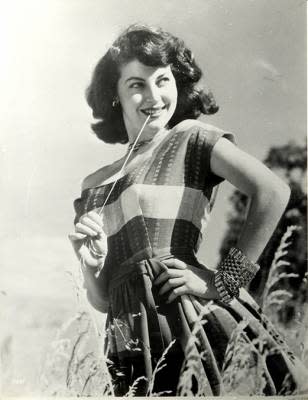 Ava Gardner, (picture of Ava at four-years-old) was born in the rural community of Brogden, seven miles east of Smithfield.

Comments we hear often at the museum are... "I am related to Ava", "I went to school with Ava", or "I dated Ava"...visitors to the museum are eager to make a connection to the local Hollywood star born in Johnston County.

Now family and interested fans can meet Ava's kin and learn more about genealogy methods at the same time.  The Ava Gardner Museum and the Johnston County Genealogical and Historical Society will hold a genealogy seminar, "Ava Gardner's Kissing Kin," on April 12 in Historic Downtown Smithfield.

"This event is for those who claim kin with our hometown Hollywood star and also for anyone who wants to learn more about the revolutionary use of DNA in genealogical research," says Museum Director Todd Johnson. The event, taking place 8:30 am to 1 pm, will begin with registration and a tour of the Ava Gardner Museum and will continue in the Public Library of Johnston County and Smithfield.

Cynthia Wells of Cabarrus County, a noted speaker on the topic of genetic genealogy, will present "Exploring the Mysteries, Exploding the Myths: Expanding Your Family History Using DNA," a lecture she delivered during the 2013 annual meeting of the International Society of Genetic Genealogists in Dublin, Ireland. Information about DNA projects involving the Gardner and related families will be included.

Presentations on Ava Gardner's ancestry will follow, including a Show-and-Tell segment. "We suspect many of Ava's relatives across eastern North Carolina have lots of information, family stories, heirlooms, and photographs, and we would love to have some of them share with our audience," Johnson adds.

Research to date indicates Gardner's ancestors carried the following surnames: Baker, Barnes, Batts, Cherry, Cobb, Dilday, Duke, Ellis, Forbes, Gardner, Gray, Harrell, Jordan, Vickers, and Webb. Most of her family lines can be traced to pioneer settlers of the Virginia and Carolina Tidewater region in the 17th and 18th centuries.

The cost for the event is $10 per person, and advance registration is recommended. For more information call 919-934-5830, or send an email to avainfo@avagardner.org.