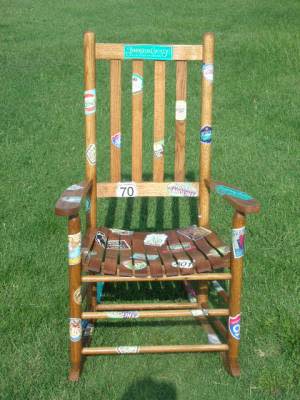 After three months on display the 14 rocking chairs of the "Benson Is A Rocking" public art campaign will be retired. Each chair was painted by a local artist and displayed in Downtown Benson. The last time to see the chairs will be at the Benson Harvest Festival on October 25th from 9am-2pm in the Benson Singing Grove.
The "Benson Is A Rocking" public art campaign was a program initiated by the Benson Small Town Main Street Committee. The campaign was designed to bring attention to Downtown Benson while highlighting great local artist's talents. Each of the 14 chairs were designed by different artists and showcase their unique talents.
"This public art campaign has been a great way for us to infuse locally created artwork in our downtown. Bringing local area artist, sponsors and store owners together to work on a project has been rewarding and shows the great sense of community that exists here in Benson." said, Joe Stallings Economic Development and Media Coordinator.
After the Benson Harvest Festival those chairs that were purchased by their sponsors will go back to the purchasers. The remaining seven chairs will be auctioned off at the Benson Chamber of Commerce's annual banquet on January 22nd. If you are interested in bidding on a rocking chair please contract Joe Stallings at 919-894-1606. All proceeds from the chairs will go towards economic development and beautification efforts in Benson's Downtown District.
Special thanks to our sponsors: Benton Card Company, Benson Museum of Local History, Benson Parks and Recreation Department, First Citizens Bank, Frugal Peacock, Hannah Creek Veterinary Hospital, Johnston County Visitors Bureau, Ken Tart Photography, Mary Duncan Public Library, Neighbors and Associates, Small World Travel, Sylvia Herring and William and Elaine Massengill.