It's 10 o'clock on a spring break morning, and while most Johnston County teens are just getting their day started, Abby Stephens is sitting comfortably on her couch, swatting away a reporter's questions like a seasoned pro.

She may look like an ordinary freshman in high school, but she rarely sounds like one.

Stephens is a budding country music singer with her own page on Apple music, and one that already has experience rubbing shoulders with established stars like Kelsea Ballerini, with whom she's shared a stage on several occasions.


Anytime the storm clouds come around, I'm gonna play in the rain. — "Dreams"


The latest collaboration was on Valentine's Day at the Ryman Auditorium in Nashville.

"It's funny — I haven't seen her in a few years, and I didn't know she was coming to the show," Ballerini told Billboard magazine. "I met her in Dallas at the ACM's. I was playing a tiny side stage outdoors. There were maybe 30 people there. I remember her coming up to me before I went on stage, and she said, 'My name is Abby. I want to be a singer, and I really like your music.' I brought her on stage then, and I've seen her a couple of times since. I saw her in the crowd, so thought I would get her up on stage with me at the Ryman. It was special."

It's all part of her development as an artist, and it all starts with spending time in the country music capital of the world, Nashville.

She spends a few days each month there, working on her music with her coaches and mentors at PCG, an artist development company.

It was there that she began writing some of her own music.

"When we got into PCG, I started writing songs," she said. "Before that, I'd never really written a song. I started going into vocal training. When we're in Nashville, there are obviously a lot more opportunities for young people."

She works with a co-writer, who helps guide her through the process.

"I really like co-writing, because you have different styles," she said. "When I go in there, I usually like to have a title or an idea behind it. I tell them a title, then he or she gets a little melody going and then we sing along a little bit. It really depends.

"When you go in there, they ask, 'what are you experiencing? What are you thinking about right now?' And with the song "Front Porch Swing," I remember sitting at my grandmother's house, sitting on her front porch swing and looking at the cotton fields."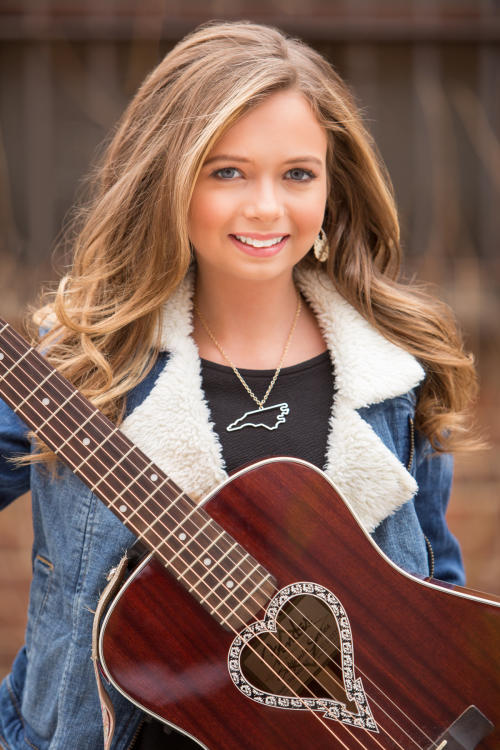 From here I see the future and learn from the past. This view takes all my breath away and right here I'll take my last. — "Front Porch Swing"


Her lyrics are a bit of a throwback, and a little different than today's typical country music.

"I like to be very inspirational with my music," she said. "I'd rather not write a sad song. I want to inspire others. I don't want to talk about boys, or 'I just had a break up.' I want to inspire people how my parents inspired me or my grandparents inspired me. I think writing music like that lifts everybody up."

Her mother, April, agrees.

"She really is putting out stuff that people need to hear," she said. "When you listen to the music on the radio, there are no Taylor Swifts anymore. There's no more of that real Disney sound. Even in country music, they're talking about things that you don't want an eight year old to listen to. Everything has gone in a darker, more negative place. … Nobody's putting anything out positive. That's one of the reasons we're really pushing what she's doing. Not just for her, but for her when she was eight years old.

"I think there's a place for what Abby is singing."


They call me a sentimental classic. A dreamer in rose-colored glasses. A girl walking through this world with her heart on her sleeve. … Make a wish every boy and girl so we can wake up in a world where love's the only answer. It's gonna be the best day ever. — "Best Day Ever"


While Ballerini recalls singing on stage with Shania Twain when asked about giving Abby that opportunity, she decided to pay it forward.

Abby took a page from her idol's playbook when she started the Best Day Ever Foundation.

For her 12th birthday present, April and her father, Brian, decided to help Abby make her first music video for "Best Day Ever."

It was that experience that gave Abby the idea of making sure others had their own magical day.

"I like the idea," she said. "When I filmed the music video for "Best Day Ever," that was probably one of the best days of my life. I had my friends with me, I loved the music that I was putting out and it was really fun. … I want other people to have a best day ever."

The foundation acts as a "hyperlocal Make-A-Wish," helping families in need. In 2016, the foundation helped a child with Down Syndrome have a Disney Store shopping experience and the following year, they helped some children — and their parents — with Christmas gifts
.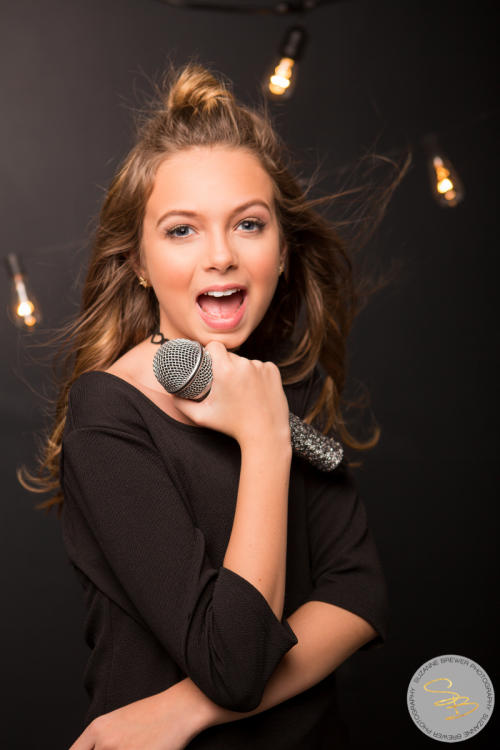 I belong to the southern wind. I'm an old sweet song that's born again. I'm a part of the river runnin', runnin' to the coast. — "Front Porch Swing"


Recently, Abby finished shooting her second music video, this time for "Front Porch Swing." It's expected to be out this month."

Making a music video is so much fun," she said. "For the last music video that I did, "Front Porch Swing," I got to do my own makeup. I had my friend there to help me. I got ready at Joey and Rory's Farm, which was super cool because I got to meet Indiana and Rory. … My first music video was a lot different from my last one."

It's a long way from the start of her musical journey, seven years ago at Clayton Idol.

"In the beginning, we just wanted to get her on stage so she could sing anywhere she could," April said. "We're really trying to be thoughtful (now) of what she does and how she does things and what's good for her, longevity-wise."

Naturally, everyone in the Stephens' house wants Abby to become a star. But they're all approaching it with their eyes wide open.

"She knows she wants to have a career in music," April said. "Whether she's singing on stage, or if she finds herself as some kind of music teacher or in production of some sort.

"She's done some voice auditions and stuff, and she'll probably do "American Idol" when she's old enough, but we're not putting all of our eggs in that basket. We'd rather her have a career that she can be proud of, rather than just a day in the spotlight."

With that in mind, the family tries to keep Abby's music work and her everyday life as separate as possible.

"At school it's pretty normal," Abby said. "I'll sing at a few baseball games and they know that I sing, but nobody really brings it up. Which is good, because I like to live a normal life here, and then when I go to Nashville, I like to sing all that I can."

So, there's West Johnston Abby and Nashville Abby.

But both of them wear cowboy boots.

"We do try to give her the "Hannah Montana" lifestyle," April said. "The way she dresses, the way she fixes her hair, when we go to Nashville, it's a little bit different. We have clothes, and we're like, 'OK, this is a Nashville outfit' versus what she normally wears.

"We've kind of figured it out along the way. She makes it easy. The artist development group does, too. She's been surrounded by some great people. They're great mentors. They're Christian-based. They have a whole podcast series just on how to parent a child who wants to be in entertainment."

Sometimes, the worlds blend together. Like for school plays.

"I've been in the school musical and the past two weeks we've been having practice until 8 o'clock every night," she said. "It's gotten a little bit harder to balance everything."

But thanks to her support system at home, her extended family and even her teachers who give her assignments to work on while she's on the interstate between Benson and Nashville, she manages it.

She even finds time for theater arts, knitting and serving with her youth group.

"We're just super proud of her," April said. "She's a blessing. We say that every day. As a parent, you always want to see your kids succeed. Selfishly, we do love being a part of that and being able to help. But she's always been a very independent person. She's always been an old soul since she was little. She's one of those that you really hope that all she's working for comes true. She deserves it."


I'm gonna get where I'm going like a river when it's flowing ain't nobody gonna get in my way. I believe in the dreams I'm dreamin'. — "Dreams"


For more, visit abbystephens.com and find her on Facebook, Twitter, YouTube and Instagram.

*as published in the May issue of Johnston Now magazine.