Experience the spirit of the south with moonshine from Broadslab Distillery at the new tasting room opening March 19.  Jeremy Norris, Broadslab owner and master distiller, uses a family-inspired shine recipe passed down over five generations. Visitors  can now take tours of the distillery and get "shine" samples in the tasting room.  Fee for the tour is $12.00 per person, and the gift shop on site offers Broadslab merchandise.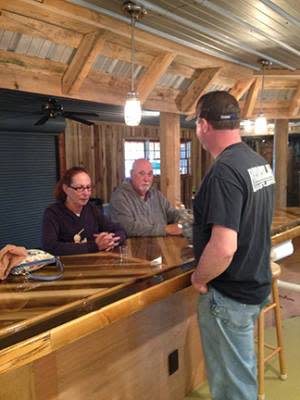 On March 19, the Tasting Room Grand Opening will run from 12-6pm, and continue on Friday and Saturday for the same hours.  Visitors will learn about Jeremy's process which involves locally grown and milled corn and hand-made oak barrels crafted by Jeremy himself and used to age the Broadslab Legacy product to perfection.  Broadslab also produces a white rum, a spiced rum, and traditional moonshine which is the "real deal".

"Jeremy has converted his grandfather's home into a grand tasting room, just a short ride from the distillery, and its location four miles from Benson, I-95 at exit 79, will be very convenient for travelers," stated Donna Bailey-Taylor, President, Johnston County Visitors Bureau. "We wish him all the success in the world, and Broadslab will now become a stop along the Beer, Wine, and Shine Trail in the county."

Visitors will enjoy meeting this master distiller who has preserved the legacy of this region, long known for the quality and quantity of home-brewed whiskey.   Jeremy learned his craft from his grandfather and offers a true "farm to the table" product, even growing corn used at the distillery on the family farm.  Broadslab is available for sale in ABC stores in North Carolina and is distributed in four states.  Jeremy has appeared on the Chef and the Farmer television series and has been featured in several promotions with the Johnston County Visitors Bureau and media events with Visit NC.

Broadslab is a member of the North Carolina Distillers Association and is a part of the North Carolina Distillery Trail. The tasting room is located just a few miles from I-95, at 4870 NC HWY 50 South, Benson, NC and will have regular hours on Thursday, Friday and Saturday, 12-6pm. Benson is very convenient to the Triangle area, so if you're looking for things to do in Raleigh, check-out Broadslab. For more information call (919) 291-0691 or visit the website, www.broadslabdistillery.com.